Linguaschools Barcelona - Spanish school Barcelona
Linguaschools Barcelona Spanish School
Linguaschools Barcelona is part of the Linguaschools group, which has specialised in offering top quality Spanish courses for foreigners in several cities in Spain and Latin America since 2005. We visited this very popular Spanish school in Barcelona to see why so many students are choosing Linguaschools Barcelona for intensive Spanish courses.


About Linguaschools Barcelona
One of the many good reasons to choose this school to learn Spanish is the school building and central but quiet location. Linguaschools Barcelona recently moved into a very charming school building in the most district of Barcelona called Eixample, but Linguaschools Barcelona Spanish school is in a small car-free side street called Pasaje Permanyer. Many Spanish students think that this is the nicest school building in Barcelona and it's easy to see why.


Look inside Linguaschools Barcelona!


Open FULLSCREEN version interior map

The Linguaschools Barcelona school building itself is a magnificent renovated 19th century house with high ceilings, cathedral doors, beautiful Spanish mosaic tiled floors, and even a garden where students can relax, study and chat with classmates after their Spanish class.

What an atmosphere to learn Spanish! It's truly an oasis in the city, but just a few steps from the school and you are in the bustling international heart of Barcelona city with many shops, cafes and restaurants and transport options to choose from. It truly is a unique and perfect place for a Spanish school in Barcelona.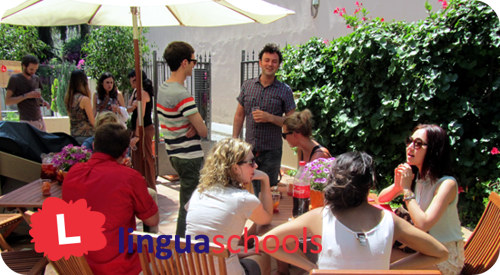 There are many other reasons why Linguaschools Barcelona has established itself as a serious and well liked Spanish school in Barcelona with a reputation for high quality Spanish intensive courses. Linguaschools Barcelona work hard every day to make sure their reputation gets better and better.

They constantly try to make sure that students feel that the school is their home away from home. Linguaschools Barcelona believes that comfortable and efficient surroundings are key factors for learning a new language. All Linguaschools Barcelona classrooms have air-conditioning; natural light and school facilities include free wi-fi and access to free Internet PC's.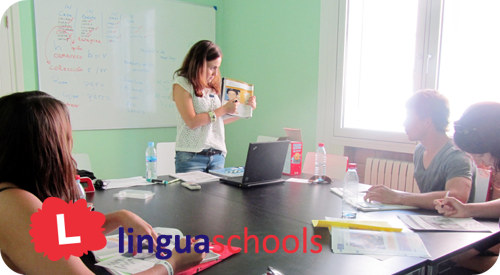 Linguaschools Spanish courses & teachers
Linguaschools Barcelona are specialised in teaching intensive Spanish courses based on modern immersion methods. The teachers are among the best in Barcelona and unlike many schools, who have many different teachers throughout the year, Linguaschools are proud to have a permanent staff of well qualified, experienced and motivated native teachers.


Linguaschools class sizes & times
Spanish class groups are small, which means Linguaschools teachers can get to know their students well and make sure they get personal attention. The average class size is 5 to 7 students with a maximum of 10 students. The class length of 55 minutes per hour and class material is included.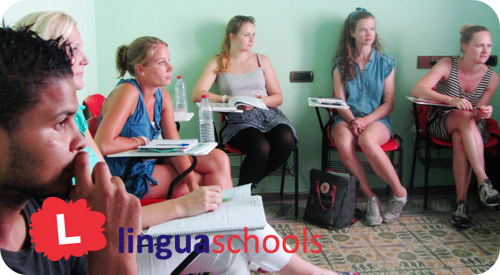 Who are Linguaschools students?
Linguaschools Barcelona welcomes students from all over the world: Europe (UK, Germany, Netherlands, France, Scandinavia), USA, Canada, Australia, so new students will make friends from all corners of the globe. The students are typically between 20 and 35 years of age, but there are also many students of all ages, backgrounds and nationalities, even up to 78 years old. The diverse and international mix of Spanish students is fantastic for the school atmosphere and creates an interesting and vibrant environment for everyone.

You can find university students, expats, professionals, pensioners, or other adults all with a common interest in learning to speak good Spanish quickly and effectively. Many students come back for more Spanish courses and often Linguaschools students recommend the school warmly to their friends.You can find real reviews on the school Google+ page and Facebook page, like this one.

Jack: "Excellent school to learn Spanish! Teachers are very nice and do 100 % their best to make the lessons fun and interesting at the same time. Personnel is very friendly and always ready to help you. The school is not that big so it's easy to get to know the other students and the school organizes a lot of activities as well. I would recommend this school to everyone who wants to learn Spanish and meet new people."


You can find more real student Linguaschools reviews on the Linguaschools Barcelona Google+ page and Linguaschools Barcelona Facebook page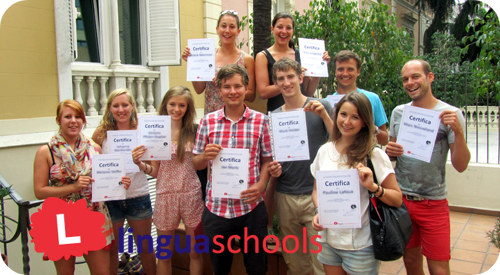 Linguaschools cultural activities
Linguaschools Barcelona makes sure that they have time and attention for our students outside school hours and there are regular cultural activities and excursions with the school to show our students the things and places that makes Barcelona such a great place to live and study. The cultural events are also a nice opportunity for students to get to know the staff and make friends with other students.


Linguaschools accommodation
Linguaschools Barcelona offers accommodation for Spanish students either in a shared apartment or living with a Spanish host family. All accommodations are quite close to the school, within a 25 minutes maximum travel distance.


Linguaschools Spanish course prices
Linguaschools Barcelona offers very good value for money and affordable prices. The students who really compare different Spanish schools in Barcelona often choose Linguaschools because it one of the best priced Spanish schools in Barcelona if you consider important quality factors like the small class sizes, the class length of 55 minutes per hour and that class material is included in the price. Linguaschools Barcelona does not believe in extra fees but in price transparency. All course and accommodation prices you find on their website include registration fees, administration fees, class material, etc. so there are no hidden fees. Course registration can be done online through their website or just visit the school in Barcelona and register yourself. Beginners can start every week and more advanced levels should take an online level test or a level test at the school and then Linguaschools Barcelona will find you a Spanish course that matches your level.

International accreditations:
Linguaschools Barcelona is accredited by the Instituto Cervantes and recognised by CSN and Bildungsurlaub.




Visit Linguaschools Barcelona to book your Spanish course in Barcelona today!





Address: Passatge de Permanyer, 17, 08009 Barcelona, Spain
Barcelona city district: Eixample
Nearest Metro: Passeig de Gracia

Telephone: +34 931761536
E-mail: This e-mail address is being protected from spambots. You need JavaScript enabled to view it
Website: www.linguabarcelona.com

Google+:
https://plus.google.com/+LinguaBarcelona
Facebook:
www.facebook.com/LinguaschoolsBarcelona
Twitter:
https://twitter.com/linguaschools
Youtube:
www.youtube.com/user/linguabarcelona


© Copyright Barcelonayellow.com.
All rights reserved.
Do not copy text or images on this page without permission

Created on Monday, 17 September 2012 14:27
Last Updated on Monday, 19 June 2017 17:30