Ajo Bike
- bike rental Barcelona. Ajo Bike is a budget bike shop in El Raval, a vibrant district in central Barcelona in the old Ciutat Vella and close to La Rambla street and the Gothic area. El Raval is where you can find the edgiest bars, the most delicious local meals, and the greatest diversity of nationalities and cultures in Barcelona.
Our bike shop is in the tiny authentic street of
Roig, 5
, very close to the corner of the busy Hospital street just five minute on foot from La Boqueria market and just one minute from Rambla del Raval. We rent, sell and repair bikes and our simple philosophy is to work fast and well at reasonable prices and with friendly service.
Ajo Bike Rental
Ajo rents out new and second hand bikes in a variety of different sizes, models, colors and brands. Our bikes are not labeled with our shop brand, so you will not be recognizable as a tourist while biking around the city. Our bikes all have secure locks and helmets to guarantee you a comfortable and safe ride. We also offer one of the cheapest bike rental prices in Barcelona:
Ajo Bike Rental price list

2 hrs €4
4 hrs €6
24 hrs €10
This listing continues under ad: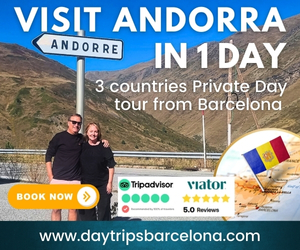 Ajo Bike Tours Barcelona
Our three types of tours are designed to combine must-see highlights with undiscovered and unknown corners of the city. They are a fusion of art, history, customs and legends; will lead you through sunny and dynamic urban spaces, combined with rich cultural heritage.
All tours are private (no one else will join except your group of friends) and very flexible. There are no strict plans and even the routes are more or less determined, every tour is different and adapted to the interest of the group.
You can choose among our offered tours or a new tour on a different topic can be tailored to your group's interest. There are always short breaks for coffee, food or snacks in some of the authentic places, lots of stops for pictures or even a longer stop for a lunch if you wish so.
Tours are approximately 4 hours long and are offered every Saturday and Sunday. Bikes, locks and helmets are included in the price; food and drinks are not covered.
Price: €45 per person (minimum 2 people). Reservation could be made by phone or e-mail.
Ajo Bike Tour - DIVERSITIES OF BARCELONA
From highlights to undiscovered corners of the city. In this tour you will see the Old city of Barcelona, which is one of the biggest in Spain and its most antique part, the Gothic quarter. It is a labyrinth of narrow streets and squares which hides many secrets and legends. During the tour the idea is to visit some local markets, parks, elegant promenades, and the former industrial zone called 22@ district. We can stop to taste some of the local food and drinks (matter of choice). We can finish with Olympic village and beaches. In short – this tour is conceived as a mix of everything so that you can get to know and feel the real Barcelona.
Ajo Bike Tour - EXTRAVAGANCE OF BARCELONA
Gaudí and Modernistic architecture
Creative works of Gaudí made Barcelona famous and on this tour you will see the whole itinerary from his early works up to his latest masterpieces like La Pedrera, casa Batllo or Sagrada Familia. His work belong to the larger style, Catalan modernism, characterized by extravagant decoration, curved lines, colors, mixture of materials, etc. You will also see buildings designed by other famous architects like Puig or Domenech and will learn to make difference between their styles. All these buildings belong to the large European movement Art Nouveau: in the district called Golden square and Eixample there are more than 2000 buildings having these features. Its 19th century urban plan is considered to be very futuristic and one of three most important ones in Europe of that time, together with Vienna and Paris. Find out why!This tour is combination of creative energy of modernistic buildings and futuristic rationality of urban plan: two ideas that create together the urban image of Barcelon
Ajo Bike Tour - VILLAGES OF BARCELONA
Former old villages transformed into authentic urban districts. When in 19th century the walls of Barcelona were destroyed, the city started spreading rapidly thanks to the industrial development associating nearby villages. They turned into urban districts these days, but keeping some of their local, authentic character. We can find about 10 of them within Barcelona and they all have the main square, pedestrian streets, church, town hall, market and are different one from another (Gracia, Barceloneta, Poble Sec, Clot, Poble Nou, Les Corts, San Andreu, etc). The idea of this tour is to see some of them, maybe 3-4 depending on your group, interest, places you have seen before, etc
On this tour you will be surprised by urban mosaic of Barcelona and completely different areas standing one next to another.
Ajo Bike Tour - Milos our bike tour guide
Milos (1980). An architect and a PhD candidate researching in the field of public space. Lives in Barcelona since 2007 and is very passionate about the city. A part of practical architectural work in different companies or guest lecturing, he enjoys presenting Barcelona's heritage to its visitors, sharing his experiences through bike tours. He loves to travel, discover new countries and the unique energy or every place. Reading a lot about this city in combination with long walks and cycling, he got to know Barcelona really well. There is no better way to get to know architecture, society and rhythm of Barcelona, but through someone's personal impressions.
Ajo Bike Repair Barcelona
Ajo Bike offers a wide range of replacement and repair services such as change of wheels, tyres, pedals,chain and chain protectors, crank set, forks, saddles and brake cables. We can change your bike tyre within 1 hour if we have the right size in stock, or if you bring your own. We can also fix your gears or brakes, and we can do an overall maintenance of your bike.
Ajo Bike Sale Barcelona
We sell new and second hand bikes and we try to suit most needs. If you are living in Barcelona for a short term and you buy a bike from us, you are welcome to sell it back to us for 50% of the price before you leave. We also offer students with a valid student card, a 10% discount on sales of new bikes and bike locks.
Ajo Bike opening times
Open every day from 10:00 till 19:00
We look forward to welcoming you at Ajo Bike Barcelona!