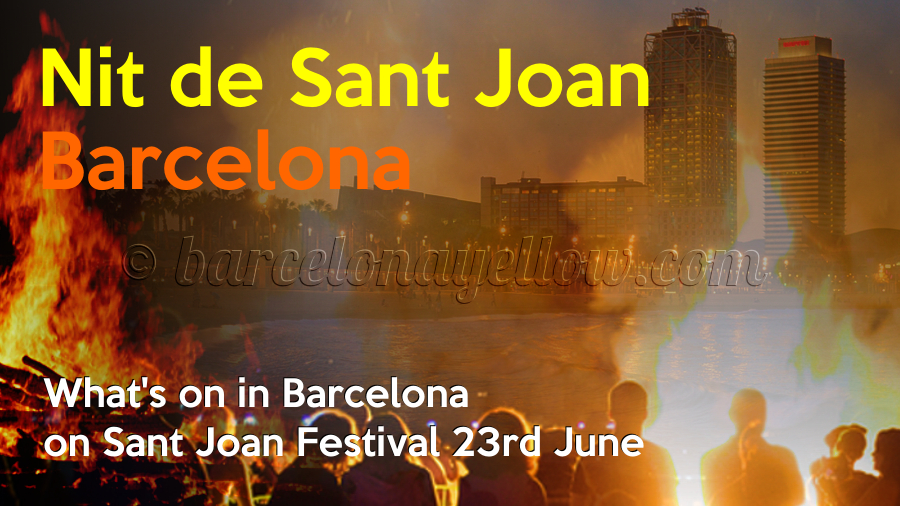 Nit de Sant Joan festival Barcelona 2023
Sant Joan Barcelona. Guide in English to Sant Joan celebrations in Barcelona.

Happy Sant Joan! Bona revetlla a tots!

Guide in English to what to do and what's on in Barcelona for Sant Joan on 23rd June 2023

Saint John's Festival is Spain's and Barcelona's midsummer festival celebrations when all of Spain celebrates the shortest night of the year - called the summer solstice or midsummer.

In Barcelona and Catalonia it is a celebration of fire with bonfires, food, music, fireworks (mostly bangers and firecrackers) and correfoc fire runs (people in devil costumes dancing holding sticks of firecrackers)

Saint John's festival in Barcelona is mostly celebrated in neighbourhood streets and plazas where local residents and authorities organise local celebrations - often with live music, dancing and eating of "coca" sweet flatbread swilled down with cava wine.

In Barcelona there are around 50 bonfires - called 'fogueres' - on streets and squares.

Families spend an average of €40 on fireworks - mostly bangers and Chinese firecrackers, so Sant Joan always very noisy evening with loud bangs and small explosions all evening and well into the night.

Sant Joan is very much a family, friends and neighbourhood festival. There are no central celebrations and for tourists it's a fun - albeit noisy - experience but perhaps something to watch more than join.

Many young tourists and foreigners in Barcelona tend to gather near or on Barcelona's beaches and many residents also organise their own beach parties.

In the many villages to the north and south of Barcelona, there are usually activities at the beach, but in Barcelona most of the bonfires and community activities are in the local neighbourhoods

Scroll down to read more

The Sant Joan festival has many names, but in Catalonia and Barcelona it is most often called the 'Nit del Foc' - fire night - or the "Nit de Sant Joan" which means St John's Night or St. John's Eve.

You also often hear it called 'La revetlla de Sant Joan' in Catalan which in Spanish is 'Verbenas de Sant Joan.'

All these names refer to the same event - the festival feast of Saint John the Baptist which celebrates the solstice Spanish midsummers eve during the evening and night of 23rd June every year.

Sant Joan is one of Barcelona's biggest parties and the noisiest and possibly the craziest. It's a night of fire, firecrackers, coca cakes and cava sparking wine, but not of sleep.

You will probably not get much sleep on the night of 23rd June in Barcelona, so you might as well join the party.

There are no public fireworks displays and no central celebrations for Sant Joan in Barcelona. It's very much a local neighbourhood festival and everyone buys their own firecrackers.

Many tourists like to join or watch the festivities around the city. Around 70,000 people celebrate Sant Joan celebrations on one of the Barcelona beaches many of them around the Barceloneta area beaches, which are closest to the old city center.

For dinner and parties check out the Barcelona beachfront restaurants and Barcelona beach clubs.

There is a popular Sant Joan saying in Catalan: 'Fred per Nadal i calor per Sant Joan, salut per tot l'any' which translates as 'Cold for Christmas, warm for Sant Joan, health for the whole year!' The following day is the 24th June, which is a public holiday.

More than 300 city cleaners will clean the beaches from 6 am to 10am, so beaches are clean are ready for bathers on 24th June. Around 25 tons of garbage is left on the Barcelona beaches after Sant Joan.

Scroll down to read about Sant Joan Barcelona events and traditions, open list of bonfires Barcelona 2022 and download full 2022 Sant Joan programme (in Catalan language).

Article continues under ads


Metro Sant Joan Barcelona

The Barcelona metro will be open all night on 23rd June for the Sant Joan festival. FGC trains will not operate all night, but will operate until 2:00 a.m in the morning of the 24th June.

Barcelona Cercanías / Rodalies trains suburban trains will not operate all night

The night bus network Nitbus will operate as normal with some extra buses on specific lines.

The Barcelona Bicing city bike system (for residents only) will also be open all night, but some beach drop-off points will be closed.

Renfe, Barcelona Cercanías / Rodalies trains suburban trains will not operate all night but will have extra connections on regional Rodalies trains to beaches outside Barcelona, where many also go to celebrate Sant Joan festival.



About Sant Joan Barcelona

The Nit de Sant Joan is a very festive, fiery and fun night. There is no central fireworks display or specific programme for the Sant Joan celebrations in Barcelona.

Sant Joan events in Barcelona are organised locally by the districts and civic centres of Barcelona and people just celebrate the evening with dinners, parties, firecrackers (not so much fireworks) and bonfires all over Barcelona and Catalunya.

There will be around 23 bonfires in Barcelona. The biggest central gathering on the Nit de Sant Joan is on the beaches of Barcelona, which attract crowds of around 75.000 people.

The day after the Nit de Sant Joan is a public holiday, so the party goes on until sunrise and all the clubs and bars in the city organise Sant Joan parties.

Use the links below to find parties and events (revetlles populars) bonfires (fogueres), where you can buy firecrackers at pop-up stands and shops all over Barcelona (parades de petards) and read about Sant Joan traditions.

Map bonfires Sant Joan
Website Barcelona Sant Joan
Guide Barcelona beaches
Beach front restaurants
Beach clubs Barcelona
Top 10 attractions Barcelona


What is Nit de Sant Joan


Nit de Sant Joan means St. John's eve. The Sant Joan festival in Spain marks the start of the summer. This is is the midsummer solstice celebration, which is the day that has the longest period of daylight in the year (not to be confused with the 'equinox' days, which are the days when the day and night are of equal length.

The equinoxes occurs twice a year usually in March and September.) The Nit de Sant Joan celebrations in Spain and Barcelona are in the evening on 23rd June. The next day is 24th June, which is Saint John's day and this is a public holiday in Catalonia and Spain.

The Sant Joan festivals and fiestas are from sunset on 23/6 to sunrise on 24/6 on the eve of Saint John's day. The Sant Joan festival is often called 'La Nit de Sant Joan' - the night of Saint John. The fiestas are also called 'verbenas' or 'revetllas' which means open-air fiestas or celebrations.

Midsummer is originally a pagan holiday, but in Christianity it is associated with the birth of John the Baptist, who was born 6 months before Christ on 24th June, which explains the name Sant Joan.


What is Midsummer solstice

Midsummer solstice is a tradition from ancient times. The summer solstice was considered the most important event of the solar year in ancient times.

Fire was celebrated on this day as the symbol of abundance, purity and fertility and to this day fire and fireworks are one of the central elements in the Festival of Sant Joan with fireworks and bonfires illluminating the skies of Barcelona.

Visit the Barcelona city Nit de Sant Joan website for more details about verbenas firework displays and bonfires all over the city along with information about events in each neighbourhood (barrio) of Barcelona.

Don't forget to read the information about fireworks and bonfire safety information.

Here are some quick tips. Don't ever store fireworks in your pockets. Don't throw rockets or any firecrackers closer than half a kilometer from forest areas. Wear a cap for safety and safety glasses.

Wear long sleeved T-shirt. At home if you are near a Sant Joan gathering close windows and balcony doors.


Sant Joan traditions: Fire
La Flama del Canigó

'Qui encén foc per Sant Joan no es crema en tot l'any' This is a Catalan saying and translates to: 'The one that lights a fire for Sant Joan will not get burnt all year.'

There are about 50 bonfires in Barcelona and 500 bonfires in all Catalonia on Nit de Sant Joan.

The most important element of the festival of Sant Joan is fire. A tradition in many larger towns is to light the bonfires using a flame called 'la Flama del Canigó' - Canigò's flame.

This flame is from the peak of a "sacred" mountain named Canigò (2784m) which is situated in the French Pyrenees mountains - formerly part of North Catalunya.

The tradition of the flame of Canigò started in 1955 as a symbol of Catalan culture inspired by the poem 'Canigó' by famous Catalan poet Verdaguer.

Since 1955 the original flame has been kept alight in the kitchen of Casa Pairal museum by the Castellet de Perpinyàn in France. This was also formerly Catalan territory until it was lost to France after the Treaty of the Pyrenees in 1659.

The first time the Canigò flame crossed the border into modern day Catalonia was in 1966, when it travelled to the town of Vic in the Osona country of Catalonia.

The first time it arrived in Barcelona was in 1967, so 2019 marked the 52nd anniversary of the arrival of the Canigo flame in Barcelona.

Today the flame lights bonfires all over Catalonia. At dawn on 23rd June every year a fire is lit on the peak of Canigò mountain using the same flame.

From the summit the Canigò flame crosses the France Spanish border and is brought to all the Catalan regions of France and Spain to light Sant Joan fires and to unite the Catalan people.

In the week before Sant Joan hundreds of volunteers carry the flame from the Pyrenees to city councils, county councils and cultural organizations in more than 350 municipalities in the "Països Catalans" which include the Catalan areas of France.

It is estimated that around 3000 bonfires, called 'hogueras' in Spanish and 'fogueres' in Catalan, are lit on 23rd June using the flame from the peak of Canigó.

5pm. Flama del Canigó arrives on Plaça de Sant Jaume.

La Flama del Canigó arrives in Barcelona on 23rd June. This arrival of the flame is an event that Barcelona has celebrated for more than 50 years.

In 2022 The flame travels on a route along city streets Arístides Maillol, Riera Blanca, Creu Coberta, plaza de Espanya, Gran Via, plaza de la Universitat, calle Pelai, la Rambla, paseo Colom, Via Laietana y calle Jaume I to get to the final destination at 5pm on Plaça de Sant Jaume in Barcelona's gothic area.

On Plaça de Sant Jaume from around 5 pm to 7.30pm there will be several events including traditional castellers human towers, and gegants giants accompanied by traditional Catalan music from the Cobla Sant Jordi Ciutat de Barcelona.

At 6.15 pm. the 'message of the Flame' is read and at 6.45 pm. local torch teams light their torches and carry the Canigó flame to light around around twenty Sant Joan bonfires in the neighbourhoods - 'barris' - of Barcelona. There is no central bonfire and the local fires are lit at 9.30 or 10pm usually.

There are a several Sant Joan traditions of fire purification. One tradition is that if you burn something, like old furniture, in a Sant Joan fire, then it will cleanse your sins and bring you good luck. Another Sant Joan fire tradition is to write down a wish on a note, then throw the note into the fire - and finally jump upwards three times.

Some people also try a crazy modern tradition, which is not recommended, of holding hands with your loved one, and then leaping together over a bonfire seven times. Then apparently you might live happily ever, after albeit perhaps with burn scars because some people fall back into the fire and are badly burnt.


Sant Joan traditions: Water

'Bany de Sant Joan, salut per tot l'any'. This Catalan saying means 'bathe on Sant Joan and you'll be healthy all year round'. Water is an important element of Sant Joan. According to tradition, on the eve of Sant Joan, you can cleanse your sins in water which symbolises the baptisms of Sant John.

According to legend, a swim will cure all your ails, aches and pains. Any water will do. You can swim in the sea, or in a lake, or even just bathe your face with the morning dew and you will be free of sin and completely cured of all ills.

This is a safer midnight tradition than jumping over bonfires as long as you don't swim too far out and the sea is calm. If you are on Barcelona beach you will certainly not be the only one having a midnight-sin-swim.

Around 60,000 people people gather on the beaches of Barcelona - mostly on Bogatell and Mar Bella beach - for a huge beach party to celebrate the Nit de Sant Joan.

Many choose to swim their sins away with a dip in the sea at midnight. The water temperature of the Barcelona is around 22-23 degrees celcius in June, so it's a pleasant experience having an evening swim.

Watching the Sant Joan sunrise is an important part of the Nit de Sant Joan and a fine excuse for partying all night. Sunrise is around 06.15 on 24 June

The beaches in Barcelona will be closed at 06:00 in the morning of 24/6 for the big cleaning up.

Some say that the tradition of going to the beaches of Barcelona was started by foreigners living in Barcelona, who had no family to gather with on Sant Joan and thats why they started going to the beaches to celebrate.

In the years after the new Barcelona beaches were made for the Olympics in 1992, the tradition became popular and now many locals and tourists also head for the beaches on Sant Joan.


Sant Joan traditions: Herbs

'Les herbes de Sant Joan tenen virtut tot l'any' which means 'herbs of Sant Joan keep their strength all year.' Herbs are a big element of Sant Joan. Herbs are said to have curative powers that become one hundred times stronger on the night of Sant Joan.

Thyme, Rosemary and Verbena (verbena is the herb that lends its name to the festival) are collected and eaten on Sant Joan. The herb verbena was offered to the Gods in ancient times. It has a very powerful smell and some say it has aphrodisiac properties.


Sant Joan traditions: Fireworks

Fireworks are called 'petards' in Catalan - and 'petardos' in Spanish language. There is a strong tradition of fireworks in Catalonia apparently stemming back to the days of the Arab invasions.

Each barrio - neighbourhood - in Barcelona has its own small firework display along with local all-night bonfires fuelled by collections of old furniture!

In the barrios you will also find dancing and celebrations in the plazas, street parties, music and entertainment. Firecracker shops and huts - called 'Punts de venda de petards' - appear all over Barcelona and Catalonia and are usually open 5 days before the Night of Sant Joan. So be prepared for many small and big bangs on the days before Sant Joan.

If you live in a crowded neighbourhood you can probably forget about taking a siesta. There is no big central fireworks display and mostly the fireworks are bangers and loud fire-crackers.


Sant Joan traditions: Coca & Cava

Food and drink is an important part of any Catalan festival. For Sant Joan the food and drink is Coca cake and Cava sparkling wine. La Coca de Sant Joan - coques in the plural - are dessert brioche cakes which are enjoyed at Sant Joan and swilled down with Cava sparkling wine.

The Coca cake is a sweet, soft, light-textured bread made from eggs, butter, flour, milk and yeast and formed into a cake with a topping of candied fruit and a filling of cream, pumpkin, marzipan, cream, or chocolate. The classic Coca is anise-flavoured with candied fruites and pine nuts.

If you want to try baking one yourself then check the Coca recipe on the link below and remember the Coca bread size should be twice as long as it is wide. Hardly worth it though. Visit any pasteleria bakery in Barcelona and you will see a massive variety of delicious Sant Joan cocas - and at the supermarkets they are stacked up in big piles!

Around 900,000 coca cakes are sold in Barcelona for Sant Joan - and a staggering 1.8 million cakes in all of Catalunya which is amazing considering their quite big size. To eat all that coca cake you need millions of bottles of chilled Cava! Here's a Coca de Sant Joan amb crema recipe from the pastry chef at Barcelona's renowned Hofmann Cooking School




Sant Joan parties Barcelona

Most Barcelona night clubs and bars organise big Sant Joan parties, so check out our Barcelona nightlife guide.
One of the best places to celebrate Sant Joan is at one of the Barcelona beach clubs. Barcelona metro and trams are open all night on 23rd June. Barcelona taxis usually charge an extra supplement of a few euro after midnight until 06.00


Traffic Sant Joan 2022

If you are leaving Barcelona for Sant Juan then leave in good time. It is estimated that around 4-500,000 cars leave Barcelona in what the Spanish authorities called 'Operación Salida' on the day before Sant Joan.

Sant Joan is after the end of Spain's school holidays and many Barcelona residents have second homes at beaches outside Barcelona.


Public holiday - Sant Joan 24th June

El Día de Sant Joan is Saint John's day and a public holiday. The 24/6 is always a public holiday and most shops are closed in Barcelona tourist shops in the city center.

Maremagnum shopping mall in Barcelona harbour is open all year round and La Roca village luxury outlet mall outside Barcelona and for food the convenience stores SuperCor shops are open. In the center of Barcelona restaurants, attractions, cinemas and tours will be operating normally.



Bona revetlla a tots!!
Events calendar Barcelona

Twitter Barcelona events

Tours Barcelona

Hashtags Sant Joan:

#SantJoanBCN #SantJoan #SantJoan2019

© Copyright Barcelonayellow.com.
All rights reserved.
Do not copy any text on this page without permission.