Barcelona Sitges Vintage Rally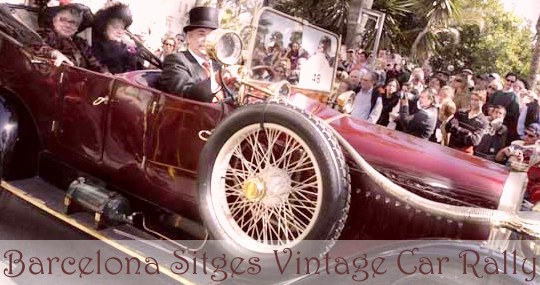 50th Barcelona to Sitges Vintage Rally

El Rallye Internacional de Coches de Época Barcelona-Sitges 2008

{sidebar id=14 align=left}



The Sitges Vintage Car Rally is a fun annual event with cars and costumes from days gone by.

Around 70 cars all manufactured before 1924 "race" the 45km windy and scenic stretch on the old seaside road from Barcelona to finish at Port Aiguadolc in the seaside resort of Sitges south of Barcelona.

The competing vintage cars will be on display in Barcelona before the event in various locations. See the programme below for details.

Programme 2008


Saturday 29th March 2008
10:00- 17.00 Presentation of cars participating in the Rally on Plaça Marquès de Foronda at Montjuïc in in front of Magic Fountion.


Click here for map

Sunday 30th March 2008
11:00- 12.30 The Rally starts and follow route from Pl. Sant Jaume, c/Ferran, Rambles, Pl. Catalunya, Ronda Universitat, Ronda Sant Antoni, Sepúlveda, Paral.lel, Plaça Espanya, Gran Via, c/Badal, Constitució, (L'Hospitalet de Llobregat), Santa Eulàlia, Enric prat de la Riba, c/Barcelona, carretera de l'Hospitalet, Av. de la Fama, c/Tirso de Molina, Av. Baix Llobregat (Cornellà de Llobregat) empalme amb la C-245, Sant Boi de Llobregat, Viladecans, Gavà, Castelldefels, passa a C-246, Costes de Garraf, Port d'Aiguadolç (Sitges). Finísh around 12.30 in Sitges.


Sunday 30th March 2008
13.30 Procession of participating vintage cars along streets of l'Av. Balmins, Rafael Llopart, Jesús, Pl. Cap de la Vila, Parellades, Bonaire i Passeig de la Ribera, fins l'Av. Sofia
15:00 Prize giving ceremony at Passeig de la Ribera de Sitges.
15:00 to 18:00 Cars on display on Plaça de la Fragata de Sitges.


Monday 31st March 2008
Excursión around the Comarca (region)
NB! Program is subject to change.



Visit the Sitges Barcelona Vintage Rally website for more tour information
Last Updated on Sunday, 25 April 2010 23:05