What's on in May 2020 Barcelona

Things to do in May 2020 in Barcelona. May is one of the busiest and most exciting months in Barcelona. A top events is the food and music festival Feria de Abril de Barcelona at the Parc Forum in the Diagonal Mar area of Barcelona.

The top sports event is the annual F1 Formula GP at Montmelo racetrack just north of Barcelona. And as always there is top FC Barcelona action at Camp Nou stadium to end the Spanish football season and for the Champions league.

There are various festivals that visitors to Barcelona in May can choose from including the Loop Video Art festival, the Barcelona Guitar Festival which is a series of concerts at various venues in Barcelona throughout the spring. And don't miss the Handmade festival. Other popular festivals and cultural events include the Nit del Museus - Barcelona Museum Night on 19th May and the annual Barcelona New Rose Festival.

Please visit our Barcelona events calendar for a full programme of event in May 2018

To book Barcelona tours in May kindly visit our Barcelona tours page and we recommend our small group tour partner who offer a range of early Montserrat tours including a new Montserrat Express tour - Find them on Daytripsbarcelona.com

You are always welcome to contact Barcelonayellow if you have questions about visiting Barcelona.

Please visit the related links below for our full calendar of events for Barcelona and for articles and suggestions about things to do in Barcelona.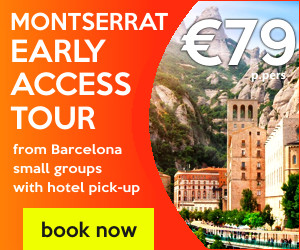 Related content

Weather in May Barcelona
Shopping guide Barcelona
FAQ answers Barcelona
Planning 3 days in Barcelona
Where to stay in Barcelona
Top Ten things to do in Barcelona
Tours of Barcelona
Day tours outside Barcelona

This page is kindly sponsored by



© Copyright Barcelonayellow.com.
Do not copy from this page without permission
All rights reserved


Last Updated on Thursday, 28 May 2020 16:33