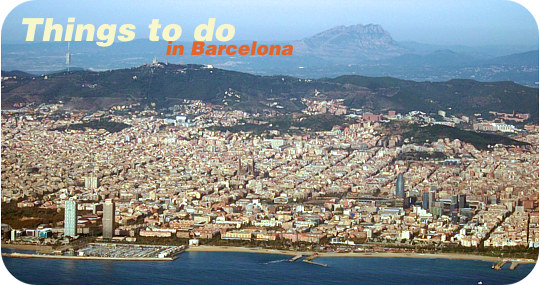 Top Things to do in Barcelona
Ideas and inspiration Barcelona 2023

Barcelona is a modern, exciting and cosmopolitan city with a rich culture and history. Barcelona has an long list of famous attractions for all the family including nine UNESCO World Heritage sites (places or things of special cultural or physical significance.)

Check our list of Top Barcelona Attractions and our useful guide to planning 3 days in Barcelona. For accommodation tips see our guide to best Barcelona areas to stay.

Barcelona is a fabulous mix of ancient and modern culture dating from Roman times, when Barcelona was a Roman garrisson called Barcino. You can still see fragments of Barcelona's Roman walls in the medieval quarters of Barcelona.

Barcelona has a large medieval Barcelona area which is best seen on foot. It has gothic buildings. churches and history. The modernist areas of Barcelona called the Eixample, were built in second half of the 19th century when the modernism fever gripped the city.

The most famous modernist buildings were designed by architect Antoni Gaudi - his amazing Sagrada Familia temple is still being built!

Barcelona is a top travel destination famous for its many top tourist attractions, amazing shopping, exciting nightlife, old and new architecture, art & history museums, business events, innovation, design and sports. Barcelona has something for everyone and is a city buzzing with life all year.

Most visitors stay in the downtown area of Barcelona or near Barcelona beaches. If you are planning a visit to Barcelona then check our guide to Best areas to stay in Barcelona and our popular Barcelona hotel guide.

Barcelona is a perfect size for a city, in our opinion. Not too big and not to small. You won't get bored and you won't get lost. Barcelona is a modern business city, but with a carefree summer spirit thanks to the coast line of sandy beaches which was built for the 1992 Olympic games in Barcelona.

Just a few hours away from the city there are many attractions too. You can find even nicer beaches outside Barcelona both to the north and south of the city. In the north it's worth visiting the stunning and rugged beauty of the Costa Brava coastline. And to the south west you can visit Barcelona wineries and vineyards. To the west just 1 hour from Barcelona is the magnificent Montserrat mountain and abbey and in the winter the Pyrenees mountain ranges has many great ski resorts near Barcelona.

Barcelona hotels, Barcelona restaurants, Barcelona night life and Barcelona shopping are world class, so it's no wonder that international stars, events and festivals constantly put Barcelona on their itinerary. And the city is home to el Barça, which is FC Barcelona, one of the most celebrated and exciting football teams in the world who you can see live at Camp Nou Stadium. And even if the there is no game you can visit Camp Nou stadium and FC Barcelona museum.

Few cities are lucky to have such a variety of attractions and things to do. Barcelona has so much to offer so it is a good idea to plan your visit to Barcelona. Here are some of the most popular things to do in Barcelona.

The "must see list" of things to do in Barcelona is long, but most first time tourists in Barcelona definitely include these top sights on their Barcelona must-see list so we suggest you visit our Barcelona Top Ten List to get inspiration for the top 10 most popular things to see in Barcelona. Our top ten page has pictures and information about the 10 most popular things to do in Barcelona, among which we think are the Sagrada Familia church, the Magic Fountain, the Picasso museum, La Rambla street, Camp Nou stadium, Barcelona's old gothic city neighbourhoods, the famous Park Guell by Gaudi and many other modernist buildings, the Spanish village Poble Espanol and Tibidabo hill to name the top sights. The list of things to do in Barcelona is long and other attractions in Barcelona that are worth a visit too include Montjuic castle, the Miró museum and and many other superb museums and cultural centres in Barcelona.


There are almost as many ways to see the city as there are things to see. You can see Barcelona by bike, by bus, on foot, jogging, on a scooter or a segway. Most people take one day on the hop-on-hop buses, which are very practical for getting around and seeing a lot in one day.

The bus tours are good value for money, but they can be busy so expect some queuing and waiting during the high season. If you prefer smaller groups then there are also many other ways to see Barcelona. Visit our Sightseeing Tours of Barcelona page about all the different tours of Barcelona or visit our Barcelona Tour Shop to book online.

The culture and architecture are a big attraction of Barcelona. Camp Nou might have the football superstars, but don't miss out on the undisputed superstars of Barcelona's cultural scene. Antoni Guadi and Lluís Domènech i Montaner designed some of the world's most incredible buildings structures, which are now part of the UNESCO World Heritage list. Perhaps the greatest painter of all time, Pablo Picasso will be linked with Barcelona forever having lived and studied in the gothic quarter during his youth. See where Picasso lived in Barcelona and visit his hang-outs. You can see much of his early work at the Barcelona Picasso museum. Other world class museums in the city are the MACBA museum of modern art, the Miró foundation and of course the genius of Salvador Dali.

The Dali museum is in Figueres which is 1.5 hours north of Barcelona. You can visit the Dali museum by train or book a day trip. Other day trips from Barcelona will take you to nearby coastal resort Sitges, the mythical mountain of Montserrat or show you the vineyards of Catalonia, where great wines and Cava are produced.


In the summer the beaches of Barcelona are a popular part of any visit. The beaches in Barcelona city are the closest and most convenient with extensive facilities and many "chiringuito" beach cafes. If you want more serene and less crowded beaches, then take the train from Plaza Catalunya and you will soon be lying on the endless miles of spacious beaches outside Barcelona both to the north and south of the city.


For strolling, shopping and eating out Barcelona has a lot to offer. Choose from many trendy shops, tapas bars, cafes and a large number of Michelin star estaurants. The most popular areas for strolling and shopping are the old city of Barcelona, where you can find the famous Boqueria food market, Santa Caterina market, bars, pubs and boutiques galore. The most fashionable streets for shopping are the Passeig de Gracia boulevard and Aveniguda Diagonal, both of which are lined with top international designer shops.


A must see is a stroll down La Rambla, the walking street between the Port Vell harbour and Plaza Catalunya. There are not many sights on La Rambla itself, but it's a walk of life. It's vivacious, colourful, and vibrant and there are many small streets on either side where you can explore or have a bite to eat. You won't be alone. There are always people from all over the world on La Rambla. If you stayed long enough you would meet everyone in the world!

Some practical information about Barcelona. Barcelona is a peaceful and safe city, but there are many pickpockets in Barcelona, especially in tourist areas like La Rambla and on the Barcelona metro.

We recommend that you read our page of Barcelona safety tips about how to avoid pickpockets during your stay in Barcelona. You might also read our practical information page, which has "good to know" information about currency, electricity, shop opening times and more.


Barcelona has a lot of traffic and the noise and heat of the city can be overwhelming. When you want a breath of fresh air, then head for the hills of Barcelona. You can see both from the city centre. Montjuic hill to the south has a wealth of green parks, the Magic Fountain and the Miro Foundation where you can relax in the sculpture garden. To the west of the city the highest point is Tibidado hill, where the Sacred heart church is perched behind the century old Tibidado amusement park.

Both from Montjuic and Tibidabo you can find stunning views of Barcelona. Barcelona has many small green areas and one small park called Parc de la Ciutadella which is also home to Barcelona Zoo. Parc de la Ciutadella is a lovely place for a walk at any time of the year. Outside Barcelona there are many natural parks. The closest is called Collserola natural park just 20 minutes from the centre of town by train or car.


Food is an important part of any visit to Barcelona. Tapas and cervesa. Tapas and beer. You can get tapas almost anywhere in the city , but visit our Barcelona restaurant guide if you want to find some of the most popular tapas restaurants in Barcelona. We also list good Catalan restaurants in Barcelona and many other of the top restaurants. If you are looking for good food combined with a spectacular location then check out these Barcelona restaurants with views, or Barcelona hotels with rooftop terraces. And of course there are many excellent restaurants all over the city. Take your pick.


The Barcelona nightlife is the envy of any big city. There are many clubs, pubs, bars and cafes in the old city near La Rambla. Another popular area of nightlife is the Port Olimpic which has some of the best beach clubs. There are also some great restaurants on the the beach front where you can enjoy lunch or dinner with beach views all year round.

On top of all the things to do in Barcelona, there are often FCB football games, festivals, concerts and other cultural events. The calendar always seems to be full in Barcelona. So be sure to visit our Barcelona Events Calendar which lists major events and festivals in Barcelona. Easter and Christmas are great times to visit Barcelona. Read about Easter in Barcelona and Christmas in Barcelona here. Don't forget to buy a lottery ticket if you are here at Christmas.

The Spanish Loteria de Navidad is one of the biggest lotteries in the world. There are some big annual sports events including the Barcelona F1 race and popular runs like the Barcelona marathon, half-marathon runs and New Year run.

You are welcome to contact the BarcelonaYellow team if you have questions, comments or suggestions. We are happy to help.



Free things to do in Barcelona

There are many great things to do for free in Barcelona. Here are some ideas.



Free Modernist Barcelona on foot
You can see much Barcelona's modernist architecture for free from the outside. Barcelona has many 19th and 20th-century modernist buildings especially in the Eixample area of Barcelona. Most of them charge an admission to get in, but many can also be enjoyed free from the outside. Have a look at the magnificent Palau de la Música Catalana by Lluís Domènech i Montaner in the Gothic area or the town houses Casa Batlló and Casa Mila/La Pedrera by Antoni Gaudi on elegant boulevard Passeig de Gracia. The Sagrada Familia by Gaudi can also be enjoyed free from the outside and after seeing it, we recommend you stroll up the Gaudi avenue to see the newly renovated Hospital Sant Pau, which is the world's largest modernist structure also by Lluís Domènech i Montaner. Barcelona has a Rutadelmodernisme Modernism Route website, which shows the location of all the modernist buildings in Barcelona.



Free Barcelona walking tours
There are several free Barcelona walking tours. The tour is free but it is considerate to tip the guide. You decide the tip.



Free Parc de la Ciutadella
It's free to visit Cuitadella Park. The Ciutadella park in Barcelona, which was opened to the public in 1877 is Barcelona's oldest, biggest and most popular public park. There are often free summer activies in the park including concerts in the summer months of June to August. The Parc de la Ciutadella is close to the Born area where you can find the Santa Maria del Mar church, which is free most of the time and a free exhibition in the old Born market now the El Born Centre Cultural about the fall of Barcelona in 1714 ending the war of Spanish Sucession.


Free Sunday entrance museums
Free entrance museums. Some Barcelona municipal museums have free admission on Sunday afternoons from 3pm to 8pm


Book hotels in Barcelona
Book apartments in Barcelona
Tours and tickets events Barcelona


Welcome to Barcelona! We hope you enjoy your stay!

© Copyright Barcelonayellow.com
All rights reserved.
Do not copy text or images on this page without permission