Poblenou Cementery. Cementiri de Poblenou Cemetery in Poblenou area of Sant Marti district of Barcelona.
Poblenou Cementery is on Carrer de Taulat 2. The main entrance is at the end of Avinguda Icària.
The first cemetery in this location was established in 1775. At that time the location was outside the walled city of Barcelona. It was destroyed by Napoleon's troops in 1813, the current cemetery was opened in 1819.
Inside you can find a monument to the victims of the 1821 Barcelona yellow-fever epidemic.
There is also a magnificent sculpture called "El Petó de la Mort" The Kiss of Death of a winged skeleton kissing the forehead of a kneeling young man.
The story of the sculpture is that in 1930, the wealthy textile Llaudet family commissioned the sculpture for their son.
The epitaph is a verse by a famous Catalan poet Jacint Verdaguer: "His young heart is thus extinguished. The blood in his veins grows cold. And all strength has gone. Faith has been extolled by his fall into the arms of death. Amen"
Map location
of "El Petó de la Mort" in Poblenou cemetery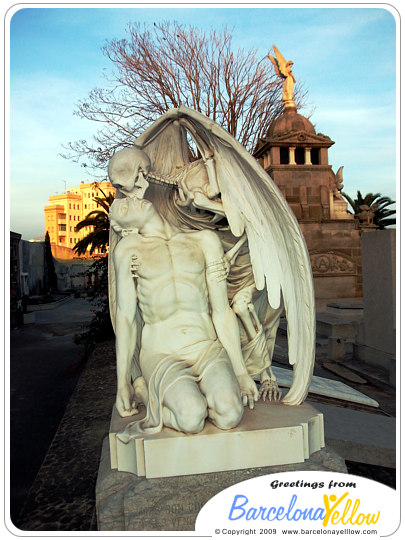 Poblenou Cementery was previously called East Cemetery -
Cementiri de l'Est
- or General Cemetery -
Cementiri General
.
This was because it was formerly the main Barcelona city cemetery until it became too small. A bigger cemetery was opened in 1883 called
Cementiri de Montjuïc
. Montjuic Cemetery is now Barcelona's biggest and main cemetery. It is located on the southwestern border of Barcelona on Montjuic hill.
Poblenou Cementery Opening hours
Monday to Sunday: 8am to 18pm