Girona Spain Travel Guide. Plan your trip to Girona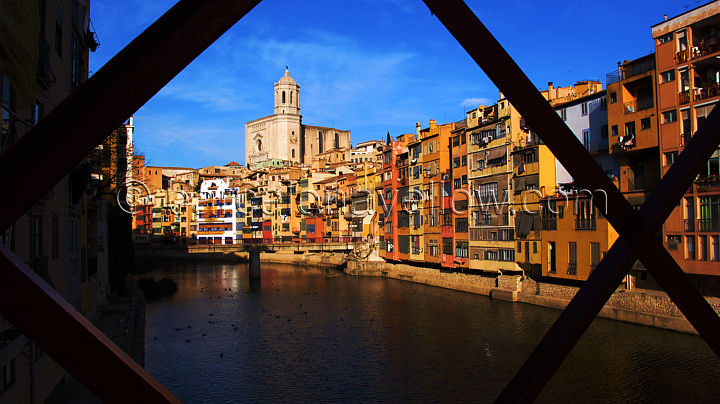 Girona Spain - what to see

Girona is a popular destination for weekend breaks or half-day tours from Barcelona.

Girona is an Spanish city 100km north of Barcelona in the northeast of Catalonia. Girona is like a smaller, quieter and more charming version of Barcelona with a population of just under 100,000.

The travelling time by train or car is about 1 hour. Girona has a lovely medieval center which is packed with history and beautiful architecture - and many steps!

It is a popular day tour destination from Barcelona and is often combined with a visit to the Dali museum in Figueres to the north of Girona

Photo gallery Girona
How to get to Girona from Barcelona
Day tours to Girona
Day tour to Girona / Costa Brava

Girona is the capital of the province of Girona and the capital of the Gironès comarca (region.) The location is 99km north-east from Barcelona Girona is a beautiful city to visit and just a 1 hour journey from Barcelona by car, train or bus.

High-speed AVE trains and regular trains connect Barcelona with Girona. If you want to avoid the hassle and extra time that public transport involves, then book a small group private tour to Girona.


Things to do in Girona
Most tourists to Girona only visit the medieval city center. Visitors usually start at the Onyar river and the colourful hanging houses. The colourful houses of Onyar hanging over both rivers banks is one of the most famous images of the city.

Next visitors stroll through the very narrow steets Barri Vell which is Girona's historic medieval old city. This is best done on foot and will take you to the Jewish quarter of Girona called El Call, Girona Cathedral's Gothic Cathedral which has the second widest gothic nave in the world.

If you are in good shape then you can climb the steps up to the Roman and medieval Carolingian citys walls where you will find great views of Girona.



Girona useful information
How to get to Girona from Barcelona
Tourist website Girona
Tourist office Girona

Printable Tourist Map Girona

Book hotels in Girona Spain

Wikipedia page Girona

Girona/Costa Brava Airport
Girona's Top Festivals
Girona Temps de Flors - Girona Flower Festival
Les Fires de Sant Narcis in October


How to get to Girona from Barcelona

By car Barcelona to Girona
The AP-7 tollroad connects Girona with Barcelona in 1 hour and 10 minutes.
Map of driving directions


By train Barcelona to Girona
37 minutes by AVE high speed train. 1 hour 10 minutes by regular train from Barcelona to Girona. Use Renfe trains from stations in the center of Barcelona.

Timetables prices trains to Girona
Address / information train station Girona
Ave trains to Girona
Regional buses to Girona
Best hotels in Girona
Half-day tours Barcelona to Girona

© Copyright Barcelonayellow.com.
Do not copy from this page without permission.
All rights reserved





Last Updated on Thursday, 14 February 2019 16:08