Montserrat mountain
and monastery near Barcelona. Montserrat is a mountain, a 1000 year old abbey and monastery, a basilica church and the shrine of the famous and sacred effigy of the Virgin Mary, the
Lady of Montserrat,
which is a black madonna and affectionately called '
La Moreneta
' in the Catalan language, which means the 'little dark one.'
Tot Montserrat ticket
Transmontserrat ticket
Pictures Montserrat
Montserrat is just under 1 hour from Barcelona by train, car or tour, Montserrat is a world class visitors attraction and a UNESCO World Heritage site.
Montserrat monastery is also a location in bestselling author
Dan Brown's book 'Origin'
released in October 2017 although it is only a short appearance to begin the book.
The name Montserrat means 'serrated mountain' or 'jagged mountain. It is easy to see why this unusual and jagged mountain massif is named
serrated
mountain
.
Montserrat is one of Barcelona's and Spain's major tourist attractions because of its unique rock formations, the breathtaking scenery and panoramic views.
The name Montserrat originates from the Romans, who called it
Mons Serratus
. It is also, but less frequently, called '
Montsagrat
' by the inhabitants of Catalonia, which means '
sacred mountain
' in the Catalan language.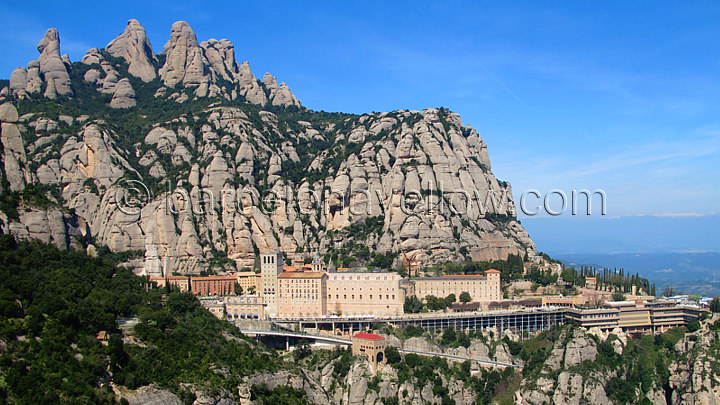 Montserrat mountain is home to the Virgin of Montserrat who can be seen in the 'Santuari de La Mar de Déu' - the 'Sanctuary of Our Lady of Montserrat' Montserrat is also one of Spain's most famous Benedictine monasteries, the Monestir de Montserrat, which has a history spanning almost a thousand years.
In the Montserrat Basilica you can often experience the beautiful voices of the oldest boys' choirs in Europe called the 'Escolania de Montserrat.'
The boys choir sing two choral works in the Basilica at 1pm during the week.
Tip:
If you want a good seat in the spring, summer and fall to hear the boys choir, then it is a good idea to be inside the church by latest 12.30.
The boys choir do not sing on Saturdays and they do not sing on Spanish school holidays including summer holidays from end June to mid September.
On Sunday the boys choir sings at 11.00 at mass service. Generally the Montserrat boys choir are away on tour twice a year.
Visit the Montserrat visitors website for more information about Montserrat. If you want to see sunrises and sunsets, then book a room at the 3 star
Hotel Abat Cisneros
, next to the Basilica or book at the
Montserrat apartments
.
Montserrat is a popular location for climbers and there is a tiny camping site for climbers and hikers near the Monastery called 'Area Esportiva i D'Acampada.'
Pictures Montserrat Barcelona

Hotel Abat Cisneros
Website Montserrat monastery

Montserrat basilica mass & services
Website Abadia de Montserrat
Small Group tours to Montserrat
Montserrat & Winery small group tours
Montserrat Mountain Live webcam
How to get to Montserrat mountain
Train from Barcelona to Montserrat
There are trains from Barcelona to the base of Montserrat mountain where you can connect to a train that takes you up the mountainside to the monaster.
You can buy combination train tickets to Montserrat Plaza Espanya station or at Barcelona tourist offices.
A combination ticket includes train ticket to Monistrol de Montserrat from Espanya station in Barcelona, and the mountain rack-railway from the valley up the mountain to the monastery and funicular train tickets so that you can ride funicular trains from the monastery area and further up the mountain to enjoy the views.
The train journey time is about
2 hours from Barcelona to Montserrat mountain. Combination Montserrat train ticket
At Barcelona-Plaça Espanya Station, FGC trains go to Montserrat every hour starting at 8:36 am. You can buy a combo train ticket which includes the train from Barcelona and back, rack railway up to Monastery, tickets Museum of Montserrat, the 'Inside Montserrat' Audiovisual Space and a Buffet/Coffee Shop Lunch
Tot Montserrat ticket
Transmontserrat ticket
To Montserrat mountain by car
Montserrat is 61km west of Barcelona. Driving time is about 50 minutes depending on traffic. You can park very close to the Montserrat monastery. Or you can park at the free parking at the rack railway station or at the parking by the cable car station.
Route to cable car station
Route to rack train station Montserrat
Montserrat visitor rules
The Sanctuary of Montserrat is a religious area and a public space. Kindly act and dress appropriately.
At entrance to the Basilica and the Tabernacle of Our Lady:
- You may take photos inside the Basilica, provided you do so without flash and no services are being held.
- At the Throne of Our Lady, it is best not to take photos, as it slows down the queue and disturbs others.
- During acts of worship, we ask you not to enter the Basilica unless you wish to take part. Please wait until the services are finished.
- The Tabernacle of Our Lady is closed during services to make it easier for the faithful to take part and attain an ambiance of silence and prayer.
The Crypt, the Holy Chapel and the Tabernacle: these are places of worship.
Please do not enter unless it is for devoting a few minutes of prayer and meditation.
Useful links for visits to Montserrat:
FGC railway
- Tot Montserrat card and tickets
FGC network
- S4 line Montserrat from Pl. Espanya station in Barcelona
Cremallera de Monserrat
- Rack railway to Monserrat Monastery
Aeri de Montserrat
- Cable car to Monserrat Monastery. To take the cable car to Monastery take
FGC
train from Pl Espanya to station 'Monserrat Aeri' which is next to cable car station.
The 'Aeri de Montserrat' cable car is usually open from 1st March to 31st October. Times: 09:40 to 14:00 and 14:35 to 19:00. Plenty of parking nearby.
© Copyright Barcelonayellow.com
Do not copy from this page without permission
All rights reserved.