Barcelona anti-terror demonstration march
'No tinc por' (I'm Not Afraid) - 26th August 2017Barcelona march date:
Saturday 26th August 2017
Start time:
6pm - 18pm in afternoon
March location and route:
Scroll down this page for map. The march starts from junction of Passeig de Gracia and Av Diagonal at Jardinets de Gràcia, walks down Passeig de Gracia and ends at central Plaça Catalunya, near la Rambla.
Map Barcelona demonstration route

Map of area with restricted traffic

Barcelona 'No tinc por' website
Re-Tweet this page

Open map Fullscreen Google Maps
'No tinc por'
(I'm Not Afraid)
Barcelona hosts a massive anti-terror demonstration march to condemn the cowardly terrorist attacks that claimed 13 lives and caused many injuries on La Rambla street in Barcelona on 17th August 2017. The motto of Barcelona's anti-terror march is 'No tinc por', which means "I'm not afraid" in the Catalan language. This slogan has become a symbol of Catalonia and Spains' defiant response to terrorism.
The Barcelona anti-terror peace march is organized by Barcelona's City Council and the Catalan Government. It is intended to be non-political and the Mayor of Barcelona Ada Colau has urged all citizens and parties not to bring political symbols or flags and to respect that the motto 'No tenim por' of the march is for all citizens.
Colau has reminded us that there are many other days on which people can express political opinions and that Saturday's march in Barcelona should send an image of humanity and solidarity with the victims from a unified Barcelona. She stressed, "this has to be a people's demonstration." The Catalan President issued a clear statement that "this demonstration is not a show of support to any person or any institution. We have an appointment with one common goal: to contribute to the defeat of terrorism with a civic effort made by very diverse people, who think very differently." Sadly it appears that not all Catalunya's political sectors agree with these sentiments and some political organisations in Catalonia seem ready to use the occasion to promote a political agenda or to protest the presence in Catalunya of the King of Spain with whistles.
The 'No tinc por' march will be headed by representatives of the emergency services and community members who first responded to the attacks. They will be followed by King Philip of Spain, Spanish Prime minister Rajoy, President Puigdemont of Catalonia, Mayor of Barcelona Ada Colau, almost all the Spanish Government ministers, the presidents of the Congress, the Senate and all the Autonomous Communities of Spain and many other prominent Spanish and Catalan leaders in a unprecedented show of unity and defiance.
Members of the diplomatic corps from around the world will also attend and a very large turnout of Barcelona residents and visitors are expected making this a truly global event. During the march, volunteers will hand out red, yellow and white flowers symbolizing the colours of Barcelona. The closing ceremony of the "I'm not afraid" demonstration will take place on Plaça de Catalunya. Rosa Maria Sardà and Míriam Hatibi will read texts specially chosen for the event and cellist Peter Thiemann from the Gran Teatre del Liceu symphony orchestra, and Guillem Gràcia, a cello student, will perform "
El cant dels ocells - Song of the Birds
" by Pau Casals.
The entire area surrounding the march will be congested and traffic will be disrupted, so if you are staying in hotels or apartments in the vicinity of the march and do not plan to take part, or are leaving Barcelona and need to get to the airport from the area of the march, then be aware that traffic will be restricted and there will be disruptions to public transport in the immediate area of the march.
Use public transport if you plan to arrive to take part in the march. The metro service will be increased by 40% on Saturday afternoon, and there will be a special operation to ensure the fluidity and safety of passenger flow. Due to possible overcrowding outside the metro system, it is advisable not to get off at the Diagonal, Passeig de Gràcia and Catalunya metro stations from 5 pm onwards. Get off at an early metros stations and walk to the demonstrations. Spanish railway company Renfe had added 50 trains to local and regional rail networks between 2pm and 5pm, and then from 7pm until 10pm.
Basic tips from the organisers
The organizers of the event, the Barcelona City Council and the Generalitat have these recommendations and tips to take part in the march
-Consult the
official Barcelona anti-terror march website
-Wear comfortable clothes, wear shoes that protects your feet well rather than flip-flops - and bring a sun hat
-Stay well hydrated and bring extra water in plastic bottles
-Comply with all safety instructions
-Agree on a meeting point in case you get lost or separated from your family or friends
-If you bring children, carry them on your shoulders or always hold their hand
-Take special care and attention with the elderly and people with disabilities
-Bring ID with photo
-Reduce use of social media as much as possible to avoid overloading networks. Post photos and videos after the event please.
-Use ID or contact info bracelet or sign for children and the mentally disabled.
-Do not block any access points
-Don't climb on railings, bars, bus-shelters or any kind of city structure please
-Move in an orderly and respectful manner, and always follow the instructions of the security services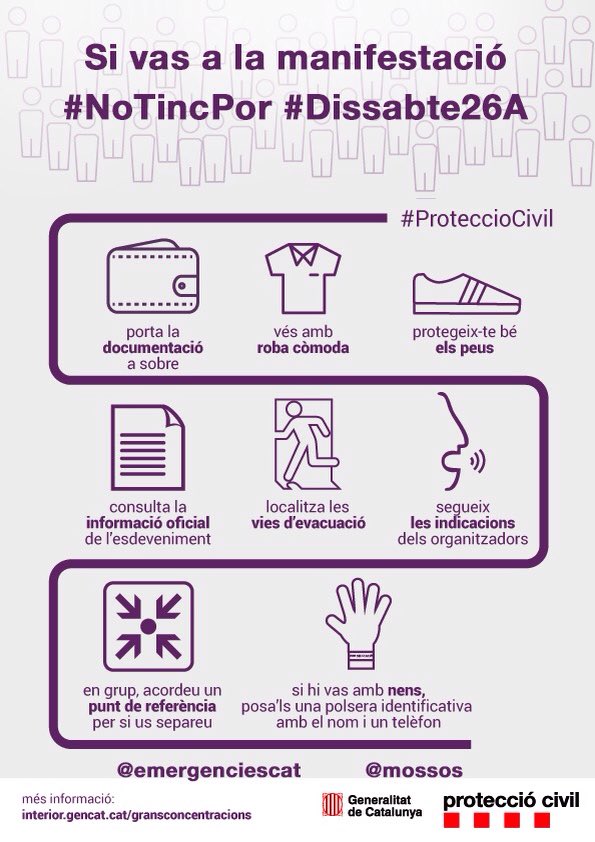 Thank you for the outpouring of support of so many people in Barcelona, Catalonia, Spain and all over the world!
© Copyright Barcelonayellow.com
Do not copy from this page without permission.
All rights reserved