Best Self catering Apartments Barcelona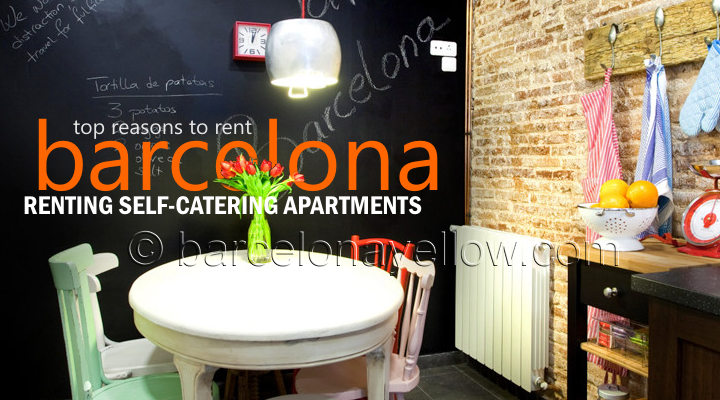 Self Catering Apartments in Barcelona
Self-catering apartments are a popular and cheaper alternative to hotel rooms.

Updated July 2019

On this page you can find our recommendations for top holiday apartments in Barcelona on the map below and our guide to why renting a holiday apartment in Barcelona is such a good idea.

Open FULLSCREEN map Barcelona apartments



Capri by Fraser Barcelona - hotel studio apartments
rated Fabulous by guests

The Lonely Chimney Apartments
Rated Good by guest reviews

Tendency Apartments 7 - Barcelona
Rated Very Good by reviews

The Boutique Apartments w airport shuttle
rated Wonderful by guest reviews

Home to Home Barcelona apartments
Rated Fabulous by guest reviews

More Barcelona self-catering apartments


Why choose holiday apartments?
1. Big Savings

Save money. If you are a group, or a family, you get more value for money in an apartment. Even for singles and couples tourist apartment prices can be comparable to good hotels so for families and groups of four or more, you can really save money because you pay less for services.

Apartments can be around half the price of hotel rooms. You get more space and more comfort for less money. In an apartment you only pay for accommodation, so you are not paying for many facilities that you might not use in a hotel like upmarket restaurants, gyms, rooms service, big TV with satellite channels and so on

Let's look at some of the reasons why tourist apartments are so popular.


2. Kitchen access

Having your own kitchen means savings and convenience. In your own apartment with a kitchen or kitchette you can save on food, especially for groups and family. Often mid-meal snacks and coffees every day tend to add up. In an apartment you can stock the fridge and have much cheaper snacks. Also many enjoy the convenience of being able to fix their own breakfast just the way you like it. An apartment will typicall have a big fridge where you can stock up with your own food, snacks and drinks.

There are many great places to eat out in Barcelona. But paying for 3 meals a day for the whole family in restaurants every day does adds up and also become tiring and time consuming. So save money and have some meals in your own aparment. The many food delivery apps mean you can easily order in. Less stress and cheaper.

Choose from Barcelona's online takeaway food services.


3. More space

Holiday apartments are generally more spacious than hotel rooms. You generally get more space in an apartment in Barcelona This is a really nice especially for a family. Staying in a hotel room as a family can be crowded and frustrating after a few days.

An apartment means several bedrooms, sometimes more than one TV and usually a DVD player, so you can keep the kids happy! Often there might be a terrace with sun beds. Some Barcelona short term rental apartments have communal pools too.


4. More privacy

Privacy. No room service or cleaning, but no maids or other people from the hotel knocking on your door. You can be as messy as you want and tidy up when you feel like it.


5. Comfort and facilities

Apartments in Barcelona are often better furnished than hotel rooms and much better equipped. Most of the popular apartments make sure that the apartments have fast WiFi, modern TV, full range of kitchen equipment in working order, and have other useful items to make your stay more pleasant.

You usually get an iron, an electric kettle, a desk if you need to work a little during your stay. All these little things make your stay a little easier. Apartments also often have bigger terraces or balconies and sometimes better views.


6. Local feel

Local feel. Staying in an self-catering apartment in a local neighbourhood in Barcelona is just that bit more personal and authentic. You will normally be in a typical residential building with local residents for neighbours. You can shop in local shops or the fantastic fresh food markets that are in all areas of Barcelona, so you get a real feel for the city and the Barcelona way of life.

Remember that your neighbours are not on holiday, so don't disturb them at night.

In Barcelona and Spain respect for neighbours privacy is very important, and generally it is frowned upon to play loud music at home or have noisy late parties.

So bring headphones and make sure you don't party like it's 2099 in the apartment. If you come back late at night be as quiet as possible.

Find best area to stay in Barcelona


7. Clothes washing/drying

Clothes washing/drying. Most holiday rental apartments in Barcelona have dishwashers, washing machines and dryers, so you can wash during your stay and even better take clean clothes home. All good apartments will have washer, dryer and ironing facilities.

Apartments Barcelona by Booking.com



6 things to consider when renting apartments
1. Late arrival times

The owner of the apartment can be the person who meets you at the apartment. If you arrive after the shops are closed. then you will not have any food in the apartment until the next day and there might be an extra charge for late check-in. So try and arrange flights at reasonably normal times.

Most shops close for the day between 19.00 and 20.00. There are often local grocers or convenience stores, who stay open til midnight or longer. Big supermarkets stay open until 22.00 and there is a chain of 7 eleven style supermarkets shops called Open-Cor, which are also open late.


2. Parking place

Parking place. Apartments hardly ever include a parking place, which top hotels often do. Hotels even have parking on-site sometimes, but usually not free. However if you are arriving by car, then Barcelona has many public parking places all over the city, so you can usually find a parking lot close to apartments. But remember to ask the agency. They will be able to help you. Parking is usually about 25-30 euros a day at public parking lots.


3. Deposit

Deposit. Using private apartment rental companies you normally will be asked to pay 25% or 50% in advance and then the rest in cash to the owner at check-in. Beware of apartment scams. Make sure you deal with a recommended holiday rental agency in Barcelona like Booking.com. Booking.com has the advantage of being a top acommodation brand and you normally will be not be charged until arrival or departure. However there are many reliable private agencies and if you deal with them and pay a deposit you will not have problems. If you break something, then it will usually be charged later or deducted from a deposit that is returned after you vacate the aparment. If you see anything that looks broken or about to break, then be sure to make a note of it, when you are with the owner or agent when you take over the apartment. If something is broken or breaks, tell the agency sooner rather than later. Use your smartphone camera to take pictures and document the date if necessary.


4. Length of stay

Duration of stay. Some agencies, but not all, require a minimum stay in holiday apartments of 2 to 3 nights. If you only want one night, then a hotel room in Barcelona might be more convenient.


5. No reception or room service

Self-catering apartments do not always have reception or room service. At a hotel, help is always available at the reception. In an apartment, you are on your own. The apartment agency will help in an emergency, but they usually don't provide tourist information and of course there is no room service. When it comes to sightseeing and finding your way around you are on your own. So apartments might not be best for first time travellers. But if you have an Ipad or laptop and the apartment has good WiFi, which most do, then you can find and book tours of Barcelona in the comfort of your apartment and find lots of information online about what to see in Barcelona


6. Choice of apartment rental agency
Choose a recommended and established agency. Don't be cheated. You can be very unlucky and be cheated but not if you choose an established company. There are many apartment agencies in Barcelona and some might not live up to their promises. We suggest you use holiday rental agencies that are listed and recommended or use reputable booking accommodation websites like Barcelona apartments from Booking.com





Related pages
Planning 2 day visit
Planning 3 day visit
Which is best area to stay in Barcelona
Top things to do in Barcelona
Tours of Barcelona
Top day tours outside Barcelona
Day tours to beaches outside Barcelona


© Copyright Barcelonayellow.com
Do not copy from this page without permission
All rights reserved.



Last Updated on Thursday, 25 July 2019 10:15