FC Barcelona Victory parade Monday 15th May 2023
Rua pels carrers de Barcelona
Campions! Champions! Visca el Barça. Congratulations to Barça on winning the Spanish league 2022/23
FC Barcelona, under new coach Xavi Hernández, won their first La Liga title in four years on Sunday at RCD Espanyol's stadium, beating Espanyol 4-2.
Barça Femení, FC Barcelona's women's team won their fourth consecutive league title on 30th April 2023. The women's team play in the Champions League final on 3rd June 2023 in Eindhoven.
For the first time ever, FC Barcelona will celebrate both men's and women's football teams victories with a joint Victory Parade with players in an open top bus on Monday 15th May 2023.
The parade is at 6pm on Monday 15th May 2023 starting from outside
Camp Nou
stadium and ending around three hours later at the
Arc de Triomf
monument on Passeig de Lluís Companys, 08010, Barcelona.
FC Barcelona Victory parade route - 7k:Start
at Camp Nou stadium from Gate 14, then along Arístides Maillol street, Travessera de les Corts, Numància, Berlín, París, Balmes, and Pelai streets, Plaça Catalunya, Fontanella street, Urquinaona square, Trafalgar and Passeig de Sant Joan boulevard
End
at Arc de Triomf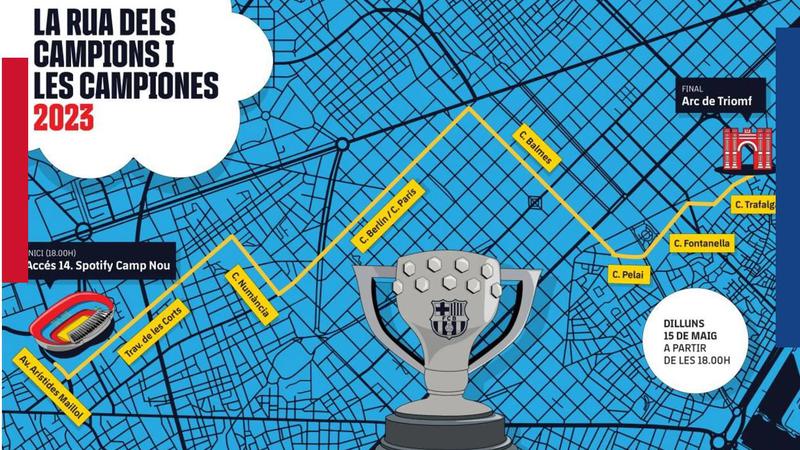 Join the thousands of Barça fans lining the victory parade route to celebrate the Spanish league victories with the players.
You can also usually also see the Barca Victory parade live stream online on
FCB's website
and via FCB's social media websites.
Thanks to FCB men and women squads for great season.
© Copyright Barcelonayellow.com
Do not copy from this page without permission
All rights reserved.