Fira Modernista de Barcelona 2017
Festa Major Dreta de l'Eixample
Event date:
Friday 26th to Sunday 28th May 2017
Event location:
Carrer de Girona between Diputacion & Av Diagonal
See MAP
Event price:
Free
This listing is no longer active
Fira Modernista de Barcelona
. The 2017 Barcelona Modernista Fair and Street Trade Festival is a 3 day street fair in June in the right hand part of the Eixample district of Barcelona.
Barcelona's Modernist fair is in its 13th year and as always aims to recapture the spirit of Eixample over 100 years ago, when the modernism fever and style was at its peak. In 2017 it also celebrates the 150th anniversary of the birth of modernist arcitecht Josep Puig i Cadafalch. The Barcelona modernist fair features a broad range of activities to highlighting the Modernista (Catalan Art Nouveau) movement. The fair features 80 stalls and many activities including children's games, dances, shows, workshops, a large marquee with vintage cars, exhibitions, silent movies, puppet shows and a miniature train and a fun bicycle ride called 'Bicicletada Modernista'.
Nearest metro stations are Verdaguer on L5 and L4 or Girona L4. This event is part of the neighbourhood festival
Festa Mayor de la Dreta
Guide to Modernist Barcelona
Tweet about this event
Barcelona events calendar
Opening times:
Friday : 10:00 h - 20:00
Saturday: 10:00 h - 20:00
Sunday: 10:00 h - 14:00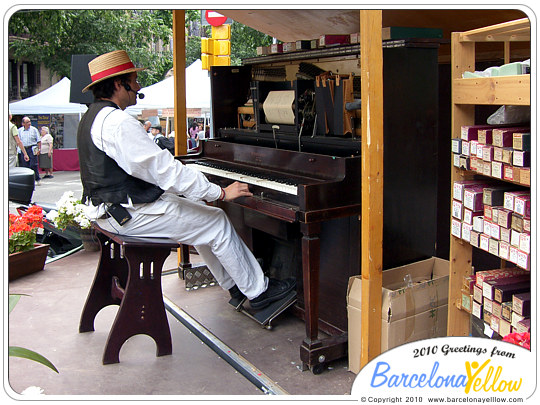 Website Eixample district
Website MMCAT Barcelona modernist museum

© Copyright Barcelonayellow.com
Do not copy any text or pictures on this page without permission
All rights reserved.