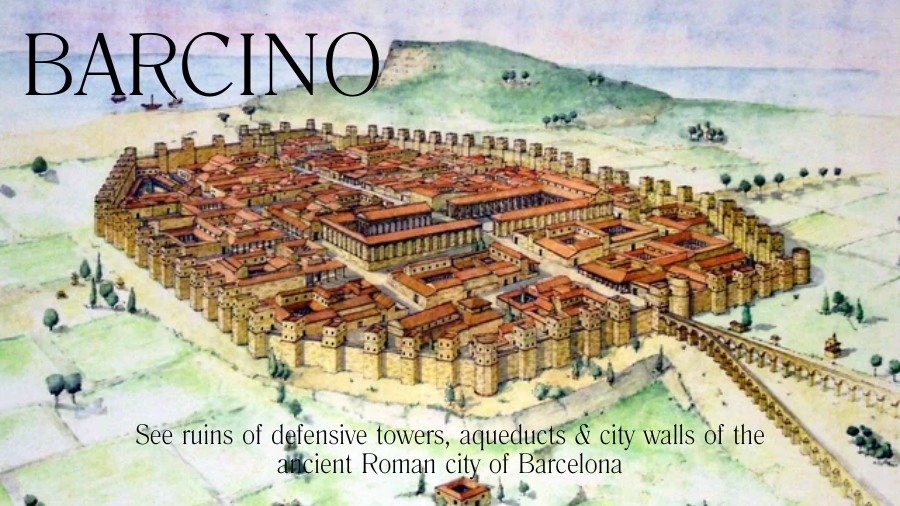 Barcino - Roman town of Barcelona
Map of Barcelona Roman walls and remains. Barcelona was founded as a Roman colony called Barcino. The Roman Barcelona was located in what is now the gothic part of the Barcelona's medieval city. If you look at the present day map of Barcelona below, you can clearly see the outline of the Roman Barcelona town of Barcino. On the map below we have marked where in Barcelona you can see remains of the 1.270 metre perimeter of Barcelona's Roman walls and other Roman ruins in the oldest part of Barcelona's ciutat vella old city.




Pictures Roman walls and remains in Barcelona
Open FULLSCREEN map Barcino Roman walls Barcelona
Where are remains of Barcelona's Roman walls
1. Plaça Vila de Madrid
Vía Sepulcral - Roman necropolis. The burial site of the Roman city of Barcino with 70 tombs from the 2. and 3. centuries AD. The Roman cemetary of Barcino was outside the city wall lining the Roman road called Vía Sepulcral

2. Carrer de Duran i Bas
Outline of two arches of one of the Roman aqueducts

3. Carrer de la Palla
Roman wall and defence towers

4. Plaça Nova
Two sections of Roman wall and two square towers from the second Roman city wall city built in the fourth century AD. In the fifteenth century the "Casa de l'Ardiaca" the Archdeacon's house was built on top of these walls. A reconstrucion of the arches of the aqueducts show where they provided water to the city.

5. Carrer de la Tapineria
Remains of Roman walls

6. Plaça de Ramon Berenguer
Roman walls with arches and defense towers
7. Plaça del Rei
Roman ruins under the Plaça del Rei. These can be seen in the Barcelona History Museum - MUHBA

8. Carrer del Paradís 10-12
Four remaining columns of the Temple of Augustus on Barcelona's Roman forum. These columns are now inside the premises of "Centre Excursionista de Catalunya." The columns are 9m tall. The Temple of Augustus was built in the 1. century BC and dedicated to Emperor Augustus. It was a hexastyle temple with 6 columns in front. The dimensions were 37 metres in length and 17 metres in width. Outside the street Carrer de Paradis 10 you can see a millstone that marks Mont Tàber, which was the highest point of the Roman city of Barcino. Mont Tàber was a hillock just over 16 metres high

.

9. Baixada del Caçador
Remains of 1st Barcelona Roman wall and tower from 2nd Barcelona Roman wall

10. Carrer del Sots-Tinent Navarro
Remains of Barcelona Roman walls
11. Plaça Traginers
Round Roman tower that was part of second Roman wall from 4th century A.D

.

12. Carrer del Correu Vell
Remains of Roman walls and defense towers

13. Carrer del Regomir, 3
Roman city wall and gate in the courtyard of "El Centre Cívic Pati Llimona" civic centre.

Pictures Barcelona Roman walls

© Copyright Barcelonayellow.com
Do not copy from this page without permission
All rights reserved