Barcelona Olympic games 1992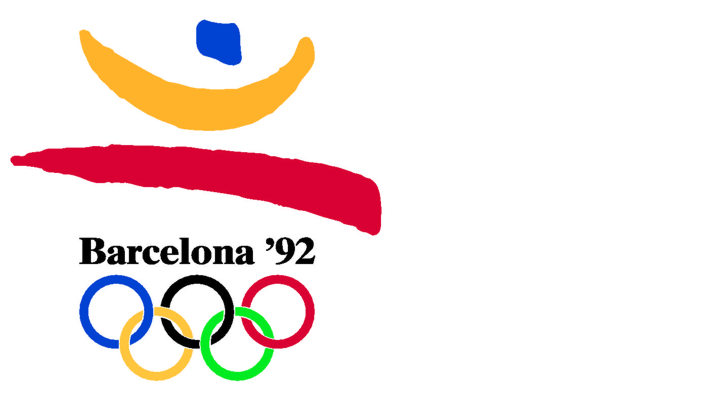 Barcelona Olympic games 1992

Barcelona organised the Summer Olympic games in 1992 from 25 July 1992 to 9 August 1992. It is still considered one of the best Olympic games in history. The announcement that Barcelona would stage the 1992 games was made official in Lausanne, at 1.32 pm on a 17 October in 1987 by the then President of the International Olympic Committee, Joan Antoni Samaranch, who happened to be from Catalunya. To commemerate this event, in 2011 Barcelona opened the "Centre d'Estudis Olímpics i de l'Esport Joan Antoni Samaranch," which is an Olympic study centre.

One of the highlights of the 1992 Olympics was the famous 1992 USA male Olympic basketball team. USA competed for the first time with professional basketball players. On the trace the big star was magnificent track athlete Carl Lewis.

The Olympic games in 1992 brought many new and exciting changes to Barcelona and placed Barcelona at the top of the must visit cities of the world. This was not least due to the spectacular Barcelona Olympic diving pool pecially built on Montjuic hill with stunning views of Barcelona and wth the amazing Sagrada Familia church by Gaudi as a backdrop.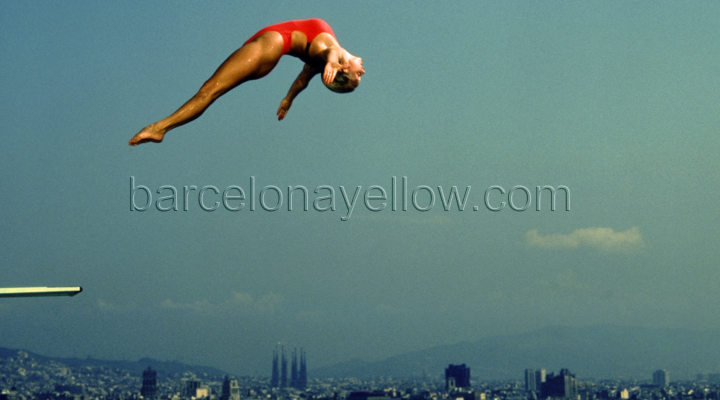 Since 1992 Barcelona has consistently been one of the European cities that are most popular to visit and live and work in. The next Olympic challenge for Barcelona might be the city bid for the 2026 Winter Olympic Games. You can find out more about the Olympics in Barcelona at the Barcelona Olympics Musuem and in the videos and links below.

Wikipedia page Barcelona Summer Olympics 1992
Webpage Olympic Games 1992 in Barcelona
Fúndacio Barcelona Olímpica
Official Report XXV Olympiad Barcelona 1992


Opening ceremony of Barcelona Olympics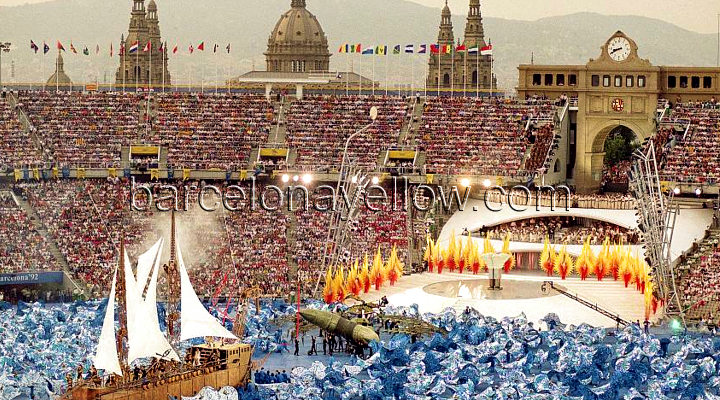 Videos of Olympic Games Barcelona 1992

Freddy Mercury and Montserrat Caballé's song 'Barcelona' was produced as the theme song for the 1992 Olympics in Barcelona and recorded in 1987. It was featured in the TV transmission of the opening of the 1992 Summer Olympics in Barcelona, but not performed live because of Freddy Mercury's tragic death in 1991. The live performance in the video is from 8th October 1988 when Mercury and Caballe performed three songs by the Magic Fountain on Montjuic at a music festival called "La Nit" which celebrated the arrival of the Olympic flag from the Seoul games to Barcelona. This would be Freddy Mercury's final live performance.






Landmarks Barcelona Olympic Games

Torre Collserola communications tower
Beaches Barcelona
Lluis Companys Barcelona Olympic Stadium
Vila Olimpia and Port Olimpic - Olympic Village Barcelona
Olympic diving pool Montjuic hill Barcelona


© Copyright Barcelonayellow.com
Do not copy any text on this page without permission.
All rights reserved


Last Updated on Monday, 25 September 2017 20:59