Chocolate Barcelona
Barcelona is in love with chocolate. Find the best chocolate in Barcelona in pastry shops and chocolate shops or book a Barcelona chocolate tour.

Carrer de Petrixol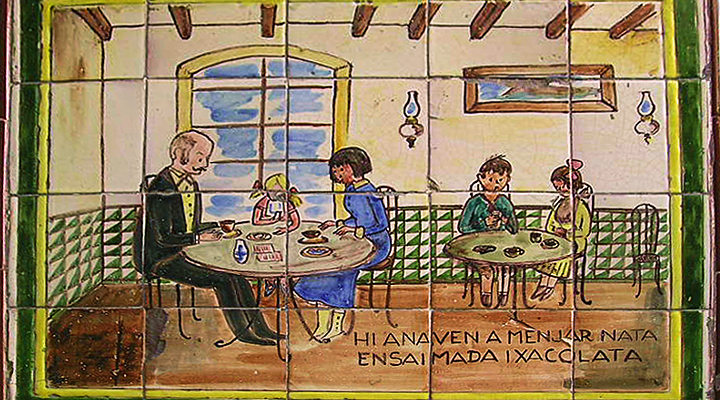 Petrixol street in the gothic part of Barcelona near Las Ramblas is not only one of the most charming streets in the gothic area, but also the epicentre of chocolate in Barcelona which a long tradition of serving chocolate. Some of Barcelona's best chocolate shops called "granja" chocolate cafes and xocolaterias are side by side on Carrer de Petrixol. Among the most popular are Granja La Pallaresa, the Xocoa chocolate shop and cafe and the Granja Dulcinea. Petrixol street is paradise for chocolate addicts visiting Barcelona.
Casa Amatller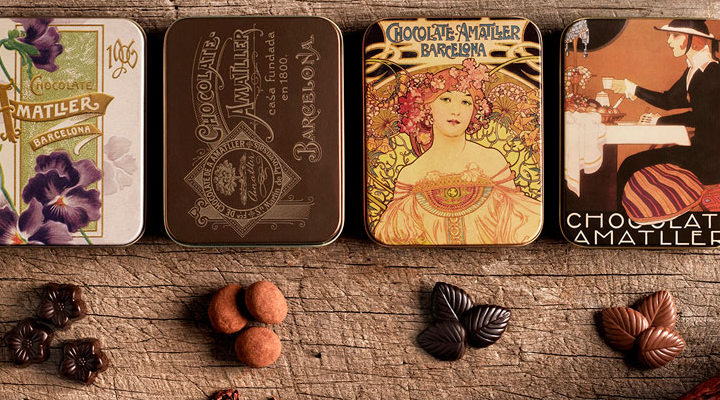 You can find delicious chocolate in Barcelona on elegant shopping street Passeig de Gracia the stunning modernist building Casa Amatller. Casa Amatller was the chocolate manufacturer Amatller's family townhouse. The Amatller familiy chocolate business started in 1797 in Carrer de Manresa in the Born area of Barcelona and was owned by the Amatller family right up until the 1960ies. After that Amatller brand was bought and re-sold several times and finally acquired in 1972 by Chocolates Simón Coll. The Coll family company, now in its sixth generation of dedication to chocolate, has been managing Chocolate Amatller for the last 40 years, following the brand's tradition and quality. Guided tours of the house Casa Amatller include visits to the entrance hall, Antoni Amatller's photographic studio and tasting of Amatller chocolate in the original kitchen.
Casa Amatller
Amatller chocolate website
Museu de la Xocolata Barcelona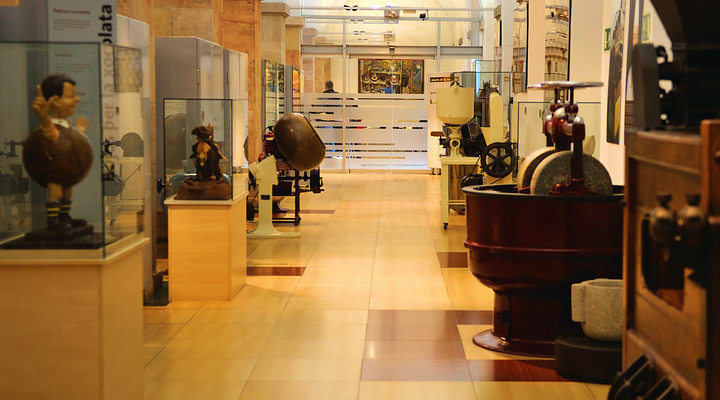 The Barcelona Chocolate Museum was founded by the Barcelona Confectionery Guild (El Gremi de Pastisseries de Catalunya) in 2000 in a former convent in the Born area of Barcelona's old city. The museum takes visitors on a journey through the history of chocolate from the discovery of the cocoa bean in the New World to its modern day popularity. At Easter, the museum hosts an annual "mona" contest. Monas are chocolate sculptures, which can be famous buildings, people, or cartoon characters. Chocolate makers display their "monas" in the windows of their shop during
Barcelona Easter week
and try to outshine each other with sheer creativity and inventiveness. And what chocolate museum would be complete without a cafeteria that serves hot chocolate and other tempting treats. Admission to the museum is € 5 in 2014, but you can visit the shop and cafe free
Barcelona Chocolate museum
Churros with chocolate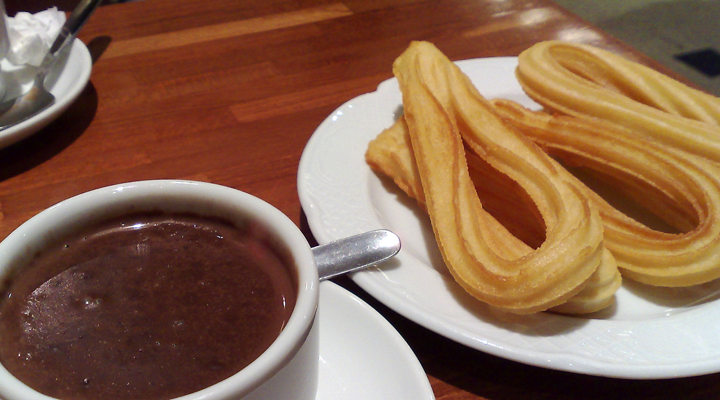 Visit a Churrería to try delicious crispy and crunchy churros. You can eat churros con chocolate, porras (a curly donut version of churros) with coffees for breakfast with coffee or as a snack any time of the day. Some say churros came from China via Porgutal and some say churros were invented centuries ago by Spanish shepherds.

Read more about churros and chocolate
Find best churros in Barcelona
Chocolate at Easter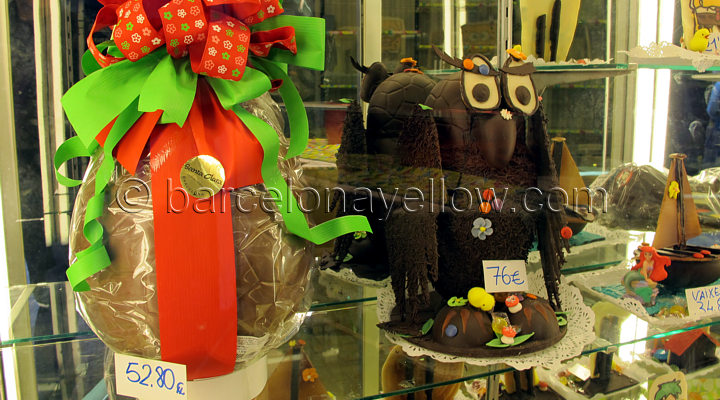 Easter Monday is "Día de la mona de Pascua" - Easter cake day. In Catalonia making the Easter cake called "Mona de Pascua" is an important culinary Easter tradition. The cakes are called "monas" in Spanish and "mones" in Catalan. Around 550,000 mona cakes are sold in Barcelona at Easter. Pastry shops and chocolate shops also make delicios chocolate "monas," which you can see on display in their windows.
Guide to Easter in Barcelona
Pastry shops Barcelona
© Copyright Barcelonayellow.com
All rights reserved.
Do not copy from this page without permission
Last Updated on Tuesday, 22 March 2016 17:32