Biography Joan Gamper - founder of FC Barcelona
Biography Joan Gamper - founder of FC Barcelona

Joan Gamper, (Hans Kamper) was the founder of football club FC Barcelona and one of the first FC Barcelona players.

Gamper was a Swiss citizen born in Winterthur in Switzerland. He was an athlete, businessman, football pioneer, co-founder of FC Barcelona in Spain and of FC Basel and FC Zürich football teams, two of the biggest clubs in Switzerland.

Gamper's full name was Hans Max Gamper-Haessig and he was born on 22nd November 1877 in Winterthur, Switzerland.

In this youth he was an accomplished athlete in Switzerland. In 1899, at the age of 22, he visited his uncle, Emili Gaissert in Barcelona on his way to Africa to help set up some sugar trading business. Gamper fell in love with Barcelona and decided to stay.

He would later become a fluent Catalan speaker and chnaged his name to Joan Gamper to make it more Catalan. He worked as an accountant Crédit Lyonnais, the Sarrià Railway Company and also worked as a sports columnist for two Swiss newspapers.

He joined the local Swiss Evangelical Church and began playing football within the local Christian Protestant community in the district of Sarrià-Sant Gervasi where he lived in the neighbourhood Sant Gervasi de Cassoles. He was a member of the gym 'Gimnasio Solé' and worked on a sports magazine called 'Los Deportes'

The world famous FC Barcelona football club was founded when on 22nd October 1899 Gamper placed an small advert in the sports magazine 'Los Deportes' looking for players to form a football club in Barcelona.

This led to a meeting of eleven players at the 'Gimnasio Solé' gym on on street Montjuic del Carme 5 in the gothic area on November 29th 1899. Football Club Barcelona was a reality. The Gimnasio Solé building still exists and has a commeration plaque on the outside wall.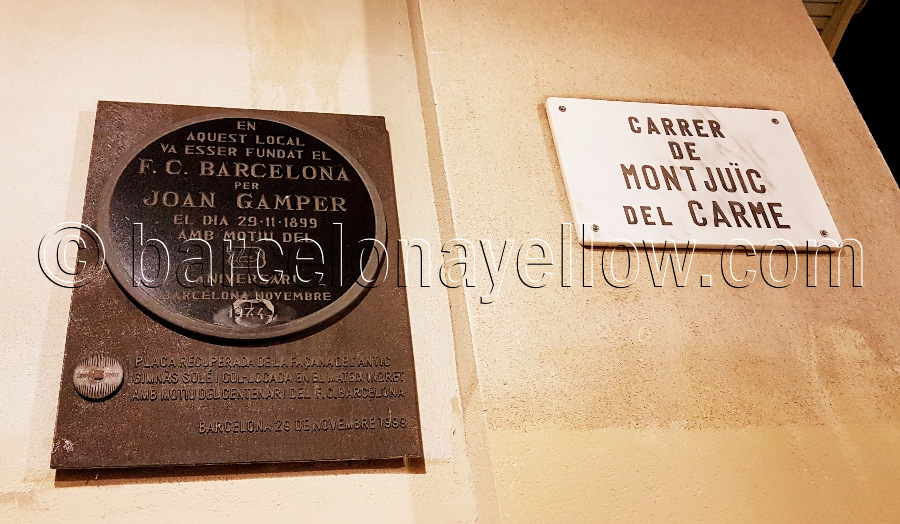 The 11 founding members of FC Barcelona were Swiss, British and Spanish soccer enthusiasts. Although Gamper was the driving force behind the club, initially he preferred only to be a board member and the first club captain. Gamper was only 22 and wanted to concentrate on playing football.

Englishman Walter Wild was the club's first president. The famous red and blue colours of FC Barcelona became the club's colours, which were perhaps inspired by FC Basel, who played in the same colours.

Gamper was a very good player and scored 120 goals in 51 matches. In 1900-01 he was on the team that won the club's first trophy, the 'Copa Macaya' and he played in the 'Copa de la Coronación'; which evolved to the present Copa del Rey tournment.

Later Gamper would be president of the club five times and was closely connected to the club for 25 years.

On 24 June 1925 a public display of Catalanism took place at the second of FC Barcelona's stadiums called 'Camp de Les Corts.' FC Barcelona fans booed the Spanish national anthem before a friendly match between FC Barcelona and Jupiter in honour of a local choir called 'Orfeó Catalá',

Members of the British Royal Navy's Mediterranean Fleet, at anchor in Barcelona port, were invited to watch the game. The FC Barcelona supporters booed the Spanish national anthem and cheered the British 'God Save the Queen' anthem.

This was reported to the government in Madrid and the stadium was closed for six months. The dictator and Spanish Prime Minister, Primo de Rivera, blamed Gamper for inciting Catalan nationalism and expelled him from Spain.

Gamper was later allowed to return to Barcelona on the condition that he would not have any dealings with FC Barcelona.

These political tensions and loss of contact with the club are attributed to the beginning of a period of personal depression for Gamper caused by personal problemss and financial problems caused by the global Great Depression of the 1920's.

Gamper had invested heavily in Wall Street stocks and apparently lost everything after the Wall Street Crash in 1929.G

amper sank into deep depression and commited suicide. Aged only 52 years of age, he took his own life by shooting himself on 30th July 1930 in his apartment which was on Carrer de Girona 4.

Gamper is buried in Montjuïc cemetery.


Tributes to Gamper
Joan Gamper was assigned the membership number one of FC Barcelona club after the news of his death.

The Joan Gamper Trophy was established in 1966 by the FC Barcelona president Enric Llaudet. It is a pre-season tribute game to Gamper and played every year in August before the Spanish league starts.

The FC Barcelona training ground is called 'Ciutat Esportiva Joan Gamper' - Joan Gamper Sports City in his honor.

© Copyright Barcelonayellow.com
Do not copy from this page without permission
All rights reserved



Last Updated on Friday, 28 June 2019 13:13