Barcelona chair by Mies van der Rohe

<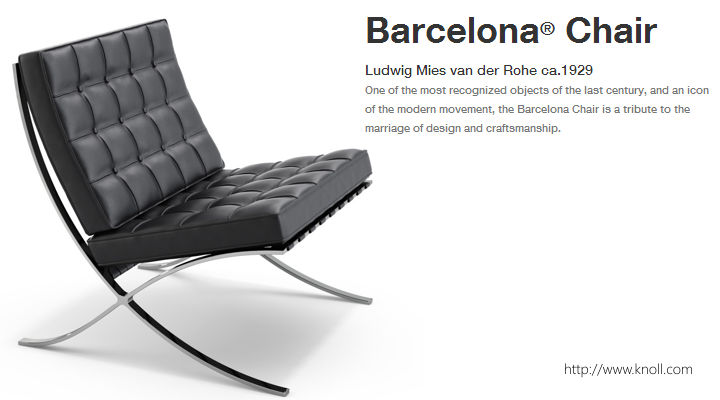 Barcelona chair by Mies van der Rohe
The Barcelona chair is a modern classic and considered one of the most iconic chairs of the 20th century. It was designed by Mies van der Rohe from Germany for the International Exposition in Barcelona in 1929 as part of the furnishing for the futuristic (at the time) German Pavillon at the Internatioal Expositio.

The original German pavillion was taken down, but an exact replica was erected in 1986 and is in the original location near the Barcelona Magic Fountain of Montjuic which also was created in 1929.

Mies van der Rohe took inspiration for iconic Barcelona chair from both an Egyptian folding chair and a Roman folding stool.

The Barcelona chair was created to replicate a kind of throne and made its first appearance during the inaugural ceremony attended by the Spanish royal family.

The chair exudes grandeur and class but at the same time it is light and strong. By many the Barcelona chair is considered to be the pinnacle of a harmonized approach to materials, design, and workmanship with a one-piece frame made of stainless steel which gave strength and spring.

In the United States, the design was popularized by George Nelson. The chair was originally hand-made, but was subsequently mass produced and marketed by the company, Knoll Associates, which now manufactures it in the U.S and 29 other countries world-wide.



Two connected pairs of crossed steel bars constitute the framework of the chair. The front and back legs of the chair are curved, the back legs cross the front legs to form a double curve that supports the seat.

Foam-rubber cushions are covered with buttoned leather and placed on the seat and the back by means of saddle-leather straps.

The upholstery has 40 individual leather panels, which are hand-welted and hand-tufted. To maintain the uniformity of appearance and texture, the leather panels are crafted from a single hide.

The Barcelona chair is still a popular luxury item of furniture and cost upward of 1000 euros.


Last Updated on Sunday, 02 April 2017 23:17