Ciutat Vella: La Barceloneta
Cable car Barcelona harbour
. The port cable car is officially called 'Transbordador Aeri del Port' - and sometimes also referred to as 'Telefèric Aeri del Port.'The port cable car crosses Barcelona harbour and has two small red and white cabins which carry around 2000 passengers a day. The port cable car travels every 10-15 minutes across the Port Vell marina in Barcelona harbour connecting
Barceloneta beach
and
Montjuic hill
. Construction of the red port cable car started in 1929 for the for the 1929
Barcelona World Exhibition
, but the work was delayed and the cable car did not open until 11th November 1931.
------------------------------------
Information continues under ad: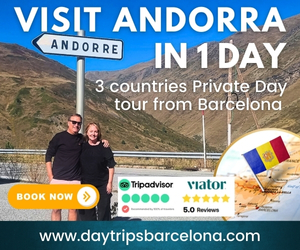 ------------------------------------
During the Civil War the Barcelona port cable car was closed and the towers were used to defend the city from air raids. You can still see machine gun bullet holes on the Jaume I Tower. After the Spanish civil war ended the cable car remained closed to the public and was used to transport goods from the port to the Montjuic hill.
In 1963 the Barcelona port cable car re-opened to the general public and has been in operation ever since to the great delight of tourists looking for spectacular views of Barcelona. The cable car has undergone several major renovations since re-opening.
The cable car cabins have room for 19 persons and travel at a height of between 70m and 90m above the port. The route is from the Montjuic hill station in front of the luxury
Miramar Hotel
on Montjuic hill across the port to the San Sebastia beach near
Barceloneta area
of Barcelona.
This port cable car is also sometimes called the "Teleferico de Montjuic" which is the wrong name, because that is the name as Barcelona's other
Montjuic hill cable car
on Montjuic hill itself.
Pictures Barcelona port cable car
Getting on and off
There are 3 stations in the Barcelona port cable car. 2 of them are cable car towers and one station is on Montjuic hill.
Montjuic hill cable car station
Located in front of 5 star
Miramar Hotel
on Montjuic hill
Map Miramar station
on Montjuïc hill in Costa i Lloberg gardens
Jaume I tower cable car station
The middle station is called Jaume I and is on a tower directly in front of the
World Trade Center
and the
Eurostars Grand Marina Hotel
in Barcelona on the dock called Moll de Barcelona, also called Moll 18. There are no restaurant facilities in the Jaume I tower.
GPS map Jaume I tower
Sant Sebastia cable car tower
The station on the beach is a tower called Sant Sebastia station and is on the San Sebastia beach near Barceloneta beach. On this tower you can both get on and off and there is an exclusive restaurant called
Torre de Alta Mar
on the top floor.
GPS map cable car Sant Sebastia
beach near Barceloneta
Opening times Barcelona Port Cable Car
Open daily as follows:
01/11 to 28/02: 12.00 to 17.30
01/03 to 13/06: 10.30 to 19.00
14/06 to 12/09: 10.30 to 20.00
13/09 to 17/10: 10.30 to 19.00
18/10 to 28/02: 10.30 to 18.00
Closed for annual maintenance from for two or three weeks in January
Departures:
Every 15 minutes.
Ticket prices 2017
Single ticket €11
Return ticket €16.50
Discounts for groups of 15 persons or more