Telefèric de Montjuïc
. Cable car Montjuic hill. There are 2 cables cars in Barcelona. The page that you are on now is about the cable on Montjuic mountain called 'Telefèric de Montjuïc' which goes up to the former military fort on Montjuic hill called
Castell de Montjuic
. The information on the page you are reading now is about the cable car on Montjuic hill and which is called the "Teleferic de Montjuïc" which is a 4 person gondola lift similar to ones you see at mountain ski resorts. This gondola cable car transports visitors up part of Montjuic hill to the former fort called Montjuic castle.
TICKETS Montjuic cable car
------------------------------------
Information continues under ad: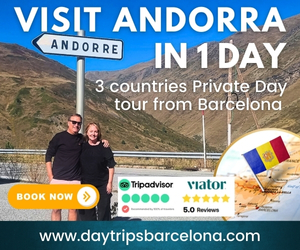 ------------------------------------
To get to the Teleferic de Montjuic cable car base station on Montjuic, take the buses
50
,
55
, or
61
. Visit the
Barcelona travel planner
for more information. The easiest way to get to this cable car is to take the mountain funicular train up to the cable car base station from the metro station
Parallel
on Avinguda Paral·lel. The top station of the funicular train is directly opposite the base station of the Telefèric de Montjuïc cable-car.
The Teleferic de Montjuïccable car journey takes 8 minutes in total. The ride is 752 metres in length with an elevation of 85.5 metres. There is room for 8 people in the new cabins, which were installed in 2007 following the renovation of the system in 2004. The new gondola cars have better ventilation and great views of the city. There is a midway stop at the "Mirador del Alcalde" observation deck
Teleferic de Montjuic opening times:
January & February 10:00 to 18:00 (usually closed for maintenance for three weeks)
March, April & May 10:00 to 19:00
June to September 10:00 to 21:00
October 10:00 to 19:00
November & December 10:00 to 18:00
Teleferic de Montjuic Prices 2016
Single adult € 8
Return adult € 12
Single children € 6.20
Return children € 8.80
Buy Tickets Montjuic cable car
The other cable car in Barcelona is called
Transbordador Aeri del Port
which is the cable car that crosses the port of Barcelona and which also has a stop on Montjuic hill. The port cable car links Montjuic mountain to the beach of San Sebastia and the area of Barceloneta.
About Barcelona port cable car

Guide Barcelona cable cars & mountain trains