Kitesurfing school Barcelona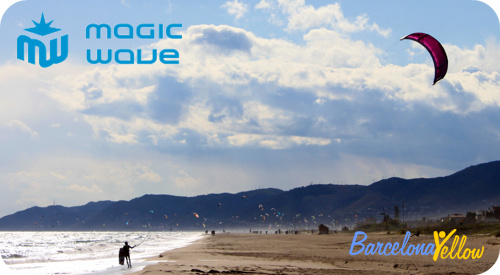 Kitesurfing school Barcelona

Update 2019. These classes are no longer available.

There are kitesurfing schools in Barcelona and one can learn to kitesurf in Barcelona, but it's very difficult to be sure of wind conditions and for this reason it's almost impossible to plan kitesurfing lessons during short stays to Barcelona.

Unlike windsurfing, which is best learned in light winds, in light winds one can only learn theory and kite rigging.

Kitesurfing needs a strong wind and futhermore if you are learning on a beach, the wind has to come from a particular direction in relation to the beach and for beginners the waves can be an problem too.

Most beaches don't allow kite surfing in the summer.

For most kite schools near Barcelona the best wind conditions for beginners are a 10-12 knot wind from the south west, called a "garbi" wind in Catalunya. In light winds one can only learn theory and kite rigging.

The first three hour block of kitesurf lessons is usually on the beach. After that most schools will contact you when the wind conditions are right. The next lessons will be kite flying and will be 1-3 hour lessons on the beach.

For this reason it's almost impossible to plan kitesurfing lessons during short stays to Barcelona.

If you are very serious about learning to kitesurf then you have to be ready everytime the winds are favourable.

To be honest it's best to find the global locations which are best for kiting and then go there for a week or two if you are serious about learning to kitesurf.

In Spain one of the best places to learn to kitesurf is Tarifa in southern spain.

Learning to kitesurf

Step 1 - kite control
The initial steps of a kitesurfing course are on the beach and do not need wind. Before you can fly and control the kite, you will learn basic theory of kite flying and kite control so that you know how to position the kite. You will learn how to unpack and inflate the kite - and how to attach the kite to the control lines and to your harness. If there is enough wind on the first day, you might have the opportunity of flying a kite for the first time. When you know how to inflate and rig the kite, you will practise flying the kite on the beach. You will learn and practise kite flying exercises that you need to master before you can take the kite to the water.


Learning to kitesurf
Step 2 - body drag
When you are familiar with flying the kite on the beach, you are ready for the next step which is learning to body drag. This means flying the kite in the water but without the kitesurfing board. The body drag is where you lie stretched out in the water and let the kite drag you backwards and forwards. You need to master the body drag so that you can find your kitesurfing board if you lose it out at sea during the learning process, which often happens.


Learning to kitesurf
Step 3 - water launching and kitesurfing
Finally you will be ready to start practising launching, and kite surfing on your kitesurfing board. Some schools use a helmet with walkie-talkie, so the instructor can give you instructions.

How long do kite surf lesson take

With the perfect wind conditions the three steps will take around three sessions of three hours and in theory can be completed in three consecutive days.

However, as mentioned, it is difficult to predict wind conditions, so when you book your kitesurfing lessons, the school will contact you when conditions look suitable.

The time it takes to learn how to kitesurf independently varies from student to student, but most learners can complete a kitesurf independency course in 10 to 20 hours, which generally is unsuited to short stay visitors.

In the summer months it is not possible to kitesurf on beaches in or near Barcelona so you will need to drive north to the Gulf of Roses or south to the Ebro Delta for good kitesurfing.

There are also kite schools on the Costa Brava at St Pere Pescador in the Gulf of Roses where you can rent kitesurfing and windsurfing equipment all summer.


FAQ kitesurfing courses Barcelona

Where and when are kitesurfing courses held?
There are schools on Castelldefels beach near Barcelona from October to end May
Kitesurfing is not permitted in and around Barcelona from 1st June - 30th September.

What is included?
Kitesurfing courses include all materials needed which means kites, wetsuits and helmet.

What are the water conditions like?
The Mediterranean sea temperature is around 20C in October and drops to 14C in the winter months. Wetsuits are included in the price of the kitesurfing lesson. In the winter the day temperature is usually around 15-18C° in the sun

Price and duration kitesurfing course
The course is divided into blocks of 3 hours.
First block: On the beach. Cost around €90
Second and third blocks are in the water and are usually billed by the hour, The price per hour is around €30


How to get to Castelldefels beach
Train R2 from Barcelona 30 minutes - or 40 minutes by public transport on bus L95 from stop on Ronda de la Universitat just by Plaza Catalunya.


Pictures kitesurfing near Barcelona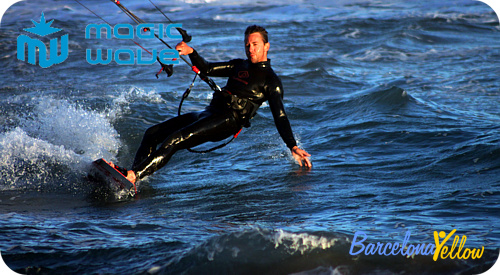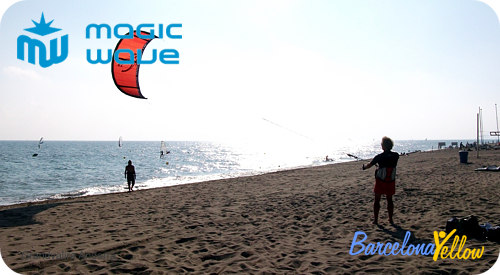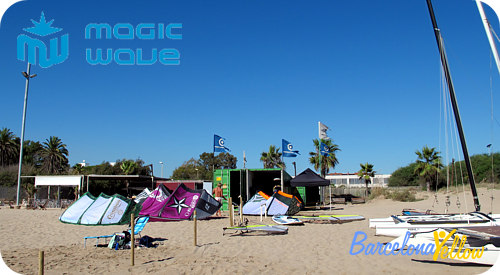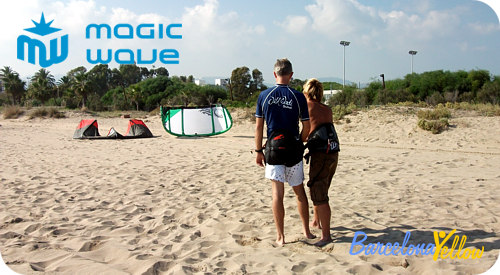 © Copyright Barcelonayellow.com.
Do not copy text or images on this page without permission.
All rights reserved.

Last Updated on Sunday, 21 April 2019 16:30