Taxi companies Barcelona - Taxi telephone numbers
Barcelona taxi numbers
Barcelona taxi companies telephone numbers

Updated January 2023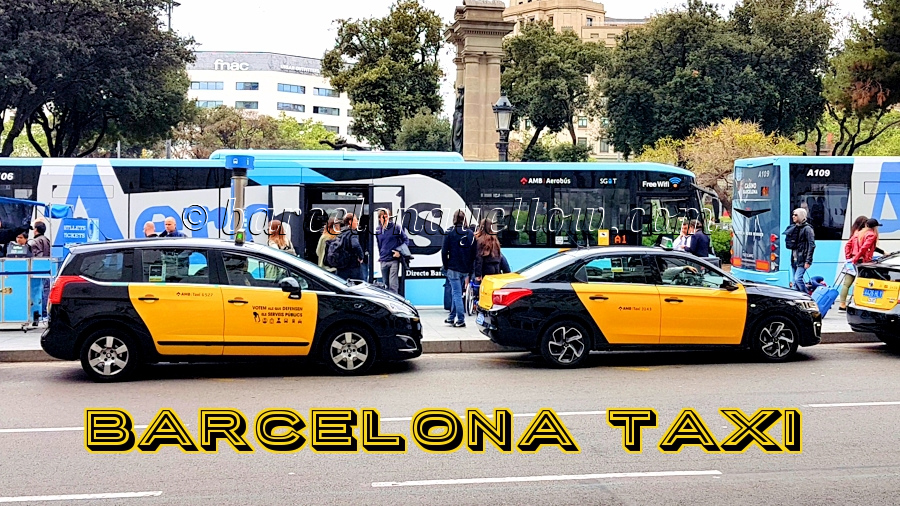 How to order a taxi in Barcelona? Use the numbers and links below.

Are taxis safe in Barcelona? Yes, Barcelona taxis are safe.

What color are taxis in Barcelona. Yellow and Black.

Does Barcelona have Uber? Yes and no. Uber operates in Barcelona but not in the same way as other markets. It works as a taxi app. Taxi drivers forced Uber out of the market with many protests, sometimes violent. Uber is now back in Barcelona but instead of having its own Uber drivers, the app lets taxis use its software at no cost. Not all Barcelona taxi have chosen to use the app however and Taxi organisations continue to protest against Uber.

Find Barcelona taxi telephone numbers and websites Barcelona taxi companies. Scroll down the page for information about Barcelona taxis and taxi companies outside Barcelona.

You can usually pay by credit card in all Barcelona taxis, but as a precaution always ask the driver first if you can pay by credit card and ask the taxi driver, what the current extra supplmentary charges are for luggage items and for airport or cruise destinations.

Look for the sign on the side of the taxi window with current prices. Also we recommend always asking the taxi driver for a receipt (recibo) at the end of the taxi ride.

You will need the receipt if you want to complain about a taxi or taxi driver. You might need a receipt if you lose an item in a taxi and need a receipt for your insurance claim, if you do not recover the lost item via the Barcelonta taxi lost and found office.

The taxi receipt always has the taxi driver's information, license number, NIF tax number, vehicle registration number, price of the taxi ride, and date of the taxi ride service. For information about items lost in taxis see lost items in Barcelona taxi webpage.

Guide Barcelona taxi prices
Barcelona 2023 taxi prices




List taxi companies Barcelona

BookTaxiBarcelona.com
Telephone: +34 935210651
https://www.booktaxibcn.com


Radio Taxi Miramar
Taxi Fleet: 300 taxis
Telephone: +34 934331020
https://taximiramar.com/


FONO Taxi
Taxi Fleet: 300 taxis in Barcelona
Telephone: +34 933001100
https://fonotaxibarcelona.com/


Ràdio Taxi 033
Taxi Fleet: more than 1.200 taxis in Barcelona
Area covered: Metropolitan area, and Sant Cugat del Vallès, L'Hospitalet & El Prat de Llobregat
Telephone: +34 933033033
https://radiotaxi033.com/


Servi Taxi
Taxi Fleet: 400 taxis in Barcelona
Telephones: +34 933300300
https://www.servitaxi.com/


Barna Taxi
Taxi Fleet: 210 taxis in Barcelona
Telephones: +34 933577755 - +34 933002314
https://barnataxi.com/


Barcelona Radio Taxi
Taxi Fleet: 650 taxis in Barcelona
Area covered: Metropolitan area of Barcelona.
Telephone: +34 932250000
https://barcelonaradiotaxi.com/

Groc Taxi
Taxi Fleet: 500 taxis in Barcelona
Services: Have drivers who speak foreign languages.
Telephone: +34 933222222
https://taxigroc.com/



About Barcelona Taxis

There are over 10,000 licensed taxis in Barcelona which are all painted black and yellow. It is very safe to take taxis in Barcelona at any hour of the day. You will generally not be cheated on the fare in a Barcelona taxi.

The Barcelona taxi fleet is modern and all taxi cabs charge using a taximeter. You can pay by credit card in Barcelona taxis or via taxi apps.

You can call Barcelona taxi companies by telephone or hail them in the street. You can also order Barcelona taxis using taxi approved apps, like Freenow

There are minimum rates for airport and cruise port pickups but no extra charges for luggage, pets or wheelchairs. There are different fares for day and night.

You can see Barcelona taxi fares specified in the taxis on the side window. You can see taxi prices specified inside the taxi on a side window at the back.

For complaints and recovered items lost in Barcelona taxis visit the Barcelona Taxi Institute website.






Calculate your taxi fare in Barcelona

Use the official online Barcelona Taxi calculator app to calculate taxi fares in Barcelona. This official app estimates the price of a taxi journey under normal traffic conditions in the metropolitan area using current taxi prices. You can also cross check the estimated price using World Taxi Meter's Barcelona price calculator for Barcelona taxi


Taxi Apps Barcelona

Download Barcelona taxi app to calculate the price of a taxi journey under normal traffic conditions in the Barcelona metropolitan area using current Barcelona taxi prices
Official Barcelona Taxi App fare calculator


Related pages Taxi Barcelona

Taxi companies Barcelona
Barcelona Metropolitan Taxi Institute
Map Barcelona cruise terminals
Map Barcelona airport



Taxi Prices Barcelona

Taxi prices Barcelona




Taxi companies outside Barcelona

Taxi company BADALONA

Radio Taxi Bétulo (Badalona)
Telephone: +34 934601020


Taxi company CASTELLDEFELS and GAVA

RÀDIO TAXI CASTELLDEFELS (Castelldefels)
Taxi Fleet: 45 taxis
Telephone: 936 653 557
Website: http://www.radiotaxicastelldefels.com


Taxi company El PRAT DE LLOBREGAT

RÀDIO TAXI DE EL PRAT (El Prat de Llobregat).
Taxi Fleet: 55 taxis
Telephone: 933 701 611
website http://www.radiotaxiprat.com


Taxi company L'HOSPITALET

TAXITEL (L'Hospitalet de Llobregat).
Taxi Fleet: 60 taxis
Telephone: +34 934734545


TAXILET - RÀDIO TAXI D'ESPLUGUES I L'HOSPITALET.
Taxi Fleet: 50 taxis
Telephone: +34 934736200



Taxi company RIPOLLET

ASSOCIACIÓ RÀDIO TAXI METROPOLITÀ VALLÈS OCCIDENTAL
Area covered: Área del Vallès (Cerdanyola del Vallès, Ripollet & Montcada i Reixac (Santa María de Montcada, Masrampinyo & Montcada Bifurcació).
Telephones: +34 935802727 and +34 936924016


COOPERATIVA RÀDIO TAXI RIPOLLET
Area covered: Ripollet y Área del Vallès
Services: Especial empresas.
Telephone: +34 936925823



Taxi company SANT BOI de Llobregat

RÀDIO TAXI DEL BAIX LLOBREGAT
Taxi Fleet: 240 taxis.
Telephone: +34 936303030


Taxi company SANT CUGAT

ASSOCIACIÓ RÀDIO TAXI SANT CUGAT I VALLDOREIX
Taxi Fleet: 73 taxis
Telephones: +34 935894422 or +34 935892940


Taxi company SANT JOAN DESPÍ

RÀDIO TAXI SANT JOAN DESPÍ TAXIS
Taxi Fleet: 30 taxis
Telephone: +34 934770770


© Copyright Barcelonayellow.com
Do not copy from this page without permission
All rights reserved

Last Updated on Wednesday, 01 February 2023 20:24