Special reduced edition 2020
23rd July 2020
La Diada de Sant Jordi Barcelona
St. George's day - Barcelona 2020
Event date:
23 July 2020 (usually on 23rd April)
Event location:
Barcelona
Guide Sant Jordis Day 2020 Barcelona
Pictures Sant Jordi's day
Copy/paste a virtual rose
@
->->--
A reduced 2020 celebration of Sant Jordi's day on 23rd July (moved from usual 23 April) due to the Covid-19 pandemic.
It will be a limited edition with many safety and hygiene measures and will include both books and roses.
It is hope that two million roses will be sold in 2020 which around 30% of the sales of a normal Diada rose sales of around 7,5 million.
To keep crowd numbers down only professional florists, bookshops and publisher will take part in 2020. Book signings require advance registration. Wearing of facemasks and 1.5 metres social distancing are mandatory.
The 2020 Sant Jordi will be on Passeig de Gracia street from Plaça de Catalunya to Valencia street.
What is Sant Jordi's Day?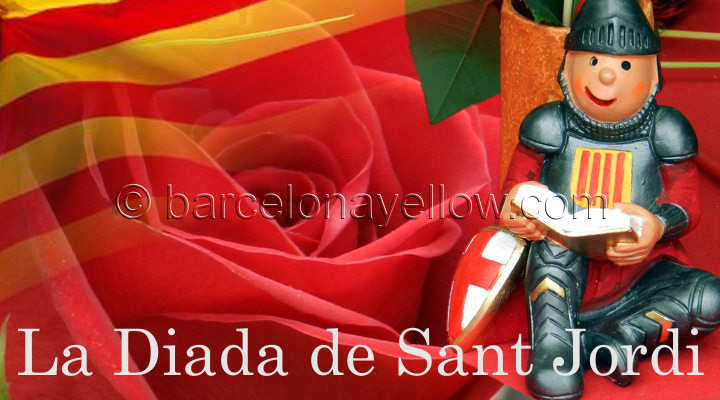 Sant Jordi's day in Barcelona and Catalonia is celebrated on 23rd April every year to commerate Saint George called Sant Jordi in Catalunya, who died on 23 April 303 AD.
Guide Sant Jordi day Barcelona
Sant Jordi is the patron saint of Catalonia and St. George's day celebrations take inspiration from the famous legend of St. George and the dragon. Sant Jordi is the most romantic day of the year in Barcelona and also called "El Día de los Amantes" which means 'Lovers Day.'
The 23 April is not a public holiday, just a very special day when Barcelona, and especially on the famous walking street
Las Ramblas
in Barcelona, which transforms itself into the world biggest flower and book market.
Article continues under ads
The Sant Jordi tradition is that men give ladies a long stemmed rose and ladies give men a book. The book tradition has nothing to do with Sant Jordi legend, but is a tribute to
Miguel de Cervantes
, the Spanish novelist, who died on 23rd April in 1616.
The rose of legend is red, but in recent years other colours of roses have appeared on Sant Jordi's day.
A yellow rose symbolises friendship. Or it used to. Now it has become a symbol of Catalan separatists in support of what they claim are political prisoners.
A white rose symbolises innocence. An orange rose symbolises passion and desire and a pink rose symbolises happiness.
Red with white roses symbolise togetherness. A single rose symbolises simplicity and bright red roses symbolises for beauty within. Be prepared for high rose prices on St. George's day ranging from €3 to €10 euros for a single long stemmed rose.
And no Spanish or Catalan festival is complete without a cake in Catalunya, so do visit
Barcelona pastelerias
to find special St. Jordi's day pastry creations.
Pictures Sant Jordi's day
Website Sant Jordi Barcelona
Wikipedia page Saint George

Happy St. Georges's day. Feliç Diada de Sant Jordi! Happy Sant Jordi day!
© Copyright Barcelonayellow.com
All rights reserved.
Do not copy text or images on this page without permission