Is Las Ramblas worth seeing?
Is Las Ramblas Barcelona worth seeing?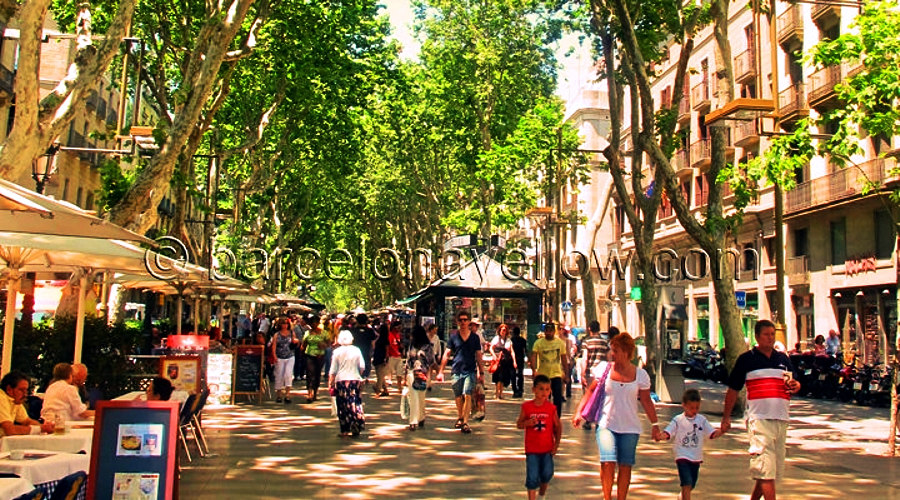 Is Barcelona's most famous street, Las Ramblas, worth seeing or is it overrated and best avoided?

Las Ramblas street, also called 'La Rambla', is the most famous walking street in Barcelona. Las Ramblas is a bustling and vibrant street that stretches for 1.2 kilometers from Plaça de Catalunya in the north to the Christopher Columbus Monument at Port Vell in the south.

The street is lined with trees and features a central pedestrian walkway flanked by two narrow traffic lanes. Las Ramblas is famous for its lively atmosphere and abundance of cafes, restaurants, and shops. Visitors can stroll along the tree-lined promenade, admiring the historic buildings and ornate facades that line the street.

Along the way, they can stop to watch a mime or a flamenco dancer, browse the colorful flower stalls, or sample some of the local cuisine at one of the many outdoor cafes. At the southern end of Las Ramblas, visitors can see the Columbus Monument, which commemorates Christopher Columbus's first voyage to the Americas.

The nearby Port Vell harbour is also a popular attraction, with its marina, aquarium, and shopping center. Despite its popularity with tourists, Las Ramblas remains an important part of the local community, with many residents living in the surrounding neighborhoods and using the street as a central meeting place.

Address / map La Rambla
Pictures Ramblas Barcelona
Hotels Las Ramblas

Some tourists think that Las Ramblas street in Barcelona is an overrated tourist attraction and not worth seeing. But we disagree.

It's true that Las Ramblas is very busy in the summer, can feel a bit touristy and that sadly there are many pickpockets, but we think you should see it if you are in Barcelona for severals reasons.


1. It's difficult to avoid
Las Ramblas is a very long street that runs from Plaza Catalunya to the harbour down the middle of Barcelona's old city, so you can hardly avoid it when exploring the old city of Barcelona.



2. Las Ramblas is historic
Good or bad, Las Ramblas is a central street in Barcelona and if you have not walked along Las Ramblas you have not really seen Barcelona as it is today. Las Ramblas is an important part of the city history and during festivals like the Merce or Sant Jordi's day - after Barcelona football club victories and at Christmas, Las Ramblas becomes the main artery of the city. So love or hate it, Las Ramblas is part of Barcelona's DNA.



3 It's not always busy
It's lovely to stroll on La Rambla in the early hours of the morning, or on a crisp winter day.



4. Attractions
There are some nice places to visit very close to Las Ramblas like the Boqueria food market, the Columbus monument, the Palau de la Virreina, the Palau Guell, the Liceu opera house to name a few. Yes there are many tacky tourist shops and overpriced cafes on Las Ramblas, but you don't have to buy the tacky souvenirs or sit at the cafes that overcharge the most. There some quality places to be found.

The city council is trying hard to attract higher quality souvenir stalls and cut down on the worst of the street entertainment and you can help by looking for the quality shops and supporting them. But it does not talk long to walk along this street and enjoy the stroll and the community feeling of being in the heart of a lovely city surrounded by people from every corner of the earth. It's worth doing for a hour or two.

So while Las Ramblas probably won't win awards for being a spectacular or breathtaking tourist attraction, we don't think it is overrated nor should be avoided. It is what it is. It's La Rambla for better or for worse and you can't really say that you have seen Barcelona without a walk down La Rambla.

Remember to take a drink from the Canaletes water fountain at the top end near Plaza Catalunya. The legend goes that you will always come back to Barcelona if you drink from the fountain. And who wouldn't want to come back to Barcelona?

Top 10 things Barcelona
Pictures Barcelona
Tours Barcelona

© Copyright Barcelonayellow.com
All rights reserved.
Do not copy text or images on this page without permission

Last Updated on Tuesday, 21 March 2023 22:56