Pictures La Rambla street - Las Ramblas Barcelona
Pictures Las Ramblas Barcelona, Spain

What is the Ramblas in Barcelona?

La Rambla is Barcelona's most famous walking street and the most famous tourist street in Barcelona. The official name is 'La Rambla' but people often say 'Las Ramblas' because La Rambla is one long street with six street sections, each with a different Rambla name. So there are six connecting Rambla streets that join together to form one long Rambla. That's a bit confusing but don't worry: say La Rambla, or Las Ramblas. Both are fine.

The names of the different parts of La Rambla are:

La Rambla de Canaletes
La Rambla dels Estudis
La Rambla de les Flors
La Rambla dels Caputxins
La Rambla de Santa Mònica
La Rambla de Mar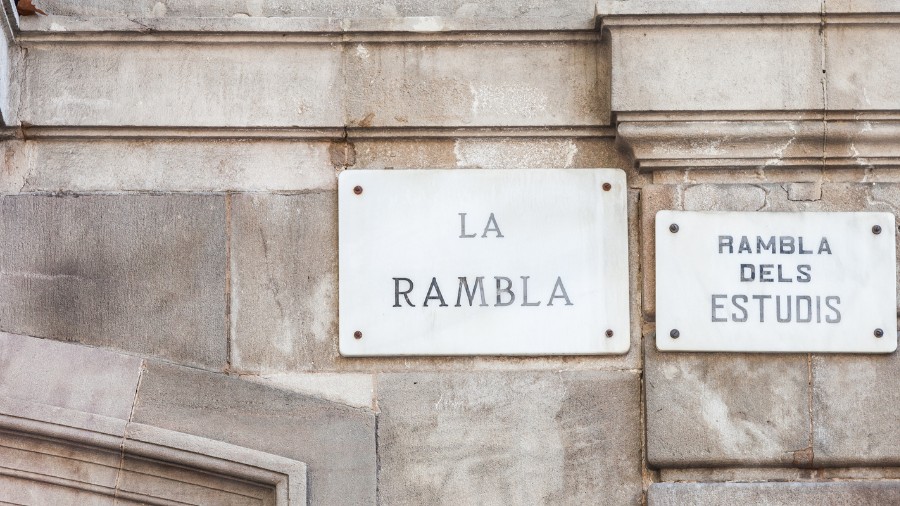 Origin of Rambla name

The origin of the name La Rambla or Las Ramblas dates back to the fifteenth century in the middle ages, when the third city wall was built around the Raval area which then placed La Rambla inside the city walls. Until then it was outside the city walls and was only a rain waterway to carry rainwater coming down from Collserola hills to the sea.

How long is La Rambla street?

La Ramblas is 1.2 km long.

Guide La Rambla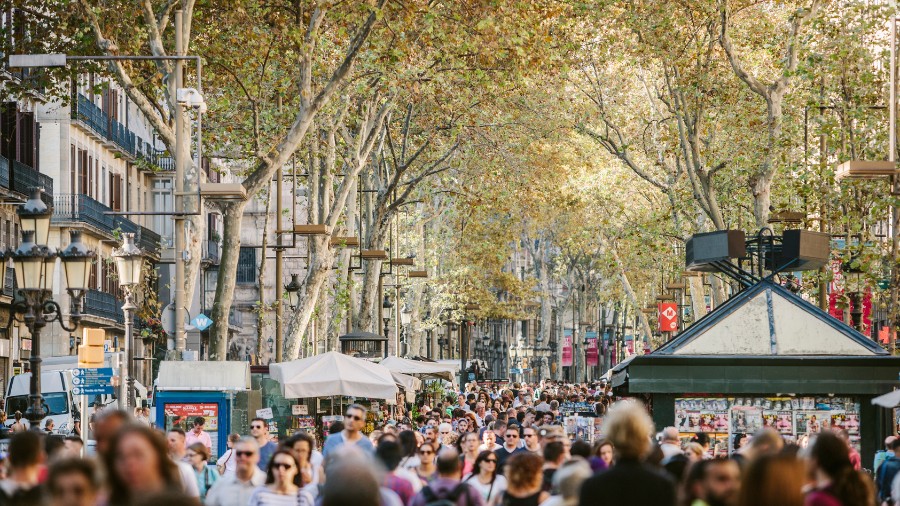 Autumn view of La Rambla. Las Ramblas starts at Barcelona's downtown central square Plaza Catalunya and ends at the marina in Barcelona harbour called Port Vell. Many visitors to Barcelona choose to stay in hotels near Plaza Catalanya or at the top end of Las Ramblas. See our guide to best Barcelona area to stay.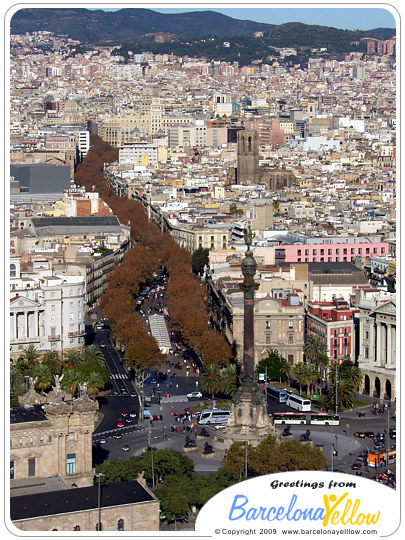 The 'Barca fountain' is as the top end of La Rambla street. This is the famous 'Font de les Canaletes' drinking fountain near Plaza Catalunya. THis is where Barca fans (known as 'cules') come to celebrate big victories. It is said that if you drink from the Font de les Canaletes fountain, then you will fall in love with Barcelona and always come back. See Barca fans celebration pictures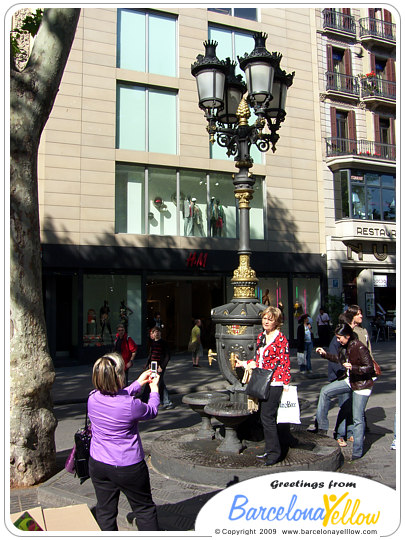 Chinese dragon on facade of early modernist building 'Casa Bruno Cuadros' on La Rambla 82 in Barcelona. Local residents call this building 'Casa dels Paraigües' which means 'Umbrella house.' It was built in 1858 and remodeled with the current facade for the umbrella shop on the ground floor in 1883 by Josep Vilaseca Casanovas. This explains the umbrella under the dragon and various other oriental umbrellas on the facade.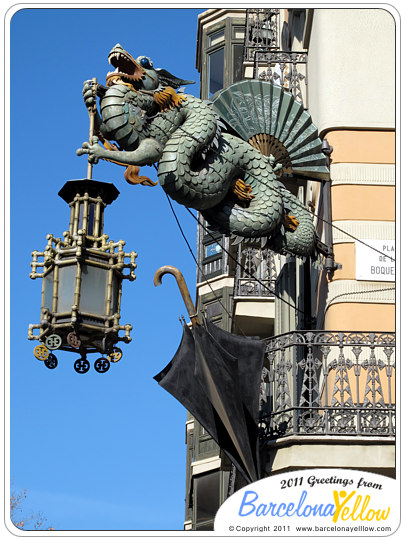 Summer view of La Rambla from Columbus monument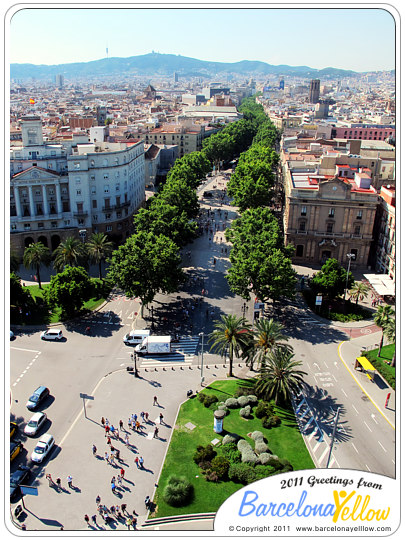 La Boqueria food market is at La Rambla 89 which is also called 'La Mercat de Sant Josep.' This food market is a famous Barcelona landmark on La Rambla street and a must-see. There are two small but famous tapas bars in La Boqueria market called el Pinotxo de la Boqueria and El Quim De La Boqueria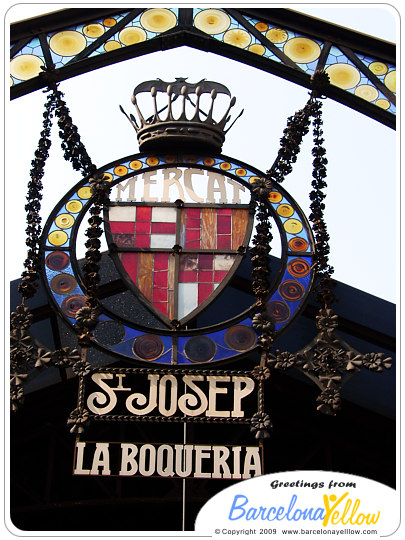 Smoothies have become popular in recent years at La Boqueria. They are delicious, but check the prices. Some of the vendors charge too much. €1.50 is the maximum you should pay for a smoothie in the market.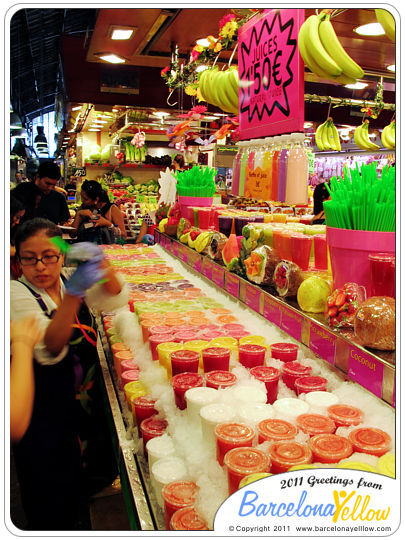 Sculpture on 17th-century church 'Iglesia Parroquia de la Mare de Déu de Belen' on corner of La Ramba and Carrer de Carme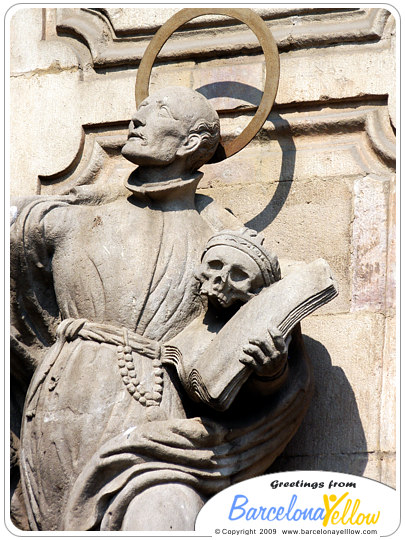 The Barcelona Opera House Gran Teatre del Liceu is a famous landmark on La Rambla 51. You can take an excellent express tour of the builiding for €4. Or see a performance. The Liceu also has a quiet cafe and nice gift shop, so if you want a breather from the bustle of La Rambla then pop into the opera house.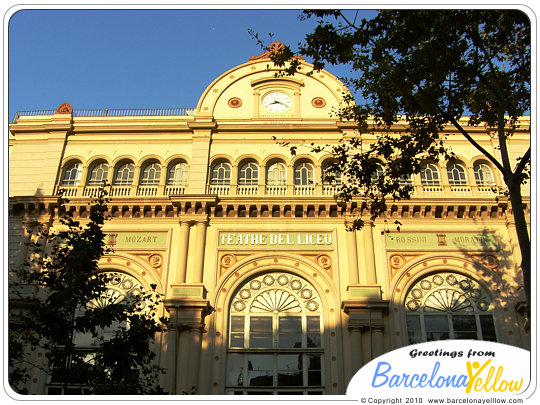 The pavement mosaic on the 'Pla de l'Os' on La Rambla is called 'Paviment Miró' - Miro pavement. It is by famous Catalan artist Joan Miró and was inaugurated on 23rd December 1976. Since then it has since been renovated twice in 1992 and 2007, mostly because of the blue tiles in the mosaic which are a little more fragile than the other colours. This joyful art work was intended by Joan Miró to greet visitors arriving by sea to his home town of Barcelona. It is located close to the birthplace of Miro on the 'Passatge del Crèdit.' Paviment Miró is about 65 square metres in size and is made of small terrazzo tiles which are 10x10 cm in five colors. It is circular shape and has an arrow showing the visitor the way from the port to the city. If you look closely you can find one tile with Miro's signature.

Map location Miro's pavement mosaic on La Rambla.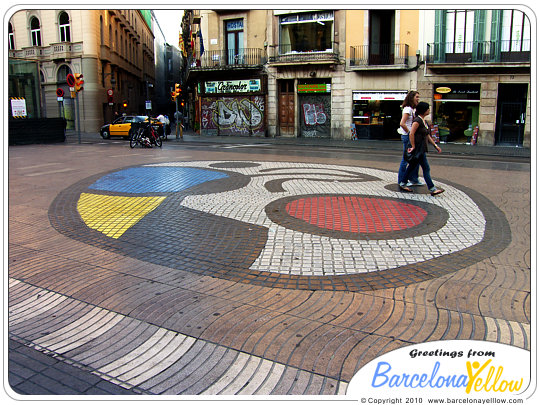 Many other famous Miro works can be seen in Barcelona at Miro Foundation on Montjuic hill. Millions of visitors to Barcelona have been welcomed by the big Miro mosaic at the T2 terminal at Barcelona airport. Another famous Miro sculpture is the 'woman and bird' sculpture near Plaza Espanya. The Gothic quarter Plaça Reial is very close to La Rambla and has many bars and cafes. Map Plaça Reial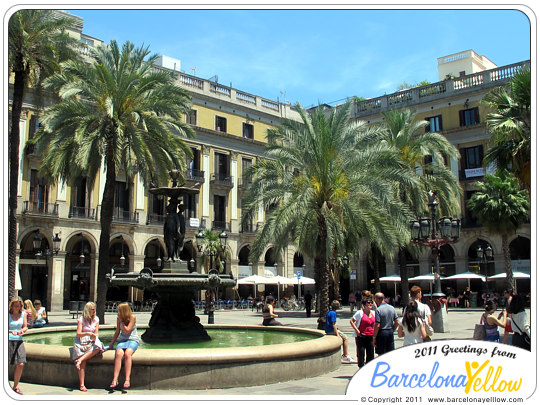 Fish tank at one of the few remaining La Rambla pet stalls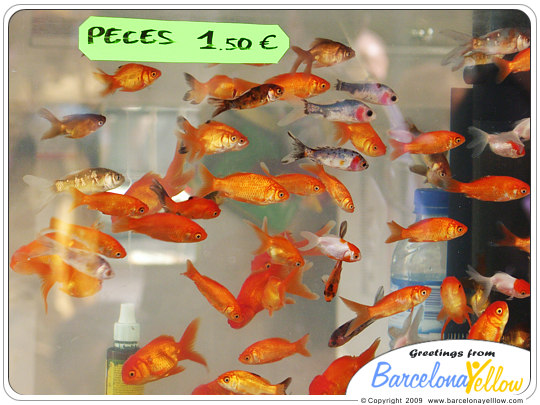 La Rambla is the best place to experience the annual festival of Sant Jordi's day on 23rd of April when it fills with book stalls and rose sellers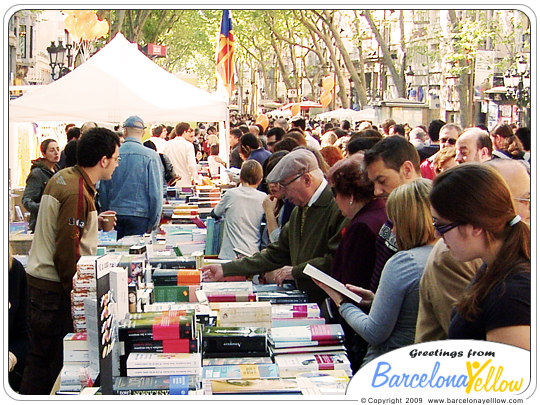 On Sant Jordi's day on La Rambla there are many stalls selling books and t-shirts including supporters of the separatist movement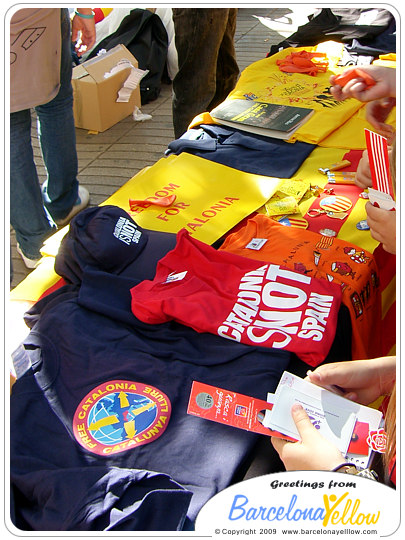 La Rambla has plenty of 'kioscos de prensa' who sell papers and souvenirs. If you want to see attractions by Antoni Gaudi near la Rambla, then visit the Plaza Reial where you will find 2 lamp posts designed by Gaudi. And on street Nou de La Rambla near the port end of La Rambla don't miss the fabulous town house by Gaudi called Palau Guell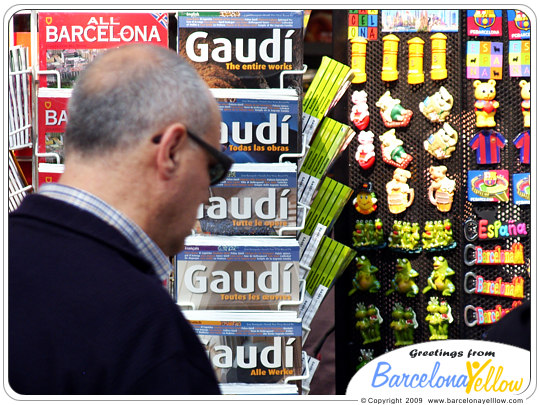 At the port end of La Rambla there is a street art market.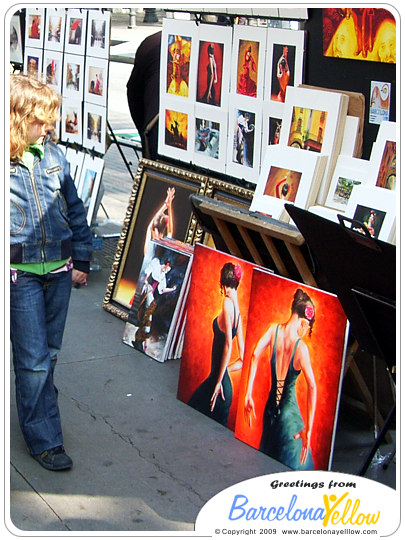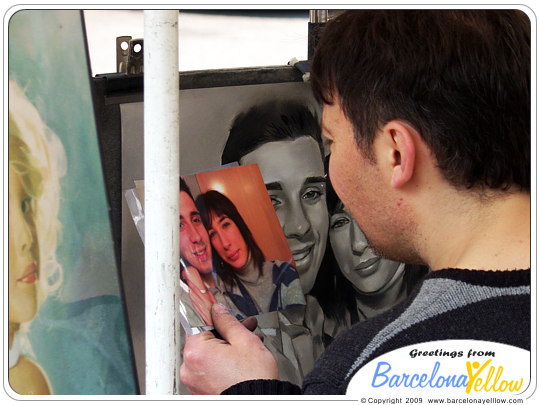 You can buy almost anything on La Rambla including a promise of speaking Spanish in 'a few days!' If you don't believe that find SBarcelona Spanish schools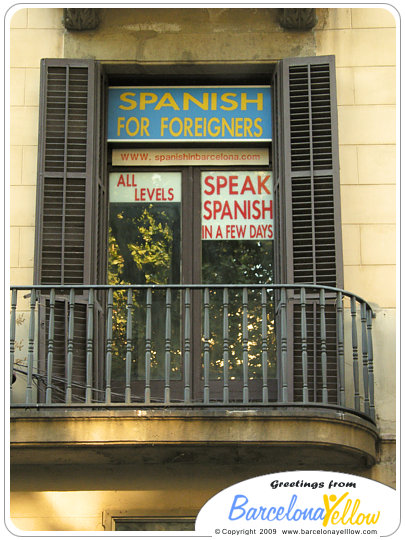 There used to be many performance artists, like 'human statues' on La Rambla. Since 2011 only 12 artists are allowed at the same time.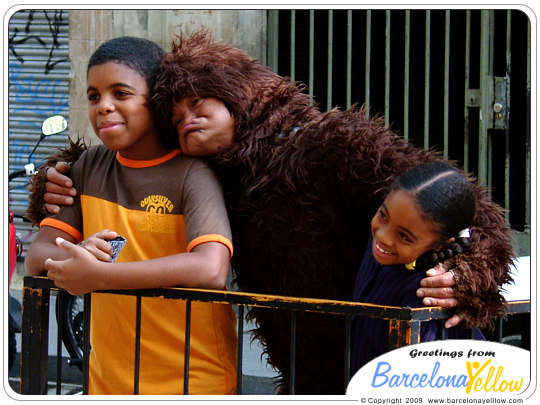 La Rambla is close to Barcelona wax museum. and in the same street you can find an odd but fun 'fairy forest' bar called Bosque de las Fades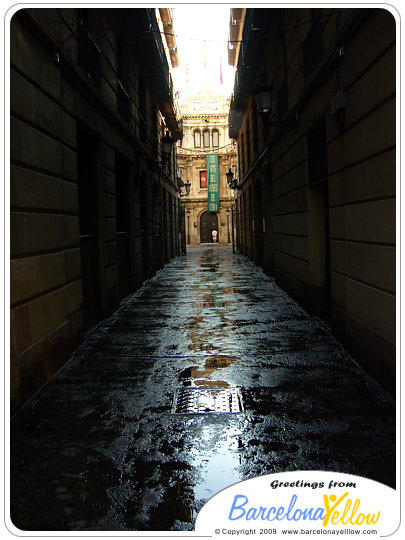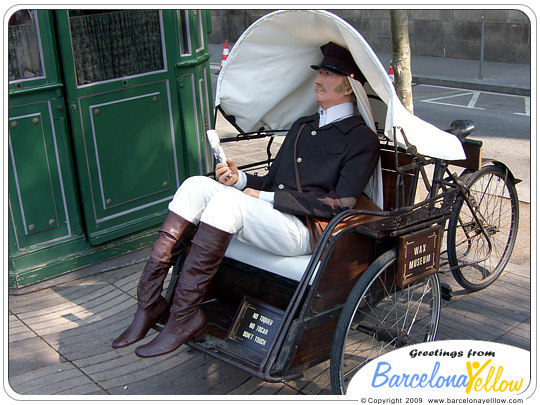 SuperCatalanMan on roof of wax museum.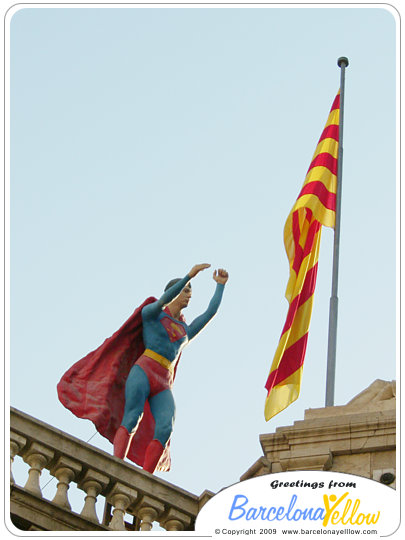 The Torre de Colom office building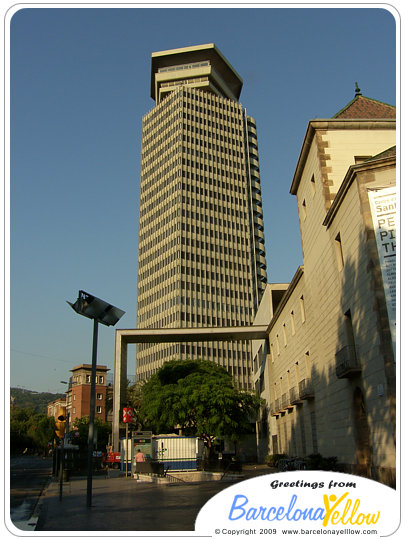 Human statue of Christopher Columbus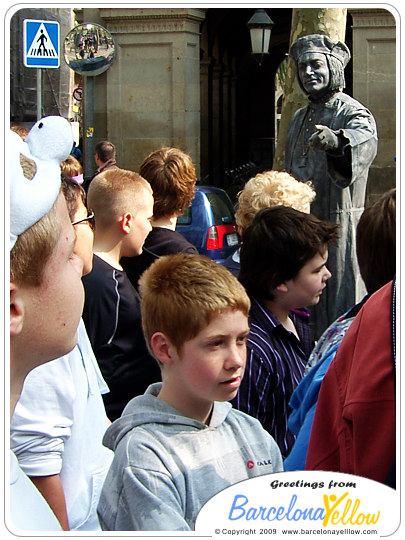 Non-human statue of Christopher Columbus on top of Monument de Colom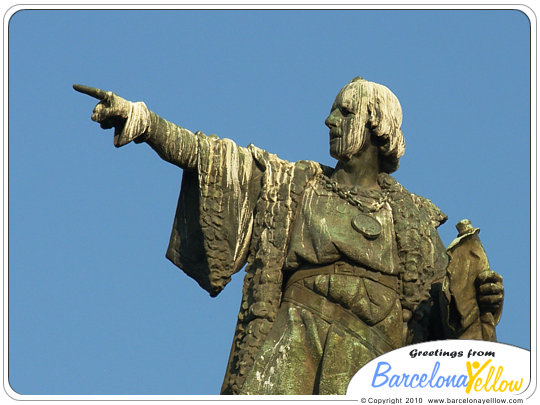 La Rambla del Mar. The latest and newest part of La Rambla in Barcelona harbour




Best Hotels on Las Ramblas Barcelona
Book hotel on Barcelona's most famous street



Related pages

Guide La Rambla street
Bagues Jewellery shop
pictures of Barcelona
10 Things to do on La Rambla

Las Ramblas starts at Barcelona's downtown central square Plaza Catalunya and ends at the marina in Barcelona harbour called Port Vell. Many visitors to Barcelona choose to stay in hotels near Plaza Catalanya or at the top end of Las Ramblas. See our guide to Best area to stay in Barcelona.

© Copyright Barcelonayellow.com
All rights reserved.
Do not copy text or images on this page without permission
Last Updated on Wednesday, 08 February 2023 10:02