What to wear in Barcelona in June
What to wear in Barcelona in June.
What clothes should you pack for a visit to Barcelona in June?

June in Barcelona is generally consider a summer month. In June the weather is usually warm to hot with air temperatures in the shade from around 18C / 65F at night to 25C / 77F during day

Pack light summer clothes like shorts, skirts, T-shirts, and bring sandals or flip-flops for the beach which are good to have on the beach as the sand can be burning hot from mid-day on sunny days especially towards the end of June.

Be aware that it can be cool and rain in June so make sure to bring at least one pair of long trousers and a light sweater and light wind jacket or anorak in June just in case - especially in the first 2 weeks on the month. A cold front can pass by the city like it did in June 2019 around 10th June.

------------------------------------

Article continues under ad: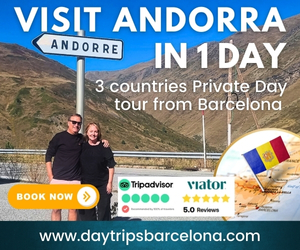 ------------------------------------

We wouldn't really recommend bring rain ponchos and umbrellas - they can be bought cheaply if necessary and just fill up the suitcase.

Remember to bring good walking shoes. Barcelona is a wonderful city for walking. The older parts of the city (called Ciutat Vella) can really only be explored on foot, so comfortable light walking shoes are a good idea.

Footwear with a good grip is also essential if you are planning to book day tours outside Barcelona or go on excursions yourself by train or bus.

The landscape outside Barcelona is mostly quite hilly and/or mountainous so for many destinations including popular mountain and abbey of Montserrat good footwear is essential.


Cover up in church
When you visit the interior of churches especially Barcelona cathedral, kindly note that is considered a sign of respect to cover up a little. This genearlly means covering shoulders and not wearing very small shorts or mini-skirts that end above the knees.



Swimwear only at beach
Please note that swimwear should only be worn near the beach - not in the city. You can be fined for wearing bikinis or shorts in pedestrian city areas. Barcelona is modern coastal city with a beach, not a beach resort.



Pickpockets
Try not to be a target. In general as locals, we recommend that you wear the same summer clothes that you would wear at home. Try not to look too touristy because it will make you an easy mark for pickpockets, who target tourists near popular attractions

Read our safety tips article about how to avoid Barcelona pickpockets and how to avoid problems when moving around Barcelona on foot, by car in the metro.

With a few simple precautions you should not have problems.



Swimming in June:
Barcelona temperature seawater in June will be 20 to 22 degrees Celcius = 68 to 71 degrees Fahrenheit. Barcelona has very nice beaches and June is a great month for beach visits and for swimming. Visit our guide to Barcelona beaches and our guide to beaches outside Barcelona. If you want to stay near the beach visit our Barcelona beach hotel guide.



Dress code Barcelona night clubs
The top Barcelona night clubs have a strict dress code, so pack nice shoes, long trousers and a shirt or golf-shirt for clubbing.

You will be refused entry to the more exclusive night clubs if you are wearing shorts, flips-flops etc. even if they are designer brands.


Shopping
There are always plenty of great offers in Barcelona shops if you need some extra summer clothes check our Barcelona shopping guide.

For single last minute items that you might need you can usually find everything in department store Corte Ingles on central square Plaza Catalunya

To get more information about what to wear in Barcelona in June also we invite you to read our Barcelona weather page and you might also be interested in our Barcelona guide to what's on in June



Related pages:
Planning 2 day visit Barcelona
Planning 3 day visit Barcelona
Where to stay Barcelona
Cruise ship maps and guides
Top 10 attractions
Guide Museums
Tours and Tickets
Best Day tours outside Barcelona
Barcelona beaches
Photo gallery

© Copyright Barcelonayellow.com
All rights reserved.
Do not copy text or images on this page without permission


Last Updated on Monday, 04 December 2023 12:27