Best hotels near MWC 2020 Mobile World Congress Barcelona
Best hotels near MWC 2020 Barcelona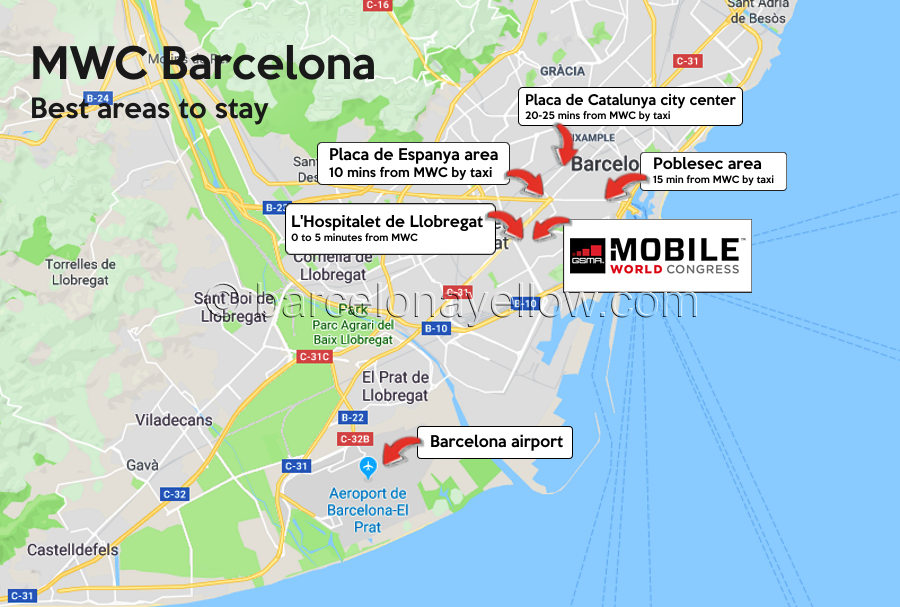 Planning for MWC20. Here are our local picks for best business hotels near Mobile World Congress #MWC20 trade show area.

The MWC dates are 24th to 29th February 2020.

Find all Hotels near MWC 2020 Barcelona on the Google MWC hotel map below, which shows hotels near to the MWC venue.
The annual #MWC2020 congress and exhibition takes place in Barcelona in February at Barcelona's trade fair Fira Gran Via, which is located in the Hospitalet suburb of Barcelona.
This is just south of Barcelona city center and more or less halfway between Barcelona downtown city center of Plaça de Catalunya and Barcelona El Prat airport.

Practical hotels for MWC visitors can be divided into three areas:

1) Hotels very close to MWC area
0 to 10 minutes from MWC trade area. Mostly business hotels, but very convenient for MWC and airport.

2) Hotels near Plaza Espanya
10 minutes by taxi and 20 minutes by public transport. This area is half-way between city center at MWC. Many nice business hotels and good restaurants in area

3) Hotels near Plaza Catalunya
Down city center - 25 minutes from MWC by taxi. Most central place in Barcelona. Many top hotels and well connected for sights and tours.

Also you might be interested in hotels near Sants train station where AVE high speed trains connect Barcelona with Madrid and Paris.


Best hotels near MWC Barcelona
Click on the

blue

map icons to get hotel information and make bookings.

FULLSCREEN map hotels MWC Barcelona



There are several convenient business hotels within walking distance of the MWC 2020 exhibition area. The area around MWC is, however, very much a business and commercial area and therefore lacking in charm. But you can connect to the city center and airport from Plaça Europa station

But there are still few hotels that close to the Gran Fira trade fair area, so many visitors also choose to book hotels nearer to the center of Barcelona.

A popular place for hotels close to MWC is to book hotels near Placa Espanya. From Plaça Espanya you will be just 10 to 15 minutes by car, train or bus from MWC trade fair area of Fira Gran Via and the same distance from the city center. Being at Plaza Espanya definately feels more like being in Barcelona city rather than being in a business area. There are many sights and shops nearby.

Next choice is to be in hotels on Metro lines L1 or L3, which connect at Plaça Espanya to the train to the MWC or on the new L9 metro which has a connection directly to the MWC at Fira Gran Via. The L9 metro connects the Fira Gran Via with airport, but not with the city center. For some reason after Fira Gran Via the L9 it heads west, so if you choose hotels near that line you will be off center too.

Many choose MWC hotels or apartments in the south west of Barcelona in the Sants and Sarria areas heading up a bit towards the hills.

For last minute choices you can find many hotels in the greater Barcelona region with access by train to MWC 2020 exhibition, especially to the south of the city on the coast of Barcelona province in the Castelldefells and Sitges area.

Barcelona has excellent rail and road transport connections to the city center and to the Mobile World Congress exhibition area.

You might also consider booking short stay apartments which are very practical for business teams and groups in Barcelona. Here are some tips for best hotels very near to MWC 2020 Barcelona

Article continues below ads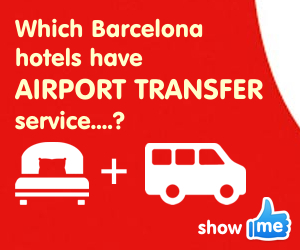 Renaissance Barcelona Fira Hotel
★★★★ 4 star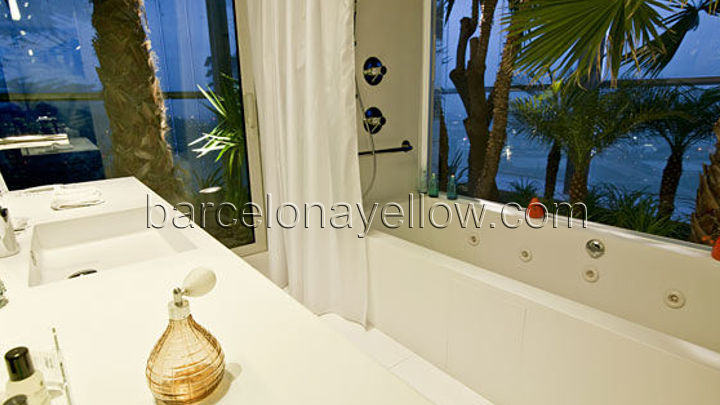 Renaissance Barcelona Fira Hotel is a 4 star hotel rated Fabulous by guest reviews. The Renaissance Barcelona Fira is a new skyscraper hotel from 2011 with 26 floors located on Plaça d'Europa in L'Hospitalet de Llobregat. It is close to the Fira Gran Via trade grounds where MWC takes place and a very nice hotel. It is quite close to Barcelona city centre and has excellent facilities including a rooftop swimming pool and a restaurant with spectacular city views and lush vegetation simulating a vertical tropical garden. The Renaissance gets fabulous reviews for cleanliness, attentive and friendly staff, a superb outdoor pool area city views and indoor pool among other facilities.
BOOK Renaissance Barcelona Fira Hotel




Hotel SB Plaza Europa
★★★★ 4 star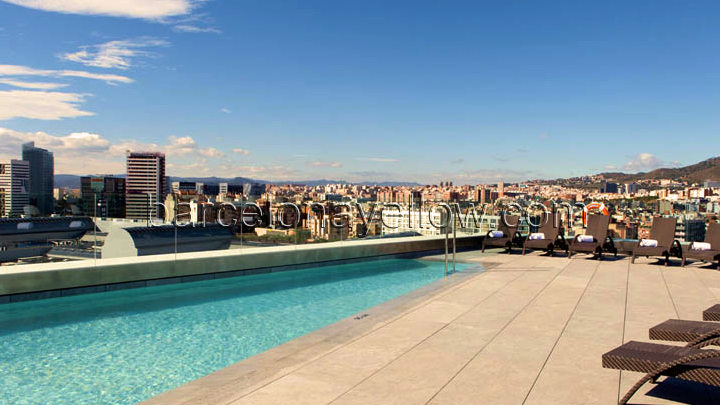 Hotel SB Plaza Europa Rated Very Good by guest reviews. The hotel SB Plaza Europa is a new 4 star hotel in walking distance from the Fira Gran Via. Facitilies include a business centre, free Wi-Fi, excellent rooftop pool and sun terrace with bar and city views and the hotel has a very big hotel library. Guests are very complimentary and praise the lobby library, clean and big room was clean, spacious, good and free WIFI and overall very good value for money. Great choice of hotel near Barcelona's Gran Via exhibition area and airport but not too far from the city centre.
BOOK Hotel SB Plaza Europa




Hotel Porta Fira
★★★★ 4 star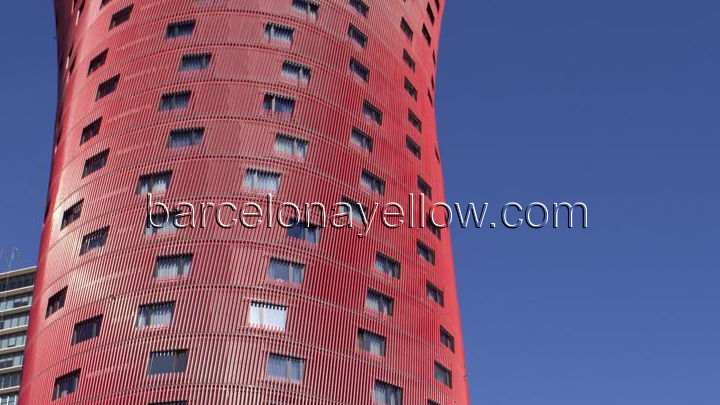 Hotel Porta Fira. 4 star hotel rated Fabulous by guest reviews. The Porta Fira is one of the best hotels opposite the Barcelona Fira Gran Via convention centre area overlooking the entrance to the Gran Via Fira. The Porta Fira is famous for a distinctive design and red colour. Modern rooms with minimalist décor, minibar and a flat-screen TV with satellite channels and free WiFi. Facilities include gym, sauna, a breakfast buffet and an elegant restaurant serving international cuisine.
BOOK hotel Porta Fira




Hotel Fira Congress
★★★★ 4 star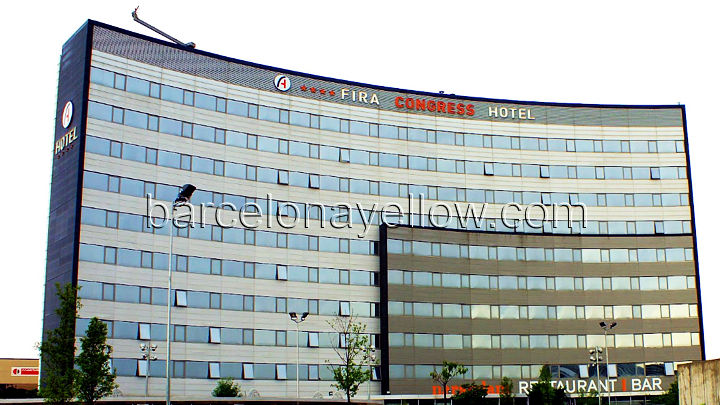 Hotel Fira Congress rated Very Good by guest reviews. 4 star new modern hotel opposite Fira Gran Via trade fair areawith stylish rooms with satellite TV, rain-effect showers and free minibar. Facilities include restaurant, reading room, cafe, gym and spa, free Wi-Fi. Also free 24h transfer to airport and free transfer to city centre 4 times daily
BOOK Hotel Fira Congress




Hotel NH Collection Barcelona Tower
★★★★★ 5 star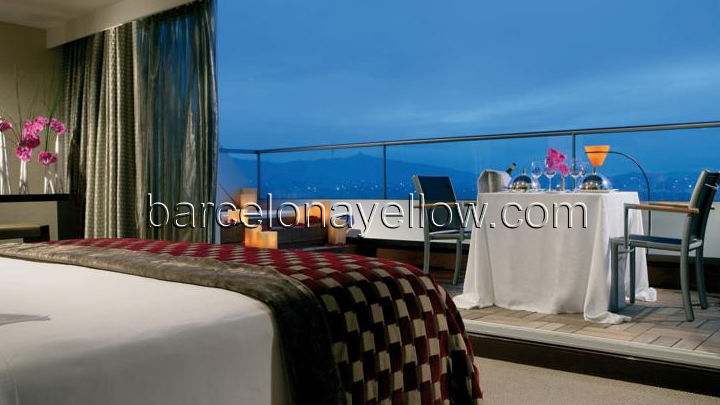 Hotel NH Collection Barcelona Tower rated Very Good by guest reviews. The NH Collection Tower is a modern 5 star hotel tower designed by renowned architect Richard Rogers. It is 5 minutes by car from Fira Gran Via exhibition area and 15 minutes from city centre and 10 minutes from Barcelona airport. Rooms are luxurious with spectacular city views and free Wi-Fi. Facilities include inhouse gym and for extra charge access to Metropolitan Health Club & Spa in the same complex 5,000 sqm convention center. Free transfer service to city centre and airport.
BOOK Hotel NH Collection Tower







AC Hotel Som by Marriott
★★★★ 4 star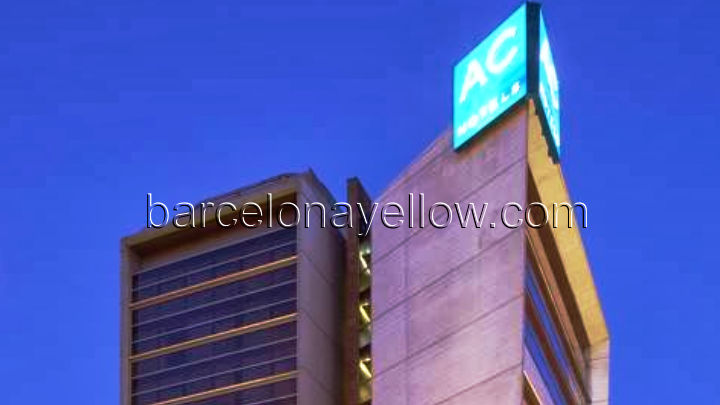 AC Hotel Som by Marriott Rated Very Good by guest reviews. Stylish 4 star hotel 5 minutes walk from Fira Gran Via exhibition centre. AC Hotel Som by Marriot has modern elegant rooms with flat-screen satellite TV. free minibar and parquet wood floors. Hotel facilities includesrestaurant, lounge bar, 24-hour room service and in-house gym.Free Wi-Fi in public areas and Wi-Fi in rooms at extra cost. Bus 46 bus stops outside the hotel and connects to Barcelona's El Prat Airport in 30 minutes. Ildefons Cerda FGC station is just 200 metres from hotel and is one stop from Plaza de Espanya.
BOOK AC Hotel Som by Marriott




Eurostars Lex
★★★★ 4 star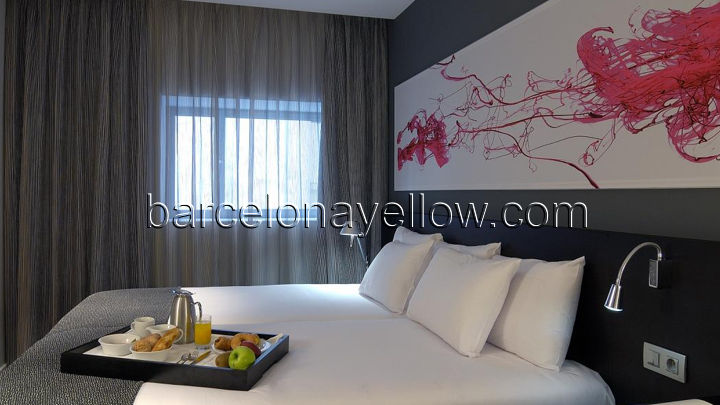 Eurostars Lex hotel. Rated Very Good by guest reviews. Eurostars Lex is a new elegant 4 star hotel located just 5 minutes by car from Fira Gran Via Exhibition centre. Sound-proofed design rooms with flat screen satellite TV and Wi-Fi. Facilities include small gym, parking available, shuttle service to airport available, lobby bar and room service. Meeting rooms available.
BOOK Eurostars Lex hotel



5 star hotels near Mobile World Congress
Hotel NH Collection Barcelona Tower - 5 star hotel near Mobile World Congress



4 star hotels near Mobile World Congress
Renaissance Fira Hotel - 4 star hotel near Fira Gran Via
Hotel SB Plaza Europa - 4 star hotel near Fira Gran Via
Hotel Porta Fira - 4 stary hotel near Fira Gran Via
Hotel Fira Congress - 4 stay hotel near Fira Gran Via
AC Hotel Som by Marriott - 4 star hotel near Fira Gran Via...
Eurostars Lex - 4 star hotel near Fira Gran Via
Ayre Hotel Gran Via - 4 star hotel near Plaza Espanya
Hotel Crowne Plaza Barcelona - 4 star hotel near Plaza Espanya
Hotel Vilamari - 4 star hotel near Plaza Espanya
Hotel Ofelias - 4 star hotel near Plaza Espanya
Hotel Pestana Arena - 4 star hotel near Plaza Espanya
Hotel Silken Concordia - 4 star hotel near Plaza Espanya



3 star hotels near Mobile World Congress

Travelodge Barcelona Fira - 3 star hotel near Fira Gran Via
Hotel Acta Azul Barcelona - 3 star hotel near Plaza Espanya
Hotel Onix Fira - 3 star hotel near Plaza Espanya
B Hotel - 3 star hotel near Plaza Espanya
Hotel Sant Angelo - 3 star hotel near Plaza Espanya


Related pages


Where to stay in Barcelona
Top attractions Barcelona
Barcelona trade fair calendar
Barcelona events calendar
All Barcelona hotels

© Copyright Barcelonayellow.com
All rights reserved.
Do not copy text or images on this page without permission


Last Updated on Friday, 06 December 2019 09:32