Top 10 Barcelona 5 star hotels 2022

This is our choice for Barcelona's ten best 5 star hotels in Barcelona in 2022. You can see all the Barcelona 5 star hotels on our map below.

Most of Barcelona's 5 star hotels are in the Barcelona downtown area located on or near the premium shopping street called Passeig de Gracia or near central downtown square Plaza Catalunya.

You might also be interested in our page about where to stay in Barcelona. For football fans look at the newly refurbished 5 star hotel Sofia Barcelona - Rated Wonderful by guest reviews - which is on Barcelona's Diagonal Avenue and just a 5-minute walk from FC Barcelona's Camp Nou Stadium.

Open FULLSCREEN map Barcelona 5 star hotes




All Barcelona's five star hotels are very hight quality, so compiling a list of the best five star hotels in Barcelona is difficult and can only really be based on personal preferences and individual tastes.

Many of the 5 star hotels are to be found on or near Barcelona's most exclusive shopping street which is the very grand Passeig de Gracia shopping avenue. Passeig de Gracia is where one finds all the top designer shops including Chanel, Prada, Gucci, Stella McCartney and many more.

On the same street you can find some of Barcelona's most famous Modernist buildings designed by Antoni Gaudi. Many 5 star hotels are also near the downtown city centre and central square Plaza Catalunya which borders the medieval areas of Barcelona making it a location that is well connected to all parts of the city.

We have highlighted some of the newest and most distinctive 5 star hotels in Barcelona, Spain.

Our Top 10 Barcelona 5 star hotels


Monument hotel ★★★★★ 5 star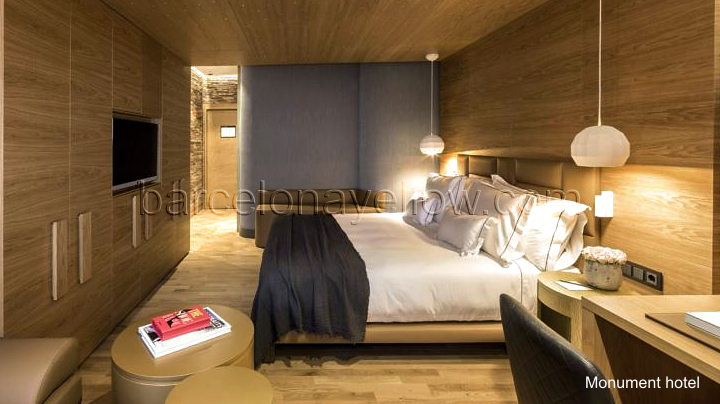 Monument hotel is one of Barcelona's newest 5 star hotels located on elegant Passeig de Gracia boulevard. Rated Superb by guest reviews. The Monument hotel has Barcelona's first 3 star Michelin restaurant Lasarte managed by master chef Martin Berasategui. Monumental hotel guests can enjoy their stay in soundproofed elegant rooms with bathrooms with free standing baths. Room features include bluetooth speakers and room safe with built in power supply for charging laptops. The Monument hotel location is perfect just a few minutes on foot from two famous Gaudi buildings on the same street.
Book Monument hotel



OD hotel ★★★★★ 5 star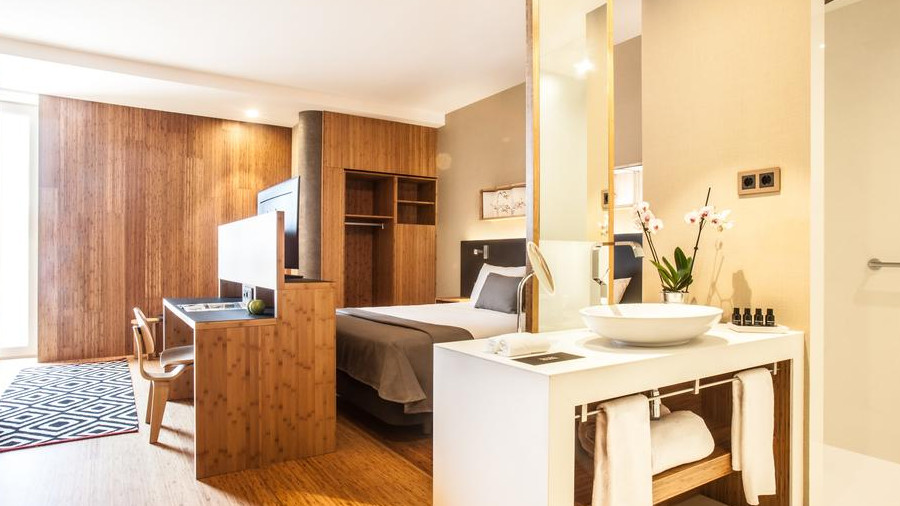 OD Barcelona hotel. Rated SUPERB by guests, New hotel in central location with modern, fully equipped air-conditioned rooms all with desk. Features include seasonal outdoor pool, restuarant, free WiFi throughout, free access to nearby gym, airport shuttle, parking and family rooms
BOOK OD Barcelona



The One Barcelona GL ★★★★★ 5 star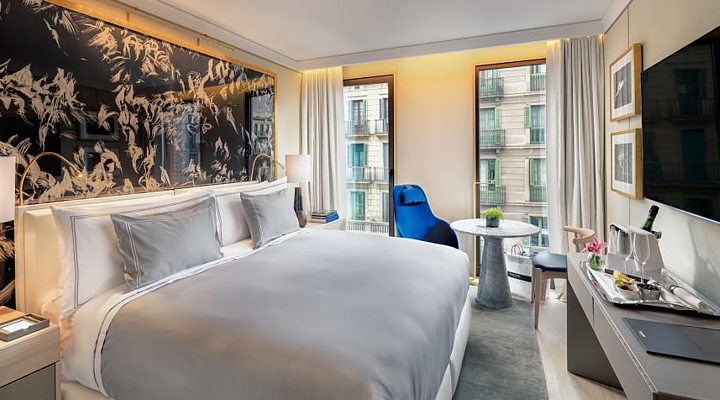 Hotel The One Barcelona GL One of Barcelona's newest 5 star hotels. Rated Exceptional by guests for a central location on elegant boulevard Passeig de Gracia and many luxurious facilities and features ranging from Egyptian cotton sheets to marble bathrooms to a rooftop plunge pool and a luxury spa.
BOOK The One Barcelona GL




The Serras hotel ★★★★★ 5 star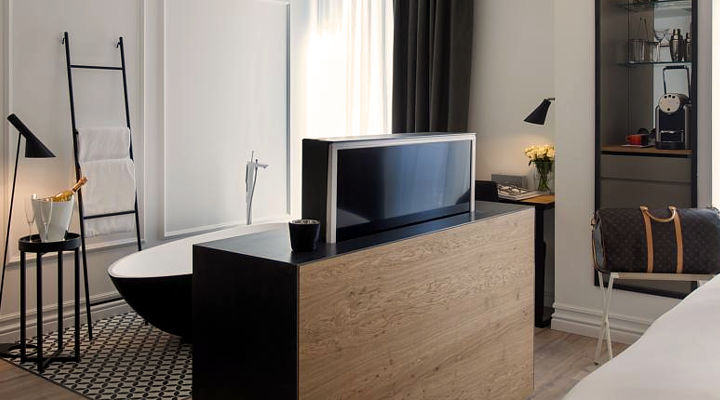 The Serras hotel. Rated Exceptional by guests and set in historic location of Picasso's first Barcelona studio. Now only the facade is original and the building is a new luxury hotel with port views in Barcelona's old city. Stylish rooms are air conditioned and soundproofed, many with private balcony with views of Barcelona's Port Vell or Mercè Street in the Gothic Quarter. Rooms have Smart HD TV, wireless sound system and bathrooms with bathrobes and slippers. Guests can enjoy breakfast or cocktails with attractive marina views in the stylish lounge on the rooftop terrace which also has seasonal infinity pool. The Serras also has a cosy library with bar and Michelin star restaurant serving Catalan specialities and Mediterranean tapas.
BOOK The Serras




Mercer Hotel Barcelona ★★★★★ 5 star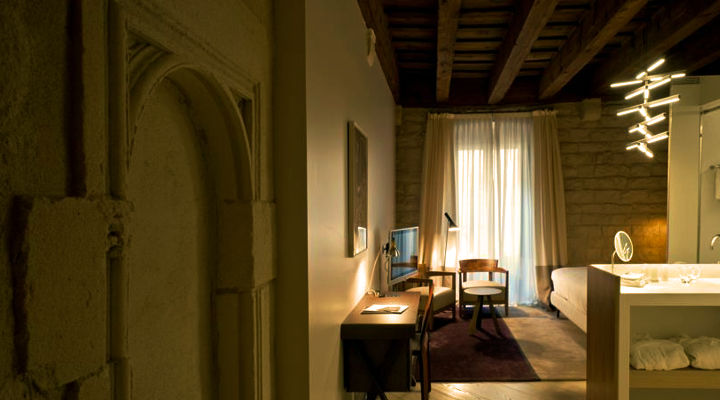 Hotel Mercer Rated Superb by guests. 5 star boutique Hotel Mercer in medieval Gothic quarter. Very stylish rooms in chic décor with original beamed ceilings and exposed brick walls. Free Wi-Fi, air conditioning and flat-screen satellite TV. Bathroom with rain shower. Courtyard with orange trees and poolside bar terrace with sun loungers.
BOOK Hotel Mercer




Grand Hotel Central ★★★★★ 5 star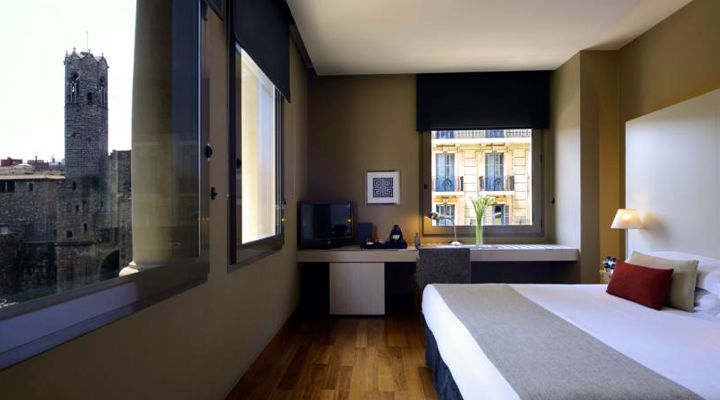 Grand Central Hotel Barcelona 5 star design hotel in Gothic Quarter. Rated Fabulous by guest reviews. The Grand Central hotel has a very central location with air-conditioned rooms in modern design and with WiFi and flatscreen TV. From the rooftop infinity pool and rooftop bar guests have views of Barcelona Cathedral and the gothic quarter. Facilities include fitness centre and massage treatments.
BOOK Grand Central Hotel




Hotel Mandarin Oriental ★★★★★ 5 star


Mandarin Oriental Barcelona. Rated Fabulous by guest reviews. Luxury hotel on Passeig de Gracia shopping avenue. Spacious modern rooms with seating area, elegant decor with home theatre. Rooftop pool & big terrace with 360° views. Free spa access including indoor pool, hot tub, Hammam and 24-hour gym.
BOOK Mandarin Oriental Barcelona





El Paluet Living hotel ★★★★★ 5 star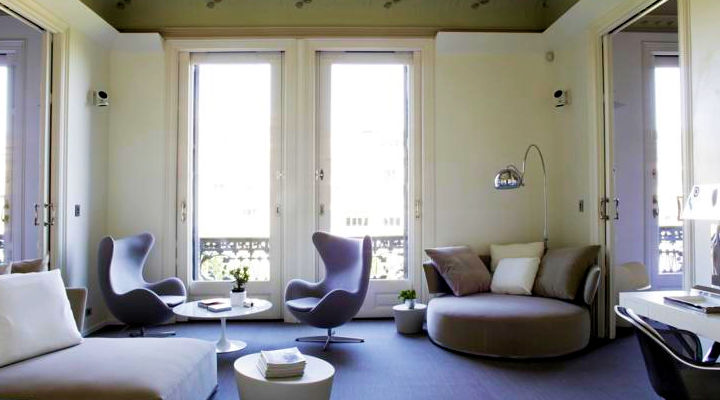 El Palauet Living Barcelona. Luxury 5 star hotel. Rated Fabulous by guest reviews. El Palauet Living in a Modernist building in very exclusive and central location on elegant Passeig de Gracia shopping avenue. Facilities include a rooftop spa with spectacular city views. El Palauet Living Barcelona's has spacious, modern and elegant suites (some with balcony) with 2 bedrooms with private bathrooms, a spacious living room and a fully-equipped kitchen and free WiFi. Breakfast is delivered to the suites and there are many restaurants and bars on Barcelona's elegant Passeig de Gràcia avenue.
BOOK El Palauet Living




Hotel Omm ★★★★★ 5 star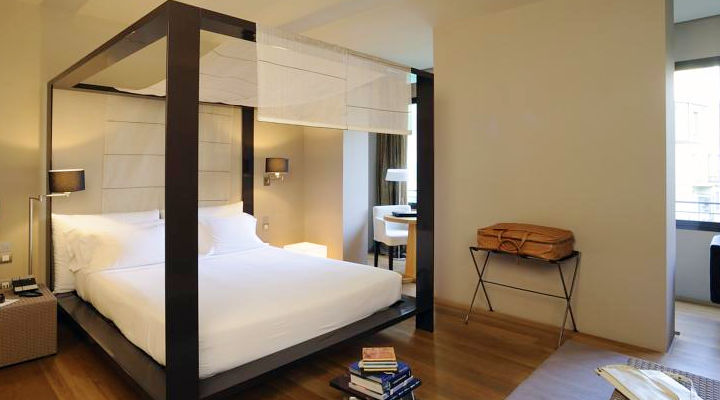 Hotel Omm. Rated Fabulous by guests. New luxury Barcelona hotel with chic rooms in contemporary design overlooking Passeig de Gràcia shopping boulevard or interior garden. All rooms have satellite TV, free Wi-Fi and spacious bathroom. Omm's spa features steam baths, a gym and treatments. Michelin restaurant, the Roca Moo, offers modern Catalan cuisine.
BOOK Hotel Omm




Hotel Cotton House ★★★★★ 5 star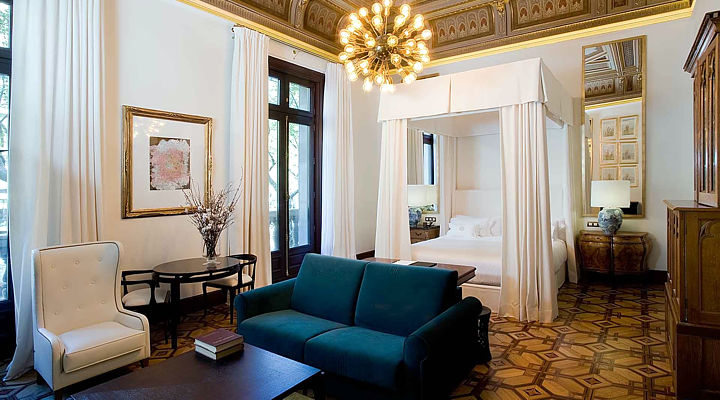 Cotton House Hotel Barcelona. Rated Fabulous by guests. Marriot Autograph Collection. New luxury 5 star boutique hotel in downtown Barcelona just 5 minutes walking from central square Plaza Catalunya. The Cotton House has elegant air-conditioned luxury rooms with flat screen TV, sofa and free WiFi. Facilities include a small seasonal rooftop pool, opulent interior and magnificent vestibule, a conservatory, several elegant lounges, a tranquil library, gym and a massage room. Top choice and highly rated.
BOOK Cotton House Hotel Barcelona




Hotel DO Plaça Reial G.L. ★★★★★ 5 star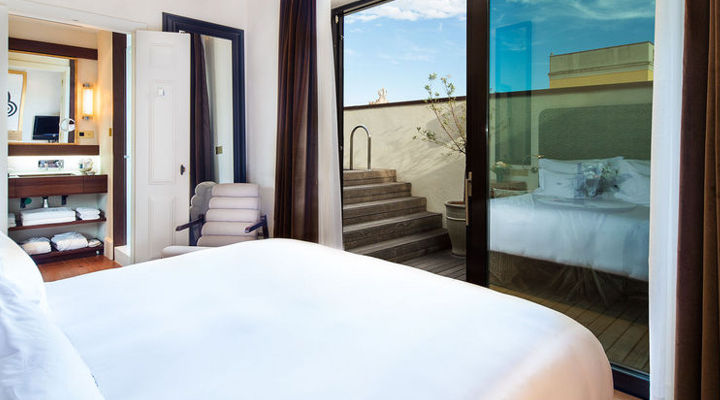 Hotel DO Plaça Reial G.L. Rated Superb by guests. New luxury Barcelona 5 star boutique hotel which gets rave guests reviews thanks to wonderful location. The Hotel DO Plaça Reial is on the gothic Plaça Reial square just off Las Ramblas street and near Barcelona port. Rooms are spacious and air-conditioned room with striking modern décor, free Wi-Fi, a Loewe flat-screen TV and free minibar. The hotel spa features a sauna and a steam room and the hotel has 2 top restaurants.
BOOK Hotel DO Plaça Reial G.L.





Hotel Casa Fuster ★★★★★ 5 star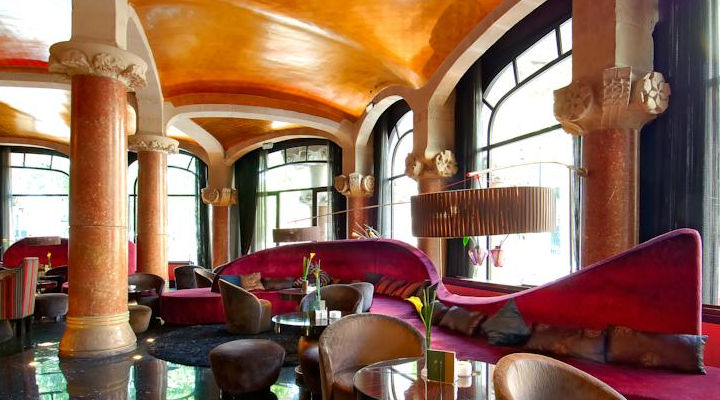 Hotel Casa Fuster. Rated Superb by guest reviews. Casa Fuster was originally a chocolate factory. In 1908 Mallorcan aristocrat Mariano Fuster i Fuster commissioned the famous modernist architect Lluís Domènech i Montaner to transform it into the most spectacular house in the city for Fuster's wife Consuelo Fabra. 100 years later Catalan architects GCA transformed the residence again into one of Barcelona's most elegant hotels featuring a marble facade and solid marble columns inside. The location is suberb at the high end of Passeig de Gracia within walking distance to many sights and shopping. From the building's roof terrace you can enjoy city views. Rooms are luxurious and facilities include rooftop terrace and bar, rooftop plunge pool, fitness centre, free WiFi in rooms and all hotel areas.
BOOK Hotel Casa Fuster




More excellent 5 star Barcelona hotels
The Wittmore ★★★★★ 5 star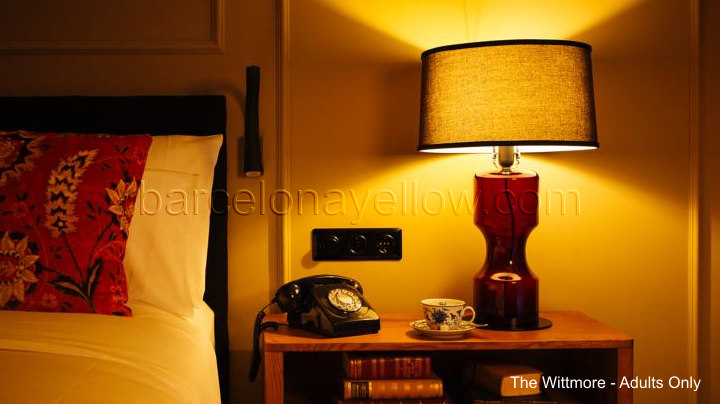 The Wittmore 5 star boutique hotel. Rated Superb. New 'adults only' luxury boutique hotel with just 22 rooms near the Port Vell marina. Roof-top terrace with city views.
Book The Wittmore




Le Méridien Barcelona ★★★★★ 5 star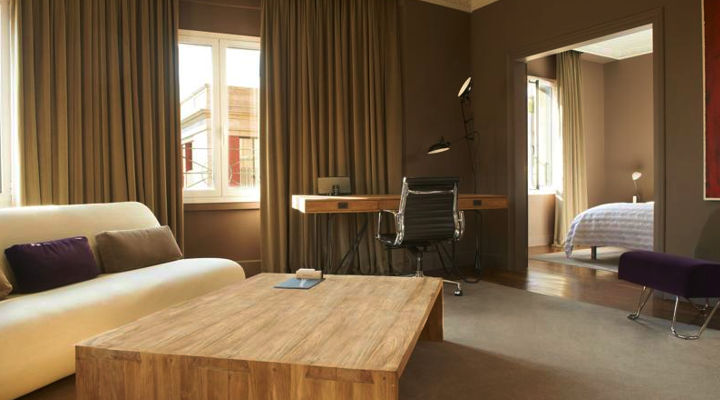 Le Méridien Barcelona Rated Very Good by guests. A top luxury Barcelona hotel that frequently is the choice of stars and celebrities. Very good location. Stylish rooms with flat-screen TVs and music system. The Cent Onze restaurant serves creative Mediterranean cuisine and the on-site spa offers a wide selection of aromatherapy, massage and holistic treatments. A popular choice for luxury travellers.
BOOK Le Méridien Barcelona


Advantages of staying in luxury hotels
A luxury five star hotel still holds many advantages over other hotels and apartment rentals. The five star rating system for hotels in Europe means that five star hotels are required to offers specific features and services which other hotels do not offer. In general five star hotels offer a high level of luxury with bigger rooms, excellent food, 24-hour room service and room ameneties like bigger size flat-screen TV's, DVD players, Ipad chargers, Jacuzzi bath tubs and elegant bathrooms. And of course you are asked to pay more for this level of luxury and attention, but it is often worth it to make your stay in Barcelona a success.

Best location
The location is often exclusive and convenient for Barcelona's best restaurants, shops and sights. Most 5 star hotels have a very central on top shopping streets with the exception of a couple perch on Barcelona's two city hills, which have additional luxury in the form of magnificent city views. The 5 star hotels outside the downtown area have free shuttle bus services.

Best rooms and suites
5 star hotels have amazing rooms in general with space, classier furnishings and more importantly more comfortable beds with expensive mattresses and pillows even with a pillow menu sometimes. A good night's sleep is essential to a nice stay in Barcelona. A top hotel will not usually have backpackers and youngsters making a lot of noise at night so a good night's sleep is assured. Another consideration at a five star hotel is that if anything in the room need fixing or replacing, then this will done immediately. Important features like ventilation and heating often work better at top hotels too, which is essential for a good night's sleep.

Best food
Most 5 star hotels have excellent restaurants which are managed by top Spanish chefs who are often Michelin starred. There are usually several eating choices in the luxury hotels but always a flagship restaurant often with celebrity chef. And you will have a better chance of getting a table for dinner as a guest of the hotel. The food at five star hotels is always top notch with fresh seasonal ingredients, creative recipes and combinations that offers plenty of choices all day long. The overall quality of the food at a 5 star hotel is higher for breakfast and room service too, which is worth bearing in mind. An excellent breakfast or lunch might keep you going until dinner bearing in mind that dinner is eaten later in Spain from 8.30 onwards.

Best service
Or should we say best pampering. 5 star hotels also can be on for a high level of personal attention and attention to detail when making sure guests are pampered. The staff are trained to observe the guests and make sure they are happy often by being proactive. Often it is tiny details that can make all the difference for luxury stays like friendly and attentive staff, a concierge service for reservations at top restaurants, frequent room cleaning services and up to date conveniences in the room like bigger flatscreen TV's, smart TV's, Ipads, Nespresso coffee machine and complimentary gifts to suit your occasion.

Best facilities
Top 5 star hotels will often have a good quality spa with heated pools and wellness treatments. Some have electric cars or bikes, transfer services and so on.


Open this map in FULLSCREEN window





See all Barcelona 5 star hotels sorted by guest reviews
Best areas to stay in Barcelona
Top 10 Boutique hotels in Barcelona

© Copyright Barcelonayellow.com
Do not copy from this page without permission
All rights reserved.