Passeig de Gracia - Paseo de Gracia street Barcelona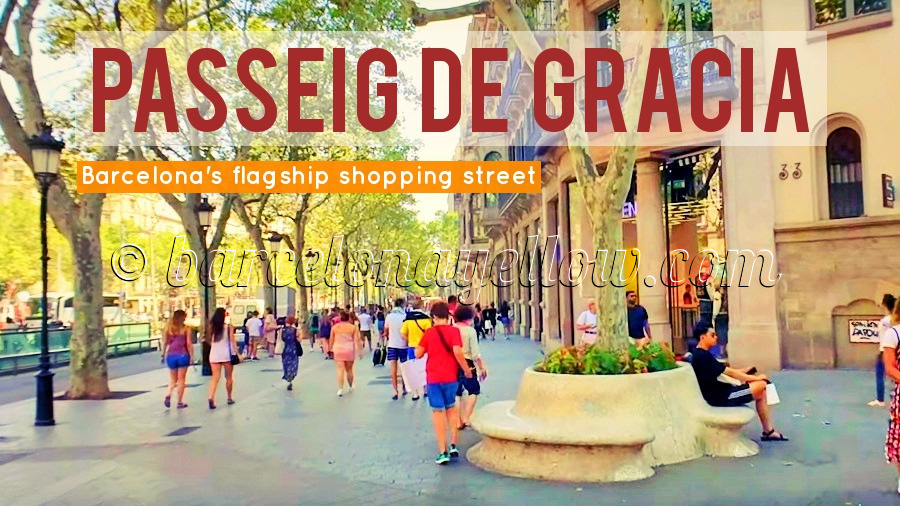 Passeig de Gracia - Paseo de Gracia
Barcelona's famous shopping street

Passeig de Gracia is without doubt Barcelona's most famous and elegant shopping street where most of the top international fashion brands are located. This is where the flagship stores of many global fashion designer brands are located in Barcelona. Paseo de Gracia is also the most expensive street in Barcelona, and perhaps even in Spain, in terms of real estate.

The street name is 'Passeig de Gracia' in Catalan and 'Paseo de Gracia' in Spanish. The name means the 'Gracia passage' and it was named like that because it was the road that linked the city of Barcelona with the village of Gracia. Gracia was a separate village from Barcelona and located a little way to the west of the medieval walled city of Barcelona.

Before the name 'Passeig de Gracia' the path was originally called 'Camí de Jesús' - meaning 'Jesus' path' and got its name because there was a convent called 'Jesus' on what is now the junction of streets Passeig de Gracia and Arago. The convent is long gone.

So Passeig de Gracia was a path through fields that that connected Barcelona and Gracia. When Barcelona became too overcrowded in the 19th century, the city tore down the medieval Barcelona city walls in 1843 and expanded the city into what has now become the Eixample district - the 'Extension' of Barcelona.

Over time all the blocks in the Eixample were built on and Barcelona engulfed the entire village of Gracia and in 1897 Gracia was formally annexed by the city which now surrounds the old village.

This article continues under ads


When the new extended Eixample area of Barcelona was constructed to expand the old medieval city, the Passeig de Gracia street quickly became the most expensive, fashionable and famous street in Eixample. Most the top architects of the modernist era have built a famous structure on this street including Gaudi, Domènech i Montaner, Puig i Cadafalch, and Sagnier.

Today the Passeig de Gracia is reputed to be Spain's most expensive street for real estate and is home several of Barcelona's most famous buildings, famous hotels and many top brand names in designer fashion.


Map hotels Paseo de Gracia Barcelona
Open map in FULLSCREEN



The Passeig de Gracia starts at Barcelona's iconic Plaça de Catalunya central square and ends at the corner of Gracia village. It is a lovely stroll at any time of year and Passeig de Gracia is too long a street so about 1 hour to stroll from the full length. On the way you can everything about the famous boulevar from the gaudi paving stones to the fantastic architecture. And this famous boulevard has many high end fashion stores and restaurants. Find them here.

If you want a break during strolling then take a seat one one of the 32 lovely modernist trencadis benches, which also serve as the base of the Passeig de Gracia street lamps. The benches were designed by modernist architecht Pere Falqués i Urpí in 1906.

Highlights of this famous boulevard are the modernist houses Casa Batllo and La Pedrera by Antonic Gaudi and the Casa Amatller by Josep Puig i Cadafalch. There are several top restaurants on Passeig de Gracia in the five star hotels that lined the boulevard including Casa Fuster, Hotel Omm with Michelin starred Restaurant Moo, Hotel Oriental Mandarin with Michelin restaurant Moments.

The Passeig de Gracia is fabulous for shopping any day, but Christmas shopping is a treat. Christmas in Barcelona and on Passeig de Gracia opens with the Barcelona Shopping Night event every year at the start of December.


Related pages

Pictures Passeig de Gracia
Designer shops on Passeig de Gracia
Shopping in Barcelona
About Eixample area of Barcelona
Casa Batllo
La Pedrera (Casa Mila)
Casa Amatller
Hotels on Passeig de Gracia
Hotel Casa Fuster
Hotel Mandarin
Hotel Majestic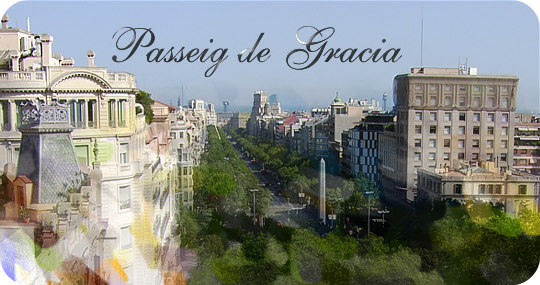 © Copyright Barcelonayellow.com
All rights reserved.
Do not copy text or images on this page without permission



Camí de Jesús
Last Updated on Wednesday, 18 April 2018 21:19