Best 3 Star hotels in Barcelona. Mid-range hotels Barcelona
Best 3 star hotels in Barcelona
Updated June 2019

This is our local collection of great value mid-range hotels with three star in the city centre of Barcelona, Spain. Staying at 3 star hotels can often be a very rewarding experience and Barcelona has many new 3 star hotels that are great value for money especially hotels in the Praktik chain.

Mid-range hotels are perfect for budget conscious travellers and most Barcelona 3 star hotels offer good service and a good location in nice residential areas as well as in the city centre. For short stays in connection with cruises 3 star hotels are a great choice.

FULLSCREEN map 3 star hotels Barcelona





Hotel Praktik Èssens
★★★ 3 star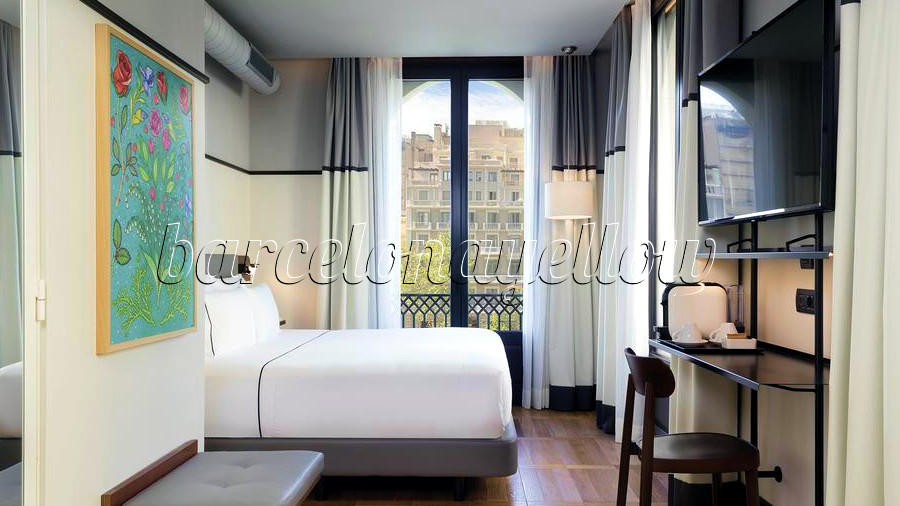 Hotel Praktik Èssens - 3 star hotel. Rated Exceptional by reviews. Brand new hotel near just 500 from Plaça Catalunya central square. Spacious modern rooms with private bathroom and coffee machine. Some rooms have seating area. Facilities include free WiFi, desk in every room, and airport shuttle
Book Praktik Èssens


Hotel Room Mate Emma
★★★ 3 star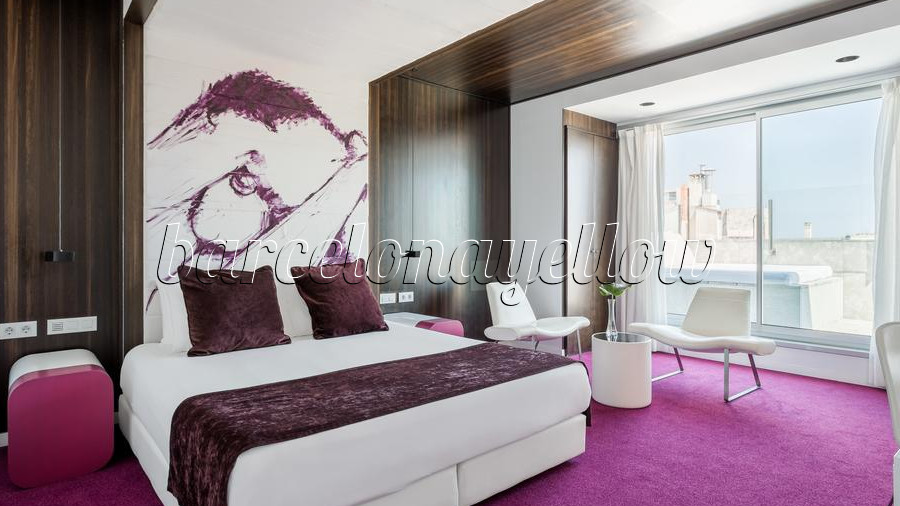 Hotel Room Mate Emma 3 star hotel. Rated Fabulous by guest reviews. New futuristic design hotel just 100 m from Diagonal metro station and 15 minute walk from downtown sqaure Plaza Catalunya. Rooms in modern design with hairdryer, room safe, free Wi-Fi, digital radio and LCD TV with satellite channels. Facilities include continental breakfast buffet served until 12:00 noon.
BOOK Room Mate Emma



Andante Hotel
★★★ 3 star


Andante Hotel 3 star hotel. Rated Excellent by guest reviews. Perfect for short stays and for Barcelona cruise passengers. Modern air-conditioned rooms with wood floors, laptop safe, flat-screen TV. Bathroom with full-length mirror. Central location just 350 m from Drassanes Metro station and La Rambla walking street. Facilities include rooftop pool, terrace, free Wi-Fi, gym, buffet breakfast and a self-service area with microwave and vending machines
BOOK Andante Hotel



Hotel Brummel
★★★ 3 star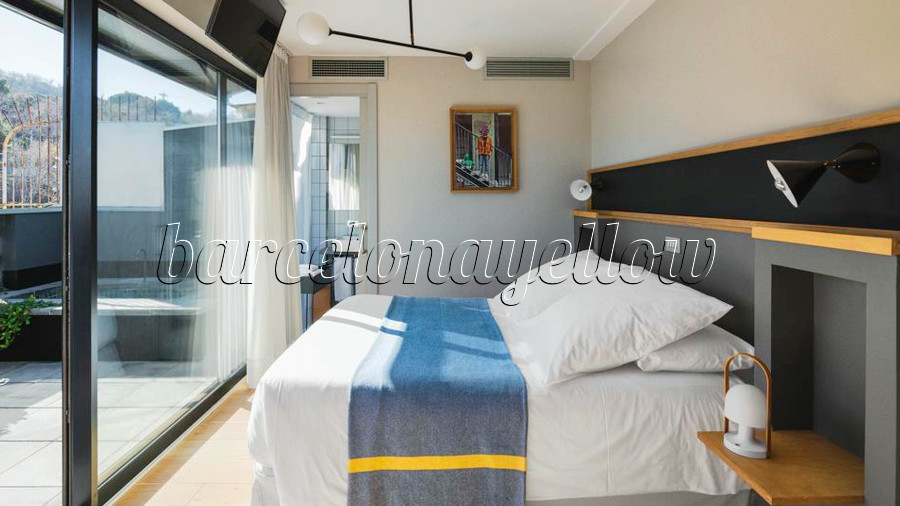 Hotel Brummel 3 star hotel. Rated Wonderful by guests. Boutique hotel in Barcelona. 20 designer rooms with artwork by comtemporary European designers. Air-conditioned rooms with flat-screen TV, room safe and desk. Central location just a 15-minute walk from famous La Rambla walking street in Barcelona's gothic area. Facilities include free WiFi, outdoor pool, restaurant, garden and sauna.
BOOK Brummel hotel



Hotel B
★★★ 3 star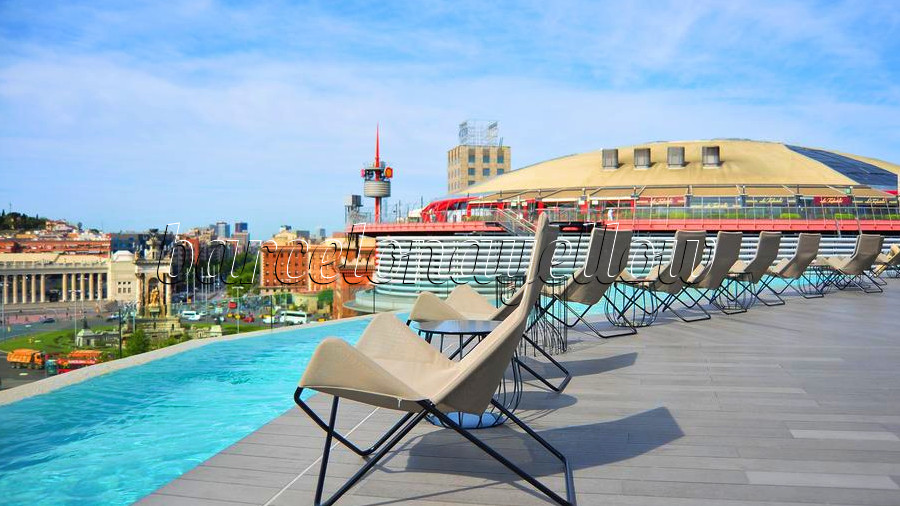 Hotel B. 3 star hotel. Rated Wonderful by guest reviews. Design hotel in popular location 150 m from Plaça Espanya and close to Fira Montjuic trade show area, Magic Fountain attraction and next to Las Arenas shopping center in former bull ring. Spacious rooms are modern and air-conditioned with small balcony and free Wi-Fi. Facilities include roof sun terrace and pool with spectacular views of Montjuic hill. Room service menu at the bar and pool.
BOOK Hotel B



Hotel Praktik Rambla
★★★ 3 star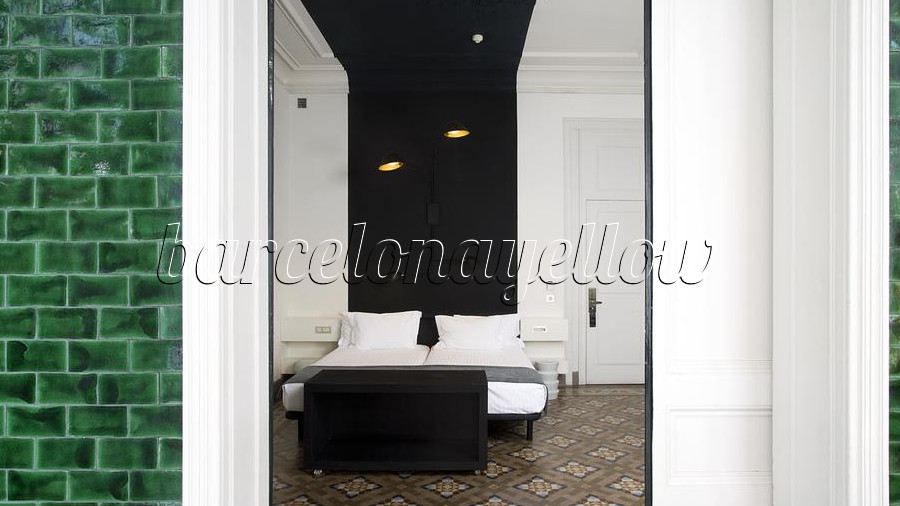 Hotel Praktik Rambla. 3 star hotel. Rated Excellent by guest reviews. Popular new Barcelona boutique hotel in 19th-century building with lovely Baroque-style columns and colourful ceramic floors. Lovely rooms in minimalist design with air conditioning, free Wi-Fi. Facilities include spacious terrace with comfortable sofas and free juice in afternoon from June to September.
BOOK Hotel Praktik


Hotel Praktik Vinoteca
★★★ 3 star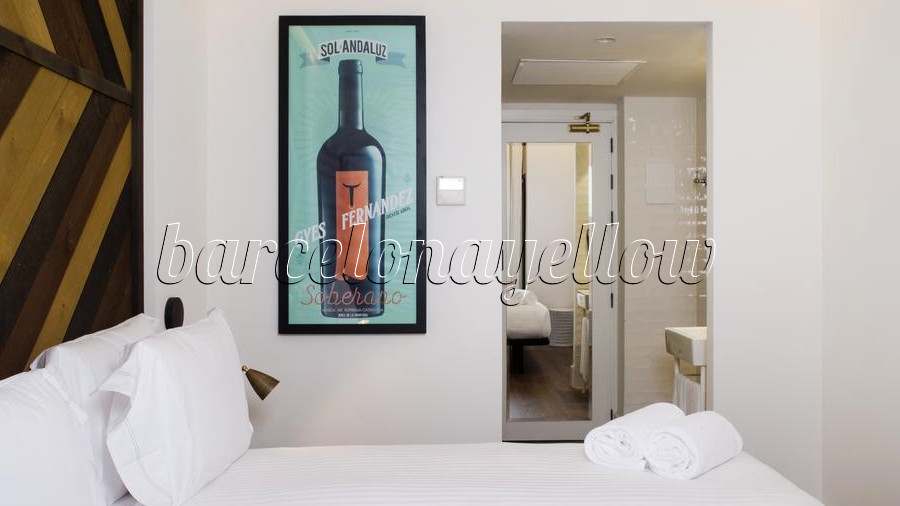 Hotel Praktik Vinoteca. 3 star hotel. Rated Superb by guest reviews. Wine themed hotel. Bright and soundproofed rooms with wooden floors, a flat-screen satellite TV, free toiletries and a hairdryer. Facilities include free WiFi in public areas and terrace where you can enjoy a glass of wine served by the hotel's on-site wine expert, who can tell you about local wines and their history.
BOOK hotel Praktik Vinoteca



Leonardo Boutique Hotel
★★★ 3 star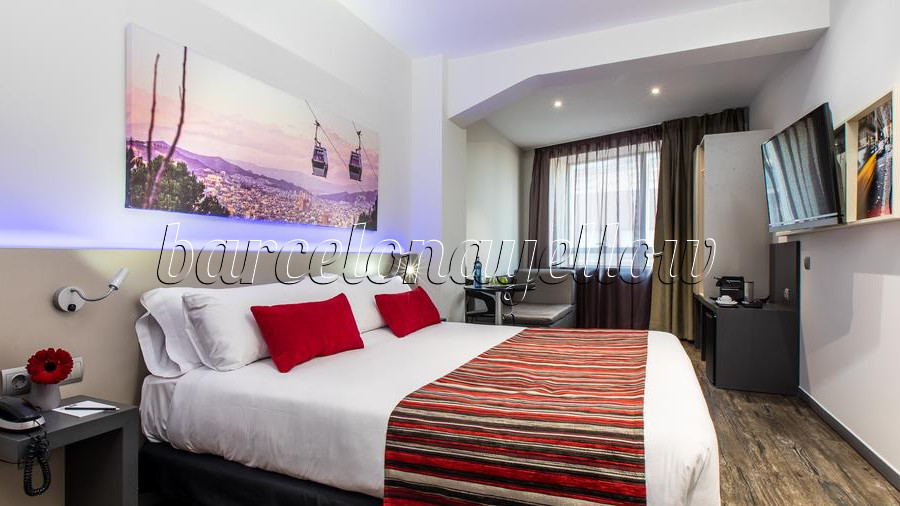 Leonardo Boutique Hotel Sagrada Familia. 3 star hotel. Rated Excellent by guest reviews. Located quite close to Sagrada Familia temple. Modern rooms with air conditioning, heating, flat-screen TV and free WiFi. Facilities include rooftop sun terrace with panoramic city views. Daily buffet breakfast with gluten-free meals available on prior request.
BOOK Leonardo Boutique



Hotel Yurbban Trafalgar
★★★ 3 star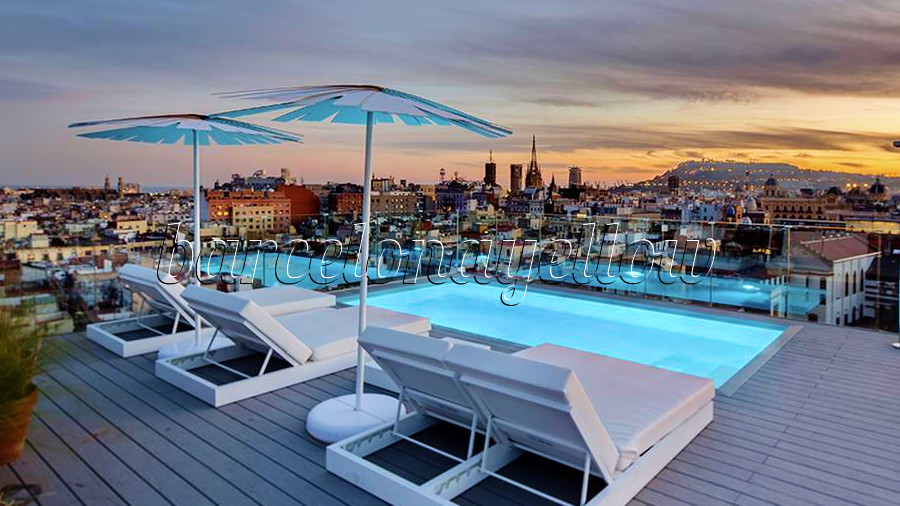 Yurbban Trafalgar Hotel. 3 star hotel. Rated Wonderful by guest reviews. Quite new hotel with modern soundproofed rooms with air-conditioning, free WiFi, flat-screen TV with international channels. Facilities include rooftop terrace with pool with 360 degree views, gym, bar and restaurant. Very central location just inside Gothic area but walking distance from central Plaza Catalunya.
BOOK Yurbban Trafalgar



Hotel Room Mate Pau
★★★ 3 star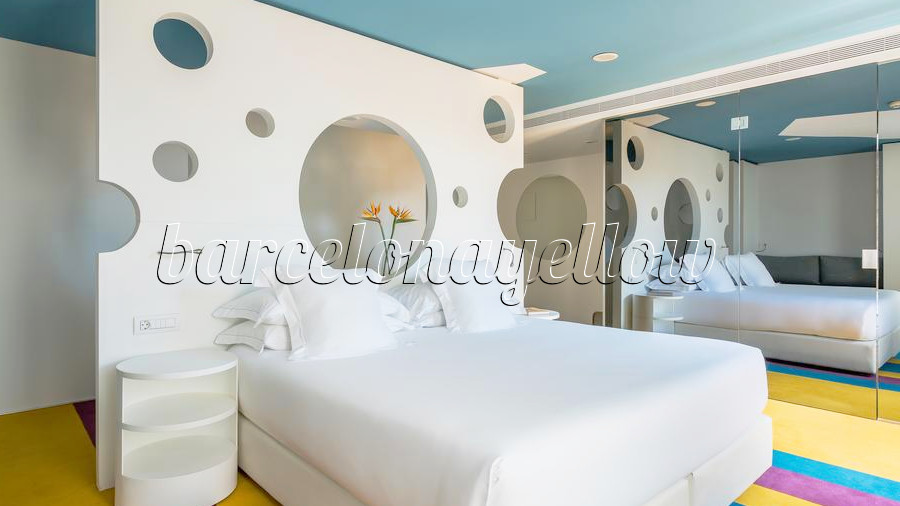 Hotel Room Mate Pau 3 star hotel. Rated Wonderful by guests. Hi-tech design hotel located just a few steps from central Plaza Catalunya. Elegant rooms with air conditioning, flatscreen TV, free Wi-Fi, minibar, safe and fully equipped bathroom.
BOOK Room Mate Pau



Hotel Chic & Basic Velvet
★★★ 3 star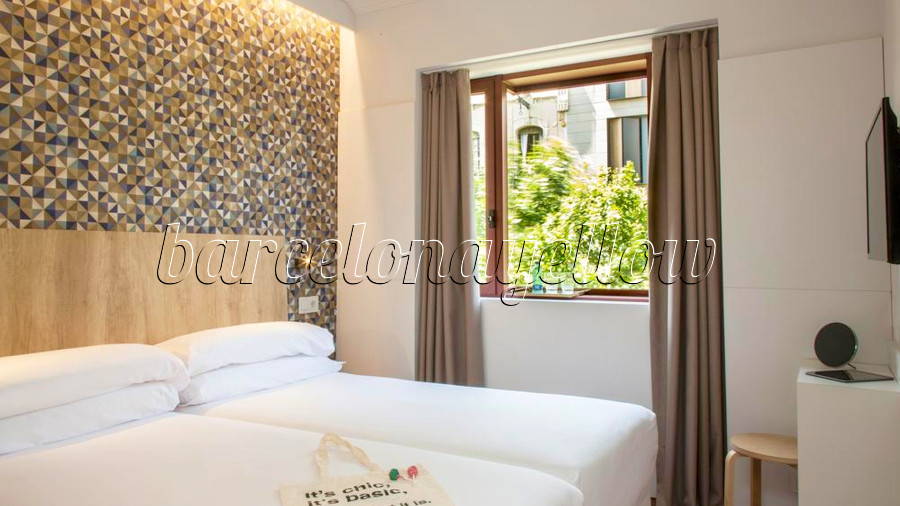 Hotel Chic & Basic Velvet Rated Very Good by reviews. 1950s décor but modern hotel with air-conditioned rooms with wood floors, free WiFi, flat-screen TV. Buffet breakfast and terrace. Good location near Barcelona's Plaza Espanya combined with friendly staff and good service make this a bestseller.



Related pages
Which area to stay in Barcelona
Popular hotels Barcelona by guest reviews
Best hotels near Camp Nou stadium Barcelona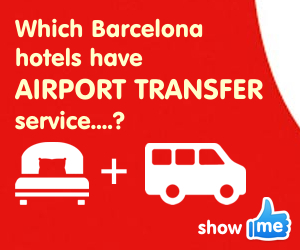 © Copyright Barcelonayellow.com
Do not copy from this page without permission
All rights reserved.


Last Updated on Tuesday, 28 May 2019 19:47