Sitges Flower Carpet Festival 2019
Concurso de Alfombras de Flores Sitges
Event date
: Sunday 23rd June 2019
Event location
:
Sitges
- 35 mins south of Barcelona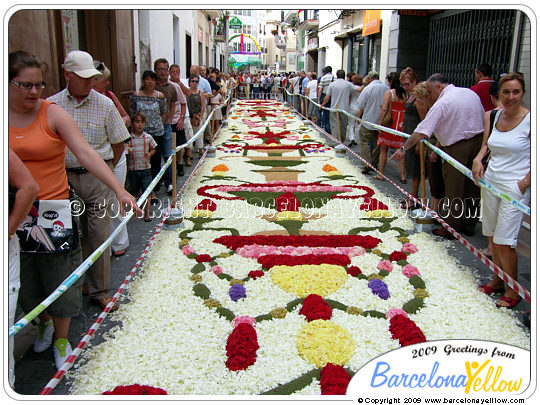 Corpus Christi Flower Carpet Festival - Sitges 2019. The
Sitges Corpus Festival
celebrates the Corpus Christi for a week from 21 to 30 June 2019
One of the main events is the
Sitges Flower Carpet Festival
which is only on
Sunday 23 June 2019
.
The Sitges flower carpet festival is a beautiful and traditional competition called '
Concurso de Alfombras de Flores
' and sometimes also called '
Arte Floral del Corpus Christi
.'
Many Sitges streets will be adorned with flower carpets.
Catifa de Flors
means flower carpet in the Catalan language.
The carpeted streets are called '
catifes
' and marked in yellow on the map of the Sitges Corpus celebrations.
Residents of Sitges start early in the morning and make lovely patterned street carpets using flowers petals and seeds.
The flower carpets are called '
catifes de flors
' in Catalan and they cover almost all of the narrow streets of Sitges and some of the plazas. This Sitges floral carpet event has been declared a Spanish '
Fiesta de Interés Turístico Nacional
.'
Other highlights are the clove fair, called '
mostra de clavells
' in Catalan, with over 2000 flower pots and over 100 types of cloves.
Corpus Christi is Latin for 'Body of Christ' and is a Catholic festival to honour the Eucharist. The date of Corpus Christi changes every year and falls 60 days after Easter Sunday. Spain it is usually from Thursday after Trinity Sunday - Día del Corpus - until Sunday after Trinity Sunday.
The tradition of carpet flower making is thought to have originated in the middle ages in Spain and the Canary islands for the feast of Corpus Christi with decorations and motifs becoming more elaborate over time.
Floral carpets also called sawdust carpets can be found in Mexico and South America too.
Pictures Sitges flower carpets
Website Sitges Corpus Festival

Twitter Sitges Corpus

Book hotels Sitges

© Copyright Barcelonayellow.com
Do not copy any text on this page without permission
All rights reserved.