Biography Lluís Domènech i Montaner - Catalan modernist architecht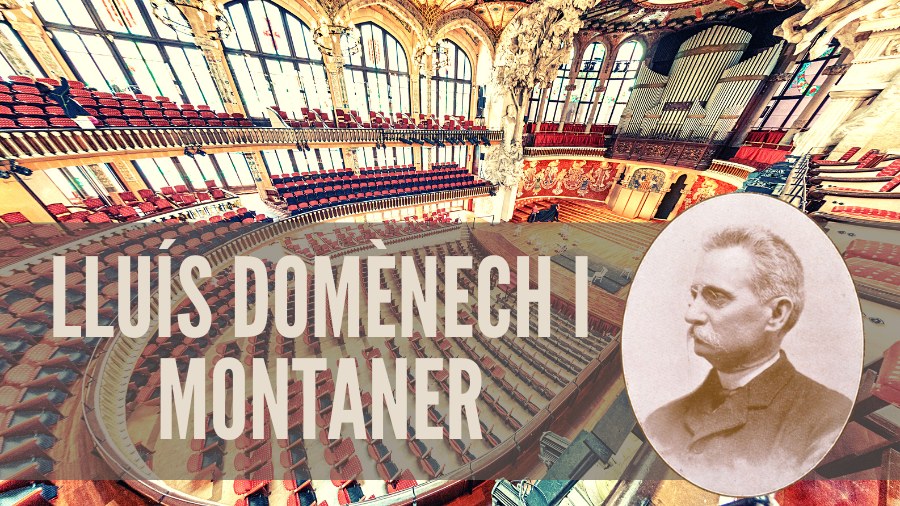 Architect Lluís Domènech i Montaner

Lluís Domènech i Montaner was a renowned Catalan modernist architect who lived from 12th December 1850 to 27th December 1923.

Although he not as well known internationally as his fellow Spanish Catalan architect Antoni Gaudi, Lluís Domènech i Montaner was highly influential on modernist architecture in Barcelona and Catalonia, Spain.

Domènech i Montaner was also a noted historian, humanist and politician but is best remembered for his many famous modernist buildings in Barcelona.

The most famous Domènech i Montaner work in Barcelona are the Hospital de Sant Pau in the Eixample area (built 1901 - 1912) and the Palau de la Música Catalana in the Gothic area (built 1905 -1908) in Barcelona.

These works were collectively designated as a UNESCO World Heritage Sitein 1997.

The Barcelona Universal Exhibition in 1888 was on the site of the present day park Parc de la Ciutadella and this large event gave Domènech i Montaner an opportunity to construct many noteworthy buildings.

The cafè-restaurant del Parc de la Ciutadella (built 1887-1888) called the Castell dels Tres Dragons stands to this day.

Domènech i Montaner also built the spectacular Gran Hotel Internacional in just 53 days for the Universal Exhibition but this was demolished after the exhibition.


Notable buildings by Domènech i Montaner


Editorial Montaner i Simón building. (Built 1879-1885)
Located on Carrer d'Aragó 255, now home to the Tapies Foundation. This was originally built for a publishing company. It was Domènech's first major project in Barcelona and is considered to be the first modernist buidling in Barcelona.

The commission for this work came from his cousin, Ramon Montaner, who also asked him to build his private residence in Barcelona, called Palau Montaner (1889-1893) whch is on the street Roger de Llúria 101.

Casa Thomas (built 1895-1898) on Carrer de Mallorca, 291-293

Casa Lamadrid (built 1902) on Carrer de Girona, 113

Casa Lleó i Morera (built 1903-1905) on the famous "manzana de la discòrdia" city "block of discord" - on the shopping street Passeig de Gràcia

Casa Fuster (built 1908-1911) Renovation of old chocolate factory. Now home to Hotel Casa Fuster on Paseo de Gracia 132

Montaner also designed a number of buildings in the coastal town of Canet de Mar just north of Barcelona, which include the Ateneu Catalanista (1885 - 1887) and Casa Roure (1889 - 1892)

In the town of Reus, south of Barcelona, he designed the Institut Pere Mata (1897 - 1919), Casa Rull (1900) now the Town Hall, and Casa Navàs (1901-1907).

On the island of Mallorca he designed the famous Gran Hotel (1901-1903) in Palma de Majorca.

List modernist buildings Barcelona
Guide to modernist architecture

© Copyright Barcelonayellow.com
Do not copy from this page without permission.
All rights reserved.


Last Updated on Tuesday, 13 December 2022 12:26