PortAventura Barcelona - three theme parks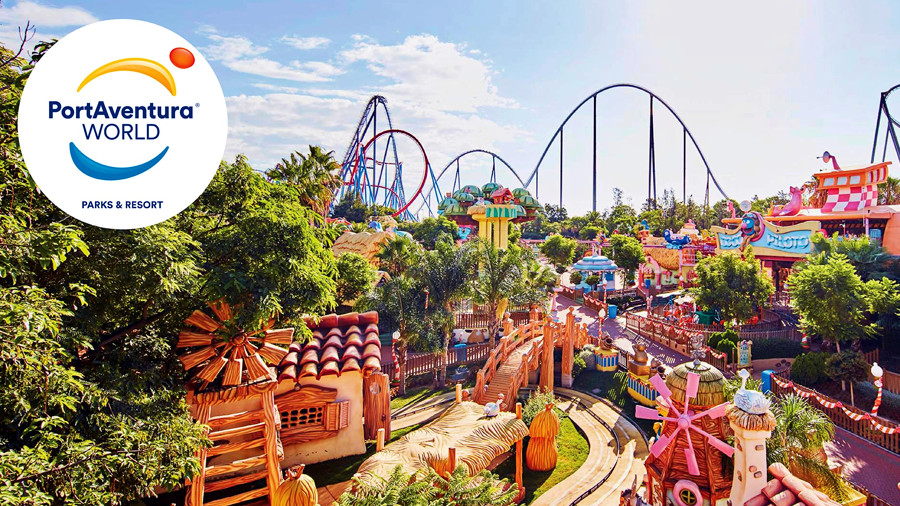 PortAventura World Barcelona

PortAventura World is three theme parks for families and children near Barcelona. Port Aventura World is 1 hour by car from Barcelona and 1.5 hours by train from Barcelona.

This makes it a popular one day excursion for visitors to Barcelona.

PortAventura is located in Vila-Seca near Tarragona, which is close to the popular Spanish coastal tourist resort towns of Reus, Salou and Cambrils.

The lastest addition at PortAventura in 2023 is a new dark ride called 'Uncharted' which opens on June 17th 2023. it is a roller coaster ride based on box office hit film starring Tom Holland and Mark Wahlberg and is located in Far West area


Day Tour PortAventura from Barcelona
Hotel PortAventura incl. park tickets
Hotel Caribe incl. park tickets
Hotel Gold River incl. park tickets
PortAventura Resort incl. park tickets

PortAventura has three top-ranking theme parks - PortAventura theme park, a water park called PortAventura Aquatic Park and Ferrari Land theme park with star attraction Red Force which is Europe's highest and fastest roller coaster. Red Force is 112 meters high and goes from 0 to 180 kmph in 5 seconds.

PortAventura park is fun for all the family and has many action-packed rides and adventures themed on places around the globe like, imperial China, the wild Far West, exotic Polynesia, Aztec México and the mellow Mediterrénia.

PortAventura has three fantastic four-star resort hotels and a PortAventura golf course. Nearby attractions to PortAventura include the Roman ruins of Tarragona, which is a 'UNESCO World Heritage Site.'

PortAventura has several new luxury hotels. 'Lucy's Mansion' five-star hotel decorated as a Victorian house and the Gold River Hotel got a new building called 'Callaghan'.

With 4 million domestic and international visitors every year, PortAventura is one of the most important amusement parks in Europe.


PortAventura park

PortAventura is very well maintained with a nice lake and various different themed areas. Each themed area is all well designed and features great rides, restaurants and shops.

The most popular rides can have lines of 15 minutes to 60 minutes in peak season, but the queuing areas are themed and mostly shaded and the rides are worth the wait.

The rides are very exciting and there is something for everyone and for all ages.

The new Sesame Street area called "SesamoAventura) is open and is a wonderful area for small children. For adults and bigger kids there are some fantastic thrills and rides.

One ride worth trying is the mindblowing 'Furious Baco.' It is a rollercoaster ride in which you get shot off at the beginning rather than pulled up an incline. You are safely strapped in sitting in mid-air and when the ride starts you accelerate from 0 to 135 km/h in just three seconds!

The Furious Baco is just inside the entrance of Port Aventura or listen out for screams of joy above your head over the lake.

Don't miss the Shambhala rollercoaster which in 2012 was the tallest rollercoaster in Europe. Shambhala is in the Himalaya area of the park (Shambhala is a Tibetan buddhist name of a mythical kingdom)

The Shambhala rollercoaster is 76 metres high and reaches speeds of 134 kmh with the steepest descent of 86 degrees and the biggest fall of 78 metres and lots of 'airtime!' By the way the name for rollercoaster in Spanish is 'montaña rusa' which translates as 'Russian mountain.'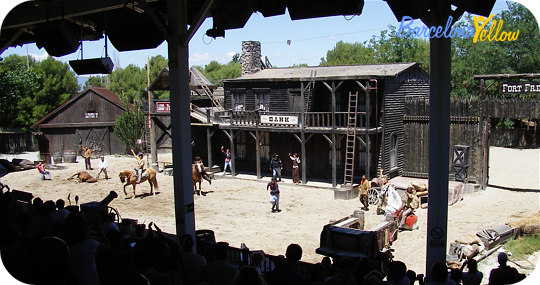 Another popular ride is the older rollercoaster Dragon Kahn and don't miss some of the great free shows, like the Wild West Stunt Show in the 'Far West' area. A new ride opens in spring 2023 In the 'Far West' area inspired by the movie 'Uncharted' with Tom Holland. The new ride will be an immersive experience in an enclosed dark space with special effects and audiovisual projections at 12 meters below ground level.

All rides at PortAventura are free after the ticket is paid. Adults tickets in 2023 are around €48 but there are reduced rates for children up to 10 years old and usually many great family offers. If you want to skip-the-lines and take many rides then the express tickets are well worth it.

If you are going by car from Barcelona then remember that you will have to pay for toll roads to Tarragona and pay for parking at PortAventura.

The car park at PortAventura costs around €7.5 for all day parking.


Port Aventura Aquatic Park
Port Aventura Aquatic Park is the water park beside Port Aventura. The aqua park is well kept and nicely themed in a tropical Caribbean style. (Previously called Caribe Aquatic Park)

This is a separate park from PortAventura - although in same area, so you pay separate entrance fee. After paying the entrance free all rides and slides are free.

If you have visited PortAventura park, then you can visit the aqua park at half price the same day or anytime during the rest of the season. The Port Aventura Aquatic Park features many spectacular water slide rides and pools.

There is an enormous focus on safety. There are lifeguards on duty all over the park and they are all friendly and attentive.

The large wave pool area usually has over five lifeguards on duty when the waves were active and all the water slides are controlled by park monitors ensuring that the rides are clear before the next guests is sent off.

All rides are free when you have paid the entrance.A number of the rides are thrilling with high speed descents in round rafts or in two person "canoes" which are exhilarating for adults and kids alike and well worth the 15-20 minute wait in queues.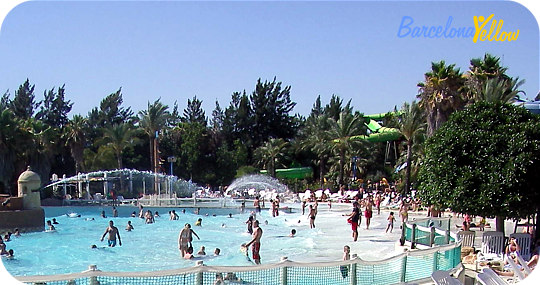 The aquapark also features a large wave pool, a number of fun play areas for smaller children and a big covered pool in case of bad weather. One of the most popular water rides is a "river" that flows around the water park and full of big rubber rings.

You can relax and float round and round the never-ending river, although you will get a soaking from the many waterfalls and waterspouts along the way.

Parking is the same as for PortAventura, so not free but reasonably price for all day parking. You rent lockers for your valuables and a small locker is € 4.5 per day and a large family size locker is around € 7.

Lockers are a good idea and allows the whole family to enjoy the rides and pools in the Aquatic Park without having to worry keeping an eye on personal items.

There are plenty of changing rooms around the park. Many people arrive in their swimming gear and a t-shirt ready to enjoy the water attractions and on a typical summer day you hardly even need a towel. Don't forget sun lotion!


How to get to Portaventura
The easiest way to get to Port Aventura from Barcelona is to take the train from Sants station, Passeig de Gracia station or Estacio de Francia station in Barcelona.

The Spanish railway company Renfe has a special offer which includes a return ticket (ida y vuelta) and includes the Port Aventura Park ticket for around 47 euros.
You can also take a Day Tour to Port Aventura from Barcelona Estacio Nord bus station - the tour includes transport, admission to all areas including Ferrariland and SesamoAventura.

PDF brochure Port Aventura
PDF map of Port Aventura

© Copyright Barcelonayellow.com
Do not copy from this page without permission
All rights reserved






Last Updated on Tuesday, 30 May 2023 10:27