How to get to Gracia Festival Barcelona
How to get to Gracia Festival in Barcelona?
Map Festa Major de Gracia 2017
Guide in English to Festa Major de Gracia

Where is Festa Mayor de Gracia festival in Barcelona and how to get there?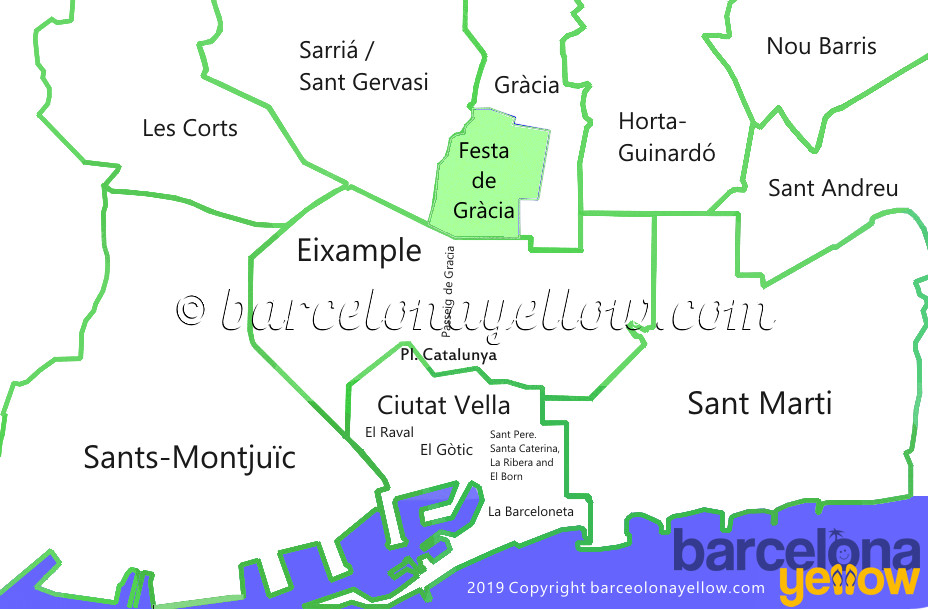 You can get to the Gracia Festival on foot, by bus, by metro or by taxi. Once you are at the edge of the festival area, then it is easiest just to walk in and then wander around and explore the festival.


Walking to Gracia Festival
Gracia is a one of Barcelona's 10 district's with a central location just above the Eixample district where many Barcelona hotels are located. The Gracia festival takes place in the older part of the Gracia district called "Vila de Gracia" and is quite close to the city centre. See the Gracia festival location on the map below.

You can actually walk to the Gracia festival from Plaza Catalunya in the centre of Barcelona which will take you about 15 to 20 minutes. From Plaza Catalunya just walk up Passeig de Gracia which literally means the Passage to Gracia and the name comes from the time when Gracia was a separate village from Barcelona.

For the last hundred years or so the Gracia village has been swallowed up by the city so now the old part of Gracia is a like a village in a modern city. The residents of the narrow streets of old Gracia village still feel like they are living in a village and have a wonderful bohemian community. This creative and warm bohemian spirit has created Barcelona's most welcoming and festival street festival which takes place every year in Gracia.


Nearest Metro stations Gracia festival
There are three metro stations near the Gracia Festival. All are on the edge of the festival area.
Metro Fontana green L3,
Metro Diagonal green L3 or blue L5
Metro Joanic yellow L4







Metro times Festa de Gracia
During the Fiestas de Gracia theBarcelona Metro has extended hours on certain days.


Bus & nightbus Festa Major de Gracia
There are many bus lines with stops close to the Gracia fiestas. Open the Gracia festival map here and you will see bus lines marked at the edges of the festival area. Then visit the Barcelona Transport Travel Planner to plan your bus journey to the festival. Festa de Gracia night bus service. There is a special Festa de Gracia bus service from corner of streets Còrsega and Roger de Llúria to Plaza Catalunya. The Gracia festival night bus service runs on nights of 15 to 20 August from 23.00 until 05.00 every 10 minutes. From Plaza Catalunya you can catch NitBus night buses


Taxi to Gracia festival
If you take a taxi, then the taxi driver will probably drop you somewhere on on the edge of the festival area and then you just walk in and get lost in the festival. There are maps of the festival plazas and streets in many places and there is a Festival de Gracia programmes, which you can get free at many stands, bars and cafes.
Taxi companies Barcelona


Gracia festival information
Festa Major de Gracia guide in English
Picture gallery Gracia Festival

© Copyright Barcelonayellow.com.
Do not copy from this page without permission
All rights reserved



Last Updated on Monday, 14 August 2017 13:11