Barcelona Madrid AVE trains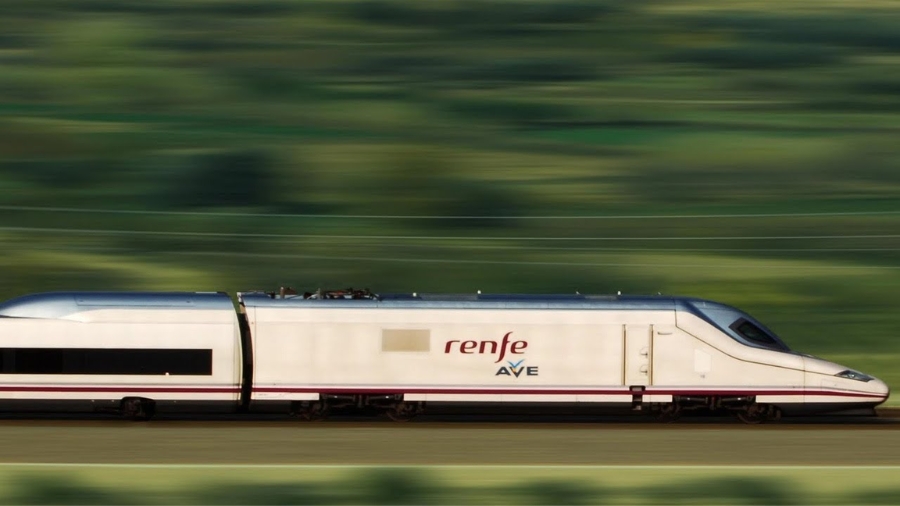 Barcelona AVE High Speed Trains

High speed AVE trains from Barcelona to Madrid in two and a half hours travel time. From Barcelona to Madrid is 621-kilometre (386 mile) train journey. There are many daily departures 6am to 9pm between Barcelona Sants Estació railway station and Madrid's central railway station Puerta de Atocha. Take the train in comfort between Barcelona and Madrid at average speeds of over 250 kph and with highest speeds of around 310 kph (192 mph) on some parts of the Barcelona to Madrid train route.

You can buy Spain's AVE high speed train tickets online. Prices are competitive with flights but the comfort level is higher and the journey is more scenic. There are direct high speed train connections which connect Barcelona and Madrid in 2 and half hours. Or choose slightly slower high speed train connections between Barcelona and Madrid which stops along the way at stations Zaragoza, Lleida and Camp de Tarragona, which adds 45 minutes to the travelling time. There are also many regular train connections between Madrid and Barcelona. The Barcelona to Madrid high speed trains always leave on time and do not wait for late arriving passengers.

Article continues below ads


At 2.5 hours, the journey time is longer than flying, but comparable if you include transport time to and from airports, check-in time and luggage pick-ups at airports in addition to the actual flying time. The big benefit of the AVE train is that the 2 hours and 30 minutes journey time from the city centre of Barcelona to the city centre of Madrid is more comfortable with much more legroom, more space to work, more space to move around and much better dining options.

Ticket prices are competitive although flights are still generally a bit cheaper than the high speed train. Lowest AVE train prices can be found online on the Renfe website 15 days if you book in advance. There are many promotions and price factors. All in all it's a much more stylish and comfortable way to travel and with less impact on the environment, less stress and at reasonable prices. At the moment all AVE trains leave Barcelona from Sants train station. Sants station has a very nice 4 star hotel situated above the station called Barcelo Sants hotel. Find the best hotels near Sants train station. A new AVE station "Estació de la Sagrera" is under construction and expected to be finished in near future.

AVE Tickets Barcelona - Madrid
AVE ticket information
Pictures AVE trains Spain
Video Youtube Renfe Spain
Location Sants Estació Station Barcelona
Location Puerta de Atocha station Madrid
Best hotels walking distance Sants train station
All hotels near Sants train station Barcelona
Hotels Madrid

AVE high-speed trains started operating between Barcelona and Madrid in February 2008 providing a convenient transport link between the two biggest cities in Spain. In the first two years of operation 11.5 million passengers used the Barcelona - Madrid AVE trains. The first AVE Siemens model S-103 train left Barcelona's Sants station at 6 a.m on Wednesday 20th February 2008. It was a journey of 699 km between Spain's two biggest cities. Since then the number of passenger has risen steadily and accounts for half of the traffic between Madrid and Barcelona.


Barcelona to Paris high speed train
From 2013 the high-speed AVE train connection also connects Barcelona to Figueres and Girona. From mid December 2013 the AVE opened a direct high speed train connection between Barcelona and Paris with a total journey time of six hours and twenty five minutes. So from the centre of Paris and arriving in the centre of Barcelona the journey time is just a little longer than flying, but much more comfortable and scenic. The new high speed train service linking Paris and Barcelona starts with 5 daily departures and ticket prices from €60 euros to €170. On the way to Paris there are stops at Toulouse (3 hours from Barcelona) and Lyon (5 hours from Barcelona.)


Where do Barcelona high speed trains?
At the moment AVE trains leave Barcelona from Sants train station which is most central. A new AVE station Estació de la Sagrera is under construction


Connection times AVE trains Barcelona
Barcelona-Madrid: 2 hours 30 minutes
Barcelona-Girona: 37 minutes
Barcelona-Figueres: 53 minutes
Barcelona- Paris: 6 hours 25 minutes

The high speed trains leave on time and do not wait for late arrivals. At 2,5 hours, the journey time is longer than flying, but comparable if you include transport time to and from airports, check-in time and luggage pick-ups at airports in addition to the actual flying time. The big benefit of the AVE train is that the 2 hours and 30 minutes journey time from the city centre of Barcelona to the city centre of Madrid is more comfortable with much more legroom, more space to work, more space to move around and much better dining options. Ticket prices are competitive although airfares are still generally a bit lower than the high speed train. Lowest AVE train prices can be found online 15 days if you book in advance. There are many promotions and price factors. All in all it's a much more stylish and comfortable way to travel and with less impact on the environment, less stress and at reasonable prices.

Top tours Barcelona
Day tours outside Barcelona
Getting around Barcelona
Maps Barcelona

© Copyright Barcelonayellow.com.
Do not copy from this page without permission
All rights reserved


Last Updated on Sunday, 04 February 2018 22:24