Barcelona general strikes / protests 2023
Spanish/Barcelona general strikes, traffic information, metro strikes, train strike, taxi strike, airport strike, demonstrations, protests

Last updated August 2023

August 2023
This strike was cancelled after agreement was reached. From the CSIF union: Security guards at the Barcelona-El Prat Airport have announced an indefinite strike from August 10th 2023. The strike action will be from Thursdays to Mondays in three shifts: from 4 a.m. to 7 a.m., from 9 a.m. to 11 a.m. and from 4 p.m. to 6 p.m.

September 2023
Barcelona's Taxi union has announced taxi protests which aim to block all major roads into Barcelona from 1st to 4th September to disrupt the holiday return of thousands of people to Barcelona. This action is yet another protest in the Barcelona taxi drivers' ongoing fued with ride-hailing platforms and their apps.

Wednesday 14 june 2023
Taxi drivers from all over Catalonia will demonstrate in the form of a "slow drive" in the center of Barcelona from Plaza Espanya along Gran Via to demand restrictions on VTCs ride sharing cabs. Further action throughout the summer will be announced if demands are not met.

Monday 17th April 2023.

Taxi strike and protests

Barcelona taxi drivers will stage four days of protests against illegal taxis at the Barcelona's main airport El Prat airport from Monday 17th April 2023.

Monday 17th April 2023: "surprise" event at the Terminal 1 lobby and a work stoppage from 10 am to midday.
Tuesday 18th April 2023: loud whistling in the arrivals area for 30 minutes every two hours
Wednesday 19th April 2023: slow drive protest between terminals 1 and 2.
Thursday 20th April 2023 "invasion" of Terminal 1 lobby from 10 am to midday then an assembly to decide whether to continue protesting in the Barcelona city center if the airport operator Aena and the Catalan interior department do not meet their demands.

------

Taxi strike and protests January 31 & February 3 2023

The main taxi driver associations in Barcelona , Élite Taxi and the Taxi Union of Catalonia (STAC), have called for strikes on January 31 and February 3 2023 which coincides with the ISE2023 trade show.

Taxi strike & protest 17th January
Taxi drivers participated in two separate protests against ride-hailing apps Free Now, Uber and Bolt across Barcelona on Tuesday 17th January 2023

Useful links for traffic

Transit Twitter
Guardia Urbana Twitter
Airport bus
Twitter Protecció civil
Twitter Mossos police
Twitter TMBinfo bus/metro
TMB map transport
Live Google traffic Barcelona


Previous strikes and protests Barcelona

December Thursday 5th 2019
Train strike by CGT union that affects Barcelona. Some train cancellations and others at 40% of normal service. This will affect some AVE, regional and national train connections.
Details and times here and updated information on Renfe Twitter

November 2019 Sporadic ongoing protests and minor protest road blocks by fringe separatist movements. In general the city transport is operating normally.

October 2019 During last 2 weeks of October there were several political mass protests and also several incidents of violent unrest and clashes between protesters and police. These were protests against jailing of politicans who were convicted in October 2019 of organising an illegal independence referendum in October 2917. During the protests there were isolated incidents with violent protest which affected certain streets in the city but in general the city was functioning normally throughout the protests. There were also protests which blocked main highways but in general the situation trhoughout was that the city was safe to visit. The protests have since died down to almost nothing.


Useful transport links during strikes and protests

Renfe Twitter
Transit Twitter - traffic barcelona
Airport bus website
Aerobus Twitter - airport bus
Twitter Protecció civil
Twitter Mossos police
Twitter TMBinfo bus/metro
TMB map transport 21 FEB 2018
Live Google traffic map Barcelona
Guardia Urbana Twitter - traffic police


................
Previous strikes Barcelona and Spain
................

Friday 18th October 2019
General strike - huelga general 18-0

General strike called in Catalonia on Friday 18th October 2019. Two trade unions have called a general strike for October 18, to coincide with the expected announcement of the verdict of the jailed 2017 illegal independence referendum leaders. The Government has decreed that there will be minimum services for transport but expect long delays.

Monday 14th October until 18th October
Possible disruption of traffic due to random and unnanounced protests and strikes after verdict of trial of former Catalan government leaders.


Iberia ground staff at Barcelona-El Prat Airport have announced 8 strike dates which are 21, 22, 23 and 24 September 2019 coinciding with the La Merce festival in Barcelona. Then strikes every Monday from September 30 to November 18, 2019. Iberia Airport Services ground handling staff handle 65% of baggage at Barcelona airport. The government will probably decreed minimum services for the strike dates, but delays and even cancellations of some flights can be expected.

Partial train strike Spain
31st August & 1st September 2019
Spanish trains on partial strike in two 4-hour periods between noon and 4pm and 8pm and midnight. Minimum services guaranteed but some train cancellations and delays all over Spain.

Barcelona Airport strike
30th and 31st August 2019. 24th, 25th, 30th and 31st August 2019.
Strike at Barcelona El Prat airport by Iberia Airport Services ground handling staff, who handle 65% of baggage at Barcelona airport. The government has decreed minimum services for 24th and 25th but expect some delays or cancellations of some flights. Vueling have already published list of Vueling flights cancelled on 30th and mgiht also cancel some on 31st August 2019.
Wednesday 14th August
Renfe's train strike Wednesday, August 14th 2019. Spanish trains on strike. Minimum services guaranteed but expect train cancellations and delays all over Spain.

Friday 9th August.
Security staff strike at the Barcelona-El Prat airport. The government has decreed that minimum services of 90% should be maintained at El Prat airport during this strike, however, it is not certain if this goal for minimum services can be reached. There we recommend that you arrive at the airport in good time and expect delays and long lines to pass through security at Barcelona airport. The strike is for 24 hours but can be extended.

Spanish train strike 31st July 2019
Wednesday 31st July 2019 is the first of the four strike days called by CGT union between July and September 2019. The strike dates are July 31, August 14 and 30 and September 1
On the strike dates the Renfe national and regional trains will provide 40% of normal service on most train lines during strike hours between 12.00 and 16.00 and 20.00 and 24.00.
Renfe website

Metro strikes Barcelona 29th May 10, 20 and 24th 2019
Partial metro strike in Barcelona in May is to protest management of the ongoing asbestos crisis that the TMB metro company is dealing with. is carrying out. During the strike servie will be 40% during rush hour and 20% rest of day.

Train strikes on 23rd April 2019
Might be partial strikes in various transport sectors on 23rd April, so leave in good time and expect some delays
Some unions have called for strikes on 23rd April which is a busy travel day when city residents come back to Barcelona called "la operación retorno"
The union COO did organise a partial train strike on April 17th which affected regional trains including AVE high speed trains.

Metro strike Barcelona 8th April
Partial metro strike on 8th April 2019 with serious disruptions to metro services.

Women's strike 8th march 2019
Partial strikes by women on 8th March. Also demonstration at 6.30pm from Gran Via de les Corts Catalanes junction with Carrer Rocafort to Plaça de Catalunya. More information on vagafeminista.cat
Barcelona Metro strike 25th to 28th February
Partial metro strike during rush hour until February 28th 2019
Updates: https://twitter.com/TMBinfo

Minimum metro services during strike:
7-9 h, 50% of normal service
16-18 h, 50% of normal service
22.50-onwards, 30% of normal service

Catalonia 1 day general strike 21st February 2019
A 1 day general strike is under way today Thursday 21st February 2019 in Barcelona and Catalonia.

The strike was announced as a labour dispute strike but actually the intention appears to be to protest against the current trial of jailed separatist leaders who are under indictment for their role in an illegal referendum and subsequent declaration of independence in October 2017

Expect delays and disruptions to public services and traffic on 21/2-2019. Leave in good time for airport, stations and cruise ships.

Airport bus 21/2 2019
Not on strike but there can be disruptions due to roadblocks by protesters.

Metro and Bus 21/2 2019
The Catalonia regional government - called the Generalitat - has decreed minimum services for metro and buses must be 50% of normal capacity in the peak rush hours (from 6.30 to 9.30 and from 5 to 8 pm) and 25% rest of day

Trains ;21/2 2019
Renfe - Spanish railway trains will be a minimum services at 33% of normal capacity of trains

Intercity transport and Barcelona airport bus will operate at 50% of normal capacity

Thursday 24th January 2019 - Barcelona taxi strike ENDED.

Taxi drivers voted 23/1 to end strike their 6 day strike and accept offer from local government that ridesharing services have to be ordered with 1 hour notice before the pick-up.

The taxi strike Barcelona which started on 18th January, intensified on 22nd January with more attacks on ride sharing cars from Uber and Cabity ridesharings services and taxi drivers continue to block streets.

Taxis are still blocking a major street in Barcelona called Gran Via which is causing traffic disruption.

On previous days taxi drivers blocked other main traffic arteries including ring road Ronda Litoral and had skirmishes with police at the port.

The Barcelona taxi drivers are protesting against Uber and Cabify ride-sharing services which use so-called VTC licences to provide alternative transport to traditional taxis.

There have been somevery violent attacks by taxi drivers against drivers, occupants and cars of ride sharing services like Uber and Cabify.

Nine taxi drivers were arrested in Barcelona on Friday

Tourists are recommended to use metro L9 Sud or the train from station Passeig de Gracia to get to airport.

There is no direct metro from Barcelona city center to the airport

To connect to L9 Sud which goes to airport, take metro from station Espanya to "Fira" and "Europa / Fira stations where you can connect to L9 Sud to airport.

Or if you are near metro L5 Collblanc station then at Collblanc station to metro L9 (it's a long journey to airport though)


....

No strikes over Christmas and New Year.

....

Strikes protests Friday 21st December 2018

There were some separatist protests in Barcelona and blockades of major transport hubs on Friday 21st December 2018 to protest Spanish government cabinet meeting in Barcelona.


Useful links with public information:

Twitter Emergenciescat
Twitter Mossos police
Twitter TMBinfo bus/metro
TMB map transport 21 Dec 2018
Live Google traffic map Barcelona
Aerobus Twitter - airport bus
Transit Twitter - traffic barcelona
Guardia Urbana Twitter - traffic police
..

Friday 14th December 2018
Spanish partial train strike on Friday 14th December. Additional train strikes announced for on 21st, 28th and 7th January. More info Renfe

...................

23rd November 2018.
1 day slowdown transport strike by Port transport association until 3pm. Expect major traffic delays and congestion in Barcelona

31st October 2018. Train strike Spain called by union CGT. Strike in Renfe and Adif on October 31 2018: 295 passenger trains cancelled. 87 AVE high-speed and 208 long/medium-distance trains routes cancelled on the eve of All Saints long weekend in Spain. Rodalies Barcelona trains will operate at 66% during peak hours.


1st October 2018 Traffic disruptions Barcelona

Some traffic disruption in center of Barcelona due to "suprise actions" morning of 1st October by many CDR groups (Comitè de Defensa de la República - Republic Defence Committee).

CDR groups are blocking some roads and parts of public transport network in Barcelona and Catalonia on 1st October 2018 to comemorate the one year anniversary of illegal 1-0 referendum on independence for Catalonia region from Spain on 1st October 2017 - a vote which ended in conflict between voters and police.

Today's CDR actions might affect central roads and squares in Barcelona. Protests are expected to be peaceful but please exercise extreme caution if you are near demonstrations, which can quickly get out of control. For Barcelona travellers we recommend that you leave in very good time if you have flights today leaving from Barcelona airport.
...

Metro strike Barcelona during Mercè Festival
The partial metro strike announed for 2018 Mercè Festival has been cancelled.
...
Spanish Taxi strike ended 2nd August 2018.
Barcelona, Madrid and all Spanish taxi drivers agreed after an evening meeting on 1st August to end their strike and blockade at 3am on 2nd August 2018. The cause of the strike has not been resolved but is a truce until September. Taxi drivers received certain guarantees from government and decided to suspend their strike until September 2018 when they will review the government promise to enforce regulation that limits the proportion of transport vehicles with VTC licenced drivers to 1 VTC for every 30 black/yellow taxis. At three o'clock in the morning, the occupation of the Gran Via de Barcelona ended.

...

Ongoing taxi strike Barcelona July 2018
Barcelona taxi drivers are on an indefinite ongoing strike after a high court decision on Friday 27th July was not to their liking. The decision concerned the number of licences used by "ride-sharing" services like Uber and Cabify. Groups of belligerent taxi drivers are also picketing train and airport transport hubs and several incidents of conflict have been reported. The taxi strike has also spread to other major Spanish cities and regions including Madrid, Valencia, Andalucía, País Vasco, Navarra, La Rioja and Galicia.

Expect some delays and disruptions to traffic during the Barcelona taxi strike and avoid using Uber or Cabify transport services, which can be harrassed and attacked by black/yellow taxi drivers.

Barcelona Airport buses should be operating normally but can also experience delays and road blocks. Trains are operating normally and both the L9 metro line and the R2 line have connections to the airport and have been expanded by 25% for the duration of the taxi strike. Find information about trains to Barcelona airport. Visit Spanish newspaper La Vanguardia for updates on taxi strike (in Spanish)

Update: Barcelona's yellow and black taxis have parked their taxis on the Gran Via central street in Barcelona to block it for an undefined period of time until their demands are met. This taxi strike has effectively shut down the city of Barcelona and is now adversely affecting the city's image as a safe and efficient tourist and business destination. The road blocks are furthermore affecting shops, businesses, restaurants and local residents who are leaving for their vacation. There is little sympathy for the action from local residents. Although everyone has the right to strike in Spain, a legal strike would mean that taxi drivers stay at home and do not offer their services. The right to strike does, however not include the right to cripple the city transport system or threaten other law-abiding citizens. Such actions are illegal so unless the taxis stand down and pursue their goals by legal means, it is most likely that police and government will intervene in the coming days to dissolve the taxi strike action.

Friday 27th July 2018
Taxis are staging 'slow down' strikes and other possible actions on Friday 27th July 2018. Expect traffic disruptions and delays and avoid alternative services like Uber or Cabify on 27th July as they might be attacked by Barcelona taxi drivers. The main focus of the Barcelona taxi strike is to limit the VTC licences which are used by Uber and Cabify drivers. Live traffic maps Barcelona.

Renfe train strike 27th July 2018
Strike today by Renfe, the Spanish railway company. This will affect both AVE high speed trains and local trains in Catalonia (Rodalies de Catalunya.) Renfe employees will be on strike for 3 periods of 2 hours duration during the day. The periods are midnight to 2am then 7am to 9 am and ending 4pm to 6pm. This will create partial disruption on trains as many residents leave Spanish cities today for their vacation and there are many tourists in Spain. AVE and long distance services are operating at 78% of capacity and regional trains at 64% journeys. Passengers affected by the strike can cancel the ticket or change to another date.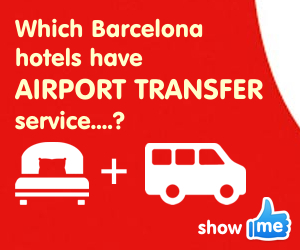 Taxi strike 26th July 2018
Barcelona taxis on strike Thursday 26th July and until 6am 27th July. There was a "go-slow" action by Barcelona taxi drivers at mid-day on 26th July 2018 to disrupt traffic in Barcelona. As of 4pm no more taxi actions are expected and although the taxi strike remains in force other means of transport should not be affected. Be careful when using alternative transport services like Uber and Cabify during taxi strikes. Both these companies suspended services in Barcelona on 25th July 2018 after demonstrating taxi drivers attacked more than a dozen Uber and Cabify vehicles on 25th July, some with families with children inside. Read more on Spanish newspaper El Periodico

Taxi strike Barcelona 25th July 2018
The Barcelona taxi drivers were on strike Wednesday 25th and 26th July 2018. The strike was 48 hours from starts 6am morning of 25th July and ends 6pm morning on 27th. There was a demonstration by taxi drivers at 11am on 25th July in Barcelona from Arc de Triomf monument to Government builidng on Plaça de Sant Jaume.

Dates Ryanair cabin crew strike July 25th and 26th 2018
Ryanair airline cabin crew are on strike on July 25th and 26th 2018. This includes cabin crew on Ryanair flights in Spain also affecting Barcelona. Ryanair have cancelled many flights.

Dates Iberia ground staff strikes Barcelona airport
Iberia airline ground staff strikes at Barcelona airport have been called off for dates 25th and 26th of July 2018. Strikes are still announced for 3rd and 4th of August 2018

Aena staff strike 2018 called off
The strike announced by handling services in Aena airport network in Spain for July 29 has been called off.

Strike warning Barcelona Airport air traffic controller strikes from June 2018 Barcelona.
Barcelona air traffic controllers have announced possibility of 24 hour long strikes during 2018 summer period after 20th June 2018. No actual dates for strikes have still not been announced so far no strikes have taken place after 20th June.

The reason for this strike warming 85% of employees voted in favor of a strike action to demand an increase in the workforce, which they consider insufficient to deal with increased air traffic at Barcelona Airport. The exact dates of the strikes have not been decided, but strike actions, if it happens, will not be before June 20 2018. The decision of possible strike action follows air traffic controllers prediction of a possible collapse at Barcelona airport this summer if their warnings about need to increase air traffic controller staff are not heeded.

General tip for summer visitors at Barcelona airport. Get there in good time as the lines can be long at security in peak season.

Tuesday 22nd May 2018
Many flights to and from Barcelona have been cancelled or delayed on Tuesday 22nd May 2018 due to French air-traffic controllers joining a national strike by public sector workers in France. Check with your airline.

Vueling Air Pilot strike 25th and 26th April 2018
Vueling pilots are on strike for 4 days. Strike is 2 days in April and 2 days in May 2018. Vueling pilot strike dates are Wednesday 25th April 2018 (24 hours) and Thursday 26th April 2018 (24 hours) and 4th May 2018 (24 hours) and 5th May 2018 (24 hours). In total, there are only 122 flights canceled for 25th April 2018 and another 124 for Thursday 26th April 2018 as 80% of the flights have been protected by the Ministry of Public Works and Transport according to Vueling
More news on Vueling news page and Vueling twitter

Prostest march Barcelona Sunday 15th April 2018
Sunday 15th April 2018. Supportters of separatist movement in Catalaona have organised a big protest rally on Av Parallel to demand release of separatist leaders currently imprisoned and awaiting trial for involvment last years failed independence declaration. The rally starts at 12.30 but Av Parallel is closed to traffic from 8am to 5pm. Large number of participents are expected from the entire Catalonia region so expect some disruption to traffic and metro traffic.

Thursday 8th March 2018.
'La huelga feminista' - the feminist strike'. Expect some disruptions to traffic and transport on 8th March 2018 due to strike actions. There is a national general strike in Spain on Thursday 8th March 2018 in support of 'Día Internacional de la Mujer' - International Women's Day 2018. Spanish political parties Podemos and Spanish Socialist Workers' Party (PSOE) support the strike which has been organised by Spanish labour unions.

It can affect transport in Barcelona. Air traffic controllers will take part in the strike so flight disruptions and delays can happen at airports across Spain. Renfe rail company has cancelled over 300 train connections in Spain. From 7am to 9am there will be a Spanish public transit strike. Other areas in Spain including education, healthcare, media, retail, and janitorial services could be affected.

Mass gatherings. In late afternoon at 6.30pm in Barcelona there will be a mass peaceful demonstration from Barcelona's Passeig de Gracia street and ending on central square Plaza Catalunya. There will also be a mass gathering on street Via Laietana at junction of Avinguda de la Catedral (Plaça d'Antoni Maura) at 7pm on 8th March 2018.

Tips: If you find yourself in Barcelona on days of mass demonstrations and general strikes be aware that they can cause traffic and public transport disruptions, so make sure you leave your hotel or apartment in good time if you are near a planned demonstration. Also bear in mind, that not all airlines can accept check-ins before 2 hours before flight departures, so you might be at the airport for a while before being able to check in your bags.

General status March 2018

No disruptions for tourists. Life is normal concerning the political situation. There is a still a political impasse regarding the next government of Catalania but there have been no significant demonstrations or any disturbances since 1st October 2017. The general feeling is that the situation has been normalized and that political solutions will be found and tourists are welcome to a safe and peaceful Barcelona.


Strikes 2017
This strike below was called off, so no there were no strikes during Christmas 2017 in Barcelona.

IAG group ground staff (Vueling, Iberia and British Airways) which is check-in, cabin and plane maintainance staff - at Barcelona International airport El Prat have announced a partial strike from 21st to 24th December. The strike action will be intermittent stoppages of four hours in length at three different times during the four days of the strike

Strikes Barcelona November

Barcelona and Spain Taxi strike Wednesday 29th November
Spanish Taxi associations have called a 24-hour strike on Wednesday 29/11. Expect delays in Barcelona. Minimum taxi services for emergencies and transport hubs .

No new strikes or demonstrations planned. Things are peaceful and it appears that life is back to normal. The political parties are preparing for new regional elections. Safe for tourists to visit.

Saturday 11th November
Mass demonstration planned on street Marina between Pujades and Icaria. The demonstration starts at 5pm. It has been called by pro-independence organisations in support of jailed government ex-ministers. Expect some traffic and metro disruptions in Sant Marti area in area of demonstration in afternoon.

Friday 10th November
Safety levels for tourists normal. Barcelona calm. No incidents. No striikes. Traffic normal. Generally city is very safe and things getting back to normal.

General strike 8th November
A general strike in Barcelona. This strike does not appear to be supported by a majority of residents, but will affect traffic. 30 roads were blocked this morning by supporters of independence for Catalonia from Spain, so expect disruptions to traffic this evening with possible roadblocks. Metro and bus in Barcelona operating at 50% in peak hours.

Sunday 5th November
Safety levels for tourists normal. Barcelona calm. No incidents. No striikes. Traffic normal. Life in Barcelona is very normal and calm. Some tourists told us that if they hadn't been told about the political situation they would never have known there were any problems because everything seems so normal.

Wednesday 1st November
Safety levels for tourists normal. Public holiday Todos los Santos. Barcelona calm. No incidents. No striikes. Traffic normal.

Tuesday 31st October
Safety levels for tourists normal. No incidents. No striikes. Traffic normal.

Monday 30th October
Safety levels for tourists normal. Barcelona calm. No incidents. No striikes. Traffic normal.

Sunday 29th October
On 29th October there was peaceful mass anti-independence demostration in support of Catalunya staying in Spain from 12 mid-day on street Passeig de Gracia. There will be disruption to traffic and metro services. SEE MAP

Places to exercise caution in the coming week are Placa de Sant Jaume and near the Catalonia parliament in Parc de la Ciutadella. Generally Barcelona is calm and safe for tourists at the moment, however we suggest you check official travel advice and travel warnings with your own country's foreign office if you are planning visits.

Brief overview of current political situation. The Spanish government has suspended regional autonomous rule in Catalonia by invoking article 155 of the Spanish constitution which imposes temporary direct rule from Madrid. New regional elections have been called for 21st December. The former Government of Catalonia are under indictment for charges of rebellion, sedition and misuse of public funds. The former President and some former government ministers left Spain and are in Brussels and will face a Belgian court regarding extradition to Spain. Other former ministers are in prisón in Madrid. This political situation was caused bya declaration of independence by the regional government of Catalonia on Friday 27th October based on the constitutionally illegal referendum on independence on 1st October attended by 42% of the census. Due to these events it is possible that there can be demonstrations and possible civil unrest and disobediance on certain dates.

Tourists are not generally perceived to be in danger anywhere in the city, but should exercise just caution and use common sense. One of the major cruise ship companies, Costa cruises, advised their passengers going ashore in Barcelona that civil unrest and protests could be announced or happen at short notice or without prior notice and advised their passengers, in the event of experiencing a protest, not to take pictures of protesters or police to avoid provoking violent reactions and in general to avoid mixing with large political gatherings near government buildings, headquarters of security forces and symbolic places. Finally the cruise line advised against going too far from the city center in case protests cause traffic disruptions and delays returning to cruise ships.

Vaga general - Catalan for general strike
Huelga general - Spanish for general strike

Saturday 21st October
Mass demonstration planned from 5pm on Passeig de Gracia. Traffic delays and disruption in area expected all afternoon and possibly evening. The demonstrations starts Jardinets de Gracia at top of Passeig de Gracia and ends at junction of Gran Via Passeig de Gracia but this will affect several blocks in the area. so if you have to get to airport or cruise ships then please leave in very good time.

Map route Barcelona demonstration 21-10 from 5pm




Tuesday 10th October
Demonstration planned on Passeig de Lluís Companys at 6pm in support of possible Unilateral Declaration on Independence by Spanish regional Catalan parliament.

Sunday 8th October
Massive peaceful demonstration and march in center of Barcelona on 8/10/2017 to oppose the independence of Catalonia region from Spain. Expect major disruptions and delays in public transport on Sunday 8th October in city center. The march starts at Plaça Urquinaona at 12.00 noon, then goes down Via Laietana street to end at Estación de Francia train station. Traffic should be back to normal by early evening.

3rd October strike transport guidelines ordered by Catalonia government
Barcelona Metro, bus and FGC local trains should be 25% of normal operation at peak hours (from 6.30 to 9.30 and from 17 to 20 hours)
Renfe Catalonia regional trains should be at 33% of normal operation all day.
Long Distance and AVE High Speed trains should be at 76% of normal operation.

General strike October 3rd in the autonomous community of Catalonia in Spain.
The general strike in Catalonia on 3rd October might cause major disruptions and disturbances to transport and services in Barcelona and this entire region of Spain.

Disclaimer. The above information is based on articles in the Spanish and International press and BarcelonaYellow.com is not responsible for date changes or other factors that might cause disruptions in travel to and from Spain, so please check for latest news with your airline and travel agency.


Useful links during Barcelona strikes

Twitter TMB Barcelona Transport (bus, metro)
Renfe trains Barcelona
Aena Airports Twitter page
Website Spanish airports authority Aena.es
Contact list airlines Barcelona airport
Flight checker Barcelona airport
Airports in and near Barcelona
Twitter Controladores aéreos - Spanish flight controllers
Eurocontrol Twitter
The European Organisation for the Safety of Air Navigation. We keep you informed on the air traffic situation in Europe and on developments in ATM.
Twitter KLM Spain
Twitter KLM
Twitter Iberia
Twitter Vueling
Twitter Transavia
Barcelona international railway stations
Spanish railways wesbite Renfe
Estacio Nord bus station Barcelona
Eurolines - buses from Barcelona
Cheap hotels in Barcelona
Self-catering apartments in Barcelona


Long lines at security Barcelona airport cause delays

August 2017 update.
13th August. Security staff reject latest offers and there will be a 24 go-slow strike on Monday 14th august. Civil Guard officers are at the airport to maintain order and reports indicate that the lines are not too long and but there can still be lines of 1 hour at security so passengers are advised to arrive in good time on 14th August at Barcelona El Prat airport. If you arrive more than the standard 2 hours before your flight then check first with your airline if they will be open for check-in and baggage drop. For passengers only with hand-luggage and who have checked in online and have their boarding card you can go straight to the security.

11th August. Striking security staff at El Prat haved rejected latest proposal so no change in situation which means there are still 1 hour long strikes by security staff at Barcelona's El Prat airport which can lead to long delays for passengers. A full 24-hour strike has been announced for August 14th 2017.

360 security staff at Barcelona El Prat Airport called the strike from 4th August 2017. The strike means they stop work for four non-consecutive hours a day - the strike is in 1 hour isections every Friday, Sunday and Monday at 5.30am, 10.30am, and 4pm and 6.30pm.

If you are flying to or from Barcelona El Prat airport in the summer of 2017 in July or August then it is a good idea to get to the airport in very good time for your flight. Both terminals T1 and T2 at Barcelona airport have experienced long delays in security checks which are due to a slower than usual 'work-to-rule' action by security staff which has resulted in waiting times to get through security of up to 1-2 hours including in the "fast-track" lane which is intended for passengers with small children and with mobility issues. These security delays at Barcelona Airport have meant that around 1000 passengers have missed flights since July even though some airlines try to delay take off to wait passengers trapped in the unusually long lines at Barcelona airport security.

You can help reduce the waiting time a little by preparing for the security check while you are standing in line. You can do this by emptying your pockets and removing metal items like belts, watches and by getting laptops and toilet items ready, so that you save time at the security check. We recommend putting valuables like wallets and phones inside your hand-luggage rather than leaving it in the trays to avoid theft or confusion. From August 2017 there will be could be strike action at security at Barcelona airport from 5.30-6.30 am, from 10.30-11.30 am in the morning and in the afternoon from 4.30-5.30 pm and from 6.30-7.30pm.


Barcelona Air Traffic Controller strike 2015

The Spanish Air Traffic Controllers Union (USCA) called a four-day limited strike on June 8th, 10th, 12th and 14th 2015. This strike action could affect up to 5,300 flights which is around 25% of normal flights in June. However, strikes are scheduled to take place for two-hour periods only during morning from 10am to 12pm and again in afternoon shift from 6pm to 8pm

The Spanish governement has set minimum service levels of 70 percent to keep airports running and these are being observed which means that around 617 Air Traffic controllers out of the usual 955 will be on duty on a regular morning between 10am and 12 noon and most programmed flights will depart normally.

But check your flight with your airline to be sure.

USCA represents 90 percent of Spain Air Traffic controllers. They called the strike to protest the suspension of 61 air traffic controllers from Barcelona without pay for a month as punishment for participation in a wildcat strike in December 2010 that completely shut down Spanish airspace.

Scroll to bottom of this page for useful links for passengers hit by airline or airport strikes in Barcelona.

...............................

Iberia staff strikes 2013
Updated 22 February 2013
Still many cancellations especially on Vueling flights.
See Vueling strike news here (translated using Google translate)
See Iberia strike new here
Iberia staff have announced 15 strike days in early 2013. The strikes will be 3 strikes of five days to protest planned lay-offs by Iberia. The Iberia strike days are on 18 to 22 February 2013 - 4th to 8th March 2013 and 18 to 22nd March 2013. The low cost airline Vueling is part of Iberia group and will also be affected. Check with your airline or travel agent regarding your flights.


...............................
Taxi strike January 2013
9 Jan 2013 Taxi protest at airport ends after agreement is reached to eliminate new shifts. Taxis at Barcelona airport are back to normal. See how to get to Barcelona airport.
Updated 8th January. Barcelona airport El Prat has almost no taxis at the moment due to a taxi strike over new shifts. Some private transfer companies are not taking orders at the moment due to concerns that their vehicles will be damaged by picketing taxi drivers, so we recommend you take the airport buses or airport trains to get from the airport. Delays and long queues can be expected.
Barcelona Airport Buses
How to get to Barcelona airport

...............................

Iberia pilots strike 2012
Updated 10th December 2012.
Good news for travellers with Iberia. Iberia staff have cancelled the six days of strikes in December to avoid disrupting Christmas traffic.
Iberia staff have announced strike actions in December 2012 in protest against planned lay-offs by Iberia. The strike days by all Iberia staff are on Friday 14/12, Monday 17/12, Tuesday 18/12, Thursday 19/12, Friday 20/12 and Saturday 21/12 2012.
.......................

General strike Spain 14th November 2012
Spanish unions have called a general strike in Spain on 14th November 2012 which is the same day as a pan-European day of protest against general austerity policies. The strike in Spain has been called by the UGT and CCOO unions to protest the austerity cuts of the government of Mariano Rajoy. The strike will take place on Wednesday 14th November 2012 and is called 14N. We recommend that you check with your airline if you are if you are flying as disruptions are possible.
Informaton general strike 14th November 2012

...............................

General strike 29th March 2012
Information about general strike 29-M on 29th March 2012

...............................
Iberia pilots strike 2012
Update 11th March 2012
Iberia pilots continue strike actions on specific days in spring 2012. You can see the specific dates that Iberia pilots have scheduled strikes on the link below
http://www.finanzzas.com/calendario-de-huelga-pilotos-iberia

Update 11th January 2012
Iberia pilots continue strike actions on specific days. Iberia flights were cancelled on Monday 9 January 2012 and Wednesday 11 January 2012.
Read more in Catalan newspaper La Vanguardia (translated to English via Google translate)

Update 17th December 2011
Iberia will cancel hundreds of flights on 18/12 2011 due to the pilots strike.

On 7 December, Iberia pilots decided on strike actions for 18 and 29 December 2011 in protest against Iberia's plans to create low-cost subsidiary, called Iberia Express, from March 2012 to cover flights of short and medium haul. If you have bookings with Iberia, you are advised to check with the airline as Iberia is taking measures to ensure that as many flights as possible will be operating. More information
...............................
Easter + summer 2011 strikes called off
16. March 2011. AENA, the unions have reached agreement to call off the 22 days of Spanish airport strikes announced for Easter and Summer 2011. Source: El Pais
11. March 2011. No resolution from second round of talks. Source Article La Vanguardia newspaper (in Spanish)
10 March 2011. Negotiations ongoing to resolve conflict and avert strikes. Source. Article La Vanguardia newspaper (in Spanish)

Ground staff from Aena, the Spanish Airports Authority, who manage all Spanish airports, have announced 20 days of strike action from 20 April 2011 until the end of July in protest against the Spanish government plans to partially privatise Aena. Unions want guarantees that no jobs will be lost after the partial privatisation. At the moment these are strike announcments and negoiations are under way to reach an agreement and avoid strikes and disruptions to Spanish airports and flight plans. We will post news and useful links here as information becomes available. According to articles in the Spanish newspapers, the Spanish airport strike dates that have been announced at the moment are:

April 20, 21, 24, 25 and 30
May 2, 14, 15, 19 and 20
June 13, 23 and 30
July 1, 2, 3, 4, 15 and 31
August 1, 15 and 31.

Disclaimer. These dates are from articles in the Spanish press and BarcelonaYellow.com is not responsible for date changes or other factors that might cause disruptions in flights to Spain, so please check for latest news with your airline and travel agency before booking flights to and from Spain.



Useful links during Barcelona airport strikes

Aena Twitter page
Website Spanish airports authority Aena.es
Contact list airlines Barcelona airport
Flight checker Barcelona airport
Airports in and near Barcelona
Twitter Controladores aéreos - Spanish flight controllers
Twitter KLM Spain
Twitter KLM
Twitter Iberia
Twitter Vueling
Twitter Transavia
Barcelona international railway stations
Spanish railways wesbite Renfe
Estacio Nord bus station Barcelona
Eurolines - buses from Barcelona
Cheap hotels in Barcelona
Self-catering apartments in Barcelona


International train from Barcelona
Visit www.renfe.es or go to the nearest station near you to inquire about tickets. Major stations in Barcelona are Sants, Passeig de Gracia and Estacio de França.


International bus routes from Barcelona
International bus services from Barcelona Estacio Nord bus station. Nearest Metro station Arc de Triomf or Marina on Red L1

Tweet about this page


This page sponsored by:






and





© Copyright Barcelonayellow.com
Do not copy from this page without permission
All rights reserved