How to get from Barcelona airport to cruise ship dock and terminals
How to get from Barcelona airport to cruise ship dock and terminals

Updated 2022

There is no direct bus shuttle from Barcelona airport to any of the cruise ships terminals

There is no train shuttle service from Barcelona airport to any of the cruise ships terminals



What is best way to get from Barcelona airport to cruise terminals?

From Barcelona Airport the best way to go directly to a cruise ship is by taxi or by ordering a private transfer

For cruise travellers a taxi or private transfer is the most convenient and quite an economical option, because there is a flat taxi fee (T4) from Barcelona airport to the cruise ships

One could save a little money by taking the Aerobus airport bus to central square Plaza Espanya then switch to a taxi from there to the cruise ships, but.. the savings are not big enough, in our opinion, to justify the inconvenience.



How much is flat taxi rate Barcelona airport to cruise ships?

The fixed flat rate - called T4 - for official taxi to/from Barcelona airport to cruise ships on pier Moll Adossat in Port of Barcelona.

The T-4 fare applies to journeys from the Moll Adossat cruise ship dock to Barcelona Airport and to journeys from Barcelona Airport to the Moll Adossat cruise ship dock.

The 2022 flat rate fixed price for the journey is €39 and all surcharges/supplements, like luggage, are included.

Check this rate on the taxi price sticker on the taxi window and with the Taxi driver.

You can usually pay by credit card in most Barcelona taxis, but as a precaution you should ALWAYS ask the driver if payment by credit card is accepted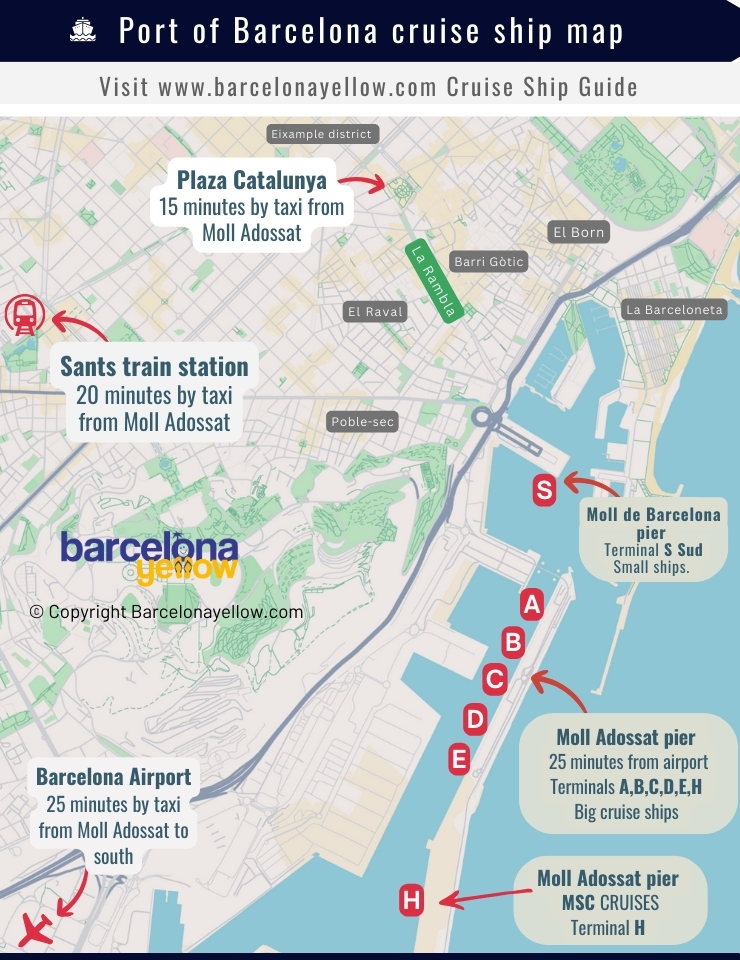 Related pages:

Barcelona cruise ship guide
Map Barcelona cruise dock Moll Adossat
Can you walk ashore from Barcelona cruise ships
Taxi prices Barcelona
Transfers to Barcelona cruise ships

© Copyright Barcelonayellow.com
All rights reserved
Do not copy anything on this page without permission


Last Updated on Monday, 09 May 2022 10:15