Moll Adossat. Where is Moll Adossat cruise ship terminal in Barcelona?
Moll Adossat cruise ship dock
Barcelona cruise ship terminals A, B, C, D are on Moll Adossat pier

Updated December 2022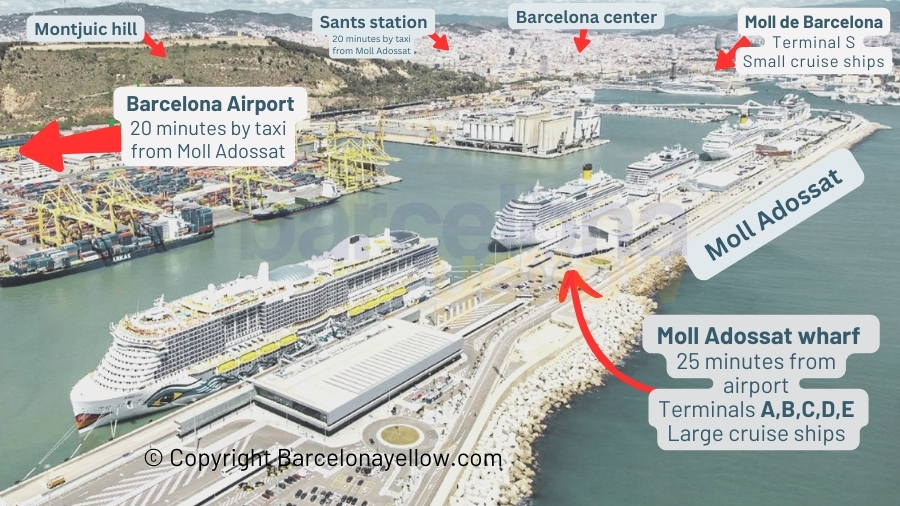 Moll Adossat Barcelona - also called Moll D'Adossat (in Catalan) or Muelle Adosado (in Spanish) is the name of the cruise ship wharf or dock, where the biggest cruise ships dock in Barcelona.

This is a new cruise ship terminal on a long quay with has 4 cruise ship terminals for the biggest cruise ships.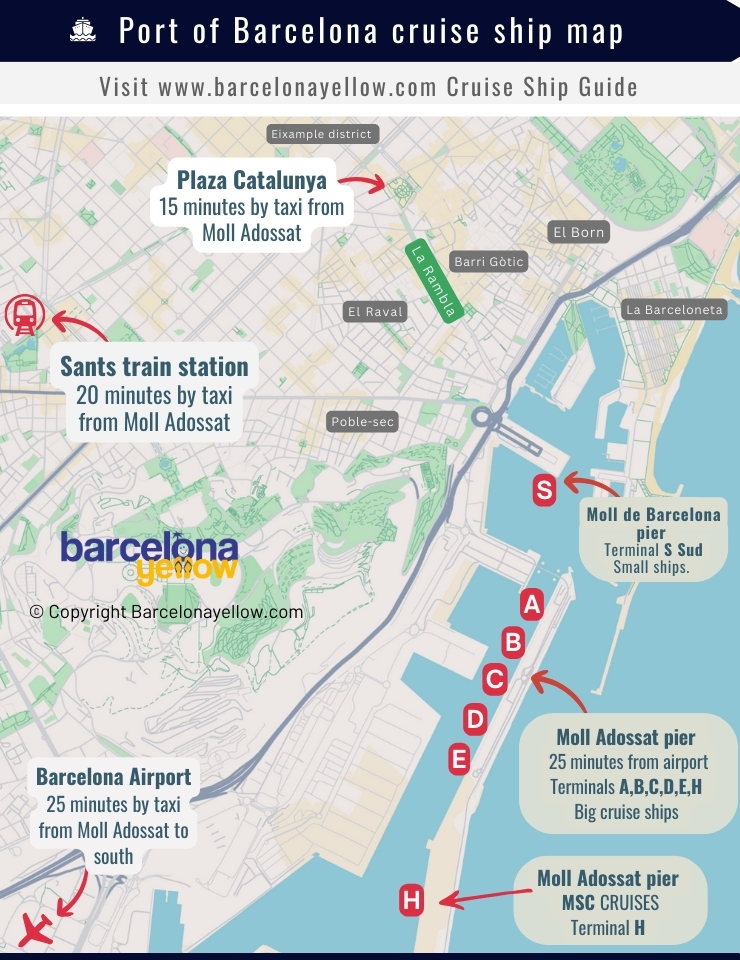 How to get from Moll Adossat to Barcelona center

On foot
It's possible to walk, but not practical with bags. If you enjoy walking then you could walk from cruise ships into the city but although the city looks close and is close it will be a 30 minute walk before you arrive at the old city of Barcelona.

From the Moll Adossat cruise ship terminals (A, B, C & D) in Barcelona port, it is about a 30 minutes walk to the edge of the Cuitat Vella (Barcelona's old city) and a 45-60 minute walk to the center of the entire city ofBarcelona which is the central square called Plaza Catalunya


By taxi to city center
Most cruise ship passengers choose to take a taxi from Moll Adossat terminals to the Barcelona city center.
Barcelona taxis are reliable and taxi fares are charged using taxi-meters, so you will not be cheated.
There are taxis outside all the cruise ship terminals.
Taxis are black and yellow and safe to use. Expect some lines both in peak periods. Taxi prices Barcelona


T3 Cruisebus to city
(previously called Portbús)

The T3 Cruisebus Barcelona is a cruise port shuttle bus service from the cruise ship terminals on Moll Adossat (A, B, C & D) to the Portal de la Pau plaza, which is at the harbour end of the walking street 'La Rambla'. Expect some waiting lines in peak periods. T3 Cruisebus info


Hotels with free cruise port shuttle bus
Some hotels have a port shuttle service but not many.



Private Transfer
Book a private cruise port to hotel transfer to and from your hotel to cruise ships. Generally hotels do not offer a free cruise port shuttle service.

Taxi prices Barcelona
Barcelona cruise arrivals schedule



Getting from Moll Adossat to Barcelona airport
The El Prat Barcelona airport is located 20 km / 12.4 miles south of the Barcelona harbour.

The driving time is 20-30 minute drive from any of the Barcelona cruise ship terminals to the airport - depending on traffic conditions.

Taxi price airport to cruise terminal. There is a fixed T4 rate for official taxi to/from Barcelona airport to Moll Adossat cruise terminals in Port of Barcelona.

The fixed price is €39 which includes all supplements. Check this rate on the sticker on the taxi window and with the taxi driver.

There are no direct links from airport to cruise ships by train or bus shuttle.

The easiest option is to take a taxi or pre-book a private transfer

How to get to Barcelona Airport
Moll Adossat on Google Maps
Route Moll Adossat to Barcelona airport




Last Updated on Saturday, 24 December 2022 11:58