Best Barcelona hotels near cruise ship port 2018
Hotels near Barcelona cruise terminals
Updated January 2018

Guide to best hotels near cruise ship port and docks in Barcelona for 2018. Barcelona's cruise ships are in Barcelona harbour which is close to city and and which has 7 cruise ship terminals located on 4 piers in the port area of Barcelona. The biggest pier is Moll Adossat. This page is about hotels near cruise ships but you might also be interested in our Guide Barcelona cruise ship terminals and our Barcelona airport Guide

Use the Barcelona cruise ship map below to see where the cruise ship terminals on Moll Adossat are located and where you can find the best Barcelona hotels near cruise ships and best hotels near the cruise ship dock Moll Adossat in Barcelona.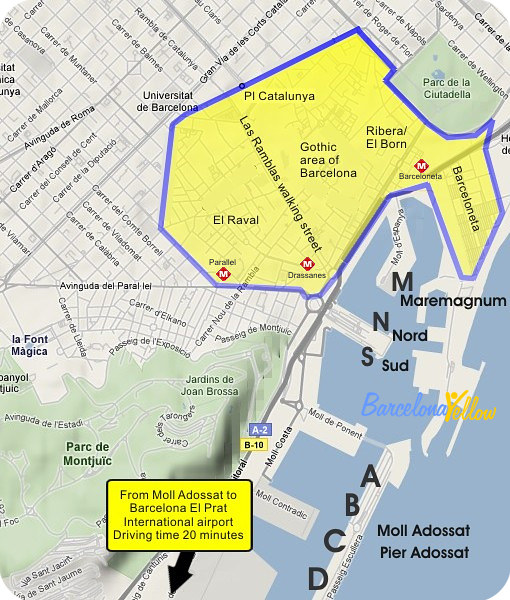 Most cruise ships in Barcelona dock at the Moll Adossat dock in Barcelona harbor port which you can see marked on the map below. Moll Adossat is very close to Barcelona city centre. There are many excellent hotels which are a 15 minutes taxi ride from the cruise ships at pier Moll Adossat. You can book Barcelona hotels safely by following our hotel links shown on the map below. There are no added commissions for booking via this webpage. The price is the same as the hotel´s own prices.

The cruise ship terminals in Barcelona are all within 30 minutes from hotel locations in the center of Barcelona, so as a cruise ship passenger in Barcelona, you can choose from many popular hotels in the center of the city too, so we recommend also that you visit our 2017 Guide to where to stay in Barcelona and our guide to the new popular Barcelona hotels. For convenience many Barcelona cruise ship passengers prefer to stay in hotels near the Barcelona cruise ship port area which is also close to the medieval city center of Barcelona. On the map below you can see a selection of the best reviewed hotels in Barcelona in the medium to expensive price range that are within a 15-20 minute radius by taxi cab to and from the Barcelona cruise ship terminals



Red

tags are Barcelona cruise ship terminals, A, B, C, D, S, N, & M



Blue

H1-H5 tags are 1 to 5 star hotels. Click for hotel info

Open FULLSCREEN map hotels near Barcelona cruise ships



To get to cruise ships on Moll Adossat pier there is a cruisebus shuttle service that runs from the Columbus monument at the port end of the walking street called La Rambla which goes to the four main cruise ship terminals located on Moll Adossat, but this T3 port bus is mostly practical for transfers if your hotel is within walking distance of the port bus stop. If you are in a hotel or apartment that is a little further from the port bus - then you might as well take a taxi all the way to your cruise ship. Please note that taxis to the airport and to cruise ships charge a small supplement for these destinations. To find out how to get from Barcelona city centre to cruise ship port - or how to get from Barcelona airport to Barcelona cruise ship port please visit our Barcelona cruise ship guide.

Taxi prices Barcelona
Transfers to Barcelona cruise ships

There are plans to expand Terminal D on Moll Adossat with a new Terminal E on for cruise ships with 4500 passengers, which hopes to be operational in near future.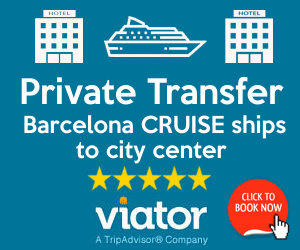 © Copyright Barcelonayellow.com.
Do not copy from this page without permission
All rights reserved


Last Updated on Monday, 22 January 2018 12:47