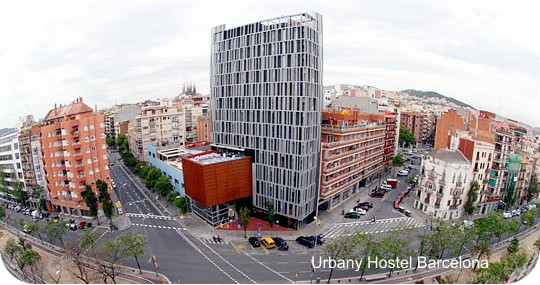 Urbany Hostel Barcelona

Updated January 2023

For a great value hostel stay in Barcelona we can recommend the eco-friendly and people-friendly Urbany Hostel near Glories. The Urbany Hostel is a new and functional hostel in Barcelona that has put a lot of thought into making a hostel with everything that a modern backpacker could need.

This has made Urbany a popular choice for both young and old budget conscious travellers as well as with student groups, sports visitors and festival-goers.

Urbany is an efficient hostel with many practical perks included at affordable prices.

Book Urbany Hostel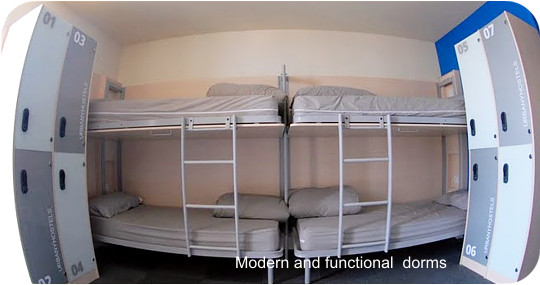 Modern functional dorms

Choose between dorms with two, four, six or eight beds. There is also a "girls only" option of four or six bed dorms. The rooms and facilities are all modern with heating and air-conditioning.

There is a full bathroom in every room. Beds have comfortable mattresses with clean linen and blankets included in the price.

All beds have reading lights and electric sockets and the lockers are modern, secure and included in price too.

Book Urbany Hostel BCN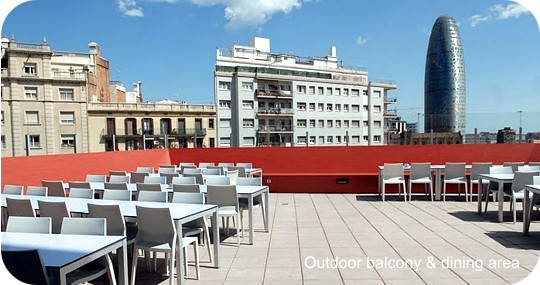 Good location
Urbany hostel is also well situated in relation to festival grounds Parc del Forum which hosts many of the big Barcelona festivals like Primavera Festival.

From Urbany it's a 20 minute walk down the Av Diagonal to Parc del Forum, or 10 minutes by tram. Urbany Hostel is a 20 walk or 10 minute tram ride to the beaches of Barcelona.

Sights like the Sagrada Familia church is a 5 minute walk and by metro you will be in the Barcelona city center of Plaza Catalunya in 10 minutes, where you can find many other sights.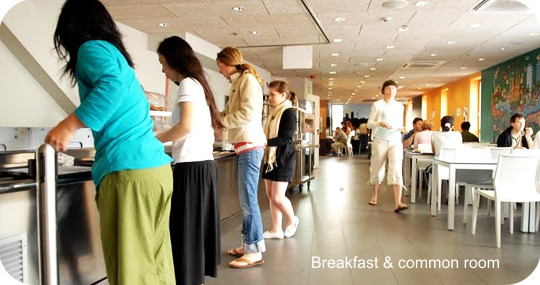 Free stuff
There is a lot of free stuff included in your room price. Urbany guests have free access to the big in-house fitness centre, which is modern, fully equipped and has a big indoor swimming pool. The 'all you can eat' breakfast buffet is free too.

You can connect free to the broadband hostel-wide WIFI and you have free access to guest kitchens which are modern with big fridges, cookers and microwave.

If you don't want to cook yourself, the Tolc Bar Restaurant offer half and full board menus, cheap meals and drinks. Washing machines are not free, but modern and cheap.

There is a also a big and safe luggage storage area.

Book Urbany Hostel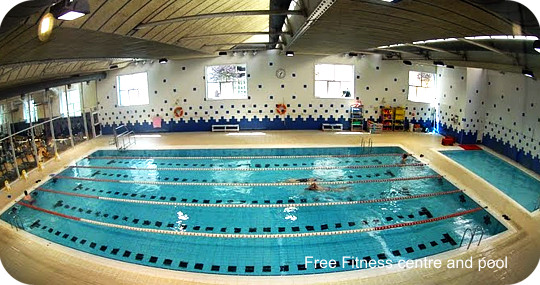 Hanging out
For hanging out and meeting fellow travellers, there is very big and light common room with cable TV, DVD and free internet café which is part of the dining area.

There is a great outdoor balcony for eating, or just chilling out with nice music, drinks, and great views of the Torre Agbar.

If you want to sample the nightlife you already have free tickets for top clubs in Barcelona every night. Add up all the free perks and you get great value for money.



Eco-friendly hostel

The Urbany hostel's philosophy is that modern travellers want to help preserve the planet they are travelling on, so keeping it green was a big priority when building the hostel.

Urbany has a noise level absorbing façade, uses a rain water harvesting system and recycles and reuses 50% of the water consumption.

Throughout the hostel they use energy efficiency installations, low consumption lamps and the building was constructed using environmentally friendly materials.

Prices Urbany Hostel Barcelona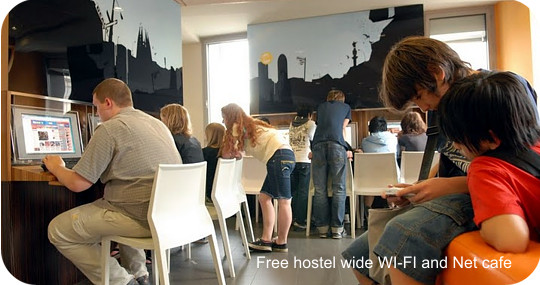 Groups welcome
Urbany is especially good for groups, who can order half or full board meals plans in the restaurant. Private or twin rooms are available for group leaders.

Bus parking is available nearby and there is an in-house auditorium/theatre for conferences and meetings. Discounts can be arranged for group tours and activities.

Book Urbany Hostel BCN
Top Hostals Barcelona

© Copyright Barcelonayellow.com.
Do not copy from this page without permission
All rights reserved





Last Updated on Friday, 20 January 2023 10:47