Best hotels near Camp Nou Stadium 2018
Best hotels near Camp Nou Stadium
Which is best value hotel near Camp Nou?

Updated November 2018

Guide to the best hotels near Camp Nou stadium in Barcelona that is the home ground of FC Barcelona football team. Buy tickets Barcelona games at Camp Nou in Barcelona. The map below which shows the location of all popular hotels and apartments near Camp Nou Stadium. These hotels are by the stadium either within walking distance to Nou Camp or they are near a metro or tram line close to Camp Nou stadium.

Barcelona is not a very big city so you can also stay at hotels in Barcelona downtown area and easily get to the stadium by taxi or public transport. The new L9 metro also connects Barcelona airport with Collblanc metro station which is the nearest metro to Camp Nou. For big Barca fans then hotels near the stadium are a convenient choice. The newest 5 star hotel in Barcelona is the Sofia Barcelona - Rated WONDERFUL by guest reviews - which is on Barcelona's Diagonal Avenue and just a 5-minute walk from Camp Nou Stadium.

FULLSCREEN Map hotels near Camp Nou Stadium



To book rooms just click on the the hotel icons on the map and then the hotel links. You must use your credit card to make your booking reservation, but your credit card will usually not be charged until you check out of the hotel.


Top hotels near Camp Nou stadium


Hotel Madanis ★★★★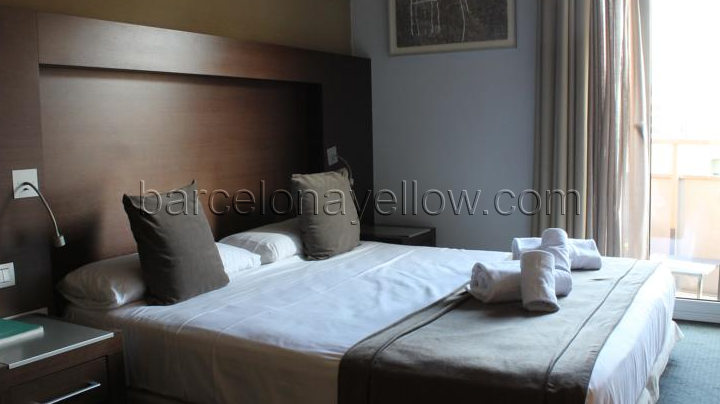 Hotel Madanis ★★★★ 4 star hotel. Rated Good by guest reviews. Nearest hotel to Camp Nou stadium. The Hotel Madanis actually faces the Camp Nou stadium and is a new and modern hotel with clean and comfortable rooms and very friendly staff. It is 350m / 4 minutes walk to Camp Nou and the same to Collblanc metro station. New and modern hotel with clean and comfortable rooms and very friendly staff.
BOOK Hotel Madanis



Sofia Hotel ★★★★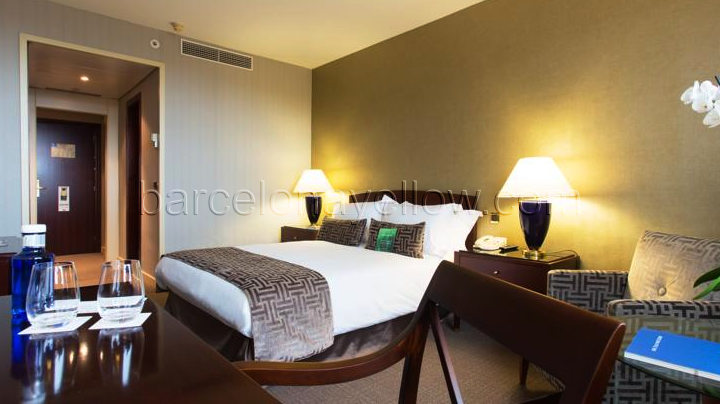 Sofia Hotel ★★★★ 4 star hotel. (previosuly Princess Sofia Gran hotel) Rated Very Good by reviews. Soundproofed, luxury rooms with air conditioning, satellite TV and a pillow menu, bathrobes and marble bathrooms. Facilities include free WiFi in all areas and restaurant Contraste with stunning city views. In summer enjoy the Bavarian Beergarden with typical German dishes and beer. Only 900m / 10 minute walk to Camp Nou and 350m / 3 minutes walk to Maria Cristina metro station
BOOK Sofia Hotel



Hotel Catalonia Rigoletto ★★★★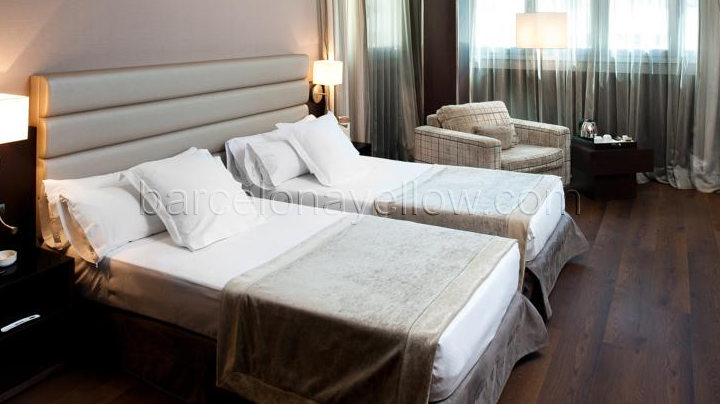 Hotel Catalonia Rigoletto ★★★★ 4 star hotel. Rated Very Good by guest reviews. Stylish hotel Catalonia Rigoletto has very clean, stylish, soundproofed spacious rooms and is just 900m / 11 minutes walk to Camp Nou stadium and 400m / 5 minutes walk from Maria Cristina Metro Station. Spacious rooms are air conditioned with free WiFi and flat-screen TV. Facilities include seasonal outdoor pool.
BOOK Hotel Catalonia Rigoletto



AC Hotel Victoria Suites ★★★★ 4 star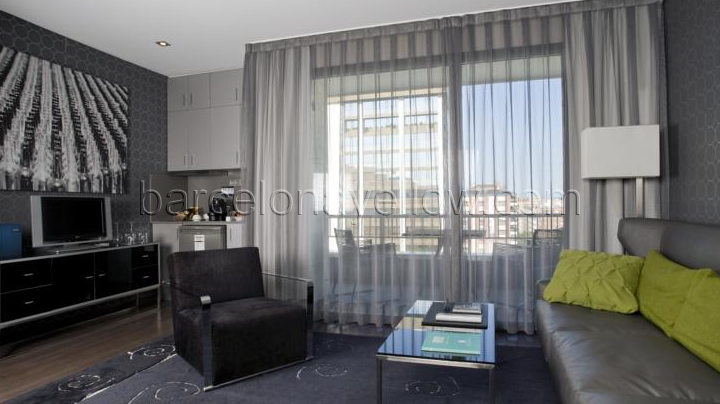 AC Hotel Victoria Suites ★★★★ 4 star hotel. Rated Fabulous by guest reviews. Beautiful and stylish suites in Pedralbes, an upmarket residential area near a main business district. It is 1,1km / 15 minute walk to Camp Nou stadium and 650m / 8 minutes walk to Maria Cristina metro station. Facilities include large terrace-bar, quality restaurant, friendly staff and large luxury suites.
BOOK AC Hotel Victoria Suites



Hilton Barcelona ★★★★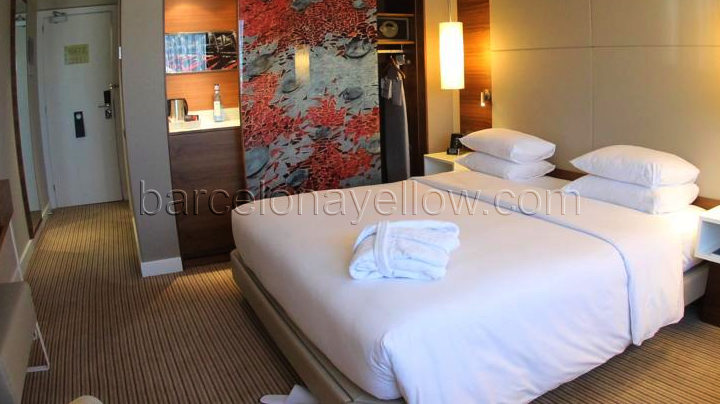 Hilton Barcelona ★★★★ 4 Star hotel. Rated Good by guest reviews. Hilton Barcelona has stylish air-conditioned soundproofed rooms with separate sleeping and working areas and tea and coffee-making facilities. It is 1,4km / 20 minute walk to Camp Nou stadium and 400m / 5 minutes walk to Maria Cristina metro station
BOOK Hilton Barcelona



Apartments near Camp Nou
Apartments near Camp Nou stadium
Pictures Camp Nou Stadum

FC Barcelona's "Estadi Camp Nou" stadium is about 20 minutes from the downtown city centre of Barcelona in the area of Barcelona called "Les Corts." Camp Nou stadium is easily accessible by metro, bus and tram, so you can also book hotels in downtown Barcelona and go to the Camp Nou stadium by public transport or taxi. Our FC Barcelona ticket service also sometimes offers a free bus to Camp Nou, which departs from the gothic area of Barcelona.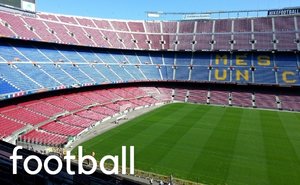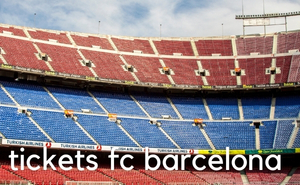 Buy FCBarcelona TICKETS

© Copyright Barcelonayellow.com.
Do not copy from this page without permission
All rights reserved


Last Updated on Sunday, 04 November 2018 11:53