Tickets FC Barcelona 2017
FC Barcelona Tickets 2017

Buy tickets for Barcelona games at Camp Nou stadium in Barcelona via an authorisedticket supplier of FC Barcelona Football Club. Ticketbureau is an official agent of FC Barcelona football club. You can buy your tickets here safely with secure payment.

* You can buy online and print your own ticket
* You can buy tickets at 3 Ticketbureau shops near La Rambla in centre of Barcelona
* You can buy online and pick-up your tickets at 3 Ticketbureau shops near La Rambla in centre of Barcelona
* Tickets can be sent to your home address by registered/certified mail
* Tickets can be delivered to your Barcelona hotel (not apartments) when you arrive in Barcelona.

On this page we explain the 5 simple and fast steps to order FC Barcelona tickets online. BarcelonaYellow is one of the oldest and biggest Barcelona tourist websites and to offer you FC Barcelona tickets we partner with Ticketbureau SL who are based in Barcelona and who are an Authorized Agent for FC Barcelona with 18 years of experience offering Barça tickets for FC Barcelona home games at the Camp Nou stadium.

The FC Barcelona tickets that you can buy on this website are in stock which means they are already allocated to Ticketbureau so that you are guaranteed tickets when you book via our website.

Buy Tickets at Ticketbureau FC Barcelona Ticket Shop
24 hour Hotline Service FAQ


How to buy tickets for FC Barcelona games
5 easy steps to buy FCB tickets online via Ticketbureau.


Step 1.
Choose date of FCB game at Camp Nou

Step 2.
Pay online by secure credit card

Step 3.
Immediate email confirmation of tickets

Step 4.
How to collect your FC Barcelona tickets.

Step 5.
How to get to Camp Nou Stadium



Scroll down this page for more detailed information about buying tickets for FC Barcelona






Step 1 - Choose date of FCB game at Camp Nou

On the ticket purchase page you will be able to see all the Barca home games.
Choose the FC Barcelona game you want to see

Please note that the Real Federación Española de Fútbol (the Royal Spanish Football Federation) does not finally confirm the time and date of Spanish league football matches until 10 to 20 days before the match. This means that the time and date specified on ticket websites may change. Most other European leagues also confirm their matchdays from 1 month to 10 days before the day of the event so this is not unusual. But please note that it is the ticket buyers sole responsibility to make sure you know the exact time and date of the Barcelona match that you want to see. If you are buying well in advance then you must be flexible and understand that the match date can change. Spanish League matches can be played on Tuesday, Wednesday or Thursday for mid-week games, and on Saturday, Sunday or Monday for week-end games. You also doublecheck the confirmed time and date on official Liga website www.lfp.es.

Please note:
- Our partner Ticketbureau only sell tickets for FC Barcelona home games at the Camp Nou ground
- FCB ticket prices vary from game to game.
- All ticket prices shown are final and include Spanish VAT - no extra charges during the order procedure
- Tickets are sold by category. This means you get a seat in a block of seats at Camp Nou.
- You cannot choose a seat number, when you buy your ticket.
- You will receive the exact seat number with your ticket details, when you have finished buying your ticket.
- You can ask for seats together when you buy the tickets and they will do their best to help you.
- You can choose from various ticket categories at different prices.
- Each ticket and price level has a map that shows which section you will be in: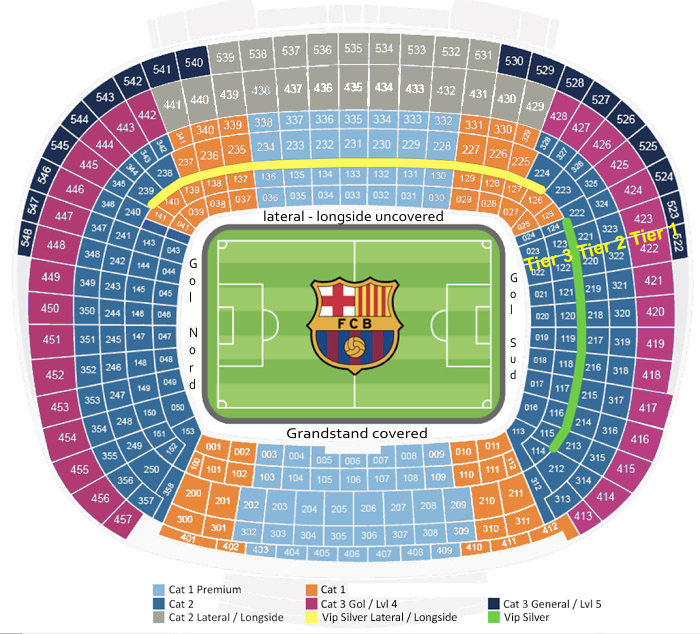 Step 2 - Pay online by secure credit card
The ticket payment system is Verisign guaranteed for secure credit card payment. You can also pay online via PayPal which is a safe and secure system.

When you have chosen your FC Barcelona tickets, you can see the number of tickets you are buying by checking your shopping cart. You can also see the total price of your purchase on the right side of the page

If you wish to change the ticket purchase, click on "Edit".
You can now continue and buy more FCB tickets - or move on to payment

You can pay securely using credit card Visa, Visa Electron, Mastercard, American Express) or via Paypal if you have a PayPal account (You can get a paypal account free at PayPal.com)

When you are ready, then confirm your order and continue on to the next screen where you can enter the personal data of the person who will pay the purchase.




Step 3 – Immediate email confirmation of tickets
If you have completed your ticket order correctly, you will see a verification message on the screen. Then you must check your email in-box . You will automatically receive a confirmation e-mail of your ticket purchase. This e-mail contains your purchase details, your purchase number and the payment method you have chosen. This confirmation number serves as your identification number for any future contact with BarcelonaYellow / Ticketbureau. If you have a problem or you require assistance to carry out the purchase, please do not hesitate to contact us. We will help you via telephone or e-mail. We have a 24 hours Hot-line Phone service in English and Spanish for any last-minute problem or query regarding your FC Barcelona ticket order.

HOTLINE NUMBER +34 902 903 012. If you cannot contact us using this number, you can also send a sms text message to+34 696897522 stating your problem and giving your phone number or email. A Mainevent representative will get in touch with you immediately.



Step 4 - How to collect your FC Barcelona tickets

You can choose how to collect your tickets yourself:

1. Collect your ticket at any of the three Ticketbureau Ticket shops in Barcelona city centre.

The three Ticketbureau ticket shops normally open on the Thursday before a weekend FC Barcelona match and both shops stay open on the same day as the FCB match. If you prefer to purchase tickets in person, come to one of the 3 Ticketbureau ticket shops in the centre of Barcelona. Their main ticket shop is on the pedestrian walking street called Las Ramblas number 54. They also have a shop on street Carme no. 3 which is just off La Rambla. There is also a Ticketbureau kiosk shop on the middle walking area of Las Ramblas.You can also pick up your tickets from one of our shops if you purchased them online on our web pages. Our multilingual staff will be pleased to offer you more information and solve any issues you might have when purchasing tickets for any show or sightseeing tour in Barcelona. Click here to see more details on each Ticket Bureau shop, such as the locations and opening times

Barcelona center ticket offices are located here:


Ticket Bureau CARME SHOP:
C/ Carme, 3, 08001 Barcelona: See location on Google Maps
About 3 minute walk from Plaza Catalunya and very close to La Rambla
Ticket collection is free – bring your ticket confirmation email and photo ID


Ticket Bureau RAMBLAS SHOP:
La Rambla 54, 08002 Barcelona See location on Google Maps
About 10 minute walk down La Rambla from Plaza Catalunya
Ticket collection is free – bring your ticket confirmation email and photo ID


2. Or you can collect your ticket at Camp Nou stadium
On match day from 12.00 till 1 hour before the kick-off of the FCB game at Camp Nou, you can collect your FCB ticket at office number 80 located in the Gol Nord are (see map below ) Remember to bring your email confirmation


3. You can have your tickets sent by registered post to your home
Home delivery (by registered post – cost depends on country)



4. You can have your FCD tickets delivered to your hotel in Barcelona (not apartments)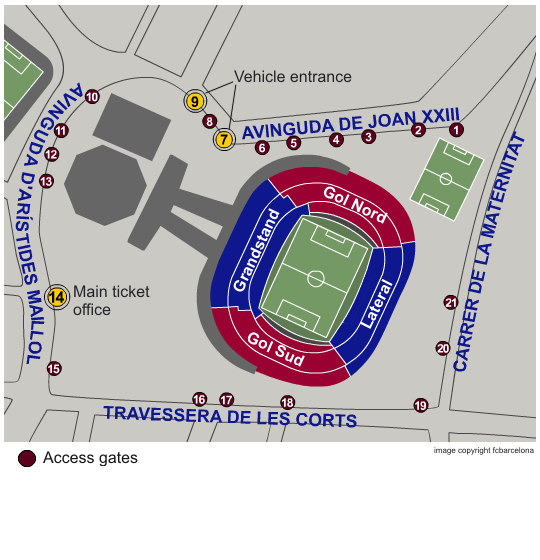 Step 5 - How to get to Camp Nou Stadium

Free Stadium Coach Transfer for some games. Included in your ticket price. You must add it to your ticket order to take the free stadium coach transfer. This is a Return bus service to the Camp Nou from City Centre. The meeting point is at the Plaza Catalunya (on the corner of Las Ramblas, just in front of the Hard Rock Café). The bus leaves 2 hours before kick-off and will drop you off at the Camp Nou car park. During the match the bus will stay in the same place in the car park up until 30 minutes after the final whistle. The bus will drop you off back at the same place in Plaza Catalunya. NOTE: The bus company is called JULIÀ. The bus has both JULIÀ and TICKET BUREAU logos. You will not be allowed to board other JULIA buses.

Departure time bus to Camp Nou
2 hours before match kick-off

Coach departure point bus from Camp Nou
At parking place at Camp Nou.

Departure time bus from Camp Nou
The bus leaves 15 minutes of the game ends. Please be punctual when boarding after game because the coach can not wait longer at Camp Nou. Please note on the way back from FCB matches the coach goes back to Pl Catalunya.





Hotline for support and queries

If you have a problem or you require assistance to carry out the purchase, please do not hesitate to contact us.
We will help you via telephone or e-mail. Ticketbureau has a 24 hours Hot-line Phone service in English and Spanish for any last-minute problem or query regarding your FC Barcelona ticket order.
HOTLINE NUMBER +34 902 903 012.

If you cannot contact us using this number, you can also send a sms text message to+34 696 89 75 22 stating your problem and giving your phone number or email. A Ticketbureau representative will get in touch with you immediately.


© Copyright Barcelonayellow.com
Do not copy from this page without permission
All rights reserved



Last Updated on Sunday, 30 July 2017 18:21