Christmas markets Barcelona 2017
Barcelona Christmas markets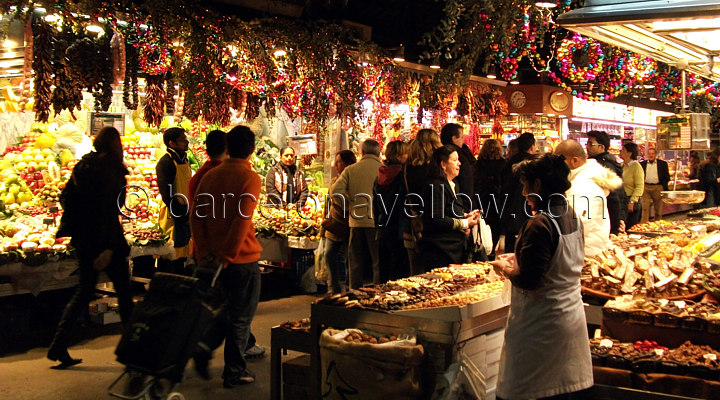 This page will be updated in December 2017


Barcelona's old city has many craft fairs during December and many lovely Christmas markets. The oldest, biggest and most traditional of the Barcelona Christmas markets is "La Fira de Santa Llúcia," (in Spanish "Feria de Santa Lucia.") This wonderful Christmas market is on the Avenida de la Catedral in front of Barcelona Cathedral in the gothic area of Barcelona. The earliest recorded Christmas market by the cathedral in Barcelona took place in 1786, so in 2016 it will be the 230th edition of Barcelona's favourite Christmas market. The Avenida de la Catedral and small streets by the cathedral have almost 300 market stalls selling Christmas decorations and gifts.

Most of the Santa Lucia Christmas market stalls sell "figuritas de Belén", which are the little figures that you can buy to make your own nativity crib scenes which are called "Pessebres". Look out for the cheeky Catalan caganer figure too who has a special place in Catalan hearts at Christmas.


Christmas market Poble Espanyol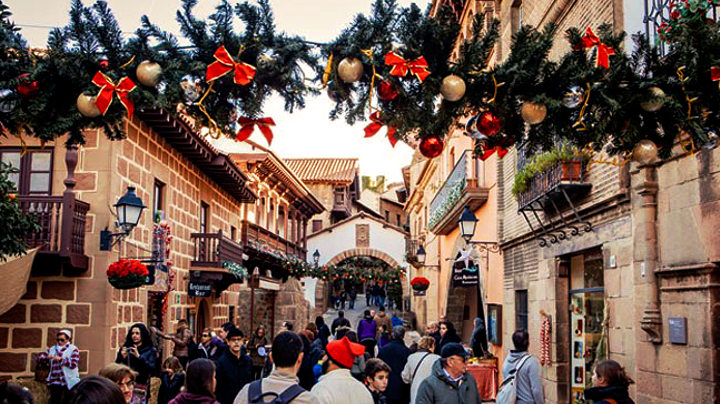 Don't miss one of the most visited Christmas attractions in the city which is the Spanish Village Poble Espanyol Christmas festival. Poble Espanyol is within walking distance from the Montjuïc magic fountain near Plaza Espanya. From December 23rd 2016 to January 5th 2017 - from 11am to 6pm - Poble Espanyol is full of traditional Spanish Christmas atmosphere with activities for the whole family. Experience the magic of Spanish Christmas in the decorated streets and plazas of Poble Espanyol. Find artisan gifts at the many handicraft workshops. Children have the chance to meet the Three Kings in their Magical World at Poble Espanyol and deliver their Christmas letter to the Kings. Children can also leave a message in the Wishing Tree and the smallest children can hang their pacifiers in a magic tree. There are many childrens's workshops (magic, king key-ring, magic tree, candle and Christmas balls), a gymkhana all through the enclosure, children's play area, a Playmobil® Christmas diorama and music and dance performances.
Fira de Santa Llúcia Christmas market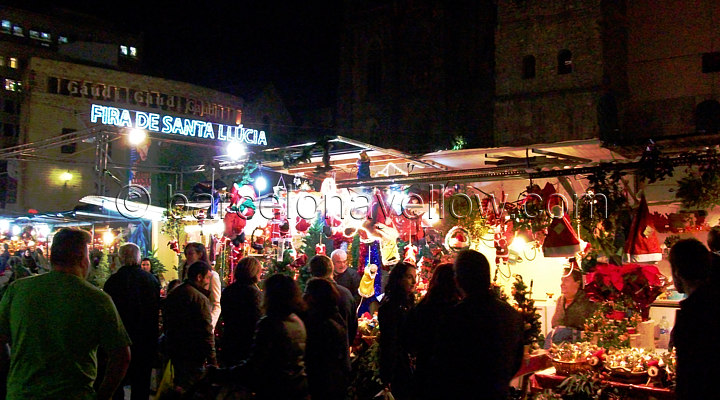 Saint Lucia Christmas market
Dates : Friday 25th November to Friday 23rd December 2016
Opening times: open daily from 10.30 to 22.30.
Place: at Barcelona cathedral on Avenida de la Catedral



The Fira de Santa Llúcia is the biggest Christmas market in Barcelona

on "Avenida de la Catedral" in front of Barcelona's cathedral in the Gothic quarter. Special days include Saturday 17/12 one day festival "Diada de les tradicions nadalencs" which has extra Christmas activities for children including the "Barcelona Christmas Face" called "Carassa de Nadal de Barcelona" and a special Christmas concert. From 28th November there are special "Tió gegant" activities for the children. Sunday 11th December in Advent is "Dia de Santa Llúcia - Saint Lucy.




Plaça de Catalunya Christmas fair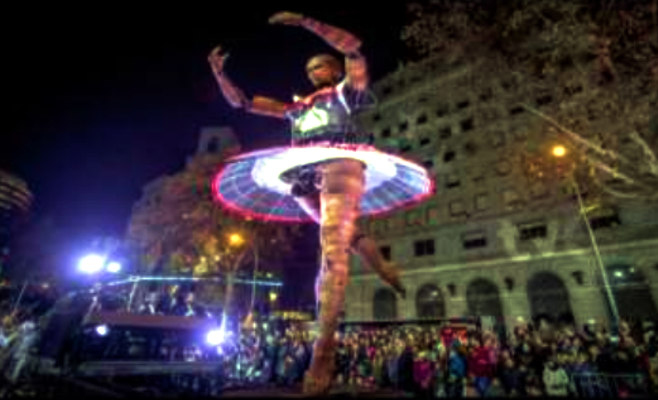 Place

: Plaza Catalunya
Dates

: 17th December 2016 to 4th January 2017


Times

: 10:00 to 21:00

Plaça de Catalunya Christmas fair. Christmas fair on central Plaça de Catalunya with many activities for families and children. Also include the Responsible Consumption Fair which is a sustainable and fair trade Christmas festival promoted and organised by the Barcelona city council. What a wonderful idea although the name could be a little more catchy! The "Fira de Consum Responsable" offers sustainable and handmade gifts, services and activities by companies and entities to promote responsible consumption and local products.
Fira de Nadal a la Sagrada Família



Sagrada Familia Christmas market
Event date: Tuesday 29th November to Friday 23rd December 2016
Event times. daily from 10.00 to 22.00
Event location: Sagrada Familia church in Eixample area of Barcelona

Fira de Nadal a la Sagrada Família. Christmas market at Sagrada Familia church. Traditional Christmas market with around 120 stalls at La Sagrada Familia church in Eixample area of Barcelona. On two Saturdays from 18 to 20.00 Santa Claus pays a visit to collect letters from the children and hand out balloons and cookies.
Three Kings Fair

Fira de Reis a la Gran Via
Christmas market on Gran Via street Barcelona
Event date: Wed 21st December to Fri 6th January 2017
Event times: from 11.00 to 22.00
Event location: On Gran Via street from streets Muntaner to Calabria

La feria de Reyes de la Gran Via, also called "Sant Tomàs i Reis" (St Thomas and Kings) and also sometimes called the Twelfth Night Fair, is one of Barcelona´s biggest Christmas and New Year markets for gifts and toys. The Fira de Reis a la Gran Via Christmas Market has around 300 markets stalls mostly with toys and other traditional "Reyes" gifts like "carbon de azucar" (candy coal).




Fira de Nadal de Sants


Fira d'artesania a la plaça de Sants - Sants Christmas market
Place

: Carrer Joan Güell - Plaça de Sants Map link
Dates

: Usually end November to 23rd December
Festival de la Infància
Barcelona Children's Festival Festival de la Infancia
Place

: Fira Montjuic exhibition centre - Halls 1, 2 and 3
Dates

: Tuesday 27th December 2016 to Wed 4th January 2017
Mercat de Nadal de Pedralbes
Place

: Plaça Monestir de Pedralbes, Pedralbes area of Barcelona
Dates

: Sunday 27th November 2016


Times

: 10:00 to 18:00
Lovely
1 day Christmas market at Pedralbes monastery where you can also enjoy guided visits of the monastery and enjoy Christmas carol singing.
There are also lovely Christmas markets and fairs in towns and village near Barcelona. We can recommend the
Fira de Nadal Caldes de Montbui
on 3rd and 4th December 2016.


Barcelona Christmas Guide
Barcelona New Years Eve Guide

© Copyright Barcelonayellow.com
Do not copy from this page without permission
All rights reserved
Last Updated on Monday, 02 January 2017 20:47