Hotels near Plaza Catalunya Barcelona 2023
Hotels near Plaça de Catalunya Barcelona

Updated January 2023

Plaça de Catalunya Barcelona's downtown central square. Plaça de Catalunya is the Catalan language spelling of the name.

In Spanish the square is pronounced the same but spelled Plaza de Cataluña. Tourists often just call it Plaza Catalunya. Note that all street signs in Barcelona are in the Catalan language.

As you can see on the map below staying centrally in Barcelona's downtown city center is convenient for everything from shopping to sightseeing to getting around.


Hotels on Plaza Catalunya
There are some excellent hotels on the Plaza Catalunya itself. Have a look at the new Iberostar Paseo de Gracia ★★★★ 4 star hotel. It's rated Fabulous by guest reviews for awesome location, cleanliness and service. Consider also the Hotel Oliva- rated Fabulous. Also on square itself is boutique hotel H10 Catalunya Plaza - rated Very good.


Bergera street near Plaza Catalunya
You can stay on the quieter side streets branching of Plaza Catalunya, like Bergera street, where you can find three nice hotels. They are Hotel Catalonia Plaza Catalunya rated Very Good, the Hotel Pulitzer rated Fabulous and the Hotel Regina which gets a well deserved a guest review rating of Fabulous.


Pelai street near Plaza Catalunya
Close by is Pelai street, which connects Plaza Universitat with Plaza Catalunya. It has many great shops and lots of atmosphere and also a couple of recommended hotels popular for their convenience and good value for money. Look at Hotel Lleó - rated Very Good - and the new hotel Midmost rated Fabulous by guest reviews who mention location, cleanliness, service, breakfast and loving the rooftop pool.



Hotels near Plaza Catalunya
There are many more hotels and apartments just a block or two from Plaza Catalunya and here are some ideas for you. Look at the hotel H10 Metropolitan - rated Wonderful, the Granvia hotel rated Wonderful, the Catalonia Square rated Wonderful - or the Adults only Guesthouse The Corner 592 rated Fabulous - to name but a few.

You can find more on the Pl Catalunya hotel map below.



Open FULLSCREEN map

As you can see on the map below staying centrally in Barcelona's downtown city center is convenient for everything from shopping to sightseeing to getting around.

Although Plaça de Catalunya can be crowded and a bit noisy, many tourists choose to stay in hotels or apartments near or on Plaza Catalunya because of the central location.

The central location means easy access to metro, bus, train and taxi connections making it practical for many Barcelona sights and attractions.

There are several advantages to staying in downtown Barcelona near central square Plaza Catalunya or a few blocks away. This area is:

* Near famous Gaudi modernist buildings
* Near top fashion brand flagship stores
* Near famous La Rambla walking street
* Near medieval city center of Ciutat Vella
* Near Aerobus airport buses
* Near hop-on-hop-off tour buses
* Many bus & metro lines
* Supermarket open till 10pm in Corte Ingles store on Plaza Catalunya
* Many top brand stores near Plaza Catalunya
* Many flagship stores nearby
* Main tourist office is on Plaza Catalunya



Getting to airport from Plaza Catalunya
Plaza Catalunya is also the first place many tourists arrive in Barcelona if they choose to take the Aerobus airport buses to and from Barcelona Airport. Plaza Catalunya is the center of public transport in Barcelona with many regional buses connections on or near Plaza Catalunya, as well as the train station Catalunya, where you can catch metro trains, regional trains and FGC trains.


Getting to cruise port from Plaza Catalunya
There is no metro, shuttle bus or direct connection from Plaza Catalunya to cruise docks. The cruise terminals are close to the city center so take a taxi or book a private transfer.



Tourist office Plaza Catalunya
The main Barcelona Tourist Office is located underground on the corner of Plaza Catalunya and the walking street Portal de l'Àngel. Look for the big red column marking the entrance to the tourist office.



Pickpockets
Plaza Catalunya area is safe for tourists, except for the ever present danger of pickpockets. There are many facilities on Plaça de Catalunya including stops for the 2 different Barcelona Hop-on-hop-off tourist bus tours. You can also visit


Shopping
There are many design shops and department stores around the Plaza Catalunya and you are a few steps away from Barcelona's most fashionable shopping street called Passeig de Gracia which ends on Plaza Catalunya and the pedestrian shopping street Portal de l'Àngel. Find best shopping streets

On Plaza Catalunya itself you can find the top department store El Corte Ingles where if you are lucky you can find a table near the window in their top floor restaurant to enjoy a view of the entire square. In the basement of Corte Ingles basement there is a supermarket open until 10pm at night.

There is a small shopping mall called El Triangle opposite El Corte Ingles. Plaza Catalunya is also home to an Apple store and Hard Rock Cafe Barcelona. Plaza Catalunya is the place where two of Barcelona´s most famous shopping streets begin (or end) which are La Rambla walking street and the elegant designer shopping boulevard Passeig de Gracia.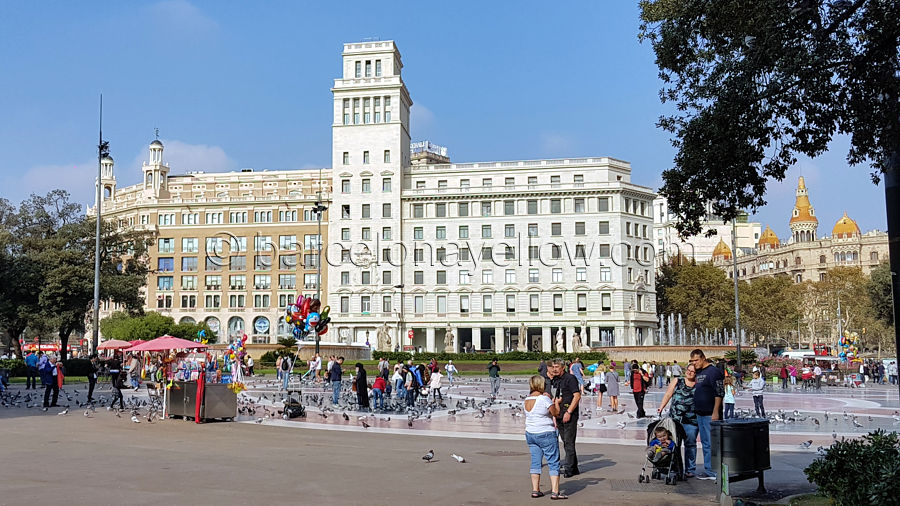 Plaza Catalunya was designed by architect Francesc de Paula Nebot. It was inaugurated on November 2nd 1927 by King Alphonso XIII.

The plaza has a small temple with a central colonnade, several fountains and with an amazing 28 sculptures in stone and bronze by leading sculptors of the time.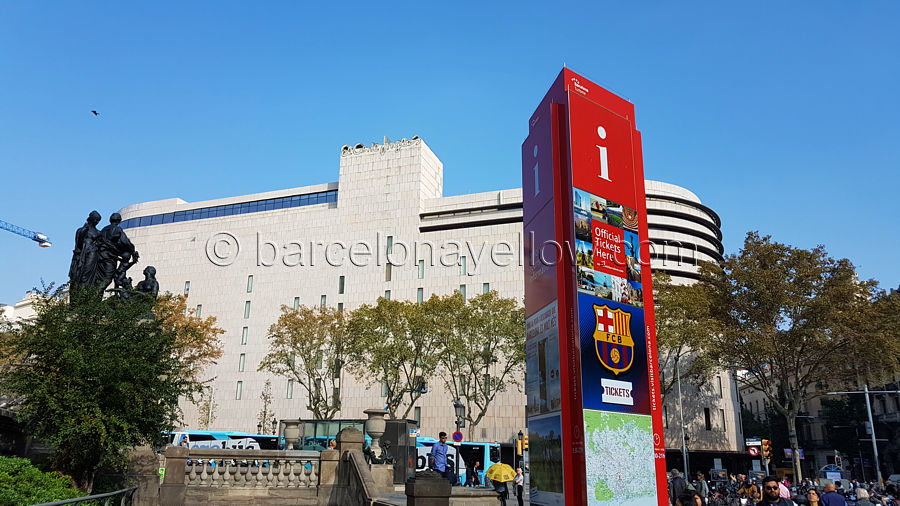 Perhaps the most striking is Catalan sculptor Josep M. Subirachs's striking monument to former President of Catalunya Francesco Macià, which is the newest addition to Plaza Catalunya bringing number of sculptures to 29. Plaza Catalunya is the center of public transport in Barcelona with many metro, bus and tour bus connections.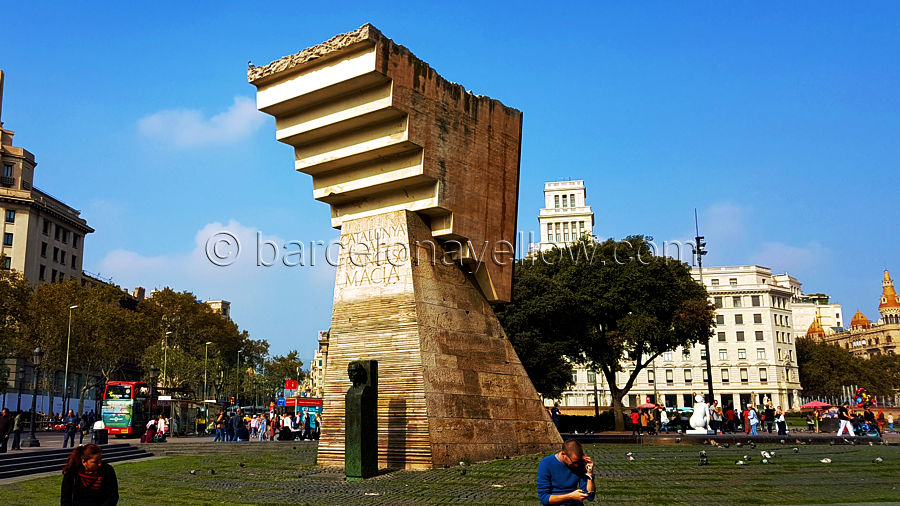 Metro station Plaza Catalunya
You can get to Plaza Catalunya by metro. The metro station on Plaza Catalunya is called Catalunya and Metro stations Passeig de Gracia or Urquinanona are just one block away.


Buses Plaza Catalunya
Many bus lines and night bus lines have stops at Plaza Catalunya. There are two Barcelona hop-on-hop-off tour bus companies which both have stops on Pl Catalunya.
The Aerobus airport buses are in front of Corte Ingles department store. See how to get to Barcelona airport



Related pages:
Best area to stay in Barcelona
Las Ramblas street
Passeig de Gracia street
Top Ten things to do in Barcelona
Book Barcelona tours
Day tours outside Barcelona

© Copyright Barcelonayellow.com
Do not copy from this page without permission
All rights reserved


Last Updated on Thursday, 12 January 2023 10:02