Best Barcelona shopping streets and areas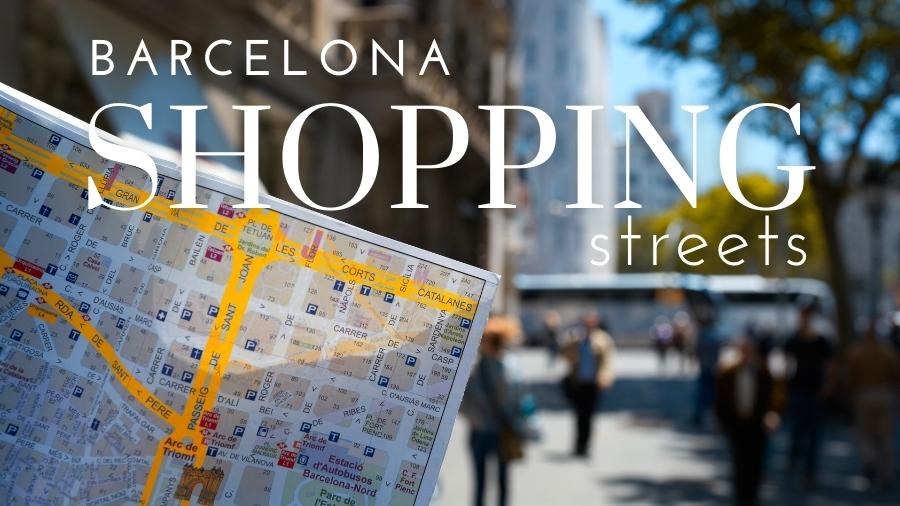 Best Barcelona shopping areas & streets

Guide to Barcelona's shopping areas and best Barcelona shopping streets. Where are the designer stores, brands and best shopping streets and areas in Barcelona? Barcelona has a wide variety of top designer brands, shopping malls and fashion boutiques.

Updated January 2023


Barcelona shop opening times
What time do shops open in Barcelona? Most shops in Barcelona city center open at 10:00 in the morning and they close at 20:00 except malls, which close at 10pm. Many smaller local shops close for lunch.

The big Barcelona malls generally open at 10.00 and stay open until 22:00. Big brands like Zara, H&M, all shopping malls and most shops in the central shopping areas of Barcelona stay open during lunch hours.

Smaller shops and shops outside the city centre often close for two hours during lunch.

The smaller shops decide their own opening times, which means lunch closing times can vary from 13:00 to 17:00 in the afternoon.

All brand shops and malls are generally open on Saturday afternoons, but almost all shops are closed Sundays, except for eight special shopping Sundays days spread out during the year - most of them at the winter and summer sales and at Christmas.

The only shopping mall in Barcelona city that is open on Sundays all year is the Maremagnum shopping centre in Barcelona harbour, which has a decent selection of popular brands. In the summer Arenas shopping center, which is in a former bullring on Plaza Espanya, is also open on Sundays mid-July to mid-September.

For Sunday shopping consider a visit to one of the two big outlet malls near Barcelona called La Roca Village which is open on Sundays. The other outlet mall Viladecans The Style Outlets, is not open on Sundays.


Shopping street Passeig de Gracia
Barcelona's most elegant, fashionable and international shopping street is called 'Passeig de Gracia' in the Catalan language and 'Paseo de Gracia' in the Spanish language. Passeig de Gracia is perhaps the most expensive but also the nicest street in Barcelona for shopping.

Here you can find many top designer brands and some of the flagship stores of the top Spanish and international luxury brands.

On Passeig de Gracia street below Gran Via street you can find some popular high street brands including the ZARA flagship store on corner of Passeig de Gracia and Gran Via. On another corner of Gran Via and Passeig de Gracia is one of the two Apple Store's in Barcelona

Paseo de Gracia is a beautiful wide tree lined boulevard with lovely modernist architecture including two iconic Gaudi buildings, Casa Mila and Casa Batllo. It is also the home of some of Barcelona's luxury hotels with designer shops and top restaurants.

Find hotels on Passeig de Gracia. The Passeig de Gracia sidewalk itself is paved with exquisite hexagonal paving stones incorporating Gaudi marine motifs from Casa Mila. This iconic street also featues unique modernist lampposts and fabulous stone benches.


Shops on downtown Plaça de Catalunya
Plaça de Catalunya in Catalan language and Plaza Cataluña in Spanish language. On Plaça de Catalunya there is an excellent department store El Corte Ingles. Corte Ingles has many top brands and a well stocked supermarket and deli in the basement which are open till 10pm.

Opposite El Corte Ingles is El Triangle mall which has a small but eclectic selection of shops and cafes including Barcelona biggest perfume shop Sephora Triangle. Plaça de Catalunya is home to several brand flagship stores including Primark and Zara.

Article continues below ads



Shopping street Portal de L'Àngel
Portal de L'Àngel has a large selection of top high street brands continue. It goes from Plaça de Catalunya and It is a pedestrian street Portal de L'Àngel that starts at Plaça de Catalunya.

Here you can find H&M's flagship store in the old offices of the Catalan gas company across from another Corte Ingles department store. Duck down the side streets to find smaller boutiques and cafes and restaurants.


Top high street brands
Top brands like Zara, Mango, Bershka, Desigual and other top high street brands have stores in most of Barcelona's malls and on all the most popular shopping streets like Plaça de Catalunya, Portal de L'Àngel, Passeig de Gracia, Av Diagonal and more.


Map Barcelona shopping areas
Shopping street Avenida Diagonal
Avenida Diagonal, which crosses the top of Passeig de Gracia. Av Diagonal is a very long avenue that stretches from the north east tip of Barcelona by the Diagonal Mar area and goes all the way up to the fashionable south-west residential area called the Zona Alta – the high zone.

Although the two streets share a junction it would be a long walk to shop on both Passeig de Gracia and Av Diagonal in one day. Better to take a taxi or split the shopping into two days.

The best shopping on Av Diagonal begins where the avenue crosses Passeig de Gracia and continues up to the Pedrables mall at the top of Diagonal Mar. Av Diagonal has many trendy stores like Calvin Klein, Giorgio Armani and Gucci stores among many others.

Av Diagonal is also where you can find popular furniture brands like Habitat, Zara Home, BoConcept and more. A popular shopping area near Av Diagonal is the Plaça de Francesc Macià in the Sarrià-Sant Gervasi district. It has many top boutiques and cafes and a lovely park called Turo Park nearby.

At the top end of Diagonal don't miss a visit to one of Barcelona's best shopping centres called L'illa, which is home to many top fashion brands and features an excellent basement level food court.


Shopping street Rambla de Catalunya
Rambla de Catalunya (not the same street as the famous La Rambla - see below) is one of Barcelona's most charming streets for strolling and there are many cute small boutiques and shops in a mix of styles. Rambla de Catalunya has many small fashion boutiques, accessory shops, gift shops and cafes.

The café lined pedestrian area in the middle makes Rambla de Catalunya a popular street to combine some shopping and a meal. It runs parallel with Passeig de Gracia and the streets connecting the two also have many shops and art galleries.


Shopping street Las Ramblas
Las Ramblas is a great street for strolling, but not the best shopping street. There are many fast food shops, and souvenir shops and not the best place for high fashion, but you can find some high street brands like Desigual and H&M on La Rambla especially in the top part near Plaza Catalunya.


Fashion and artisan boutiques
For small intimate fashion and artisan boutiques head to the old part of Barcelona where you can find many small interesting shops in the Gothic area mostly in the upper area. A good place to start is on Carrer de la Portaferrissa from La Ramba. For gifts and art we can recommend Carrer de Petritxol in the gothic area.

You will also enjoy visiting the eclectic boutiques in trendy Ribera/Born area in the old city. For more artisan and craft shops, visit the 'Spanish village' on Montjuic hill. It's called Poble Espanyol. It has 40 craft shops and workshops tucked in the alleyways of this unique tourist attraction that also offers a glmpse of Spanish architecture from the entire Spanish peninsular.


Outlet villages and malls
La Roca Village is a luxury outlet shopping village with 100 designer outlet boutiques,cafes and restaurants. La Roca is outside Barcelona and located 30 minutes and 40km from both Barcelona and Girona by car or bus on Exit 12 'Cardedeu' of the AP7 (A7) motorway.

La Roca is by the village Santa Agnès de Malanyanes and is located parallel to the AP7 autopista highway. You can get to La Roca by car or shuttle bus. In 2016 Barcelona welcomed the latest outlet mall which is located just south of Barcelona. It's called Viladecans The Style Outlets.
Guide Barcelona outlet shopping


Barcelona Easter shopping
On the public holidays of Good Friday and Easter Monday shops are closed in Barcelona. In the centre of town you will find many small souvenir tourist shops that are open and some small boutique clothing shops too, but all the big shopping centres and high-street brand shops are closed. Restaurants and bars are open. Tourist guide Easter Barcelona


Barcelona Christmas shopping
On the public holidays of Christmas Day and Boxing Day shops are closed in Barcelona. In the centre of town you will find many small souvenir tourist shops that are open and some small boutique clothing shops too, but all the big shopping centres and high-street brand shops are closed.

In December there are some special shopping Sundays when shops are open. Christmas markets are open. Many restaurants and bars are open. Guide Barcelona Christmas



Related pages

Las Ramblas street
Top designer shops Barcelona
Shops Passeig de Gracia
Hotels Passeig de Gracia
Barcelona Shopping Night
Global Blue Tax Free shopping
Shopping malls Barcelona

© Copyright Barcelonayellow.com
All rights reserved.
Do not copy text or images on this page without permission


Last Updated on Friday, 13 January 2023 10:30