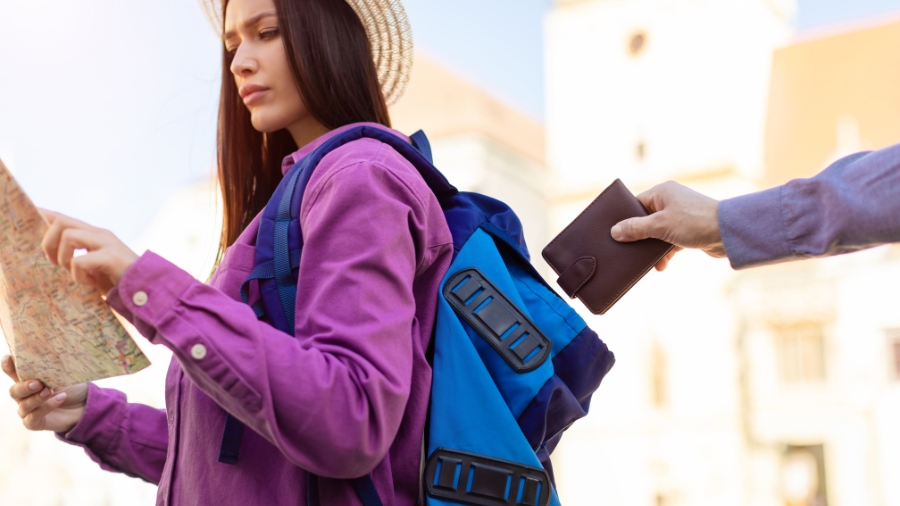 Barcelona pickpocket safety tips

Updated January 2023

This is our Barcelona safety guide with guidelines about Barcelona general safety and tourist crime. See separate article re Coronavirus Barcelona.

Is it safe to travel to Barcelona in 2022? Is Barcelona safe for tourists in terms of general crime?

Yes, in our opinion. Barcelona is generally still considered to be a safe place to visit by international standards.

Barcelona is one of the most popular destinations to visit in Spain and before the Covid pandemic the city welcomed around 9 million tourists a year.

Public transport, metro and taxis are also generally considered safe from violent crime - and reliable for residents and tourists to use.

The vibe when one walks around is that Barcelona is still that of a safe and friendly place and residents and tourists alike look and feel relaxed and happy.

During the day in most areas of the city it does not feel dangerous.

------------------------------------

Article continues under ad: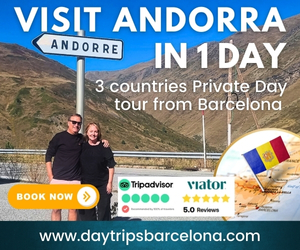 ------------------------------------


Having said that, like any modern city, there is some crime and there are terror threats.

It is generally safe to withdraw cash from ATM machines, but be aware of your surrounds and be careful to hide your pin-code and be vigilant at all times.

Be vigilant if you withdraw cash alone at night in very early hours of morning and try to avoid doing so.

Be careful if you are wear expensive wrist watches.

Keep your bags in front of you when checking in/out of hotels at the reception.


Precautions are recommended to avoid petty theft because Barcelona has a well-known problem with many pickpockets. In recent years there has been a rise in petty crime with violence.

For 2023 the area to avoid late at night where a little extra caution is neeeded, is the Raval area of the old city.

In general violent crime levels are generally considered to be low, in comparison with other major cities, and the increase in violent crime is being addressed by police, but be vigilant.


Safety 2023

We recommend that tourists exercise caution when wearing expensive watches near luxury hotels and shopping areas - and also outside popular night clubs in upmarket areas. A rise in criminal gangs targeting high end personal accessories has been noted in recent years.

If you are travelling by car, don't leave items of value in plain sight, also in underground parking lots.

In general the only Barcelona area where extra care should be taken in the very late hours of the day, is in the lower part of the Raval part of Barcelona's old medieval city and perhaps also at the port end of La Rambla, but even here extremely violent crime is fairly rare during daylight hours and evening. Petty theft like bag snatching is common, but violent crime is rare.


Article continues after ads
Security alerts

In August 2019 the US Consulate General in Barcelona issued a Security Alert advising U.S. citizens of:

"an increase in violent crime in the city of Barcelona in the summer of 2019, specifically in popular tourist areas. Local authorities have reported a significant increase in the number of petty theft schemes that have included acts of violence, such as aggressive thefts of jewelry, watches, and purses. In some cases, these incidents have resulted in injury. Authorities indicate they are seeking to address these issues."

See all US consulate alerts

According to the UK Foreign office website, "Nearly 19 million British nationals visited Spain last year. Most visits are trouble-free."

The 'Safe Cities Index 2017' by The Economist Intelligence Unit (EIU), confirmed that Barcelona was one of the safest cities in the world in terms of general crime and overall ranked 13th in the world.

Barcelona ranked as 4th safest in European Union and 5th safest in all Europe, so in 2017 Barcelona was only lower in general safety terms than Stockholm, Amsterdam, Zurich and Madrid.

Barcelona was also named as one of the ten cities in the world preferred by TripAdvisor travellers appearing in sixth place in the 2018 edition of TripAdvisor Travelers' Choice Destinations Awards. Spain has several destinations in this TripAdvisor list which confirms Spain a top destination and safe to visit.

The 'Safe Cities Index 2019' by The Economist Intelligence Unit (EIU), confirmed that Barcelona was one of the safest cities in the world in terms of general crime and overall ranked 19th in personal security and 26th overall in the world.

Barcelona was also named as one of the ten cities in the world preferred by TripAdvisor travellers appearing in sixth place in the 2018 edition of TripAdvisor Travelers' Choice Destinations Awards. Spain has several destinations in this TripAdvisor list which confirms Spain a top destination and safe to visit.



Barcelona's terror threats

Please note, however, that Barcelona, like many capital cities in Europe and around the world, is always on a state of alert due to possible terrorist threats from organisations such as ISIS/Daesh and Al-Qaeda.

To check for current terror threats please check international sources, such as the UK foreign office travel advice website where you can find Safety and Security advice.

Check also that of your own country's foreign ministry for updated safety recommendations.

Barcelona does have some political problems and there are incidents of civil unrest on certain days but generally these do not affect tourists. Strikes and demonstrations can also affect travel plans and cause delays.



Pickpockets Barcelona

Pickpockets are the main crime problem for most tourists visiting Barcelona.

Other crimes against tourist include robberies of luxury watches of a value generally from 20,000 to 100,000 USD, but these crimes are more rare.

Although Barcelona is considered generally safe for tourists, there are an large amount of pick-pockets and bag thieves in all Barcelona areas that have popular tourist attractions.

Pickpockets are especially on Las Ramblas pedestrian street, near Sagrada Familia, in the central metro stations and the Sants train station.

Other areas of the city generally does not have problems with pickpockets except near major tourist attractions.

Follow our Barcelona safety tips to avoid becoming a victim of Barcelona pickpockets.

These simple safety tips will teach you how to avoid being robbed or mugged by pickpockets during your stay in Barcelona


10 quick Barcelona safety tips
Find more details by scrolling down this page

Barcelona essential pickpocket safety tips:

1. Don't carry your wallet in a back pocket
2. Don't put phones, cameras on tables at cafes
3. Wear your backpack on the front in touristy areas
4. Always keep bags closed and on your lap at cafes/coffee bars
5. Be wary of any strangers approaching you or touching you
6. Don't participate in street games like the three shell game
7. Be extra aware on beaches and in the metro
8. Be extra aware when watching street shows
9. Be extra aware on La Rambla, Sagrada Familia church, Sants station and in the metro
10. Be extra aware in hotel lobby, at airport bus stops and airport transport

And be careful if you are wearing high end watches. There have been incididents of gangs targeting owners of very expensive watches.


Article continues after ads
Barcelona general crime

Find detailed advice about theft precaution by scrolling further down this page

The biggest crime problem in Barcelona for tourists in certain areas is being a victim of Barcelona pickpockets. Sadly there are many pickpockets in popular tourist areas, so be aware in busy tourist places, airports, train stations, metro and also in your hotel lobby.

Pickpockets in Barcelona are generally not violent. They target handbags, phones and wallets, which they try to steal without the owner noticing. We recommend you read the safety tips below to avoid pickpockets in Barcelona.

Long term foreign residents and local residents in Barcelona will tell you that that Barcelona is generally a very safe city. Agressive and violent behavior in the Barcelona nightlife is very rare, especially compared to nothern European countries.

You can walk the streets alone at night out without feeling threatened and the Barcelona metro is completely safe from violent crime. You often see police patrolling on streets and in traffic both day and night.

In the summer there are usually extra police patrols are on La Rambla, which is the street in Barcelona with the most pickpockets.

Petty crime numbers are coming down, both on La Rambla and in the metro. However, be aware of pickpockets at Sant station. The police station at Sants has been closed and this has led to an increase in bag snatchers at the station.

The Spanish do not generally drink to excess, which generally keeps the nightlife peaceful and limits the numbers of brawls and fight.

Smoking hash seems to be much more popular in Spain than heavy drinking, so you are more likely to be hugged than mugged.

Muggings usually occur late at night after 01:00 in the morning and mostly around at the port end of La Rambla and in the lower part of the Raval neighbourhood, but as we mentioned muggings with violence are very rare.

People who walk alone very late at night in those areas and who might be a little drunk are most at risk of being mugged. Generally everyone can walk the streets of Barcelona and tate the metro in complete safety from violence.

Now if you found this article because you have already been robbed, then scroll down to the bottom of this page to find Barcelona emergency numbers and a link to the Barcelona police station to report the theft online.


How to avoid Barcelona pickpockets

Barcelona does have a bad reputation for petty theft and pickpockets and tourist areas are rife with pickpockets and petty thieves.

The areas where you need to be careful are the touristy areas like the La Rambla, the Sagrada Familia temple and generally anywhere near famous Barcelona tourist attractions

If you use your common sense and take some simple precautions, you will be not be robbed. Also be vigilant when you are on or around Barcelona tour buses and be careful when you are in the Metro trains.

In other areas of Barcelona pickpockets are not a problem. We do not want to scare visitors by posting many stories about specific robberies but you need to know that many tourists do get robbed of phones and bags every day in Barcelona.

The stories are always similar, so there is really no point in repeating them. We would rather tell you how you can avoid becoming the victim of theft in Barcelona. Just follow the simple safety tips below and the chances of you being robbed in Barcelona are really very small.

The BarcelonaYellow team have lived in Barcelona for many years and we have all walked around the city center and up and down Las Ramblas a thousand times without being robbed.



Tips for avoiding pickpockets

1. Dress like you would back home
Try to avoid wearing a too typical 'tourist uniform' when on vacation. Just wear regular clothes and let your secret chest of ancient colourful vacation gear rest in peace.

Old vacation outfits is probably a bit fashion scary and looking too touristy makes you a easy mark for pickpockets. A good guideline for what to wear, in our opinion, is if you don't wear it at home, don't wear it on vacation.

Barcelona is very much a casual clothes city, so just wear the kind of casual wear that you would at home , say like T-shirt and jeans etc.

2. Dress to suit the season
Spain does not have a tropical climate. It is generally too cold to wear shorts and short skirts in the winter months. In the summer months of course light summer attire is normal. The clothes worn in Barcelona are more of less the same style as in all European cities and the clothes tend to follow the seasons. Read about Barcelona weather and check our what to wear pages

3. Be discreet with guidebooks and maps
Keep maps out of sight until you need them. You will look less touristy if you don't clutch a guide book and map at all times. So have a look at the map and then put it away.

When you want to check it again, then go into a doorway or somewhere discreet a little out of view, then get the map out again. We recommend a small and light guidebook or a foldable map of Barcelona. You can get free maps at hotels and tourist offices.

4. Watch your bag at cafes
When in Barcelona's cafés & restaurants do NOT hang your bag over the back of a chair, or leave it in an empty chair next to yours or under the table. That's a target for a pickpocket. Put your bag in your lap and keep a hand on it.

If you have it under the chair or table, then keep a hand on the strap if possible but it's best to have it in your lap. Look around and you will see that Barcelona residents often keep their bag in their lap. We recommend that you invest in a good practical anti-theft backpack with hidden pockets and other safety features.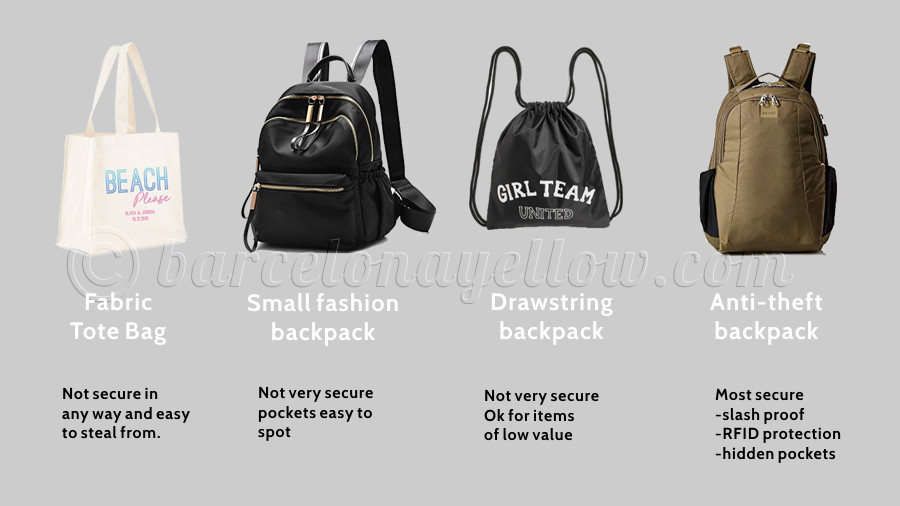 5. Don't look flash your gear
Don't show the Barcelona pickpockets what you have got. Pickpockets are most attracted to tourists who have good stuff. If you are a 'walking shop window', then you can expect shop-lifters. The less you have on display the less interesting a target you will be. We recommend that you keep the expensive cameras and phones in your bags or pockets when not using them. When you get to a place of interest in Barcelona, then take out your camera and take some photos.

When you have finished, put the camera away instead of leaving it dangling around your neck. If you have a big camera, then consider a neutral camera bag, that doesn't have a brand name on. Or simply cover or remove the labels.Don't display an expensive camera with a telephoto lens dangling at your side. Keep a hand on the lens and keep it in your lap when seated.Don't display a camera bag with brand name on bag and the straps. Cover or remove the brand name. Bring fewer lenses.

Keep camera bag on lap when seated. Don't use a big bag if possible. Put it in your lap - never on back of chair or between your legs under chair. Don't leave a table or smartphone on cafe tables. Keep them hidden when not in use. Don't carry your wallet in your back pocket. Leave your reguflar wallet at home and just bring a small one with cash and 2 credit cards and whatever ID you need.Don't leave zip open on rucksack and don't wear on back with the flap open. It's safer to wear it on front or avoid rucksack altogether.

6. Don't put smart phones on tables
Don't put anything like wallets, mobile phones or tablets on restaurant or café tables in Barcelona. Especially outdoors and especially on La Rambla street. Be wary of kids or beggars trying to sell newspapers or magazines to you, purportedly donating profits to help the homeless.

If you do forget and leave something in full view on the cafe table, these kids will quickly target you. Their trick is to put the paper down on the table pretending to let you see it, then as they leave they deftly scoop up your phone or wallet, when they pick up the paper again. It's a free magic show, but rather costly!

7. Don't bring expensive watches
Owners of high end watches should exercise care. Watch brands like Richard Mille, Patek Philippe, Hublot, Rolex, Hermes, Cartier, Panerai, Audemar Pigue or Ulysse Nardin can be targeted by specialised gangs who look out for high-end watches to steal.

8. Wear your backpack in front
Wear back-packs and rucksacks on your front and keep them zipped up. If you have a shoulder bag, then tuck it under your arm and grip it. Make sure all bags are closed and zipped and in your sight, especially when you are in the Metro.

Try to avoid shoulder bags, money pouches and camera straps with thin straps. Pickpockets can cut through them in a second and slip away with the the bag without you even feeling it. Avoid big wallets in back pockets and don't take all your cards and cash with you. Leave some at the hotel. Leave your passport at the hotel safe, unless you need to change money in a bank.

9. Be wary of any distraction
Beware of anybody touching you at any time, or approaching you or any odd distraction. This could often a misdirection technique intended to distract your attention before they rob you. Scamsters often operate in teams - while you are talking or being distracted by one, you are being robbed by another. A typical metro tricks in Barcelona is on the escalators. Someone in front of you drops coins and keys on the steps. Total confusion and while you are helping pick things up, you are being robbed from behind.

So if you experience something odd check your pockets and bags first before you help others. Another common pickpocket trick is for one or two pickpockets to pretend to hug you and be your friend. They might try this when they can see that you are a little tired or drunk late at night. So don't drink and hug! At least don't hug strangers if you are under the influence. Another trick is to claim that you have pigeon droppings on your shoulder, which a 'friendly person' will offer to help brush off. Again it could be a distraction. There are many scam variants. So be wary of distractions, avoid physical contact and push people away if necessary.

Pickpockets will very rarely attack you with violence. If they feel that they have been caught out, they just shrug their shoulders and wait for another victim. Be wary of offers of help and be very aware if you accept them. Also be wary of anyone who says that they are the police and ask for identification. Some pickpockets pretend to be police and ask to see your ID and try and get to your wallet in this way.

Never hand your wallet to a stranger and if someone says they are a policeman then ask them to take you to the police station.

10. Stay away from street games
Stay away from the street games like the three shell game. Don't even watch them. They are a scam run by gangs of criminals. You can lose your money playing the games, and at the same time because your attention is distracted, you can also have your pocket picked.

The most typical street game scame is the three bottle tops where you have to find the ball underneath one of them. Or the three cards. This is a well known street game called 'trilo' and played by 'trileros.' It is a complete scam and from 2011 was classified as a criminal offence by Barcelona police so it's not as common any longer.

Four or five of the of the people watching the game, and who encourage you to play, are members of the 'trilero' gang and some might be pickpockets too. Be aware if you are watching street shows, because you will be distracted, which makes it easier for the pickpockets.

11. Don't carry all credits cards
Leave some cards in your home country. Leave some cash and cards at your Barcelona hotel or apartment in the room safe. Remember you don't need video cards, gym cards, library cards, and all the other loyalty cards you have at home in Barcelona. Take them out of your wallet before you leave home. Or buy a secure wallet for vacations. If you are unlucky and have your wallet stolen, then at least you will not have to replace every loyalty card you own.

Important tip: If you wallet is stolen and then returned to you, with credit cards still in it, but without the cash then cancel the cards anyway. Basically if your cards have been out of your possesion, cancel them.The person returning your wallet might be a member of a pick-pocket gang and they might have taken pictures of your credit cards using a phone, so that your card numbers can be used online. So if your wallet is out of your possesion even for a short while, then the safest thing is to cancel all cards as soon as possible.

12. Tips about ID and passports
Nowadays you very rarely need photo ID to make smaller credit cards purchases but you will need it to exchange money at banks, and perhaps if you want to make a major purchase then you might need to show some photo ID.

But if you are just out for the day and don't plan to spend too much, then we recommend leaving your ID documents in the hotel safe or your room safe. Most quality hotels have room safes.

Hostels will also usually have safe in the reception or another system for safeguarding valuable items. And it's a good idea to have a few copies of your passport with you and the phone numbers to cancel cards if necessary.

13. Keep cash in separate pocket
If you are unlucky and have your wallet or bag snatched then at least you will have a few euros for food and the bus home to your hotel in Barcelona. If you are a couple, then don't put both wallets, phones etc in the same bag!

14. Make list of important numbers
Write down a few personal phone numbers and keep them separate from your wallet or send them to yourself in an e-mail. Some people have their phone stolen and find that they cannot actually recall any numbers in their head. Remember you can always call Barcelona emergency numbers for help.

15. Safety on Barcelona beaches
Barcelona has very nice beaches, but there are many thieves on the beach, especially around Barceloneta. If the beach is very crowded, then try not to have anything of real value and keep it covered. Don't fall asleep. Don't leave your stuff on the beach, while everyone in your group goes for a swim. If someone lies next to you is alone and just has a towel and no books, sun lotion, etc then be extra careful.

Of course if are asleep, then you won't notice, so don't fall asleep on the beach. The worst beach for being robbed is Barceloneta. The others further to the north are not that bad. If you have time then north of the city of Barcelona for nicer beaches, where you won't ever be robbed. By the way you can trust the drinks vendors on the beach. They often help catch the pickpockets and hand them over to the police. On the beach you could try the old safety precaution of putting your wallet in your shoe. But heed the words of legendary US comedian Jerry Seinfeld:

We go to the beach, go in the water, put your wallet in the sneaker, who's gonna know?
What criminal mind could penetrate this fortress of security?
'I put it down by the toe. They never look there.'
'They check the heels, they move on.'

16. Safety in Barcelona metro
There are many pickpocket gangs operating in the Barcelona metro. Be aware of any distraction. People dropping things - or asking you something. Check your belongings first, then respond. We recommend that you wear a purse or bag with a secure clasp and thick straps. Keep backpacks in front at all times. Keep the purse or bag close to your body and in front or under your arm. Grip the bag tightly at all times, when you are in the Barcelona metro system.

The safest place for a wallet is in your front trouser pocket with your hand around it! Never in your back trouser pocket. Be careful of cargo pants or shorts too. The side pockets are practical but easy to empty. A good tip is to put a thick rubber band around your wallet. A rubber band creates more friction and resistance than smooth leather, if your wallet is being removed from your pocket which gives you a greater chance that you will notice it leaving your trousers! Be aware of loud arguments or commotions that may be staged in order to distract you, while an accomplice picks your pocket. If you have something stolen, yell out immediately to warn others.


Don't be afraid or embarrassed to SHOUT OUT! Tell the train or bus operator, and shout for someone to call the police. This creates a bigger chance of someone discarding your wallet then running. If a person finds your wallet, then ask them to wait until the police get there. This could be an accomplice! Often a friend of the pickpocket will pretend to find your wallet and return it, (without the cash) to stop you running after the pickpocket, who is his friend! Be extra careful if the Barcelona metro is crowded or if you are bumped or jostled.

16. Don't drink too much
Sorry to spoil the party, but most pickpocket scams are particularly effective if you have had too much to drink

17. Report theft to police
Report theft to police and do it before you leave Barcelona. There is a good chance the money will be gone if your wallet is found, but perhaps a friendly Catalan will find your wallet and hand it to the police. It might have a lot of cards and photos intact. And you will be able to claim insurance with an official police report.

At the moment you have to go to a police station ( 'una comisaría de Mossos d'Esquadra,') but you might be able to report a theft from your hotel in Barcelona. Ask at reception. The most convenient police stations to report a theft in the centre of Barcelona are the police stations on Plaça Catalunya and on Nou de la Rambla. You can find the full list of police stations on the links below.

18. Beware of fake policemen
If you are stopped by plain clothes policement who are not in uniform and if they ask to see your wallets, check your credit cards or ID, then they might well be fake police. Say you want to go to the police station but do not give them your wallet or credit cards. Real Spanish policemen are not corrupt. Real Spanish policemen do not fine people on the street. Real Spanish policemen never ask tourists for ID or to see their wallets or credit cards.

So if you are stopped by plain clothes policement and they want to fine you or see your ID, then they might be fake police. Ask to see their ID, be very aware and tell them you prefer to go to the police station. Do not give them money or show them any ID. They will snatch your wallets or cash. Also they might take photos with smartphones of credit card numbers so just keep your wallet safe and if they insist then find help in a shop or office or look around for uniformed police

Emergency numbers Barcelona
Police stations Barcelona

Related pickpocket useful links

Site about pickpocketing techniques and how to avoid them!
Article from the Observer in 2003 about 10 most common tourist scams for travellers. Many of them are still used.


Related content
Pictures of Barcelona areas and sights
Planning 2 day visit Barcelona
Planning 3 day visit Barcelona
Where to stay Barcelona
Cruise ship maps and guides
Top 10 attractions
Guide Museums
Tours and Tickets
Best Day tours outside Barcelona
Barcelona beaches

© Copyright Barcelonayellow.com
Do not copy text or images without permission.
All rights reserved.