Things to do in Barcelona when it rains

Updated February 2023

Looking for the top rainy-day activities in Barcelona? There's no shortage of enjoyable and engaging options for when the weather turns. Continue scrolling down this page for suggestions and insights on what to explore indoors in Barcelona when the rain starts to fall.

What are the best things to do in Barcelona on a rainy day? There's no shortage of fun and interesting Barcelona options when it's raining. Continue scrolling down this page for suggestions and insights on what to explore indoors in Barcelona when the rain starts to pour.

Rainy day Tip! Keep smiling and stay happy. While a rainy day might alter your plans, the unexpected can often lead to wonderful surprises!

So put a smile on wet weather and find new things to do when it rains in Barcelona, Spain. Click on the underlined links in this artlcle for more information.

Tops rain tips are to visit Barcelona museums, relax in spas, go shopping, ride a covered hop-on-hop-off bus tour or play escape rooms.


When does it rain in Barcelona?

The rainy season in Barcelona is generally considered to be in the spring in months March and April and then again in autumn/fall in months October and November.

Typically, rain in Barcelona is limited to just 1 or 2 days and doesn't persist throughout the entire day. However, there can also be occasions when the city experiences a week of intermittent showers.

During the summer, rainfall is minimal, and the weather is generally hot and frequently humid. On occasion, the summer heat can culminate in a heavy rainfall event, resulting in a summer storm.

Barcelona hourly forecast


Rain gear

An umbrella is 'un paraguas'
A rain poncho is 'un poncho de lluvia'.

You can usually buy cheap-ish (but not good quality) umbrellas and rain ponchos from street vendors costing €5 to €10. These small cheap umbrellas are suitable for light rain but often prove ineffective in strong winds and storms. It's advisable to negotiate for a lower price or, even better, consider purchasing high-quality rain gear which is available at the Decathlon sports store in Barcelona.


Hop-on-Hop-off bus tours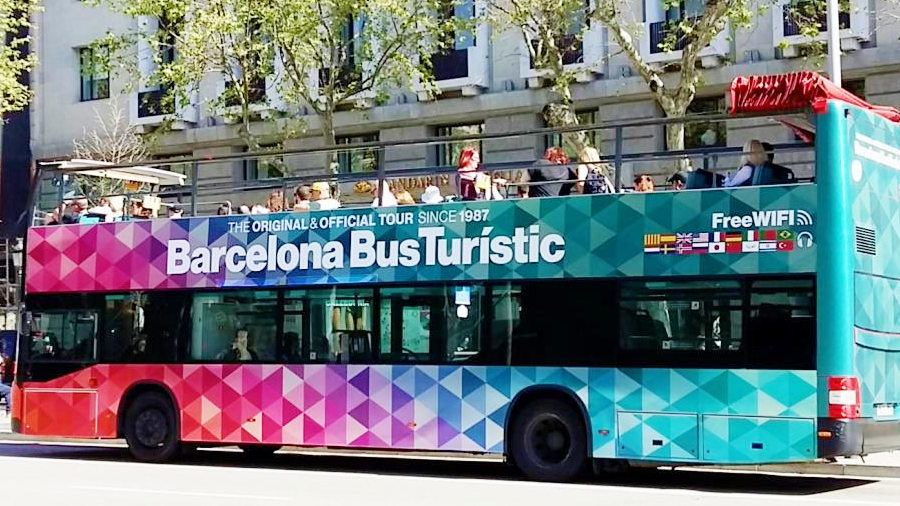 Barcelona has 2 tour companies that offer hop-on-hop-off bus tours. Both have double decker buses with a covered top deck when it's raining, so you can still enjoy a bus tour of Barcelona on a rainy day. Both tour bus lines have audio guides in several languages.

Opting for the hop-on-hop-off bus allows you to explore museums and attractions at your own pace while conveniently moving from one stop to another. It's an excellent choice for a rainy day since you can still enjoy the sights and stay dry from the comfort of the bus.

The tour buses have great views from the top deck and you get interesting commentary from the free audioguides.

Hop-on-hop-off bus tickets are valid all day and there are several different lines. So on a rainy day, you can tour the entire city and still stay dry!

You might have to wait in line sometimes to get back on the bus especially at Easter or Christmas, so carry an umbrella or rain poncho.

Ask your hotel reception where the nearest hop-on-hop-off bus stop is. Buy tickets using the blue links Barcelona Bus Turistica and Barcelona City Tours.

You can buy tickets online and pick-up your tickets at the tour office - or you can buy tickets on board the buses.


Shopping malls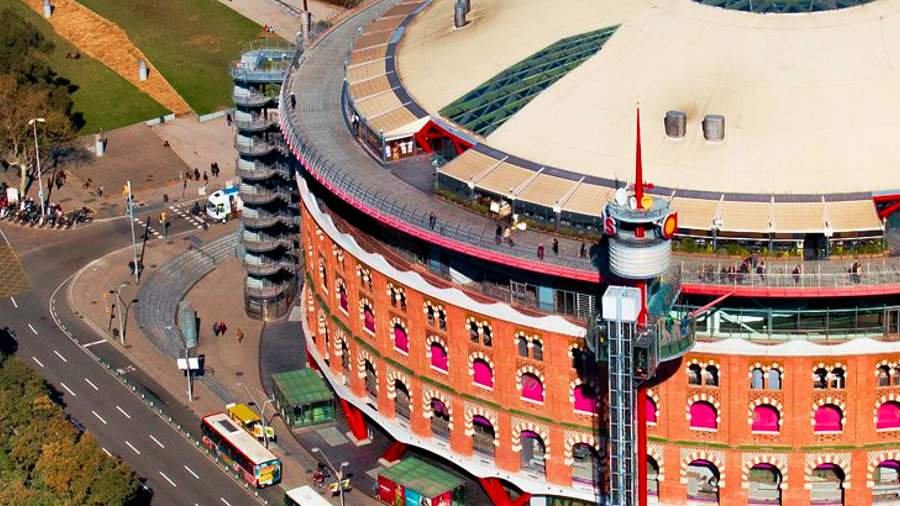 Shopping is a popular choice when it's raining in Barcelona. Barcelona has many excellent shopping malls and all the design brands you could ask for.

The most interesting shopping center in Barcelona is Las Arenas on Plaza Espanya, which is located in a former bull fighting ring. Las Arenas has top brand name shops and many restaurants and a sky walk on the top floor.

This is the best shopping mall to combine with some sightseeing if it stops raining because Las Arenas is near Montjuic hill which is home to tourist attractions like Magic Fountain, MNAC museum, Miro museum and Montjuic castle among others. And there are some nice restaurants in the area of nearby Sant Antoni.

There are two big modern shopping malls at each end of the long avenue in Barcelona called Avenida Diagonal. At the top end of Av Diagonal is L'illa Diagonal shopping mall which is perhaps the most exclusive mall in Barcelona. The Diagonal Mar shopping centre is down at the other end of Avenida Diagonal near the sea in the Diagonal Mar area of Barcelona.

The only shopping mall that is open all year on Sundays in the city is the Maremagnum malll in Barcelona's Port Vell marina area (Las Arenas mall opens on Sundays in the summer).

Maremagnum is a good choice for rainy days and has quite a good selection of brand shops (not all Maremagnum shops are open on public holidays) and some nice restaurants on the top floor with harbour views.

Maremagnum is near the Barcelona aquarium which is a fun rainy day destination. For designer brand shopping you will need to brave the rain as most designer shops are on elegant streets Passeig de Gracia or Avenida Diagonal

For exclusive outlet brand shopping on a rainy day take the La Roca shuttle bus to popular luxury shopping outlet village La Roca located about 45 minutes north of the city, but please be aware that La Roca is an outdoor village, not a covered mall, so again remember your umbrella.

A visit to La Roca is a half-day or day trip from the center of Barcelona. There is a shuttle bus from city center.

The La Roca shuttle buses leave from central square Plaça de Catalunya. Barcelona has a second outlet shopping mall called Viladecans The Style Outlets which is 30 minutes south of Barcelona and you can get also there by shuttle bus from the city center. This is not covered either though.



Other ideas for rainy days
Barcelona has many interesting museums to visit in wet weather. Find the top Barcelona museums. Be aware though that many people go to museums when it is raining, so they can be crowded on rainy days and you might be standing in line to get in.

Why not visit Barcelona's most famous attraction unfinished church Sagrada Familia when it's raining in Barcelona, but remember your umbrella - even on a rainy day there might still be lines.

You can avoid the lines if you pre-book skip the line Sagrada Familia tickets online although there can still be lines in the skip-the-line entrance especially on rainy days.

There is plenty to see inside the Sagrada Familia including the museum in the crypt of the church which has a wonderful collection of photos, models and explanations detailing the construction of this unique monument by Antoni Gaudi.

One of the most popular Barcelona museums is the Picasso Museum which is a perfect museum for a rainy day in Barcelona. The Picasso museum is big and interesting enough to spend many hours inside enjoying the art and also the palatial museum buildings in the Born area of medieval Barcelona's old city.

The Born area also has many fun small boutiques, restaurants and cafes, so you could spend some time shop-hopping there.

In the Raval area of Barcelona old city center, you can find a small but fun 'Gallery of Illusions' where visitors can step into optical illusions based on famous paintings and take photos. The Born area is very trendy with many restaurants, cafes and boutiques dotted around the impressive gothic Santa Maria del Mar basilica and the Born Cultural Center is free to visit with impressive excavations which give a fascinating insight into Barcelona's past in the early part of the 18th century.

TIP: Museums is the first choice for many tourists on a rainy day in Barcelona, so the lines might be long especially in the summer. Imagine everyone on the beach suddenly queuing at a museum.

Bring an umbrella or raincoat in case you have to stand in line outside - and a good tip is to always pre-book skip-the-line tickets if possible.

You can get skip-the-line tickets for the Picasso museum, for the Sagrada Familia church and for the Dali museum in Figueres (the latter is a day tour that need to be booked in advance usually).

Other popular museums in Barcelona which are excellent for a rainy day in Barcelona, include the Barcelona History Museum where you can see remnants of the Barcelona's Roman history when it was called Barcino.

If you are a modernist architecture fan, then don't miss the Gaudí Experiencia center near Park Guell, but bring an umbrella and good shoes, if you visit Park Guell on a rainy day. There can be big puddles. Of interest to modernist architecture fans might be the small and fascinating Modernist museum MMCAT in Barcelona's Eixample area. The Miro museum on Monjtuic hill and the MNAC Museu Nacional d'Art de Catalunya also on Montjuic are also both exciting to visit for a few hours.

There are often interesting and often free exhibitions at cultural centers the CaixaForum and the CCCB which are both housed in interesting historic buildings.

For sports fans there is an small Olympic museum on Montjuic hill, which is interesting. The star attraction of the city's sports museums is the famous FC Barcelona Camp Nou experience which includes seeing the famous stadium and the FC Barcelona museum. After your visit you can shop in one of Europe's biggest NIKE merchandise stores.



Spas & wellness
Near the Picasso museum you can find Barcelona's only Arab spa & bathes where you can even enjoy a 'wine bath'. Relaxing in a spa for a few hours is a great way to spend some time on a rainy day. Check out a full list of wellness centers or go for a swim at one of the public swimming pools in Barcelona.


Cooking classes and more
Barcelona has many fun and interesting classes for visitors. Check out cooking classes or learn how to make your own Gaudi mosaic gift.


Visit Barcelona aquarium
The Barcelona Aquarium is one of Spain's biggest aquariums and very popular with children. It can be crowded on rainy days. Barcelona zoo is mostly outdoors, so we would skip that in bad weather, unless you want to see grumpy wet animals.



Barcelona Escape rooms
Escape rooms are a fun activity for rainy days and Barcelona has many of them. Escape rooms are a popular new physical adventure game which are in most major cities including Barcelona. An escape room is a adventure game in a 'locked' room.

The concept is that you bring a team of friends – usually 2 to 6 persons – to a company that has permanent escape rooms set up - each with a different mystery and adventure puzzle and theme. Your group is 'locked' in the escape room with a countdown usually of 1 hour.

During that hour, as the clock counts down, your group has to complete the adventure objective by solving a number of clues, hints and using strategy in the room. Find Barcelona escape rooms here


Movies in English
Ok, it's a bit lame going to see a movie, when you are on holiday, but the option is available so why not? Cinemas that show movies in English or other original languages are called VO cinemas. V.O. means Version Original. Find Barcelona VO cinemas. The best VO cinema in Barcelona is Balmes Multicines (in our opinion) Others in the center of Barcelona are the Renoir on street Floridablanca and Verdi cinemas in Gracia area and also the Yelmo Icaria in Vila Olimpica, which is 10 minutes by metro from the city centre in the Port Olimpic area.


Food and restaurants
Eat your way through a rainy day. Long lunches, a siesta and then dinner. Try the modernist food court El Nacional on Passeig de Gracia street in an renovated modernist factory or La Fabrica Moritz which is a popular microbrewery and bar in Eixample area of Barcelona and there are many more wonderful restaurants in Barcelona. Find more top Barcelona restaurants


Read a book about Barcelona
Find a quiet spot in your hotel or apartment and read about Barcelona. Find some great books set in Barcelona.


Barcelona exhibitions & events
Barcelona often has internationals exhibitions which are open to the general public so check the events calendar for exhibitions in Barcelona. You might be lucky and find a food fair, a ski show or a boat show that you can visit for a few hours. To see all events in Barcelona visit our Barcelona Events Calendar.


Ice skating rinks
A quirky idea for a rainy day is to go ice skating in Barcelona. There is an indoor ice skating rink in Barcelona at Camp Nou.


Indoor Go-karting near Barcelona
Indoor Go-karting at the indoor go-kart tracks near Barcelona.


Visit sights outside Barcelona
It might not be raining everywhere in Catalonia. Sometime the rain is local to Barcelona and it's sunny in the Pyrenees mountains of Andorra. Sometimes however it rains all over the Catalonia region.

But you never know - the rain might might have stopped by the time you get off the bus or train when you book a day trip to a destination outside Barcelona.

For example, you could take a day trip to the town of Figueres two hours north of Barcelona to see the Dali Museum which is amazing even on a rainy day.

Bring your umbrella though in case you have to stand in line to get in.

Despite the rain we hope you have a great day and enjoy your stay in Barcelona. If you have any suggestions or would like to tell us how you spent your rainy day in Barcelona, please write to us at BarcelonaYellow.com. We would like to hear from you.

...........

This article is sponsored by the Stepbac® method developed in Barcelona.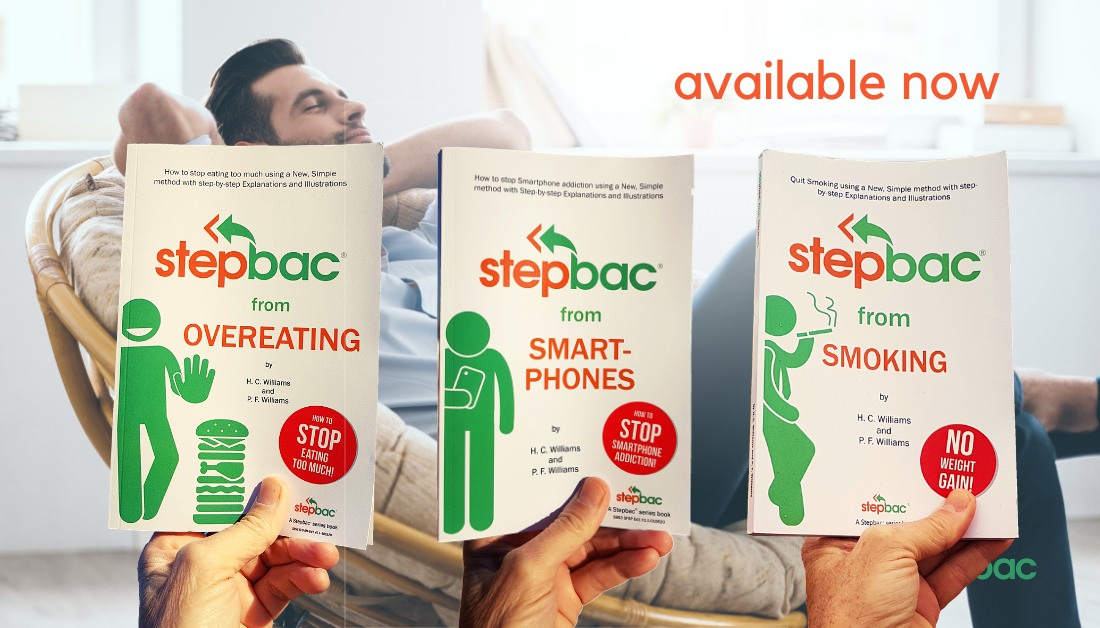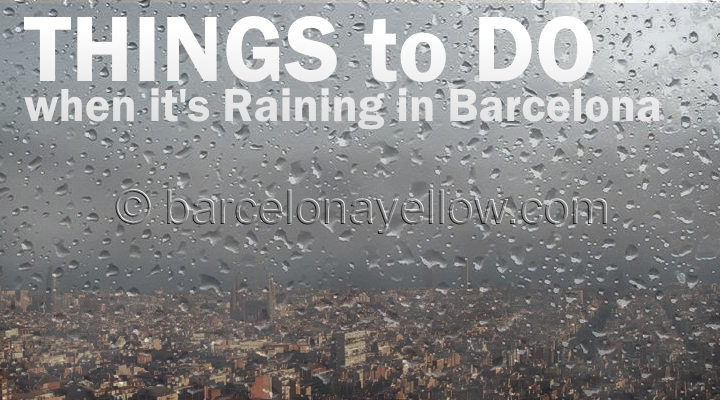 © Copyright Barcelonayellow.com
Do not copy text or images on this page without permission.
All rights reserved.