Map Barcelona cruise ship terminals and Moll Adossat pier at Barcelona port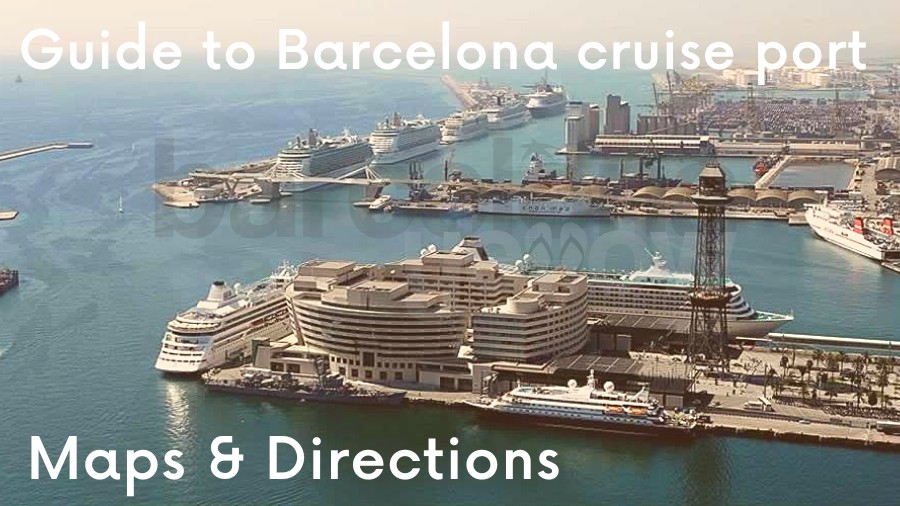 Map Barcelona cruise ship terminals and Moll Adossat pier at Barcelona port
updated January 2019

Guide to Barcelona's cruise ship terminals and Map Barcelona Moll de Adossat cruise ship port.

How to get to and from Barcelona's cruise ship terminals to downtown city center and how to get to Moll de Adossat pier.

Barcelona is the world's fourth largest cruise ship port surpassed only by three bigger cruise ports which are all in Florida USA. Many big cruise ships dock in Barcelona port at one of the seven cruise ship terminals which are situated on several piers in the Barcelona port area which is close to the city center, the Barcelona train stations and Barcelona airport.

How far is Barcelona airport from the cruise ship port?
Barcelona airport is about 20km/12 miles from Barcelona cruise ship port Moll Adossat. There is no direct bus connection or shuttle service. Take a taxi or private transfer.

How far is Barcelona cruise port from the Barcelona city center?
Barcelona cruise port is 5km / 3 miles from the city center of Barcelona and 2 km / 1 mile from the old medieval are of Barcelona.

All Barcelona's cruise ship terminals are very close to Barcelona's city centre.

Most cruise ships dock on the biggest pier called Moll D'Adossat pier where there are 4 cruise terminals called A, B, C and D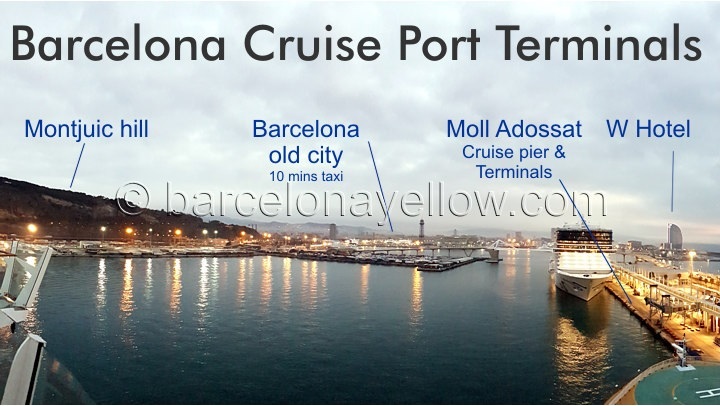 On this page you can find a map of locations of Barcelona cruise ship docks and terminals - and how to get to and from the downtown Barcelona city centre to the cruise ship terminals.

You can also find information about getting from the cruise ships to Barcelona airport and information about luggage services and luggage lockers at Barcelona cruise ship port for cruise ship passengers.

Tweet about this page
MAP Barcelona Hotels near cruise ship docks
PDF map cruise ship terminals Barcelona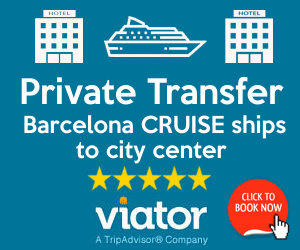 Map Barcelona cruise ship port & terminals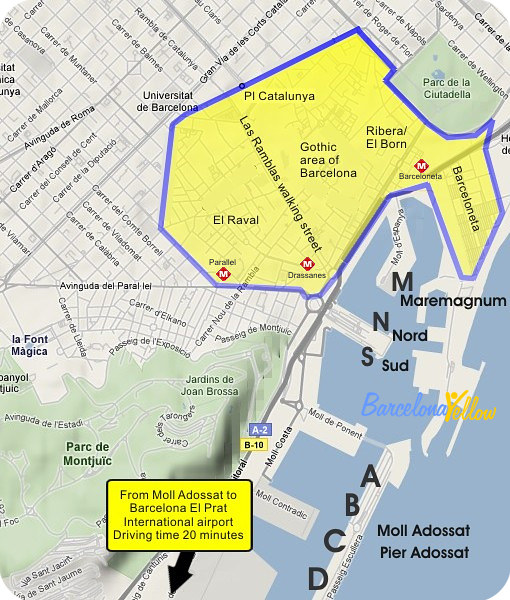 Cruise ship terminals A, B, C, D - Moll Adossat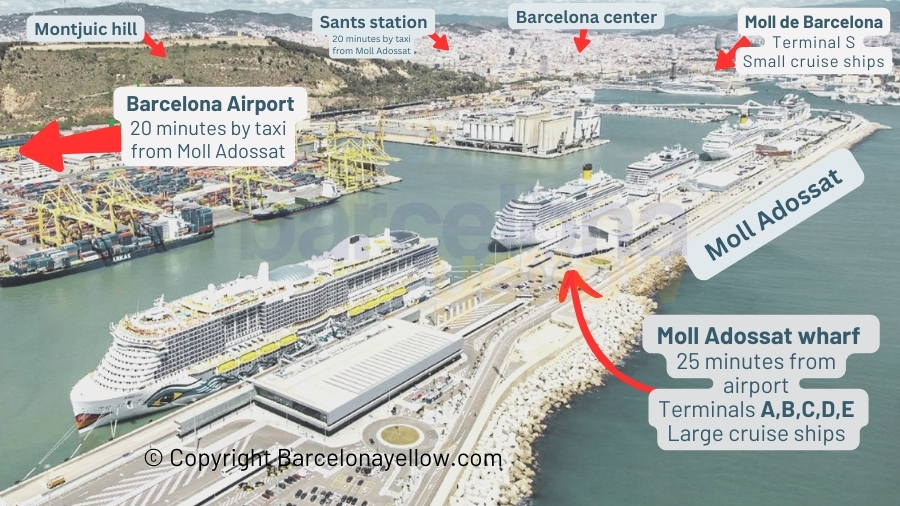 Moll Adossat Barcelona - also called Moll D'Adossat (in Catalan) or Muelle Adosado (in Spanish) is the name of the cruise ship wharf or dock, where the biggest cruise ships dock in Barcelona. This is a new cruise ship terminal on a long quay in the old industrial port which now has cruise ship terminals and room for 4 large cruise ships.


Getting from Moll Adossat to Barcelona centre

On Foot
This is not really an option for passenger with cases. From the Moll Adossat cruise ship terminals (A, B, C & D) in Barcelona port, it is about a 35 minutes walk to the edge of the Cuitat Vella (Barcelona's old city) Map walking distance
It is a 45-60 minute walk to the center of modern Barcelona at Plaza Catalunyal. Map walking

By Taxi
Most cruise ship passengers choose to take a taxi from Moll Adossat terminals to the Barcelona city centre. Taxis in Barcelona are reliable and taxi fares are charged using taxi-meters, so you will not be cheated. Taxi prices

T3 Cruisebus (previously called Portbús)
Take the T3 Cruisebus Barcelona. This is a cruise port shuttle bus service that goes from the cruise ship terminals on Moll Adossat (A, B, C & D) to the Portal de la Pau plaza, which is at the harbour end of the walking street 'La Rambla'. Expect some queues and delays both for taxis and the port bus in peak periods. T3 Cruisebus info

Private Transfer
Book a private transfer from your hotel to your cruise ships. Links below

Taxi prices Barcelona
T3 Port Bus route maps & stops
Port to hotel transfer service
Barcelona cruise ship arrivals schedule



Getting from Moll Adossat to Barcelona airport
The El Prat Barcelona airport is located 20 km / 12.4 miles south of the Barcelona harbour. The driving time is 20-30 minute drive from any of the Barcelona cruise ship terminals to the airport - depending on traffic conditions.

There are public transport options available to get to the airport, but the easiest option is to take a taxi cab or pre-book an airport transfer taxi.

Airport transfer Barcelona
How to get to Barcelona Airport

Please note that the name Moll Adossat name does not appear on Google maps, but the road on the pier of Moll Adossat itself is called "Passeig Escullera" and this road is on Google Maps, so use that road name, if you want to find directions to and from the cruise ship terminals A, B, C & D on Moll Adossat in Barcelona harbour.

Moll Adossat on Google Maps
Route from Moll Adossat to Barcelona airport

Article continues after ads



Cruise Terminals N (North) + S (South)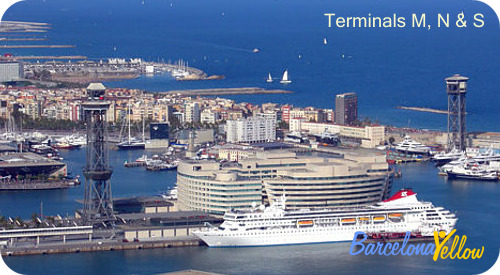 Barcelona Cruise Terminals N (North) + S (South). The cruise ships terminals N & S are for smaller cruise ships. They are located on the pier, by Barcelona's World Trade Center (which also has cruise ship parking) and the Eurostars Grand Marina Hotel is located. The Grand Marina hotel is convenient for cruise ships docked on terminals N & S. From terminals N & S, it is a short 10 minute walk to Barcelona's old gothic area and the famous pedestrian street La Rambla. All the hop-on/hop-off Barcelona tour bus have bus stops at Portal de la Pau which is at the harbour end of Las Ramblas walking street and the tall Christopher Columbus column. Bus tours of Barcelona



Cruise terminal M (Maremagnum)
Barcelona Cruise terminal M (Maremagnum). This cruise ship terminal is also called the "Port Vell terminal" and is the smallest of all Barcelona cruise ship docks and the most central. This terminal is next to Maremagnum mall, which is open daily all year, and from Cruise terminal M, it is a short walk to the old city of Barcelona


Top 10 Barcelona attractions
Tours of Barcelona
Where to stay in Barcelona



Getting to Barcelona city centre from cruise terminals N (North) + S (South) and M

From these three terminals it is a short walk to Barcelona's old city centre, where you can catch Barcelona taxis, or the Barcelona hop-on-hop-off buses.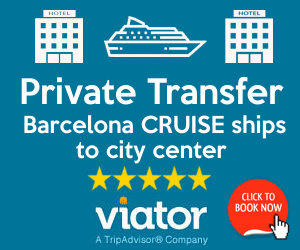 Hotels near cruise ships & Moll Adossat Barcelona

Cruise ship terminals in Barcelona are all within 30 minutes from most hotel locations in the center of Barcelona. Many Barcelona cruise ship passengers prefer to stay in hotels near the Barcelona cruise ship port area and close to the medieval city center of Barcelona.

On the map below you can see a selection of the best reviewed hotels in Barcelona in the medium to expensive price range that are within a 15-20 minute radius by taxi cab from the cruise ship terminals in Barcelona.

Red tags are seven Barcelona cruise ship terminals, A, B, C, D, S, N, & M

Blue H1-H5 tags are 1 to 5 star hotels. Click for hotel information and to book



FULLSCREEN map Barcelona hotels near cruise ships




Search hotels
The hotel searches below are for hotels near to metro stations near cruise ships in Barcelona

Hotels near Drassanes metro at bottom of old city
Hotels near Parallel metro station in Poble Sec
Hotels near Barceloneta metro station near harbour




Taxi from Barcelona Airport to/from Cruise ships

Registered black/yellow Barcelona taxi have a fixed price including luggage of €39 for the transfer from Barcelona Airport to or from Cruise ships terminals. Check with your taxi first before leaving.





Barcelona cruise ship/airport transfers


Find Barcelona airport transfer listings to find companies that offer private bus and limo transfers from cruise ships to Barcelona airport. Read more about how to get to Barcelona Airport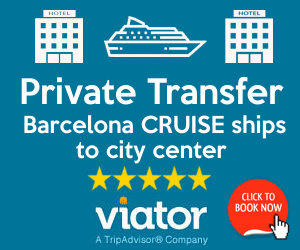 © Copyright Barcelonayellow.com
Do not copy any text on this page without permission
All rights reserved.


Last Updated on Wednesday, 23 January 2019 00:18