MSC cruise ship terminal Barcelona. map, directions and information.
MSC cruise ship terminal Barcelona

Updated January 2023.

Where do MSC cruises depart in Barcelona? Which dock do MSC cruise ships depart from in Barcelona?

MSC cruises depart from Port of Barcelona from the Moll Adossat dock - called Muelle de Adosado in Spanish.

Barcelona Airport is 15 km (9-mile) drive away from the port. There is no direct bus connection between Barcelona Airport and the port, but you could take the Aerobus to Plaça Espanya and then travel to the port by Portbus or by taxi.

There is a fixed taxi price for rides between Barcelona airport and the cruise ship docks.

Barcelona Sants railway station is about 6 km away from the the Moll Adossat dock. There is both a taxi and a bus service to the port from outside the station.

Moll Adossat information
Hotels near Moll Adossat
MSC ships schedule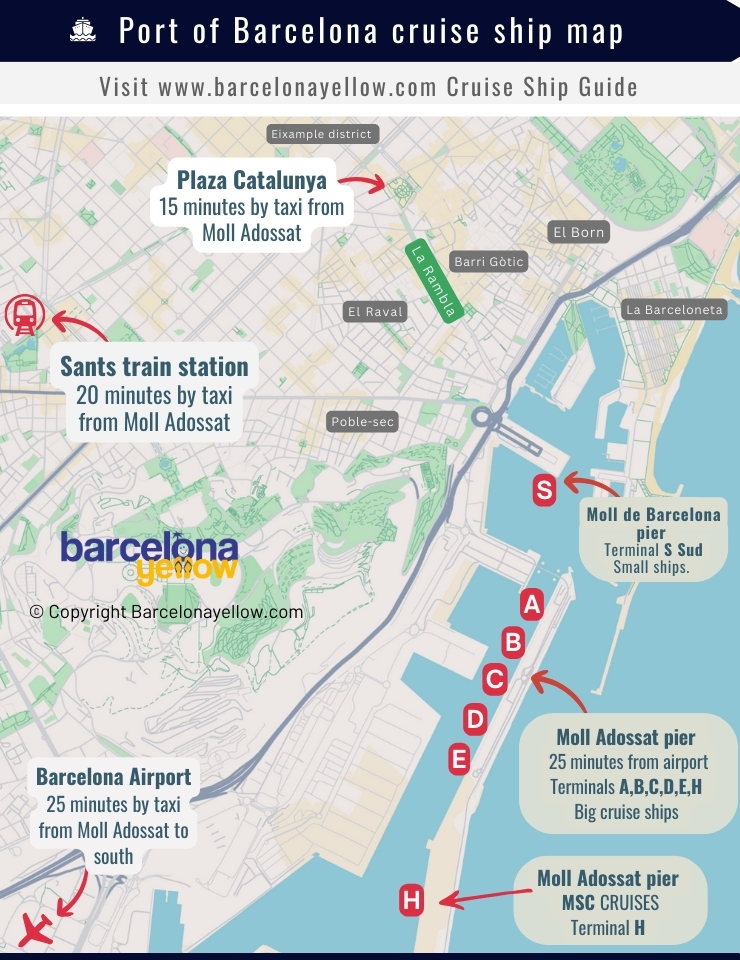 In a press release from 31 May 2021, MSC Cruises announced that they have obtained final approval from the Port of Barcelona to build and operate an exclusive MSC cruise terminal.

This multi-year concession will see the construction of an innovative terminal of 11,670 square metres that MSC Cruises will operate and manage for a 31-year period.

The MSC terminal project is estimated to represent a EUR 33 million investment by MSC Cruises. With construction work set to start shortly, the new terminal is expected to enter service in 2024.


Related Barcelona cruise pages:

Map Barcelona cruise ships terminals
Where is Moll Adossat
Airport to Barcelona cruise terminal info
FAQ Barcelona cruise passengers


© Copyright Barcelonayellow.com
Do not copy any text on this page without permission
All rights reserved.

Last Updated on Wednesday, 11 January 2023 19:43