Christmas markets Barcelona 2021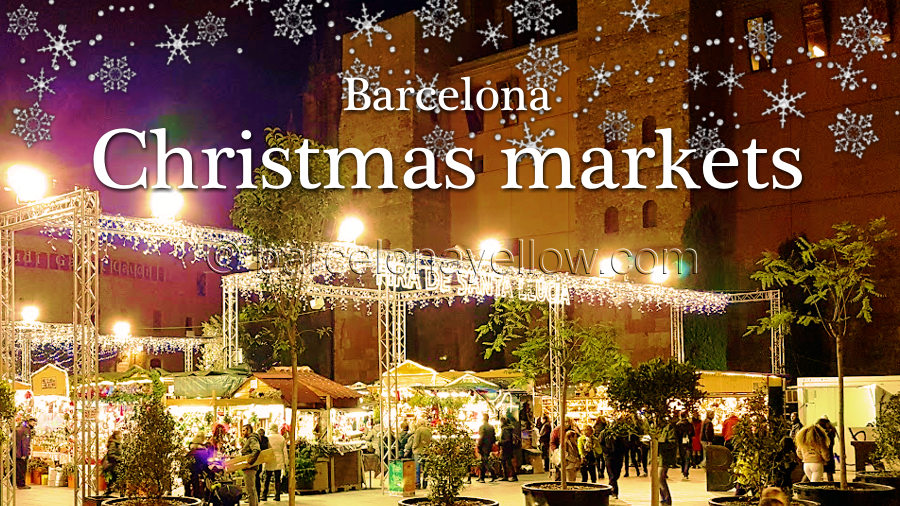 Barcelona Christmas markets 2021
Find Barcelona's best Christmas markets in the city center

Being updated during November 2021

Barcelona has several quaint traditional Christmas markets around the city in the Christmas month of December.

The oldest, biggest and most traditional of the Barcelona Christmas markets is 'La Fira de Santa Llúcia' (in Spanish it's called 'Feria de Santa Lucia.')

This wonderful Christmas market is on the Avenida de la Catedral in front of Barcelona Cathedral in the gothic area of Barcelona.

The earliest recorded Christmas market by the cathedral in Barcelona was in 1786, so in 2021 it will be the 235th edition of Barcelona's oldest Christmas market.

The Avenida de la Catedral and small streets by the cathedral are filled with 300 market stalls selling Christmas decorations and gifts.

Most of the Santa Lucia Christmas market stalls sell 'figuritas de Belén' which are the small nativity scene figures to make your own nativity crib scenes. In the Catalan language, nativity scenes are called 'pessebres'.
Look out for the cheeky Catalan caganer figure in the nativity scene who has a special place in Catalan hearts at Christmas.

Fira de Santa Llúcia Christmas market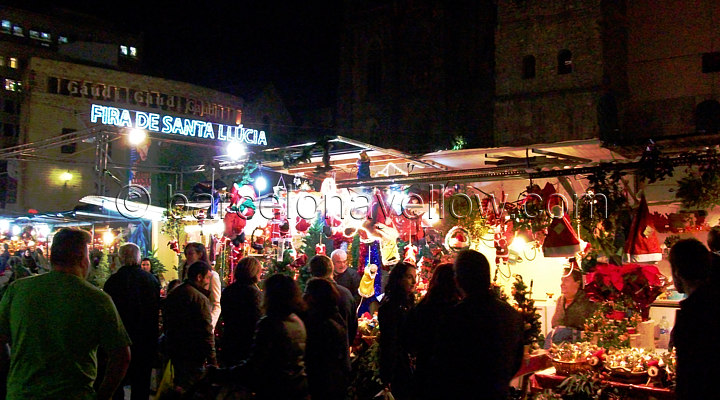 Fira de Santa Llúcia
Saint Lucia Christmas market
Event Dates: 26 November to 23rd December 2021
Opening times: open daily from 10.30 to 22.30.
Place: Avenida de la Catedral in gothic area
The Fira de Santa Llúcia is Barcelona's biggest Christmas market and located in front of Barcelona's cathedral in the Gothic quarter. Special days include 11/12 festival Diada de les tradicions nadalencs which has extra Christmas activities for children including the 'Christmas face' - 'Carassa de Nadal de Barcelona' and a Christmas concert. From end November there are special 'Tió gegant' activities for the children. 13th December is 'Dia de Santa Llúcia' - Saint Lucy.


Christmas Fair Poble Espanyol
Event date: from 4 to 8 December, 11 and 12 December, 18 to 29 (except 25th) December and 2 to 5 January,
Event times. various opening times
Event location: Poble Espanyol on Montjuic hill
Tickets: € 10 online, € 12 at box office. Buy tickets.
Christmas event at the Poble Espanyol Spanish Village on Montjuic hill. Activities include entertainment, a Christmas food fair, roller disco, live music, Santa's Grotto and meeting The Three Kings.


Fira de Nadal de Port Vell
Event date: December 5th to 8th, 13th to 15th and 20th to January 5th
Event times. Various opening times
Event location: Portal de la Pau by Port Vell harbour

Port Vell Christmas market. Port Vell harbour presents a new Barcelona Port Vell Christmas market featuring craft stalls, food stalls, childrens activities and workshops, a big Christmas tree, a floating nativity scene, a vintage carousel and a 60m high ferris wheel.


Fira de Nadal a la Sagrada Família
Event date: End November to 23rd December 2019
Event times. daily from 10:00 to 22:00
Event location: Sagrada Familia church in Eixample area of Barcelona
Fira de Nadal a la Sagrada Família. Christmas market at Sagrada Familia church. Traditional Christmas market with 120 stalls at La Sagrada Familia church in Eixample area of Barcelona. On two Saturdays from 18 to 20.00 Santa Claus pays a visit to collect letters from the children and hand out balloons and cookies.



Three Kings Fair
Fira de Reis a la Gran Via
Event date: 19 December 2019 to 6th January 2020
Event times: from 11.00 to 22.00
Event location: On Gran Via street from streets Muntaner to Calabria
La feria de Reyes de la Gran Via, also called 'Sant Tomàs i Reis' (St Thomas and Kings) and also sometimes called the "Twelfth Night Fair," is one of Barcelona´s biggest Christmas and New Year markets for toys. The Fira de Reis a la Gran Via market has around 300 markets stalls with toys and traditional "Reyes" gifts like 'carbon de azucar' (candy coal).



Plaça de Catalunya Christmas fair
Place: Plaça de Catalunya
Dates: 20 to 31 December
Times: 11 am - 8.30 pm
Location: Plaça de Catalunya
Plaça de Catalunya becomes magical city with free activities for all ages. The heart of the city becomes an oasis of light and creativity featuring a forest, giant rabbits, Christmas carols, storytelling, sports and games.

Opening times:
21 to 31 December, from 11 am to 9pm
*20 and 26 December, activities only from 6 pm onwards
24 December, activities only until 6 pm
25 December no activities
31 December activities only until 4 pm



Fira de Nadal de Sants
Place: Carrer Joan Güell - Plaça de Sants Map link
Dates: End November to 23rd December
Fira d'artesania a la plaça de Sants - Sants Christmas market



La Ciutat dels Somnis

Previously called Festival de la Infància
Place: Fira Montjuic exhibition centre - Halls 1, 2 and 3
Dates: 27 to 30 december & 2 to 4 January 2020
Barcelona Children's Festival 'La Ciutat dels Somnis' - City of Dreams. Festival for children from 4 to 12 to enjoy more than a hundred educational activities in Spanish and Catalan.



Mercat de Nadal de Pedralbes
Place: Plaça Monestir de Pedralbes, Pedralbes area of Barcelona
Dates: Sunday 1st December 2019
Times: 10:00 to 18:00
Lovely 1 day Christmas market at Pedralbes monastery where you can also enjoy guided visits of the monastery and enjoy Christmas carol singing.

There are also very nice Christmas markets and fairs in towns and village near Barcelona and we can recommend the Fira de Nadal Caldes de Montbui usually on 1st and 2nd December


Christmas markets near Barcelona

There are also lovely Christmas markets and fairs in towns and village near Barcelona. Here are some ideas.

Sant Cugat Christmas Market
Very cosy market inspired by German style Christmas markets with wooden huts.

Sant Celoni Christmas Fair
Cute Christmas market in countryside of Montseny mountain usually on 2nd & 3rd December

Fira de l'Avet de Espinelves
Cute village Christmas market at Espinelves where many locals go to buy their Christmas trees.

Caldes de Montbui Christmas market
Local Christmas market

Barcelona Christmas Guide
Barcelona New Year's Eve Guide

© Copyright Barcelonayellow.com
Do not copy from this page without permission
All rights reserved


Last Updated on Friday, 26 November 2021 10:25